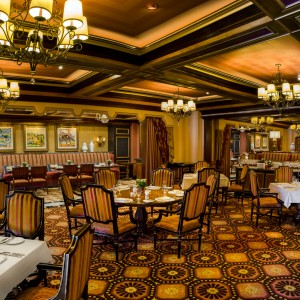 "Bijou" is French for "jewel," which is a fitting moniker for this enchanting eatery nestled in the heart of La Jolla, boasting a plum position on Prospect Street. While Bijou French Bistro is relatively new on the scene, celebrating its first anniversary in June 2015, Bijou's roots extend much deeper into San Diego's renowned culinary culture. The restaurant was brought into being by the same brilliant team behind Addison at the Grand Del Mar that, for the sixth year in a row, has earned both the Forbes Five-Star Award and the AAA Five-Diamond Award—the only restaurant in San Diego County to do so.
Given that Addison's highly decorated Executive Chef William Bradley, who is among an elite group of chefs to hold the prestigious Relais & Châteaux Grand Chef title, is serving as Bijou's culinary director, my expectations were decidedly high on a recent visit to the location for dinner service. My elevated anticipations were perpetuated with the knowledge that Bijou's Chef de Cuisine, Shaun Gethin, has worked with Bradley for years, most recently as sous chef at Addison, and now brings all of that skill, experience and passion to bear at Bijou. All told, I was downright giddy for the gastronomic experience to come—and Bijou devotedly delivered.
Upon entering the restaurant, which encompasses an ample 10,000 square feet, the classic elegance of the City of Love surrounds amid a light and inviting interior replete with European characteristics. While the styling is undeniably elegant, the overall atmosphere is not stuffy or overly formal, but rather is casual and comfortable in line with Southern California sensibilities. Designed by Warren Sheets, who also designed the Grand Del Mar, the color palette is rich with ochre, gold and aubergine contrasting with French plum and cardamom rose. French table lamps and white linens adorn the table tops while antique mirrors, chandeliers, articulated lighted coffers and hand-painted frescoes further enhance the delightful décor.
With thoughts of the luxurious interior in mind, I asked Chef Gethin for his opinion on what makes Bijou special. He exuded a great sense of pride that Bijou is authentically reminiscent of the popular, much-loved bistros found throughout France and elsewhere in the world. However, understanding that a stylish space can only take a restaurateur so far, Chef Gethin was also quick to underscore the bistro's focus on "classically uncomplicated and satisfying French fare" in tandem with its impressive selection of regional and French wines curated by Advanced Sommelier Elizabeth Huettinger.
Whether drinking, dining or both, guests can settle into the 88-seat main dining area where a lovely pianist further brightens the mood, or at the lively adjacent Wine Bar focused on rare French producers available by the bottle and by the glass. Guests can also sip and savor their favorite libation while swaying to live music in the bistro's chic Club M Lounge area.
Phenomenal food and beverage aside, what I particularly love about Bijou is its proactive efforts to engage with the community by frequently hosting special culinary events. For example, the eatery is holding an impressive series of winemaker's dinners that feature mix and mingle receptions coupled with thoughtfully conceived five-course prix fixe menus complemented with fine wine pairings in the bistro's exclusive private dining room. The next such winemaker dinner event, to be held on April 8 at 6 p.m., will be highlighted by selections from Sonoma-Coast based winery, Soliste Cellars, along with guest vintner Claude Koeberle. Born and raised in Burgundy, Koeberle—once the youngest 3-Star Michelin Chef in Paris—is a James Beard award winner and French Laundry partner. This is a great opportunity to learn from a true master of his craft. The Soliste Cellars winemaker's dinner is $95 plus tax and gratuity and is limited to 30 people.
Easter is shaping up to be another fun event at Bijou French Bistro with a special holiday menu that includes starter options like French Onion Soup and the restaurant's revered Oeufs Mayonnaise (a tribute dish to Chef William Bradley's favorite Paris bistro, Le Comptoir du Relais), which is comprised of egg yolks mixed with crème fraiche and served over a soft-boiled yolk, along with house-made honey mustard and lemon vinaigrette. Entrée options will feature Braised Lamb Shoulder with peppers, arugula and apricot; Veal Paillard; Loup de Mer; and Gnocchi à la Parisienne. An almond and chocolate Paris-Brest will be among the sweet endings.
To aptly honor Mother's Day, Chef Gethin has created an extraordinary four-course dinner starting with a choice of Haricots Verts Salad or Gravlax before the second course, Gnocchi à la Parisienne, followed by either Roasted Cod "a la barigoule" or Fillet of Porc with leeks and sage. Almond Dacquoise and Salted Caramel Crémeux Sable Cookies complete the meal. This Mother's Day feast is $85 per person, tax and gratuity not included.
Of course, no need to wait for a holiday or formalized special event, as tastings are available daily at Bijou's Wine Bar from 4 p.m. to 10 p.m., and live entertainment in the Lounge heats up each Friday and Saturday night between 8 p.m. and 11 p.m.
Whether you're looking for an unforgettable epicurean experience in the main dining area, a special group event in the private dining room, partaking in the city's best fine French wine tasting at the Wine Bar, or want to get your groove on with live music in the Lounge, Bijou on the whole is a pièce de résistance.
~~~
"The Luxe List" Executive Editor Merilee Kern scours the luxury marketplace for exemplary travel experiences, extraordinary events, and notable products and services. Submissions are accepted at www.TheLuxeList.com. Follow her on Twitter here: www.Twitter.com/LuxeListEditor and Facebook here: www.Facebook.com/TheLuxeList.
Some or all of the accommodations(s), experience(s), item(s) nd/or service(s) detailed above were provided at no cost to accommodate this review, but all opinions expressed are entirely those of Merilee Kern and have not been influenced in any way.