Master Distiller of "The Real McCoy" Rum Honored at UK Rum Fest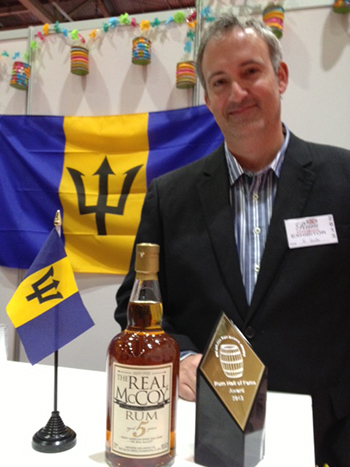 For the first time in its history, the U.K. Rum Fest introduced the inception of the Rum Hall of Fame, an organization established to recognize outstanding contributions to the rum industry. The inaugural inductees were announced during the 4th Annual Golden Barrel Rum Awards—held in London, England last month—which honors and pays tribute to notable products and individuals in the industry. Among the honorees was Foursquare Distillery's Richard Seale, Master Distiller of The Real McCoy Rum and recipient of the Golden Rum Barrel's 2011 Distiller of the Year award.
"Richard's experience, uncompromising dedication and passion for his craft make him truly deserving of this incredible honor," states Bailey Pryor, President and CEO of Real McCoy Spirits, Corp. "This type of lifetime achievement recognition, for such a young man, is a testament to his truly unique talents. We're very grateful to have Richard on our team. He, more than any of us, is the heart and soul of The Real McCoy Rum."
As the great-grandson of Reginald Leon Seale the first, Richard Seale is the fourth generation to follow the rum business lineage, serving as Master Distiller and blender for all rums produced at the family owned Foursquare Rum Distillery in Barbados, including The Real McCoy Rum portfolio. Foursquare was the recipient of the high honor of Distillery of the Year, awarded during the 2011 Golden Barrel Rum Awards.
About The Real McCoy
The Real McCoy is a rum born from the story of Bill McCoy, the pioneer Rum Runner of the Prohibition era. A blend of column and pot still rum, The Real McCoy is a multi-award-winning super premium rum, made using only top quality black strap molasses and proprietary yeast, and is aged in toasted American oak bourbon barrels. The Real McCoy is produced by Foursquare Distillery in the province of St. Phillip, Barbados, West Indies and is available in 3, 5 and 12 Year aged expressions in CT, MA, NJ, FL and RI.