Premium Coffee Company Now Offers Single-Serve AromaKups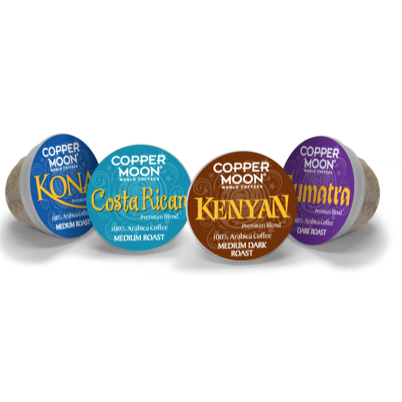 Coffee lovers who enjoy the convenience and consistency of single-cup brewing systems can now also enjoy a unique brand of premium-quality coffee, as specialty roaster Copper Moon Coffee LLC (Copper Moon) has introduced its new line of single-serve 'AromaKups.'
Designed specifically for use in the increasingly popular single-cup brewing systems, these new AromaKups —available in several of Copper Moon's 100% Arabica coffee blends from around the world—feature an innovative open-filter pouch.
According to Copper Moon CEO, Brad Gutwein, the AromaKups offer both an environmental and brew-quality benefit, explaining, "The open-filter package uses thirty-five (35) percent less plastic versus the rigid-cup design, while it also facilitates ideal aroma and flavor extraction. It really yields a superior brew that optimizes the great taste coffee lovers have come to expect from Copper Moon."
For the initial launch, Copper Moon is offering these single-serve AromaKups in four of the company's most popular world coffees, including:
Copper Moon Costa Rican Medium Roast: a silky-smooth, well-balanced blend with a sweet aroma and an eloquent finish
Copper Moon Kona Medium Roast: a mellow, balanced, aromatic blend with a smooth, clean finish
Copper Moon Kenyan Medium Dark Roast: a full-bodied, aromatic exotic and complex blend with citrus notes and a smooth, clean finish
Copper Moon Sumatra Dark Roast: a rich and bold, yet smooth and refined, blend, with herbal notes and a pleasant earthy aroma
Copper Moon plans to support its single-serve launch with coupon promotions, location-based sampling, email blasts and social-media promotions.
Consumers can purchase the new Copper Moon single-serve AromaKups in 12-, 20- or 40-count packs, available at many popular retailers, as well as online at CopperMoonCoffee.com and Amazon.com.
About Copper Moon Coffee
Copper Moon Coffee LLC is a branded and private-label coffee roaster and packager of premium, gourmet and specialty coffees harvested from around the world. Consumers can find Copper Moon Coffees—including varietals, flavored, organic, fair-trade and estate coffees—at retailers, hotels, offices, grocers, convenience stores and foodservice distributors throughout North America. Visit CopperMoonCoffee.com