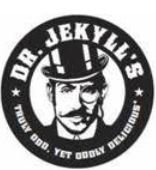 JEKYLL'S RELEASES WORLD'S FIRST CRAFT BEER BREWED WITH ORGANIC SUPERFOODS
Brewery Teams With Biotech Firm To Brew "Beer That Benefits" Including
Açai Berry, Turmeric, Green Tea, Ginger, Flax, Clove Oil and Maitake Mushroom

LOS ANGELES — (July 31, 2015) — Dr. Jekyll's Craft Brewery has debuted its line of organic craft beers with super food ingredients that promise to take your health and taste buds to the next level. Now beer lovers can fortify their diets with acai berry, turmeric, flax seed oil, cinnamon oil, hawthorn berry, grapefruit fiber and other nutrients while enjoying "truly odd, yet oddly delicious" beers.
Altadena, CA-based Dr. Jekyll's teamed with biotechnology firm Virun for a breakthrough patented process for brewing super foods and essential nutrients into one-of-a-kind beers with benefits. Meeting the functional beverage and $19.6 billion craft beer markets head-on, each brew contains six to eight "superfoods" known for their rich nutrient content and health enhancing properties.
Bio Beer®, Beer Attack™ and Beer Belly™ are handcrafted for taste, nourishment and beer aficionados who prefer to unwind while staying on top of their free radicals! The vegan, non-GMO beers are sold at Whole Foods, Cost Plus World Market, Total Wine & More, other specialty retailers and selected bars, pubs and restaurants in 12-ounce bottles, 22-ounce bottles, on draught and online at www.drjekylls.com.
Bio Beer is a boldly hopped, sessionable IPA with organic hops that won a Silver Medal at the L.A. International Beer Festival. The complex flavor has hints of ginger, clove, aromatic citrus and berry notes. Superfoods include acai berry, acerola berry, turmeric, maitake mushroom, garlic, green tea, clove and ginger oil to help boost the body and the senses. Pair with grilled lamb, pulled pork, sausages, strong cheeses and rich desserts. A portion of the proceeds are donated to American Cancer Society.
Beer Attack is an Irish style Red Ale brewed with organic Perle and Fuggle hops and six organic malts. Its flavor has hints of cinnamon, caramel and a touch of smokiness. Heart-healthy super food ingredients are maqui berry, hawthorn berry, cinnamon oil, flaxseed oil, algal oil and garlic. This brew sips superbly with Sheppard's pie, grilled salmon or BBQ chicken, pasta dishes and spiced deserts. A portion of the proceeds are donated to American Heart Association.
Beer Belly is an American Kölsch gold medal winner that is light on calories but not on flavor, with hints of citrus, cardamom and coriander. Super food ingredients are acai, maqui berry, raspberry ketone, grapefruit fiber, green tea and green coffee bean that contain antioxidants and bioactive compounds shown to help reduce free radicals, boost energy and burn calories. Pair this beer with cream-based pasta, shellfish, sausages and mild cheeses. A portion of proceeds go to Wounded Warriors Project.
"The demand for our craft beers with superfoods is nearly insatiable," said Tom Costa, president & CEO of Nutraceutical Brews For Life, LLC, manufacturer of Dr. Jekyll's Craft Beer. "It's an exciting time and the response from retailers, restaurant owners and customers has been truly gratifying."
Dr. Jekyll's beers are sold at Whole Foods Markets, Cost Plus World Market, Total Wine & More and specialty retailers, pubs and restaurants in California and Arizona. Bio Beer was recently awarded a Silver Medal and Beer Belly a Gold Medal at the 2015 Los Angeles International Beer Festival.
Dr. Jekyll's Craft Beers are brewed and bottled in Mendocino County, CA, available year round and distributed by Incline Beverages, Artisan Distributing and Quail Distributing. For on-premise locations or to order online visit www.drjekylls.com. Phone (310) 273-8339 or email info@drjekylls.com.

About Dr. Jekyll's Craft Beer
Dr. Jekyll's was born in an old constable station turned brewery by three friends united in beer and health, an all-natural bodybuilder-research scientist, filmmaker-entrepreneur and master brewer who teamed with a biotech firm to brew super foods into specialty beers. Similar to the classic tale of a scientist creating strange and exotic potions, they pushed the envelope of functional beverages and brewing excellence for three years before achieving success. Blending health benefits, goodness and generosity into every bottle, they remind their customers to be responsible or suffer the consequences. For no one wants to be with, or turn into a Mr. Hyde!