Living in Temecula and loving wines it wasn't long before I found myself at South Coast Winery, the premier winery in our area.
In 2012 an acquaintance offered to introduce me to Jeff Carter and his amazing and talented team of winemakers and the head of distribution for SCW. Soon after that meeting we did our first wine together.
WARRANT- I Saw Red – Cabernet – California , since then we have done several wines together including our latest wines (WARRANT – Hard Rocker Red – 2011 Meritage Monterrey) and Erik Turner – Dog Day Afternoon – California. To learn more about these rockin' wines and the winery please visit: SouthCoastWinery.com
DDA
Dog Day Afternoon is delightfully delicate with SWEET reminders of those carefree days at the beach,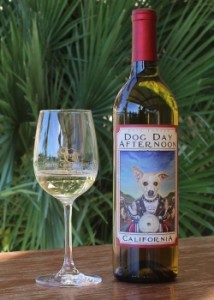 lounging by the pool or going for a ride. We can learn a thing or two about how to chill, frolic or even be spoiled by our favorite companions. They figured this out long before any of us…So enjoy a glass or two while sitting back, relaxing and putting up your paws. Make it a Dog Day Afternoon!
To learn more about the band's legendary history visit:www.warrantrocks.com
Type:2013 California White Table Wine
Alcohol %:12.0
pH:3.37
TA:.82 g/100mL
Residual Sugar:2.88 g/100mL
Wine Volume (mL):750
HRR
WARRANT Hard Rocker Red 2011 Monterey Meritage 2nd Edition
About the Wine:
This red blend has an abundant array of berry fruit aromas and flavors; lush character and soft tannins. Limited Edition 181 cases To learn more about the band's legendary history visit:www.warrantrocks.com
About the Vineyard:
Appellation: Monterey, CA
Varietal:
50% Cabernet Sauvignon
25% Merlot
25% Petit Verdot
Alcohol %:14.5
pH:3.41
TA:0.66g/100ml
Residual Sugar:0.46g/100ml
Wine Volume (mL):750
I Saw
Red
About the Wine:
This is a Cabernet that has very showy fruit complexities; pretty herbal nuances embrace a bright black berry cassis core. The fruit is balanced by a rich and mellow oakiness ( 18 months in barrel) that gives structure and dimension to the wine. Supple tannins and a delicate acidity add to the overall mouthfeel and bold nature of this quintessential Cabernet SauvignonTo learn more about the band's legendary history visit:www.warrantrocks.com
Varietal:Cabernet Sauvignon
Vintage:NV
Type:Red Wine
Alcohol %:13.6
pH:3.49
TA:0.62 g/100mL
Residual Sugar:0.49 g/100mL
Wine Volume (mL):750
Erik Turner is the guitarist and co founding member of WARRANT, an American rock band through and through. Hitting it big in 1989, the Hollywood, CA based band rose through the ranks of the local Sunset Strip scene to the level of multiplatinum selling, chart-topping success. The band first came into the national spotlight with their debut album Dirty Rotten Filthy Stinking Rich. This album produced Radio and MTV chart toppers "Down Boys," "Sometimes She Cries," and the massive hit "Heaven" which reached #1 in Rolling Stone and #2 on the Billboard Hot 100 for two weeks in a row. The single "Heaven" enjoyed Gold sales and the Album went Platinum in Canada as well, eventually selling over 3 million copies. The band toured the globe performing 262 shows in support of DRFSR and closed the year with a Platinum Home Video.
WARRANT's sophomore album Cherry Pie was released in September 1990. This album, which spawned the MTV & Radio hits "Cherry Pie," "Uncle Tom's Cabin," and "I Saw Red," all reached the Top 10 in the United States and went on to sell 3 million copies, reaching Platinum sales in Canada and Australia. The band played 200 shows in support of Cherry Pie and finished the tour headlining sheds all over the USA and ended up being one of the top grossing tours of 1991. Over the course of their career, WARRANT has sold over 10 million albums worldwide. The song "Cherry Pie" has taken on a pop culture life of its own, being featured in countless movies, TV shows, commercials and the hugely popular video game Guitar Hero II.
WARRANT's signature style of rock music is very catchy and yet very melodic and remains the band's signature sound today. In September 2008, Robert Mason replaced Jani Lane (RIP) as lead vocalist joining the other four original members, Jerry Dixon, Steven Sweet, Joey Allen and Erik Turner. Their current album Rockaholic (May '11), released on Frontiers Records and produced by the Grammy winning Keith Olsen, has been highly regarded in reviews and embraced by fans peaking at #22 on the Billboard Hard Rock Albums chart.
WARRANT has been headlining festivals, casinos and fairs all over the country in support of their latest CD Rockaholic. 125 + shows so far and counting. The band is fired up and tighter than every musically! These rockers can't wait to play not only ALL the hits fans know & love, but also new tunes/videos like "Life's A Song," & "Home."
Their social media fan base is growing daily on Facebook and Twitter. WarrantRocks.com !
DownBoysMusic.com
WarrantRocks.com