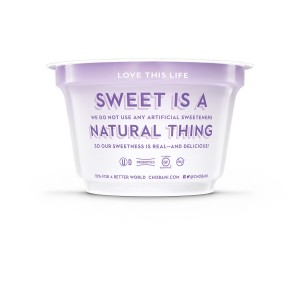 Chobani, maker of America's #1 Greek Yogurt brand, today announced the launch of a new creative platform and campaign centered on living life naturally. Committed to its founding mission of providing better food for more people, Chobani's multi-media, multi-platform campaign focuses on the brand's core belief: "To love this life is to live it naturally."
The Love This Life™ campaign, which debuts today, will be fully integrated across all channels, from broadcast to social to shopper marketing. Chobani will also debut new packaging to elevate its naturally delicious taste through imagery of the real, delicious ingredients naturally found inside each cup.
"We're a brand based on the belief that when you live naturally, you live more fully," said Peter McGuinness, Chief Marketing and Brand Officer. "Today, we're aligning our marketing even closer to that belief, going beyond our naturally delicious food to also focus on the values that define us as a company and the humble but important role we hope to play in consumers' lives. It takes us beyond food, and moves us more into the lifestyle space while capturing some of our Mediterranean spirit and soul."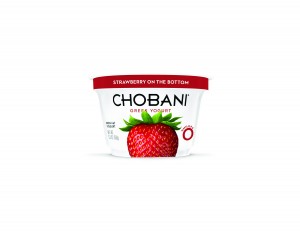 Authentic, real-life moments are the backbone of a series of modern American stories that connect the brand's values to its fans' values. The story begins with the campaign's anthem spot, introducing a mom, dad and their two kids and the relationship they share – all set against the backdrop of their family farm. Two more stories follow the same family and the simple moments they share with each other and their natural surroundings.
The ads will run during primetime television, beginning May 8 through May sweeps. Several more films and pieces of content supporting Chobani Flip™ and Chobani Simply 100® platforms round out the series and will air through September 2015.
Each tells a story about naturally delicious food and the people who value it. The series features original songs by artist and producer Eef Barzelay written and composed for the brand and available for download on the Company's website.
The new packaging will first see redesigns of traditional Chobani®, Chobani Simply 100® and Chobani Flip™, highlighting core attributes of the Brand, such as "Only Natural, Non-GMO Ingredients", "40% Less Sugar Than Regular Fruit Yogurt"*** in our traditional Chobani® and "75% Less Sugar Than Regular Fruit Yogurt"**** in Chobani Simply 100®.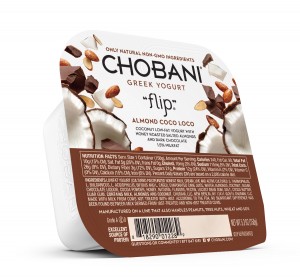 Since its founding, Chobani has been committed to making food with only natural, non-GMO ingredients.
The company believes that access to nutritious, delicious food is a right, not a privilege, and that food makers across the country have a responsibility to provide people with good options. Chobani's products are made with fresh milk from cows not treated with rBST* and proudly contain no artificial sweeteners, preservatives or flavors.
As part of the Company's ongoing commitment to finding innovative ways to sustainably craft its products, recent initiatives have resulted in up to 20-30 percent less water consumption in the past year at its U.S. manufacturing facilities. Chobani also launched eight separate initiatives designed to result in 10 percent less plastic per cup, 25 percent less paperboard for overwraps and nearly 10% less corrugated cardboard.
For more information on Chobani's new Love This Life™ campaign, its beliefs, product portfolio and nutritional information, visit www.chobani.com.
About Chobani
Maker of America's No. 1–selling Greek Yogurt brand, Chobani, LLC, was founded on the belief that people have great taste — they just need great options. Chobani produces high-quality authentic strained Greek Yogurt products made with only natural ingredients from its New Berlin, N.Y., and Twin Falls, Idaho plants. Chobani is committed to using milk from regional farms and strengthening its surrounding local economies. Chobani gives 10 percent of its annual profits to charities worldwide through the company's charitable foundation. All Chobani products — including Chobani® Greek Yogurt, Chobani Flip™ and Chobani Simply 100® — are kosher certified, contain five live and active cultures, and are made with milk from cows not treated with rBST*, with most of its products offering two times more protein than regular yogurt.** Chobani products are available nationwide in the U.S. and Australia, and in countries in Asia and Latin America. For more information, please visit www.chobani.com and www.facebook.com/chobani.