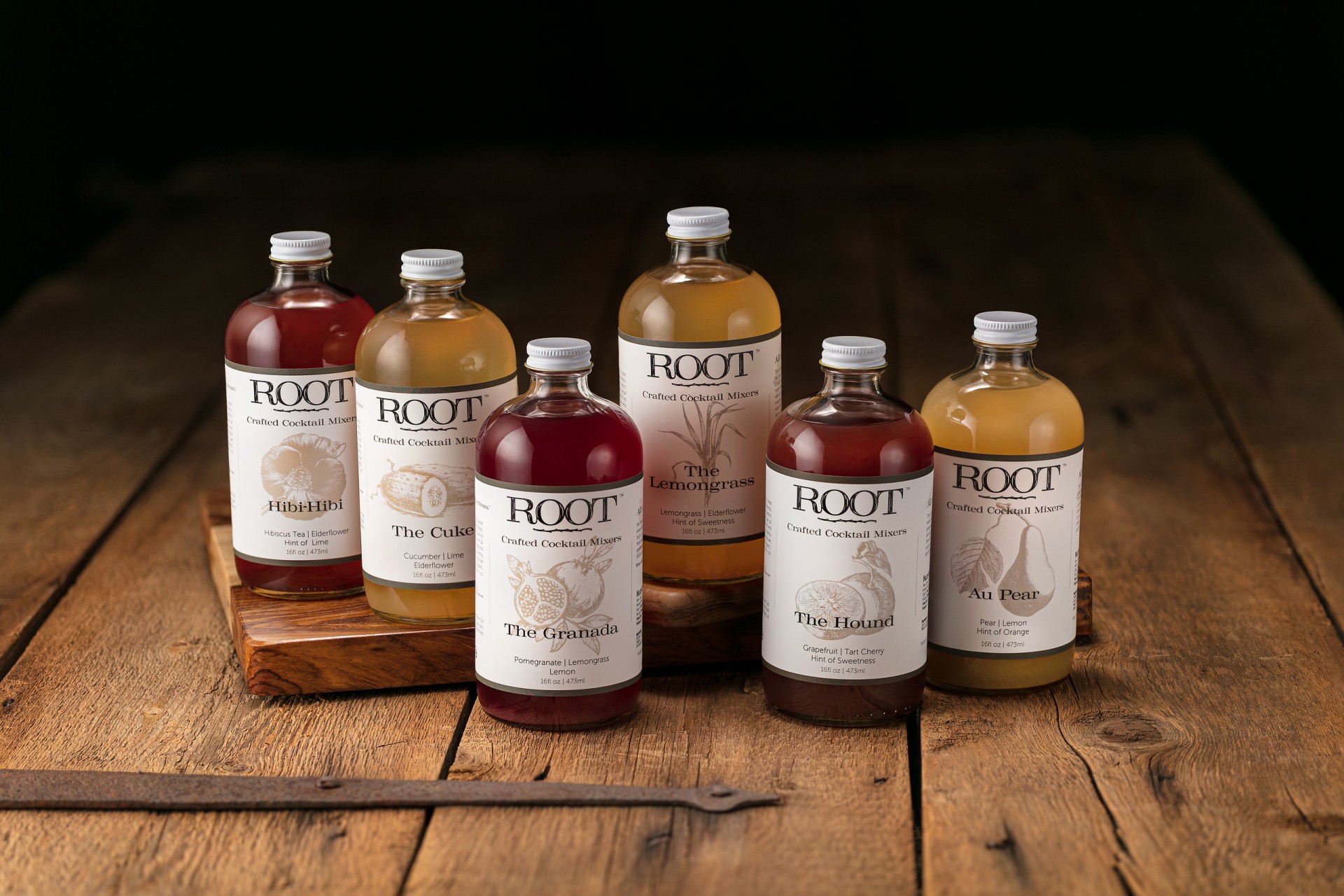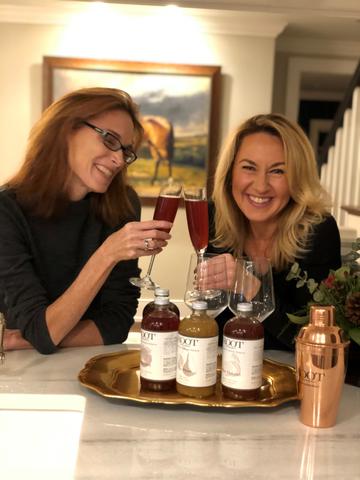 Create unique drinks with ROOT all-natural, organic mixers.
By Debbie Hall
Diane Aemisegeo and Trish Pepe Lauden are two fun-loving friends who love cocktails but didn't like the drinks made with high-fructose syrup and other unnatural ingredients. Looking for a solution, they developed ROOT Crafted Cocktail Mixes, using all-natural, organic ingredients mixers to create handcrafted artisanal cocktails with unique flavors by adding a favorite spirit.
Calling themselves co-drinkers, they started the company two years ago as a result of their friendship (living next door to each other) and weekly get-togethers.
"Diane and I became fast friends, and we enjoyed creating our own cocktails on a Friday night while relaxing at each other's home with our families," explains Trish. "However, it was a lot of work to concoct natural, organic cocktails. We thought there would be mixers that are organic to save time."
They both found the market lacking in mixers with natural ingredients for cocktails, so Trish and Diane decided to create their own mixers and bottle them for sale.
"We love wine and cocktails, and we wanted to develop something that was up to our palates and standards as well as healthy to drink," says Diane. "We wanted to create mixers that were easy to use, not high in sugar with no preservatives, high-fructose corn syrup, or artificial colors. We also wanted to offer unique flavor profiles that are delicious that have never been bottled before."
Even with the reopening in several phases, many people will choose to stay at home and still want to socialize, either virtually or in small groups. ROOT is offering BOGO, and they ship the second one to a BFF for virtual cocktail hour for free.
"This is a great way to stay connected to your friends, and I have to give Trish credit for coming up with this idea," Diane says. "We still want to enjoy happy hour, and here is a way to enjoy fancy, fun cocktails while connecting virtually."
When the business was launched, Diane and Trish did not want to compete with traditional mixers such as cosmos or margaritas. They realized that the market is already saturated, so they wanted to bottle the unique flavors they love.
"Of course, we are continuously drinking ourselves," Trish laughs. "We are always coming up with new flavors and new drinks. We try everything before we consider adding it to our product line. We are our own R&D department."
The mixers do not contain any alcohol so that each person can add their favorite spirit. There is a blended flavor profile, which can be mixed with whiskey, rum, bourbon, vodka, tequila, gin, or any other spirit.
The product can be shipped nationwide to consumers as well as larger quantities and bottle sizes for wholesale and retail clients. While their business model is in place for the new reality in the food and beverage industry, Diane and Trish will continue to work to grow the business with new flavors, packaging, and bottling.
As for awards," We had opportunities to enter, but we don't want to steal all of the awards our first time registering," Diane laughs.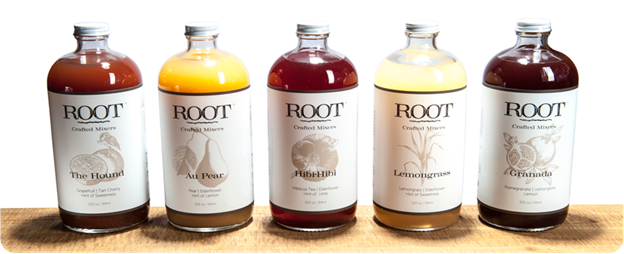 Flavors include:
The Lemongrass blends lemongrass's subtle, refreshing flavor with simple elderflower syrup and a touch of fresh lemon.
The Cuke mixes cucumber and lime juice muddled with simple elderflower syrup.
Hibi Hibi combines freshly brewed hibiscus tea with lemon, lime, sugar, elderflower syrup, and just a touch of honey.
Au Pear blends pear juice, lemon, and a hint of orange.
The Hound combines fresh pink grapefruit, cherry, and turbinado simple syrup.
The Granada features featuring pomegranate, Lemongrass, and other ingredients.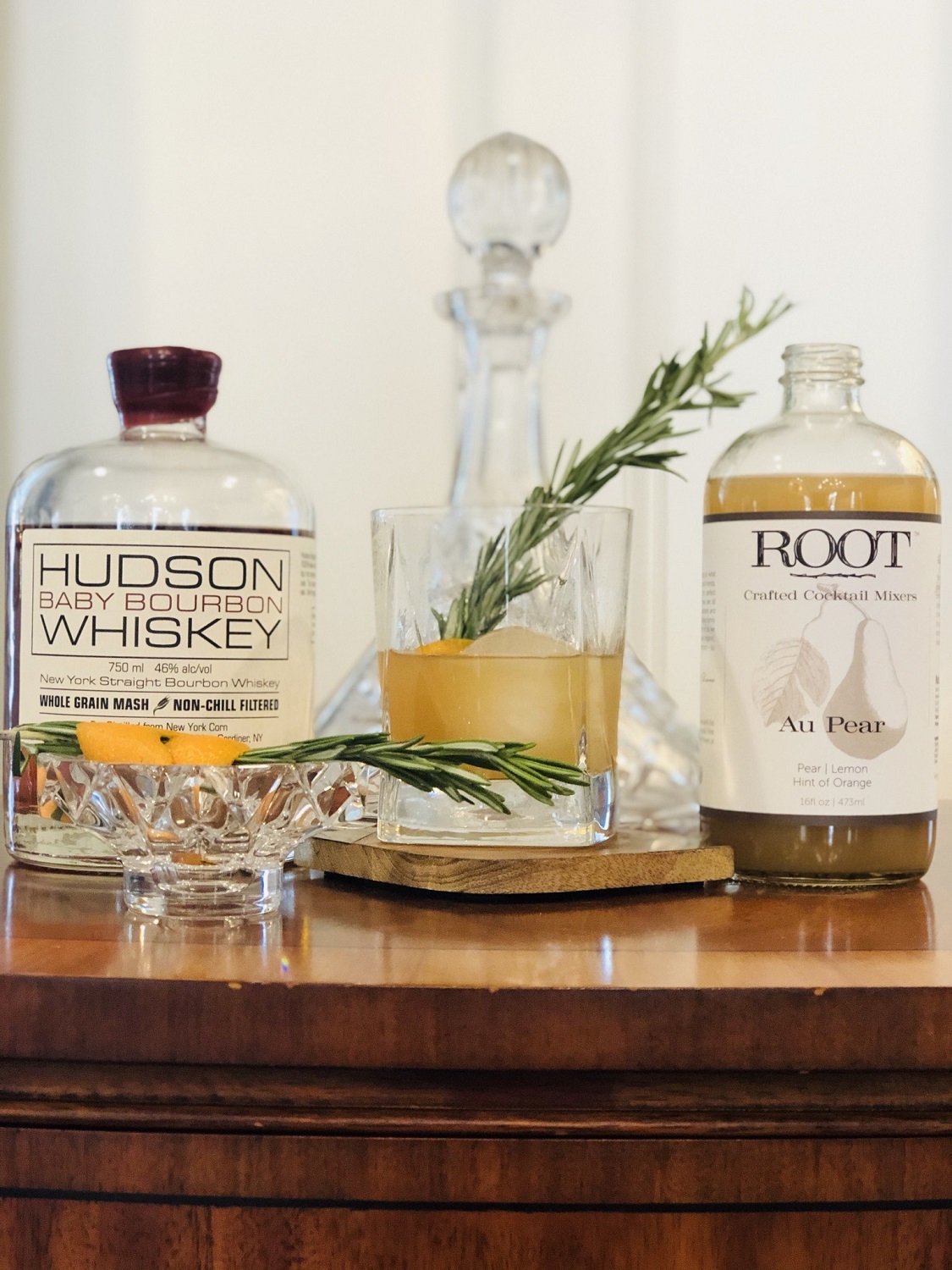 Au Pear Old Fashioned
Ingredients:
2 ounces of bourbon
1 ounce ROOT Au Pear
Orange peel
Spring of rosemary
Ice cube (oversized)
Combine bourbon and ROOT Au Pear in a rocks glass. Add the oversize ice cube. Garnish with the orange peel and rosemary and enjoy this twist of an Old Fashioned.
To purchase ROOT either online, wholesale, or retail, and for more information, visit rootcrafted.com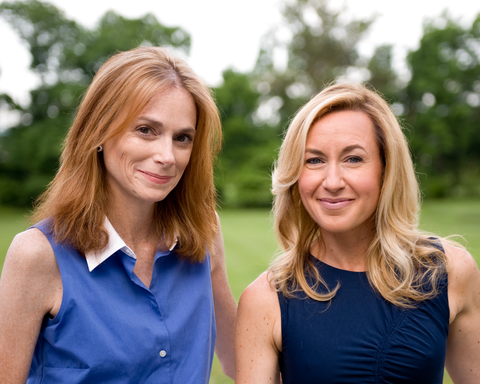 Diane Aemisegeo is also a big foodie since her father was a chef and attended culinary schools in Hungry and Germany. She grew up enjoying food, wine, and cocktails. Trish Pepe Lauden grew up in Westchester County, New York, during the cocktail era with parents that loved to entertain. Her parents offered cocktails such as a Harvey Wallbanger, Manhattan, and a solid straight up Martini as well as Crème de
Menthe cocktails.