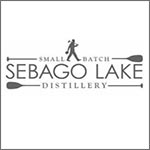 Sebago Lake Distillery is proud to announce the official opening of their Maine-based distillery and the successful launch of three distinctly different and innovative, handcrafted rum brands, with another set to debut later this year. Sebago Lake is Maine's only distiller focused exclusively on producing rum.
Sebago Lake Distillery represents the ultimate dream of five long-time friends including two local Mainers. In 2013 the five-some set in motion a long term plan to open their own distillery, energized by Maine's long and storied history of rum production, and debut a range of unique, high-end rums that embody the group's passion and the lifestyle of living by the lake where time slows down and fun comes easy. Sebago Lake, the team's inspiration, provides the perfect backdrop, according to the team, "Life by the lake is more relaxed and carefree. Sebago Lake Rums are crafted for enhancing life as it comes, one sip at a time."
The team dedicated the next four years to perfecting their craft and laying the groundwork to launch their unique range of craft rums including: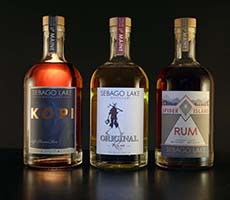 Original Rum – an extra dry rum made from molasses blended with five carefully selected aromatics for subtle complexity
KOPI Coffee Flavored Rum – a blend of handcrafted molasses-based sipping rums and 100% custom roasted Sumatra coffee.
Spider-Island Rum – a dark amber, molasses-based rum blended with aromatics. Spider Island's rich color is attained through a Belgian inspired molasses caramelization process.
When asked what makes Sebago Lake Rums so different, Sebago Lake Distillery's Co-Founder and Head Distiller, Dan Davis, said his team has a mission: "We don't cut corners. All of our rums are 100% pot distilled in small batches using only the finest, all-natural ingredients and each step of the process – mashing, fermenting and distilling – is executed from scratch right here at the distillery. There are no fancy column stills or electronic controls – every valve is turned by hand and every batch is tasted and refined to perfection to create superior quality rums perfect for sipping lakeside or celebrating with friends when the moment is right. We're making rum that is approachable for those who don't generally drink their spirits neat but complex and interesting enough for experienced whiskey drinkers."
Co-Founder and CEO, Dave Tomer, sees a bright future. "The craft industry is trending upward and consumers are gravitating to locally-made, handcrafted products that emphasize quality ingredients and taste appeal. Both Original and KOPI are showing healthy growth trends in Maine, exceeding the sales volume of many of the more established Maine Craft Rum producers. In addition to a fourth, barrel-aged rum set to launch later this year, we have aggressive plans to bring our rums to neighboring New England States including Massachusetts, New Hampshire, Rhode Island and Connecticut. We believe the passion that we have shared since our dream first took shape is evident in every drop of Sebago Lake Rums. It is a thrill to experience just how much consumers, retailers and on-premise operators agree and are embracing the realization of our dream."
ABOUT SEBAGO LAKE DISTILLERY
Sebago Lake Distillery, located in Gardiner, ME, crafts the highest quality Rum, in small batches, sourced from the best ingredients. Each step of the process – mashing, fermenting and distilling – is executed from scratch at the distillery and every batch is tasted and refined to create superior quality rums that can be enjoyed neat, over ice or mixed in classic or contemporary cocktails. Sebago Lake Distillery and its rum brands are the creation of five long time friends: Dave Tomer, CEO; Dan Davis, Distiller; Brock Tredway, COO; Allen Tait, CFO; and John Tyler, Sales and Investor Relations.