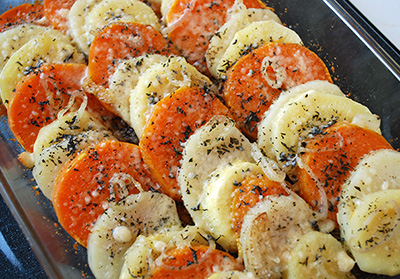 ROOT VEGETABLE TIAN
Recipe by Cooking Planit
Serves 4
Ingredients
¼ Cup Shallots, Thinly Sliced
1 Garlic Clove, Minced
1 Large Sweet Potato, Peeled and Sliced into ¼ Inch Rounds
2 Parsnips, Peeled and Sliced into ¼ Inch Rounds
1 Large Baking Potato, Peeled and Cut into ¼ Inch Rounds
1 Teaspoon Unsalted Butter
1 Teaspoon Dried Thyme Leaves
1 Tablespoon Extra Virgin Olive OIl
Black Pepper
Kosher Salt
Prep Steps
Slice a shallot into thin rings to measure the indicated amount.
Smash the garlic under the side of your chef's knife to remove the peel. Mince the garlic, then add to the shallots.
Peel a sweet potato and slice into 1/4 inch thick rounds.
Peel parsnips and slice into 1/4 inch thick rounds.
NOTE: Potatoes will oxidize, or turn brown after peeled, so this step will come just before baking the tian.
Cook Steps
Preheat the oven to 400 degrees.
Lightly grease a 9″x11″ baking dish with butter.
Peel the potato and slice into 1/4 inch thick rounds.
In the baking dish, arrange the potato, parsnip and sweet potato slices in a single layer, overlapping them as you go.
Sprinkle the garlic, shallots and dried thyme evenly over the top. Crush the dried thyme between your fingertips as you sprinkle it over the veggies. Drizzle the top with olive oil, and season with salt and pepper. Cover the dish tightly with aluminum foil.
Place the root vegetable tian in the preheated oven and bake for 25-30 minutes until potatoes are starting to become tender. Remove foil and sprinkle some grated Parmesan cheese over the top, then continue baking until cheese turns golden brown, about 5-7 more minutes.
After you remove the tian from the oven, cover loosely with foil until ready to slice and serve.
Slice the tian and transfer a portion to each dinner plate. Serve warm!
About Cooking Planit
Cooking Planit is a website and mobile app that provides you with step-by-step instructions to create full meals with every dish ready to serve at the same time. Essentially a "GPS for the kitchen," the app also provides options to filter recipes by main ingredient, occasion and dietary restriction. Each of the 600 chef-tested recipes displays a full list of ingredients and necessary cooking utensils, enabling everyone– from the experienced to the curious – to discover new flavors with minimal fuss and maximum success.