The Royale, Magnificent Burgers Expands Partnership with A BAR N Ranch
Haute Burger Concept Introduces All Wagyu Beef Burgers to Menu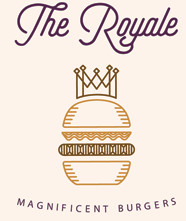 The Royale, Magnificent Burgers, a joint venture between Apheleia Restaurant Group and Plan B, is pleased to announced it is expanding its partnership with A BAR N Ranch, one of the top cattle ranches for Wagyu beef based in Sherman and Celina Texas.
The Royale, Magnificent Burgers will exclusively serve A BAR N Wagyu beef for all of its beef burger options on the menu while continuing to serve a variety of non-beef burgers such as lobster, tuna, veggie, and turkey. "Because of our partnership with A BAR N, we are able to serve their Wagyu beef, which is of superior quality, at an approachable price point and has health benefits that regular commodity grade beef doesn't have," stated Co-Owner, Richard Ellman. Already known for its luxe burger offerings, The Royale, Magnificent Burgers is forging new territory with its transition to an all Wagyu beef menu.
Other than being known for its superior marbling, Wagyu has higher percentages of omega-3 and omega-6 fatty acids, and is lower in cholesterol than commodity beef making it suitable for a healthy well balanced diet. The Royale, Magnificent Burger becomes one of the only restaurants in the country to serve all Wagyu as its beef of choice at a price point that consumers can afford.
The restaurant is also bringing a new look and feel to its bar and patio areas that is highlighted contemporary umbrellas, new art and additional furniture, including high social tables that make it a more adult friendly social dining and drinking establishment.
ABOUT THE ROYALE, MAGNIFICENT BURGERS
The Royale, Magnificent Burgers offers creative burgers, local craft beers and cocktails, homespun milkshakes and a poutine program.. The Royale looks like it came straight out of a Wes Anderson movie with its pastel color palette and intricate interior detail. The booth seating is a replica of those seen in the movies as well as the wallpaper, light fixtures and detailing on the ceiling and bar. The menu styling reflects the theme as well and features burgers sorted by "Of the Animal", "Of the Earth" and "Of the Aquatic" with signature items such as The Mushroom and Swiss Sauvage with a Wagyu beef patty, sliced avocado, sprouts, swiss cheese, sautéed mushrooms and mushroom aioli and The Lobster Rhapsody with a tempura fried Maine lobster patty, green onion, lime zest, vine-ripe tomato, vegetable coleslaw and sriracha aioli. Visit www.royaleburgers.com to learn more.
ABOUT PLAN B GROUP
Plan B Group is a branding, architecture and design firm focused on the hospitality industry and based in Dallas, Texas. The group has developed inventive start-up brands like Whiskey Cake, Velvet Taco, Start Restaurant, Mexican Sugar, Bolsa and The Royale Magnificent Burgers. A boutique sized firm with big talent, Plan B Group's services include architecture, interior design, graphic design, brand identity, menu development and restaurant operations consultation. Visit www.planbgroup.net for case studies and contact information.
ABOUT APHELEIA RESTAURANT GROUP
Apheleia Restaurant Group is an innovative restaurant organization based in Dallas, Texas whose establishments include Oak, El Bolero, The Royale, Magnificent Burgers, Quill Lounge, and Pakpao. The company's goal is to ignite inspiration in diners' minds by lending a fresh perspective on food, service, and ambiance. Apheleia Restaurant Group focuses on the total guest experience and hopes that each one of its patrons enjoys a fulfilling culinary experience where one leaves each establishment satiated, inspired, and delighted with the meal and service. Apheleia is committed to excellence and strives at every opportunity to exceed customer expectations. Visit www.apheleiarestaurants.com to learn more about the company.