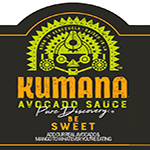 Stocking Stuffer, Kumana Avocado Sauces Fresh & vibrant, these sauces are stunningly delicious on eggs and pretty much anything you love to eat. Not your typical stocking stuffer, Kumana stands apart from the rest and is perfect for anyone on your list—from the Foodie to the Vegan to the Keto Dieter. Crafted from veggies and fruits such as avocados, fresh onion, bell pepper, cilantro, garlic and just a splash of white vinegar, Kumana adds a punch of flavor to anything you're eating.
Kumana is available in three palate awakening flavors:
Be Original: True to the Venezuelan avocado sauce that inspired the Kumana line.
Be Mango: Blends in mango puree which adds a hint of sweetness. Think of mango salsa.
Be Hot: Takes a splash of mango and finishes it off with just the right amount of habanero heat.