Enhanced green tea hydration drink mix sticks are a naturally flavored, healthy alternative to sports drinks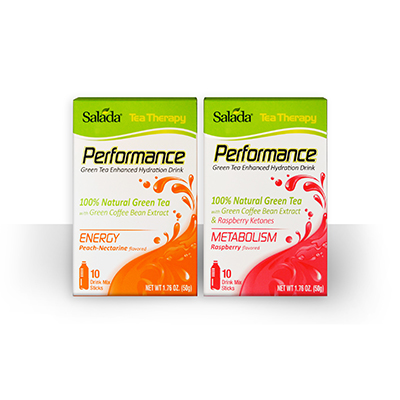 Salada Tea announces its new Salada Tea Therapy Performance drink mix sticks available at select GNC stores and online at GNC.com. This product line combines Salada green tea extract with trend-forward sport and fitness ingredients including green coffee bean extract and raspberry ketones. Two blends are available – Energy and Metabolism – created to meet consumer demand for functional beverages that help promote a healthier lifestyle.
The SALADA Tea Therapy Performance drink mix sticks are a more natural way for consumers to hydrate themselves when working or exercising," said Larry Baer, senior brand manager for Salada Tea. "By combining our green tea extract with ingredients such as green coffee bean extract and raspberry ketones, we've created drink mixes that can help increase energy and boost metabolism so consumers can get the most out of their workouts or physical activities. These drink mixes are convenient, easy to mix and great-tasting."
Salada Tea Therapy Performance – Energy combines green tea extract with green coffee bean extract, creating a blend that can help boost energy levels for optimal performance. Other select ingredients, including panax- ginseng, amino acids and a vitamin B complex, have been added to further enhance functionality. Using only natural flavors and sweeteners, this low-calorie, gluten-free peach nectarine flavored drink mix is a delicious way to get hydrated.
Salada Tea Therapy Performance – Metabolism combines green tea extract and green coffee bean extract with raspberry ketones, an ingredient that can assist in weight-loss efforts, especially when paired with regular exercise and a well-balanced diet. This raspberry-flavored hydration blend is low-calorie, gluten-free and uses no artificial colors, flavors or sweeteners.
"The new SALADA drink mix sticks are great for an athlete or anyone looking to maintain an active metabolism," said Tara Coleman, Salada Tea consumer spokesperson and clinical nutritionist. "In addition to all the beneficial ingredients, they are low-calorie, low-sodium and gluten-free. Salada continues to provide all-natural goodness."
About SALADA Tea
SALADA Tea, North America's first packaged tea, has been on the market since 1892, and today, produces more than 20 different flavors of tea, available at supermarkets nationwide and through its online store. SALADA Green Tea is a leading green tea in the U.S., selling more than 100 million tea bags a year.
SALADA Tea is manufactured by Redco Foods Inc. at its Little Falls, N.Y., operations facility.For more information on SALADA products, promotions and updates on sampling opportunities, visit www.salada.com, "like" SALADA Tea on Facebook and Twitter.