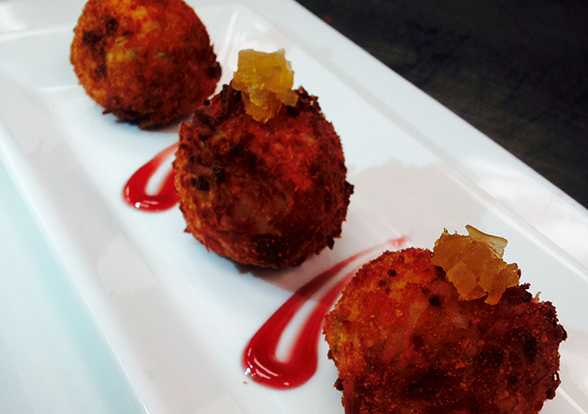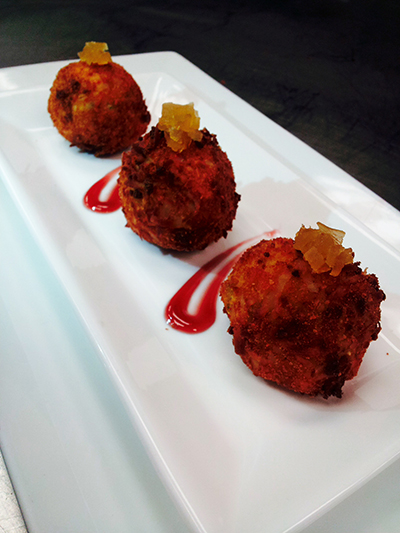 Salmorejo (Crab Stew) and Coconut Arancini
Ingredients:
12 oz crabmeat
1 tsp ground garlic
1 ½ tbsp chopped onion
2 or 3 olives, chopped
1 tbsp chopped green peppers
shopping list2 drops of Tabasco sauce
1 tbsp olive oil
⅓ C tomato sauce
½ C water
Salt to taste
2 C Cooked White Rice
Shredded Coconut
Directions:
Sautee all ingredients, except the crabmeat and rice, over medium heat for about two minutes, stirring continuously.
Add the crabmeat, stir, and cook, covered, for 15 minutes over low heat.
Stir and let stand for a few minutes, covered.
Let the Salmorejo and white rice cool down, then mix and roll into balls.
Bread with shredded coconut and serve hot.
CHEF BIO:
Germania María Diaz has spent 13 of her 21-year career in the kitchens of what was formerly known as the Condado Plaza hotel (today the Condado Plaza Hilton Hotel). Her discipline and passion for cooking have allowed the Dominican Republic-born chef a culinary evolution. Before working at Condado Plaza, Chef Germania María worked at El Conquistador Resort in Fajardo, Puerto Rico. Today she is one of a few female executive chefs in Puerto Rico's hotel industry, and the second to occupy the position in what is today the The Condado Plaza Hilton. She studied Culinary Arts in the Escuela Hotelera of Isla Verde, Carolina and will soon complete her BA in Marketing and Sales. She defines her culinary style as contemporary and enjoys presenting, bite after bite, a multi-sensorial cuisine.
The Condado Plaza Hilton (San Juan, Puerto Rico)
Ideally located on San Juan's sophisticated Condado strip, The Condado Plaza Hilton has the distinction of being the only hotel to overlook both the Atlantic Ocean and the tranquil Condado Lagoon. Designed by renowned architect Morris Lapidus in1963, the landmark hotel features 571 deluxe guest rooms and suites recently revamped by noted designer Leo Daly which offer sleek contemporary interiors, many with private balconies and breathtaking water views. Eight restaurants, bars and lounges – including the flagship restaurant of top Puerto Rican Chef Wilo Benet – suit guests with every taste and style. Also available are a private beach and protected swimming area; three outdoor swimming pools; tennis courts; 24-hour fitness center; ScoutAbout children's activity program; 24-hour 12,500 square-foot casino; and 40,000 square feet of meeting space. The sleek design of the hotel makes it the ideal urban retreat for business or leisure travel, with cosmopolitan sophistication that blends with San Juan's colonial tradition. For reservations or further information about The Condado Plaza Hilton, call 787-721-1000 or visit http://www.condadoplaza.com.