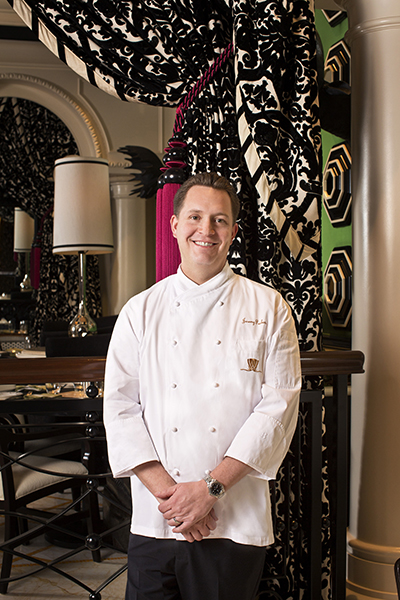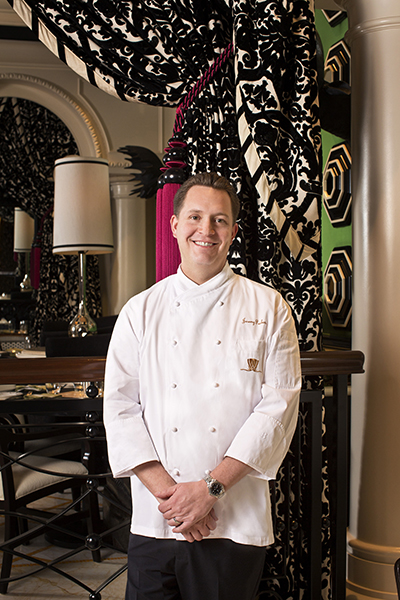 Wynn Las Vegas and Encore have appointed Jeremy Pacheco as Executive Chef of Society Café Encore, welcoming him to the resort's renowned culinary team. Drawing upon his passion for fresh, seasonal ingredients, Pacheco will maintain Society Café Encore's elevated yet casual dining experience while incorporating his unique and artful approach to the menu. Raised on his family's farm in Arizona, working with garden-fresh ingredients is Pacheco's way of life and the motivation for his lauded culinary career.
Society Café Encore's vibrant décor — modeled after Victorian era London —fosters an idyllic atmosphere to experience breakfast, lunch and dinner. Pacheco is amplifying the menu with seasonally rotating dishes that speak to his use of premier ingredient sourcing and his personal relationships with small farms and purveyors in Arizona. Examples include flour and corn from Phoenix's Hayden Flour Mills and showcased in the Semolina Gnocchi, and goat cheese which is brought in fresh from Crow's Dairy in Buckeye, Arizona.
Chef Pacheco elaborates that, "I am thrilled to take on the role of Executive Chef at Society Café Encore and join a team that is committed to unparalleled quality which starts from the source. Maintaining relationships with the farmers and purveyors in my hometown allows me to go back to the roots of my culinary passions, combining the best of Arizona with my new endeavor at Wynn Las Vegas."
Additional menu highlights include Huckleberry Soufflé Pancakes with ricotta, lemon, vanilla whipped cream and Monkey Bread with fresh baked brioche, salty caramel, pecans, cream cheese frosting for breakfast and the following lunch and dinner offerings: Lollipop Chicken "Wings" with shaved celery & carrots, Society hot sauce, blue cheese dip; Braised Beef Short Ribs with Semolina gnocchi, carrot puree, spring peas, mint, horseradish; Himalayan Salt Seared Tuna with Yuzu-soy sauce, chili threads, pickle onions, crisp rice cake; Mary's Free Range Chicken "Under a Brick" with Hayden Mills Polenta, spicy broccolini, lemon garlic jus. In compliment to the food offerings, Society Café has introduced Adult Floats including the Peaches & Cream with cream soda, white peach puree, vanilla ice cream and Stoli Peachik Sidecar and the Java Slide with cream soda, coffee ice cream and a Kahlua Sidecar.
Prior to being appointed Executive Chef at Society Café Encore, Jeremy Pacheco studied at the Scottsdale Culinary Institute and launched his career at The Phoenician's Terrace Dining Room (Scottsdale, Arizona). Pacheco then joined the Wynn Las Vegas team for the first time as the Chef de Cuisine of SW Steakhouse before working as the Tournant Chef of Encore and Wynn and the Chef de Cuisine at Society Café Encore. Reclaiming his roots in Arizona, Pacheco then took over as Executive Chef at Lon's at the Hermosa Inn (Paradise Valley, Arizona) where he sourced ingredients from his own half-acre garden, connecting with the farm-to-table process that first sparked his love of cooking. Pacheco's new home at Society Café marks the ultimate culmination of his connection to the Arizona landscape, expertise in farm-to-table dining, and acclaimed experience working with Wynn Las Vegas and Encore.
About Wynn Las Vegas
Wynn Las Vegas and Encore are two luxury hotel and casino resorts on the Las Vegas Strip. The iconic travel destinations are operated by international resort developer Wynn Resorts, recipient of more Forbes Travel Guide Five Star Awards than any other independent hotel company in the world. Wynn Las Vegas opened on April 28, 2005 and has been recognized as the best resort in Nevada on Condé Nast Traveler's "Gold List" for five consecutive years. The resort features 2,714 lavish guest rooms and suites, more than 111,000 square feet of state-of-the-art casino space, 14 casual and fine dining restaurants, a spa and salon and an on-site Ferrari and Maserati dealership and 18-hole golf course. Wynn Las Vegas is also home to "Le Rêve – The Dream," an award-winning theatrical experience blending aerial acrobatics, provocative choreography, powerful performances and elaborate effects. Encore, an expansion of Wynn Las Vegas, opened on Dec. 22, 2008. Featuring an additional 2,034 all-suite accommodations, a 72,000-square-foot casino, five restaurants and a spa and salon, Encore is located adjacent to Wynn Las Vegas. Combined, the two resorts boast four distinct nightlife and day club experiences, approximately 283,000 square feet of meeting space and 98,000 square feet of retail space. For more information on Wynn Las Vegas and Encore, visit www.wynnpressroom.com, follow on Twitter and Instagram at @WynnLasVegas and www.facebook.com/wynnlasvegas.