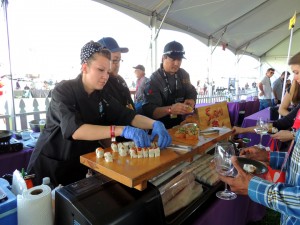 As one of the premier wine and food festivals in the nation and the largest in Southern California, the San Diego Bay Wine & Food Festival continues to captivate the hearts, minds and mouths of epicures seeking to savor the best in food and drink while schmoozing with power players from America's prolific gastro-scene. This year's 11th Annual San Diego Bay Wine & Food Festival again culminated with the legendary Grand Tasting Event, this year held on November 22, 2014, which was a magnificent mélange of some of the nation's most celebrated chefs, local culinary rock stars, renowned winemakers and brewmasters, sommeliers, mixologists, authors and other F&B talents who titillated and satiated the collective palate of more than 10,000 eager event-goers.
As with years past, the famed Grand Tasting Event (this year presented by Kia K900) turned the San Diego's Embarcadero Marina Park North into an epicurean epicenter where the city's preeminent chefs and other distinguished culinary masters from around the nation converged with an international showcase of the world's premiere wine, beer and spirits purveyors to showcase tasty new food and drink trends and innovative techniques. This food lover's paradise featured no less than 200 wineries, breweries and sprits from around the world, 70 local restaurants plus dozens of gourmet food companies, and an exciting "Chef of the Fest Competition" where San Diego's best chefs take center stage. The magnitude of culinary talent at this one locale never ceases to amaze.
Grand Tasting spectacular aside, this year's week-long San Diego Bay Wine & Food Festival set out to deliver the most indulgent fête yet. For one, the 7-day experience highlighted San Diego's vibrant culinary community with over 20 citywide events, wine and cooking classes, chef dinners, and multiple tasting events held throughout the week. These included rare tasting experiences like the highly-coveted tasting of the great Spanish wines of Vega Sicilia's Unico from the 60's, 70's, 80's and 90's as well as a First-Growth Bordeaux tasting of all five First Growths of the 1855 Bordeaux wine classification including Chateaux Lafite, Latour, Mouton, Margaux and Haut Brion.
As mentioned, this year's Festival also attracted culinary greats from across the country, including James Beard award-winning chefs Nate Appleman, Gale Gand, and RJ Cooper, Iron Chef America winner Katsuya Fukushima, and Chef Richard Blais of BRAVO TV Top Chef fame. Local San Diego culinary greats rounded out the roster of chef-lebrities, including Bernard Guillas of La Jolla Beach and Tennis Club and The Marine Room, Ivan Flowers of Top of the Market, Aron Schwartz of Marina Kitchen, and Brian Bonney of The Oceanaire Seafood Room, among throngs of others.
Even amid all of this grandeur and gaiety, the annual Grand Tasting Event—the drool-inducing apex of the sizzling, star-studded week-long Festival—is what I consider to be the singular can't-miss occurrence. With restaurants, wineries, spirit and specialty food companies galore, it's a marvelous opportunity to meander alongside the beautiful San Diego Bay as you partake in one of the largest and most lauded wine and food events in America.
~~~
"The Luxe List" Executive Editor Merilee Kern scours the luxury marketplace for exemplary travel experiences, extraordinary events, and notable products and services. Submissions are accepted at www.LuxeListReviews.com. Follow her on Twitter here: http://twitter.com/LuxeListEditor and Facebook here: www.Facebook.com/TheLuxeList.
Some or all of the accommodations(s), experience(s), item(s) and/or service(s) detailed above were provided at no cost to accommodate this review, but all opinions expressed are entirely those of Merilee Kern and have not been influenced in any way.