41 OCEAN DEBUTS NEW MENU CONCEPT AND RENOVATED INTERIORS
New Executive Chef Patrick Florendo and Revamped Setting Breathe New Life In To the Chic Beachside Restaurant and Lounge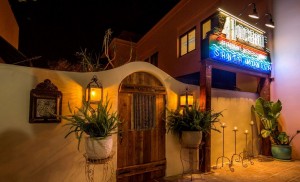 Today, Santa Monica's sophisticated 41 Ocean unveiled a new culinary approach from recently appointed Executive Chef Patrick Florendo, focusing on sharable and social dining experiences, paired with stylishly upgraded interiors, leading in to Southern California's prime al fresco dining season. Formerly members-only, the reinvigorated 41 Ocean will welcome the prospective members and local diners daily, while also providing exclusive new access and benefits to members.
Chef Florendo's new menu offerings are reflective of 41 Ocean's social and vibrant atmosphere, encouraging culinary discovery amongst diners. Playful dishes such as Spicy Tuna Tartare "Tacos," with crispy shallot, ginger, chili, fresh cilantro, and crunchy taro shell; and Rhubarb Burrata "Shortcake," with crispy ciabatta, tangerine vinaigrette, and sweet basil are the centerpiece, while dishes such as "Steak of the Day," a fresh take on the popular seafood offering, round out the menu. Other standout items include Crispy Golden Potato Tacos, Pan Seared Branzino and Southern Fried Chicken. Signature cocktails include the Pina En Fuego, with Casa Nobles tequila, pineapple, jalapeño; and Whispers at Midnight, with Ciroc vodka, blackberry, citrus, St. Germain foam. 41 Ocean also offers daily take-out, delivery and catering options for patrons via Sauce on Ocean, a partnership with what was Sauce on Hampton.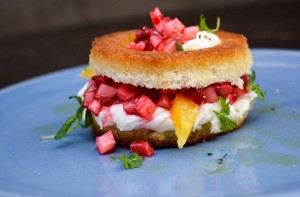 Designed by Matt Winter, 41 Ocean's compartmentalized, indoor-outdoor interiors were stripped to make way for all new furniture, new floors and custom furnishings, with the capstone being a fully remodeled private, members-only "clubhouse" room and outdoor experience. Maintaining the original beach chic aesthetic, new design elements include oversized leather arm chairs, massive sliding wood doors, wrought iron chandeliers and wall sconces, teal and white wall tile accents, mismatched throw rugs and more. Regular programming such as live music, chef tasting dinners, social hours and more cement 41 Ocean's atmosphere of approachable sophistication.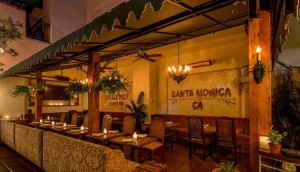 41 Ocean now formally welcomes prospective members and local diners daily, while also providing new and upgraded membership benefits. In addition to the fully renovated clubhouse, perks include sneak peeks and new dishes and special menus, private tasting dinners, access to additional exclusive rooms within the venue, preferred pricing, Executive Chef for private dining experiences, access to partner programs with local businesses, concierge service, premier VIP access to partner events and lounges, and more.
The efforts to reinvigorate 41 Ocean and cement its place as a premier West Side locale have been led by Sean Sette, newly appointed Senior Vice President of Ozumo Concepts International, and his team of industry veterans hand-selected from some of Los Angeles' leading hospitality groups.
Open Tuesday – Thursday from 4:30p-midnight and Friday and Saturday from 4:30p-close, 41 Ocean is located across from the Santa Monica Pier at 1541 Ocean Ave., Los Angeles, CA 90401. Evening hours are ideal for relaxed dining and enjoying live music, which evolves into a lively, high-energy lounge environment as the night goes on.