America's edamame leader continues to innovate unique healthy and delicious products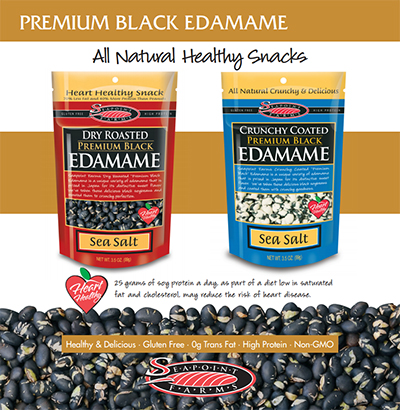 Seapoint Farms, the leading provider of edamame in the United States, is debuting an exciting new snack at the upcoming Natural Products Expo West: Dry Roasted Premium Black Edamame with Sea Salt. Utilizing what has been called the "Crown Prince of Beans," the Dry Roasted Premium Black Edamame with Sea Salt—the second in their growing Premium Black Edamame line—combines many of the flavors and qualities that make Seapoint Farms' unique edamame snacks so popular.
"Seapoint Farms Dry Roasted Premium Black Edamame with Sea Salt is a totally original new snack that brings together the qualities of both the coveted black soybean and our unique dry roasted edamame products," said Laura Cross, president of Seapoint Farms. "As black edamame continues to grow in popularity in the U.S., we want to provide consumers a variety of ways to enjoy its benefits."
Black edamame is made from a unique variety of black soybean that is distinctly sweet and prized in Japan. It is becoming increasingly popular in the United States as nutritional experts laud black soybeans for being "weight loss superstars" that are high in nutritional value due to their levels of Omega 3 fatty acids, Iron, Vitamin K and Anthocyanins, which help lower risk for certain types of cancer.
To create Seapoint Farms Dry Roasted Premium Black Edamame, the company dry roasts the black soybeans, adding just the right amount of sea salt, making the resulting product the perfect combination of sweet and savory flavors. The product provides a great complement to Seapoint Farms' other Premium Black Edamame snack – the Crunchy Coated Premium Black Edamame. Like all of Seapoint Farms edamame, the Dry Roasted Premium Black Edamame with Sea Salt is a gluten-free, heart-healthy, non-GMO and protein-rich snack.
Seapoint Farms Premium Dry Roasted Premium Black Edamame with Sea Salt has 14 grams of complete protein per serving. It also is a good source of fiber, is cholesterol free and has just 130 calories. It comes in a 3.5 oz. bag with an MSRP of $1.79-1.99 and is available now in cases of 12 to retailers nationwide.
Cross and the Seapoint Farms team will also be sampling the new Dry Roasted Premium Black Edamame with Sea Salt at Natural Products Expo West in Anaheim, Calif., March 7–9, 2014, booth #2473.
The Dry Roasted Premium Black Edamame joins the Seapoint Farms family of more than 20 frozen and dry roasted edamame products, and its expanding Premium Black Edamame line.
About Seapoint Farms
Founded in 1996 by Kevin and Laura Cross and based in Huntington Beach, Calif., Seapoint Farms is the first American company to pioneer edamame into U.S. supermarkets and natural food stores. The company is committed to offering all natural, non-GMO, delicious and convenient products and strives to bring the health benefits of edamame to consumers across the country in accessible and enjoyable ways. Seapoint Farms offers nutritious and convenient frozen edamame varieties, as well as a number of unique dry roasted edamame snacks. For more information on Seapoint Farms' entire product line, please visit www.seapointfarms.com.