SHARE THE LOVE THIS FEBRUARY WITH SALT & STRAW'S FIFTH ANNUAL CHOCOLATIER COLLABORATION SERIES
Salt & Straw goes beyond the box of chocolates this Valentine's Day, partnering with local artisan chocolate makers to recreate their delectable chocolates in ice cream form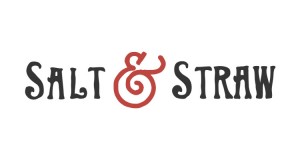 Celebrate Valentine's Day this February with Salt & Straw Ice Cream's Fifth Annual Chocolatier Collaboration Series. Inspired by the tradition of gifting sweet treats, each February Salt & Straw partners with chocolate makers in each city to highlight the individual techniques and ingredients of local, artisan chocolatiers through a scoop of ice cream. Now, the February Chocolatier Series has become an annual favorite, going a step beyond sending the traditional box of chocolates. Sample the variety of small-batch chocolatiers through a scoop, pint, flight or five pack of chocolate inspired ice creams. This year Salt & Straw has worked with artisanal Portland chocolatiers
Cocanú Chocolate
, Xocolatl de Davíd,
Missionary Chocolates
,
Alma Chocolate
and
Woodblock Chocolate
working in concert with the chocolate experts themselves to portray the varied and exciting community of chocolate. In Los Angeles, Salt & Straw has teamed up with
Compartés,
ChocoVivo
,
Twenty-Four Blackbirds
,
Ococoa
, and
Bar au Chocolat
to show off a uniquely Southern Californian approach to cacao excellence. Taste through Salt & Straw's Chocolatier Series menus and find yourself taking a guided tour of each city in the form of chocolates!
Scoops, pints and flights will be available in scoop shops
February 3rd – March 2nd
and gift packs of Portland's Valentine's flavors will be available for nationwide shipping through
www.saltandstraw.com
.
February Chocolatier Series Menu:
Viva la Chocolate Revolution! Small-batch craft chocolatiers and bean-to-bar makers up and down the West Coast are raising the bar when it comes to quality, creativity, and flavor combinations that inspire and delight. Each February, we craft our entire menu around exclusive collaborations with the who's who of local chocolate wizardry, working one-on-one with cacao artisans to translate their culinary point of view into ice cream that showcases how incredible chocolate can be. In Portland, we've paired up with Xocolatl de Davíd, Alma, Woodblock, Missionary Chocolate, and Cocanú to capture the Pacific Northwest's obsession with quality roasts and collaboration, and in Los Angeles we worked with Compartés, ChocoVivo, Twenty-Four Blackbirds, Ococoa, and Bar au Chocolat to show off a uniquely Southern Californian approach to cacao excellence. We don't simply add these chocolates into an ice cream, we utilize proprietary techniques—from the scientific to the mystical—and work in concert with the chocolate experts themselves to create flavors we love (and know you will, too). Explore the next wave of American chocolate mastery by following the trail of February's flavors, with our expert scoopers as your tour guides.
Portland February Chocolatier Series Menu:
Xocolatl de Davíd's Granola & Yogurt
Chocolate obsessive and Good Food Award-winner David Briggs of Xocolatl de Davíd combines the dedication and precision of a seasoned chef with beautiful ingredients showcased in elegant simplicity—and he's also redefining "granola bar" in chocolate form. In this collaborative flavor, we take David's granola recipe and coat individual clusters in his signature chocolate blend, then add them by the handful into a tart frozen yogurt. This flavor is the culmination of several years of granola and chocolate experimentation using David's quintessential scientific method: innovate again and again until it tastes amazing.
Alma's Toasted Milk with Assam Tea Caramel
Using intriguing ingredients and a true passion for exploring the possibilities of chocolate, Alma's Sarah Hart captures collaborative culinary stories from around the Pacific Northwest in her innovative small-batch truffles and bars. We teamed up with the flavor hunter to turn her recent bon bon collaboration with Portland's Smith Teamaker into an elegant ice cream tribute to afternoon tea. A ribbon of assam tea caramel is laced through a slightly smoky ice cream made by toasting milk powder and combining with sea salt, accented by curls of chocolate mimicking the delicate shell of bon bons in every bite.
Woodblock's Spiced Haitian Rum Raisin
Bean-to-bar chocolate maker Charley Wheelock has a passion bordering on obsession for sourcing, importing, small-batch roasting, and aging single-origin cacao beans until they are at their apex at his Southeast Portland chocolate lab. For this flavor—an edible boost to the Haitian economy—Charley selected a tiny batch of Haitian cacao beans and Haitian rum just for us. Rum raisin ice cream gets leveled up with lime juice, vanilla, nutmeg, clove, and allspice before we jewel each batch with plenty of shaved Woodblock chocolate.
Missionary's Chocolate & Lemongrass Curry Sorbet
Known for her flavor-packed vegan truffles sweetening farmers markets throughout the Portland area, Naturopath Melissa Berry is a dream collaborator because her coconut cream truffle recipe is basically an unfrozen chocolate sorbet! We hardly needed to change a thing about her lemongrass curry ganache before it went into our ice cream machines—and one taste of this flavor made with Melissa's favorite masala spices from Portland's Fresh Blends NW and a touch of fresh lemongrass and you'll be glad we stayed true to Missionary Chocolate's worldly flavors.
Cocanú's Cloudforest Vanilla w/ Passionfruit & Dark Chocolate
Sebastián Cisneros of Cocanú is a unicorn in the chocolate world—one of the few artisans who roasts his own chocolates and crafts them into flavored confections, tapping into both the artistic and scientific sides of this delicious craft. This year, Sebastián has added a new talent to his repertoire—Vanilla Bean Master. We were able to get our hands on the incredible vanilla "caviar" Sebastián's team scrapes from these one-of-a-kind beans in his native Ecuador, so we knew we had to capture the magic of vanilla and chocolate in one perfect flavor. We swirl together vanilla passionfruit ice cream and chocolate passionfruit ice cream crafted from vanilla and chocolate grown on two sides of the same hill, with the delicious addition of dark Cloudforest chocolate fudge. You are among the first Americans to sample this vanilla, so savor every bite!
Los Angeles February Chocolatier Series Menu:
Twenty-Four Blackbirds' Matcha Mint Chocolate Ganache
Santa Barbara bean-to-bar maker Mike Orlando combines his eclectic career path as a marine biologist, analytical chemist, drummer, and coffee enthusiast to put the science in chocolate making. A true chocolate engineer, Mike applies rocket science to craft chocolates, synthesizing methodical approaches to flavor and inventing new ways to process cacao beans with unmatched precision and beauty. This ice cream captures the method Mike uses in his mint ganache truffles—dehydrating Santa Barbara mint leaves and blending them into cream and single-origin Ecuadorian chocolate—stirred into matcha ice cream with a touch of citrus to bring everything together.
Bar au Chocolat's Marzipan Chocolate Tango
Nicole Trutanich of Bar au Chocolat has an instinctive, nearly mystical approach to making chocolate. Pulling out romantic flavors from single-origin batches of beans, she captures emotions by culinarily dancing with the aromas and nuances within each fresh-roasted batch. We joined the tango in this flavor, working back-and-forth with Nicole to create a marzipan custard ice cream that pairs seamlessly with a malted milk chocolate fudge. Close your eyes and get lost in the music of every bite.
Compartés' Spring Awakening
Design-forward and cutting edge, Compartés' Jonathan Grahm creates stunning bars and truffles with the philosophy that chocolate is art. A true chocolate prodigy, Jonathan began his chocolatier career in his teens, and took the helm of established chocolate shop Compartés when he was just 21. In this flavor, we captured the color and joy of Compartes' Spring Awakening bar—milk chocolate jeweled with freeze-dried strawberries, raspberries and blueberries. In our take, we coat the same suite of berries in milk chocolate and stir them by the handful into milk chocolate ice cream with a kick of strawberry vanilla jam from Laura Ann's Jams.
ChocoVivo's Mayan Tradition
ChocoVivo's bean-to-bar alchemist Patricia Tsai makes incredible chocolate using a stone-grinding method inspired by Mayan and Aztec cacao craftsmanship, incorporating whole spices with roasted beans in bold flavor combinations. Unlike many modern chocolate that are refined, conched, and tempered to get that glossy-smooth texture, ChocoVivo's rustic process preserves all of the health benefits, flavor nuances, and natural complexity of Patricia's ingredients. This spiced chocolate ice cream combines cacao nibs, California almonds, Ceylon Cinnamon Sticks, three kinds of chiles, and a touch of salt for a deliciously balanced and warming delight.
Ococoa's Port & Caramel Truffle
An up-and-comer in the Los Angeles chocolate scene, Ococoa's Diana Malouf brings a gentle touch and nod to old-world chocolatier tradition with her butter cups and truffle bars, named some of "America's Best Chocolate" by Bon Appétit Magazine. In this flavor, we showcase the flavors of Diana's Tawny Port Truffle Bar with a port and salted caramel chocolate ice cream decked out with port chocolate sauce and slices of ganache to pump up the chocolate factor even more.
About Salt & Straw Ice Cream
Salt & Straw Ice Cream is a family-run, chef-driven ice cream company with kitchens and scoop shops in Portland and Los Angeles that partners with local artisans, producers and farmers to serve unusually creative and absolutely delicious ice cream. Each ice cream is handmade in small batches using only all natural cream from local farms in each city. Flavors showcase the best local, organic and sustainable ingredients from Oregon and Southern California farmers and artisans as well as imported flavors from small hand-picked farms from around the world. The company started in Portland, OR serving eight flavors from an ice cream cart in May of 2011 and now has three scoop shops in Portland and four in LA along with a shop opening in San Francisco in March 2017. Scoops of handmade, small batch ice creams, sundaes, milkshakes and floats as well as pints to go are available at each shop with an ice cream sommelier of sorts who will gladly take you through a tasting of all the flavors. Favorites, seasonal, design your own variety packs and pint club memberships are available for online purchase and can be shipped anywhere in the United States. Salt & Straw's ice cream cart is available for catering parties and events. In April of 2016, Salt & Straw opened the Wiz Bang Bar at Pine Street Market, a soft serve dessert bar featuring fresh spins on the childhood swirl, sundaes, novelties, and, more. Follow Wiz Bang Bar on
Facebook
at Wiz Bang Bar and on
Twitter
and
Instagram
at @wizbangbar. Find more information at
www.saltandstraw.com
or call
971-271-8168
. Follow us on
Facebook
at Salt and Straw Ice Cream,
Twitter
and
Instagram
: @SaltandStraw.