De Noche Mexicana Teams Up with Pinot's Palette to Host an Evening of Painted Mexican Sunsets
Tuesday, March 29, 2016, at 6:30 p.m.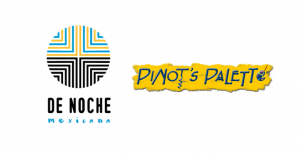 De Noche Mexicana http://www.denochemexicana.com will soon have a new neighbor in Logan Square when Pinot's Palette http://www.pinotspalette.com/logansquare opens down the street in a few weeks. To welcome them to the neighborhood, they will team up for a preview event at De Noche Mexicana on Tuesday, March 29, 2016, at 6:30 p.m. with "Sip Your Way to a Mexican Sunset".
For $45 per person, patrons will be led by an instructor from Pinot's Palette on how to paint a sunset on a keepsake canvas as they enjoy Mexico's oldest beer, Victoria, along with fresh salsa and tortilla chips from De Noche Mexicana. Tickets may be purchased in advance here: denocheevents.eventbrite.com, as space is limited. Weather permitting, the event may take place on the patio. Attendees must be 21 and over.
About De Noche Mexicana:
The dinner concept by Café Con Leche having opened originally in 2009 as D'Noche is now De Noche Mexicana and is located at 2710 North Milwaukee Avenue, Chicago, Illinois 60647. De Noche Mexicana is open for dinner seven days a week from 4:30 p.m. until 10:30 p.m. Sundays through Thursdays and until 12:00 a.m. on Fridays and Saturdays. Please call 773-289-4274 or visit http://www.denochemexicana.com/#!de-noche/cxz3 online, https://www.facebook.com/dnochedrinkdinelatin on Facebook, https://twitter.com/DeNocheMexicana on Twitter, and https://www.instagram.com/denochemexicana/ on Instagram.
About One of a Kind Group:
Founded by Esam Hani, a philanthropic restaurateur and native from the ever-growing and changing Chicago neighborhood of Logan Square, the One of a Kind Group currently owns and operates three food and beverage establishments the area: Café Con Leche, De Noche Mexicana, and The Harding Tavern. Café Con Leche is a Logan Square staple known for breakfast, lunch and brunch, serving Latin comfort food since 2001. De Noche Mexicana, the dinner concept by Café Con Leche which rebranded in 2016, offers fresh and innovative Mexican and Latin favorites. The Harding Tavern, which opened in 2014, is an upscale yet approachable neighborhood tavern serving breakfast, lunch, brunch and dinner. http://www.denochemexicana.com/