Crispy Baked Zucchini Fries recipe
Featuring O'dang Honey Mustard Dressing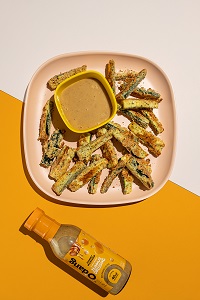 Ingredients:
2 medium zucchini
2 egg whites or 1 egg, whisked
1/2 cup almond flour (or almond meal)
1/2 cup grated parmesan cheese*
2 tsp Italian seasoning
1 tsp sea salt
O'dang Honey Mustard Dressing, for dipping
Directions:
Line a baking sheet with parchment paper.
Cut zucchini in half (vertical) and then slice each piece into two pieces widthwise.
Slice each piece into fries, keeping them all around the same size.
Whisk your eggs in a shallow bowl and prep your bread crumb mixture.
In a small bowl, mix together the almond flour, parmesan cheese, Italian seasoning, and salt.
Take the zucchini strips and dip each one into the egg wash and then dredge into the "breading" mixture, making sure you coat the zucchini entirely.
Place the breaded zucchini directly on the prepared baking sheet. Bake at 425º for 10 minutes, flip and bake for an additional 10 minutes. The zucchini fries should be crisp and golden brown.
Serve the baked zucchini immediately with your choice of O'dang dipping sauce! (One of our faves is Honey Mustard)
Chipotle Sweet Potato Salad recipe
Featuring O'dang Roasted Red Pepper Mayo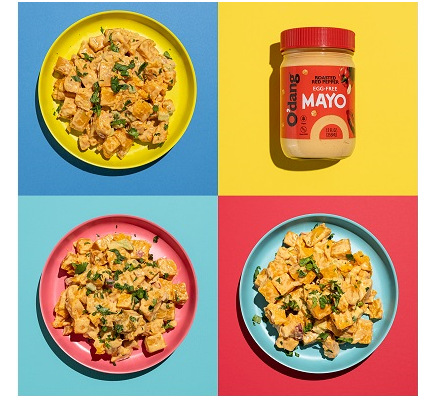 Ingredients:
3 pounds sweet potatoes, peeled and cut into 3/4-inch pieces
1/4 cup finely chopped sweet onion
1/4 cup finely chopped celery
1/4 cup finely chopped seeded fresh poblano pepper
1 jalapeno pepper, seeded and finely chopped
1 cup O'dang Roasted Red Pepper Mayo
2 tablespoons lime juice
1/2 to 1 teaspoon ground chipotle pepper
1/2 teaspoon salt
1/4 teaspoon pepper
Minced fresh cilantro
Directions:
Preheat the oven to 425°. Place sweet potatoes in a parchment-lined 15x10x1-in. baking pan; cover tightly with foil. Roast until tender, 25-30 minutes. Cool. Transfer to a large bowl.
Add onion, celery, poblano, and jalapeno. Combine the O'dang mayo, lime juice, chipotle pepper, salt, and pepper; pour over potato mixture and toss gently to coat.
Refrigerate, covered, until serving.
Sprinkle with cilantro.
O'dang Mediterranean Quesadilla
Featuring O'dang Classic Mediterranean Dressing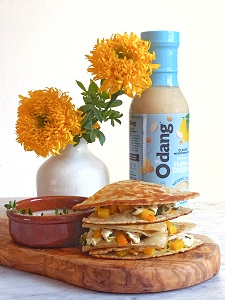 One 8" soft flour tortilla (sub for soft corn or spinach if gluten free)
2 tablespoons extra virgin olive oil, separated
1/4 cup minced yellow pepper
1/4 cup minced orange pepper
1/4 cup minced red onion
1/4 cup mashed garbanzo beans
1 bottle O'dang Classic Mediterranean Dressing
1/4 cup feta cheese, crumbled
1/4 cup spinach leaves
Pinch Salt & Pepper
Parsley for garnish
Avocado slices (optional)
Tomato slices (optional)
Meat of choice (optional)
Directions:
Over medium high heat, sauté 1 tablespoon EVOO, peppers, garbanzo beans, onion, salt and pepper in a small nonstick skillet. Cook for 2 to 3 minutes. Gently mash beans into pepper mix. Add 2-3 tbsp O'dang Classic Mediterranean dressing and mix. Add in meat choice if desired.
Assemble:

Over medium high, add remaining tablespoon EVOO to a small skillet. Add tortilla, then top with the filling. Layer on spinach leaves & feta, fold in half, brown sides evenly.
Top quesadilla with parsley, avocado, tomato, and / or desired topping.
Drizzle O'dang Classic Mediterranean Dressing atop to taste, and / or pour into a side dish as dipping sauce.
About O'dang Foods™️
O'dang offers a new-to-category innovation with its line of premium chickpea-based condiments. Made with real chickpeas, O'dang dressings offer full-flavor, plant-based dressings with lower sodium, lower fat and fewer calories, in eight tasty flavor profiles. O'dang recently launched its line of egg-free mayonnaise, all three flavors of which are now available at Publix Super Markets. The non-GMO, gluten-free dressings are available at retailers nationwide including Central Market, The Fresh Market, Fresh Thyme, Gelson's, Harris Teeter, Hy-Vee, Ingles, Jewel, Raley's, Walmart and Weis, O'dang dressings retail for $4.99 per bottle. Join the hummus revolution on all major social media channels @odangfoods #odang and visit www.odangfoods.com
French Onion Dip Recipe
Featuring DAH! Oat+Almond+Coconut Yogurt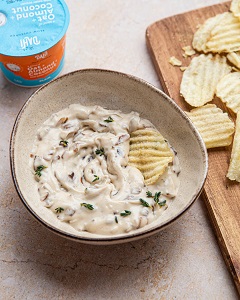 2 tablespoons butter or olive oil
2 medium onions minced (about 1 ½ cups total)
2 cups DAH! Plain flavor Oat+Almond+Coconut yogurt
1 teaspoon Worcestershire sauce
½ teaspoon salt
½ teaspoon garlic powder
¼ teaspoon black pepper
Instructions
-In a saute pan over medium-low heat, add butter. When melted and hot, add onions and saute until caramelized and golden brown, about 20-25 minutes, stirring occasionally. If onions begin to stick to the pan or dry out, reduce heat and add a splash of water to rehydrate onions.
-Remove from heat and allow it to cool to room temperature.
-In a bowl, combine DAH! Plain Oat+Almond+Coconut yogurt, salt, garlic powder, black pepper, and Worcestershire sauce. Stir in caramelized onions.
-Cover and refrigerate for 2 hours prior to serving, to allow flavors to meld
About DAH!
DAH! is the leading India-inspired yogurt company in North America. The company's traditional, slow-cultured process makes its product lines a leader in the yogurt category. DAH! offers traditional Lassi and plant-based yogurt cups in a variety of flavors including Plain, Alphonso Mango, Field Strawberry, Wild Blueberry, Golden Milk, and Madagascar Vanilla. The latest offerings to join the brand are Dahi, a traditional yogurt made through the slow-culturing process made with whole or low-fat milk, and a blend of Oat + Almond + Coconut non-dairy yogurt, available in Mango Chili, Blueberry Pomegranate, Strawberry Key Lime, Cherry Vanilla, and traditional Vanilla and Plain. The 2020 Sofi Award Winning brand took home the Gold Award in the 'Yogurt & Kefir' category for its 32oz Lassi Alphonso Mango and the Bronze Award in the 'Plant-Based-Other Dairy' category for its Alphonso Mango Almond yogurt. DAH!'s Organic Alphonso Mango Almond Yogurt also was awarded the Spark Change 2020 NEXTY Award for Best New Organic Food category. The company's products can be found in Whole Foods, Market Basket, Safeway, Walmart, Publix, Wegmans, Erewhon, Bristol Farms and specialty grocery stores. Live DAHliciously! www.dahlicious.com | Follow @Dahlicious on social media
Penne Straws by Pasta Snacks
Game-Winning Guacamole and Bean Football dip with Lemon Garlic Penne Straws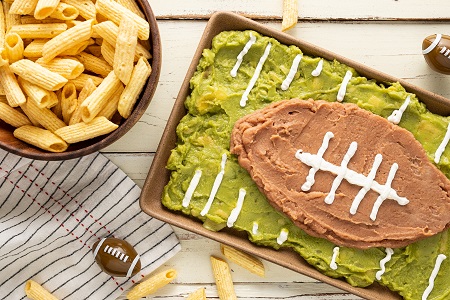 Ingredients:
3 ripe avocados
A pinch of salt
2 garlic cloves (minced)
1 lime
1 1/2 cups refried beans
1/2 cup sour cream
1 Bag Lemon Garlic Penne Straws
Instructions:
Peel all three avocados into a medium-size bowl.
Add juice from the lime, pinch of salt, and minced garlic to the bowl.
Using a fork, gently mash the avocados a few times and stir all ingredients together.
Add the Guacamole to the bottom of your favorite party casserole dish.
Gently add the refried beans to the middle of the dish making a 2nd layer and shape into a Football.
Utilizing a piping bag or easy squeeze sour cream bottle, draw your field and football lines.
Lastly, serve with a bowl of Lemon Garlic Penne Straws. Enjoy!
Prosciutto wrapped Penne Straws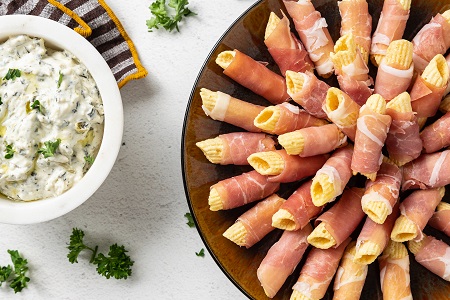 Penne Straws Snacking Tray Paired with The Jersey Tomato Co. as a tomato "salsa" dip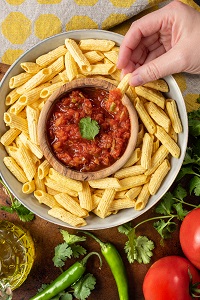 To make an easy, yet flavorful and fresh tomato dipping option, in lieu of a traditional salsa, The Jersey Tomato Co.'s Spicy or Tomato Basil flavors, make for the perfect dip to pair with Penne Straws. The Jersey Tomato Co. offers fresh-from-the-garden Jersey tomatoes that are naturally low sodium and a healthier sauce, and lend themself to dip pairings on their own due to their fresh flavorful taste and textures. For a milder option, combine the Spicy and Tomato Basil flavors for all to enjoy.
Cannoli Straws made with Cinnamon Churro Penne Straws
Ingredients:
32 oz. whole milk ricotta, strained
1 1/2 cups (180g) powdered sugar
3/4 cup (126g) mini chocolate chips
1 Bag Cinnamon Churro Penne Straws
Instructions:
Combine the ricotta, powdered sugar, and chocolate chips in a bowl and hand mix.
Transfer the filling to a piping bag with a smooth or star-shaped nozzle and place in the freezer for 5-10 minutes.
Pipe the filling into each one and top each end with chocolate chip
Enjoy!
ABOUT PENNE STRAWS by Pasta Snacks
SNAX-Sational Brands' PENNE STRAWS has become a consumer favorite, since it's 2018 launch by Pasta Snacks. The plant-based snack has grown to be the go-to chip alternative, offering a perfect crunch, delicious taste, and low-calorie ingredients. Penne Straws are gluten free, in the shape of actual penne noodles, are seasoned to perfection, and offer 4 tasty flavors: Cinnamon Churro Chips, Mac 'N Cheese, Marinara, and Sweet Pepper.
Made with all-natural ingredients inclusive of Lentils & White Beans, the snack is non-GMO, OUD Kosher certified, and cholesterol-free. Crafted from durum wheat semolina flour and farro, a higher protein grain for a more nutrient-dense product and baked with fine seasonings. The results are a robust taste and crispy texture throughout. The low calorie snacks are a gently baked, healthy snack option for the entire family to enjoy. Available at top food retailers like Safeway, Albertsons, Shaws, Mariano's, Market Basket, 7-11 and more as well as via E-comm purchasing at www.pastasnacks.com
A portion of all Pasta Snacks proceeds will be donated to the Ryan Seacrest Foundation across all flavor varieties throughout 2021! Not only healthy snacking, but feel good snacking with a purpose!! Learn more @ryanfoundation
Follow them on social @EatPastaSnacks #PenneStraws
About The Jersey Tomato Co.™️
The Jersey Tomato Co. offers fresh-from-the-garden, naturally low sodium tomato sauces featuring renowned chef and notable 'Top Chef' Head Judge Tom Colicchio as the brand's official partner and culinary consultant. The brand's emphasis on vine-ripened, garden-fresh taste and naturally healthful attributes sets it apart from the competition. Forr more information visit wwwjerseytomatoco.com and follow @thejerseytomatoco