It would be a profound understatement to say that 2020 has been a tumultuous and chaotic year. For all too many, it has been downright devastating. Despite the doldrums, disappointments and heartache, people far and wide are endeavoring to embrace the spirit of the holiday season and find joy where they can. This includes bestowing thoughtful and heartfelt gifts on friends, family, colleagues and others of care and concern in our sphere. With this, many have asked for my recommendations on foodie-forward holiday gift ideas that can make our lives increasingly "at home" more comfortable, enjoyable and tasty. Here are some of my favorite gift-worthy food and beverage finds of the year.
***** EAT *****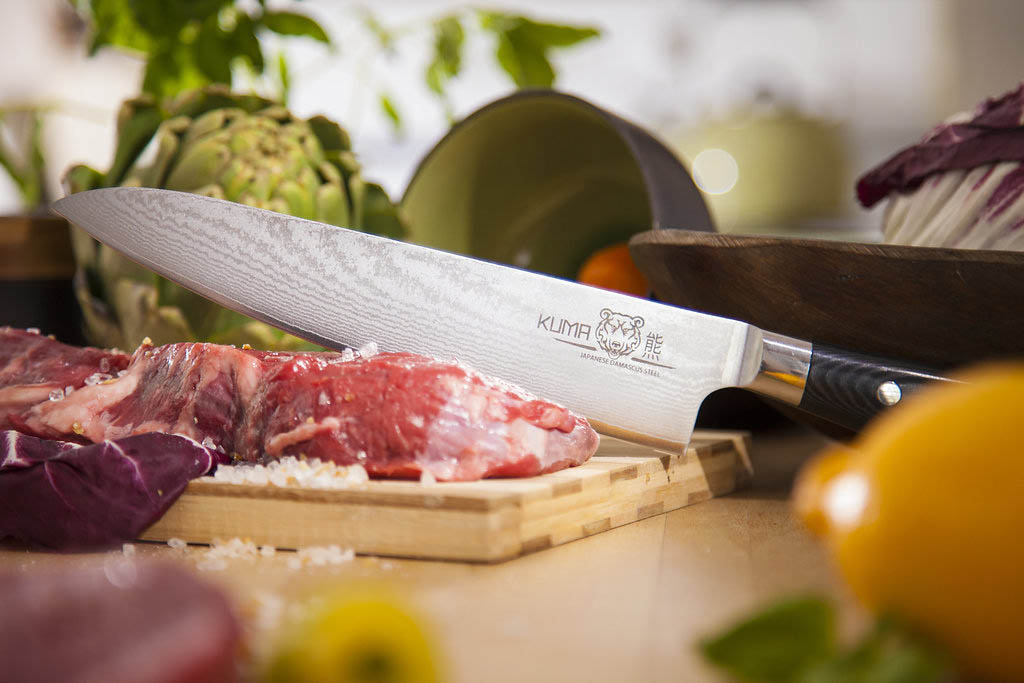 Japanese Damascus KUMA Chef's Knife and Honing Rod (www.KumaKnives.com)
Upgrade a friend or family member's cutlery this holiday season with kitchenware from KUMA. One of the company's top pieces is the Premium Chef's Knife featuring a blade made of 67 fine layers of Japanese imported Damascus high-carbon steel and an ultra-comfortable G10 handle. This razor-sharp chef's knife is a testament to outstanding craftsmanship composed of only the finest materials available. The result is a blade that comes incredibly sharp right out of the box and will keep its cutting edge for hours upon hours of work. Careful V-shape sharpening methods and up to eight types of handmade engineering processes ensure a scalpel like cutting edge, while minimal bolster exposes the blade heel to enable thorough cutting jobs. At a 58-60 Rockwell hardness, this super blade measures just 2.5mm thick. An easy-to-use protective sheath also comes included. Meanwhile, the KUMA Honing Rod is the perfect companion for your knives. Designed with carbon steel and a comfortable handle, this simple product lets you easily and quickly breathe new life into your old, dull cutlery. The KUMA Honing Rod comes with simple, two-step instructions for best use. This honing steel is a must have for anyone who wishes to keep their knives sharp with ease.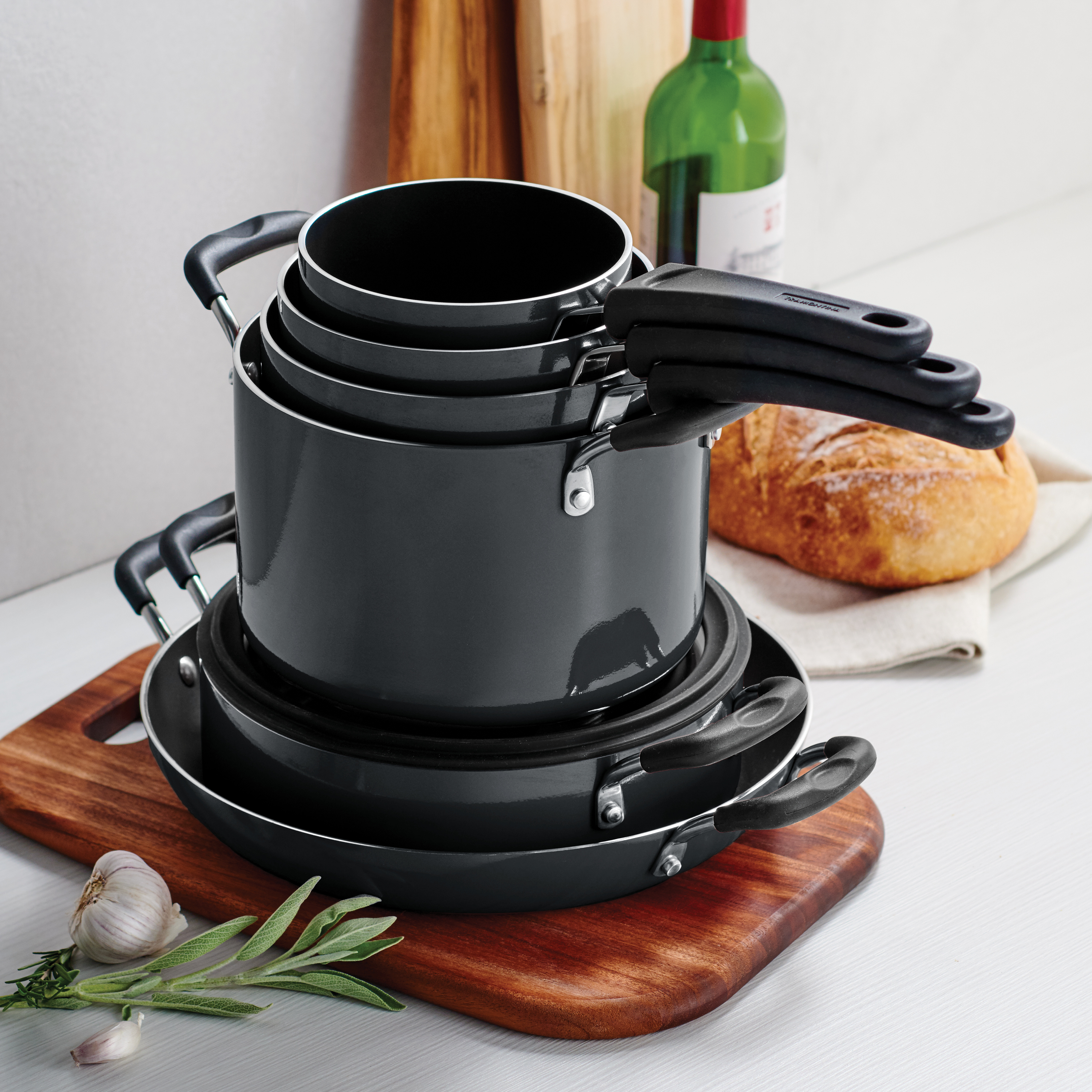 Tramontina Nesting Cookware Set (www.Tramontina.com)
Here's a great kitchenware gift for those who are space-challenged—especially those apartment and condo dwellers. The Tramontina Nesting Cookware Set allows for unusually compact storage. When stacked, it saves up to 50 percent overall space and its footprint is no bigger than that of one single pan. The handles also lock together, protecting the pans by neatly spacing them. This modern cookware combines a durable, porcelain enamel exterior with a practical, PFOA-free, cadmium-free and lead-free Teflon Platinum nonstick interior. It also features a heavy-gauge aluminum core for excellent heat conductivity. The Tramontina 11-piece set includes a 12-Inch Sauté Pan; three-quart Casserole with lid; 1.25-quart Saucepan with lid; two-quart Saucepan with lid; three-quart Saucepan with lid; 4.75-quart Saucepot with lid. Compatible with gas, electric and ceramic glass cooktops, each of the cookware items included in the set are also oven-safe up to 350°F and 176°C and are dishwasher-safe as well.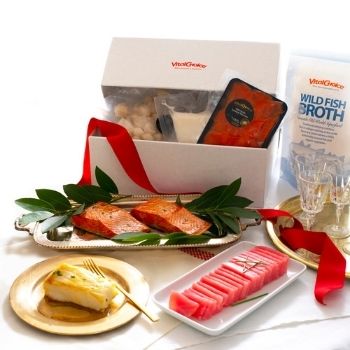 Vital Choice Limited-Edition Holiday Seafood Gift Box (www.VitalChoice.com)
To spoil the seafood lover in your life, proceed directly to Vital Choice—a trusted wild-caught seafood and organic delivery service. The company is now offering a Limited-Edition Holiday Gift Box curated with staff seafood favorites for this winter season. Great as a gift or for yourself, the curated selections feature a unique selection of wild-caught seafood along with a recipe card and a packet of their yummy island style seafood rub. Available sampler options include Two six-ounce portions of Chilean Sea Bass; two six-ounce portions of Wild Sockeye Salmon; one one-pound bag of Patagonia Scallops; one four-ounce portion of Nova Lox; one 24-ounce pouch of Wild Fish Broth; one eight-ounce portion of Ahi Saku Block; and one packet of Vital Choice's Island Style Seafood Rub. The company only offers wild-caught fish, which is nutritionally superior to farmed fish and free of the antibiotics, pesticides and GMO feeds used on fish farms. By selecting wild seafood, you also support the coastal communities that catch and process it. Plus, all of their seafood is environmentally responsible and certified by the Marine Stewardship Council (MSC) or deemed Best Choice or Good Alternative by Monterey Bay Aquarium Seafood Watch. Ethically sourced, Vital Choice seeks ingredients that are certified organic and Fair Trade Certified whenever possible. Suppliers are also sought who uphold good manufacturing practices and who make a positive impact on their employees, communities and the environment.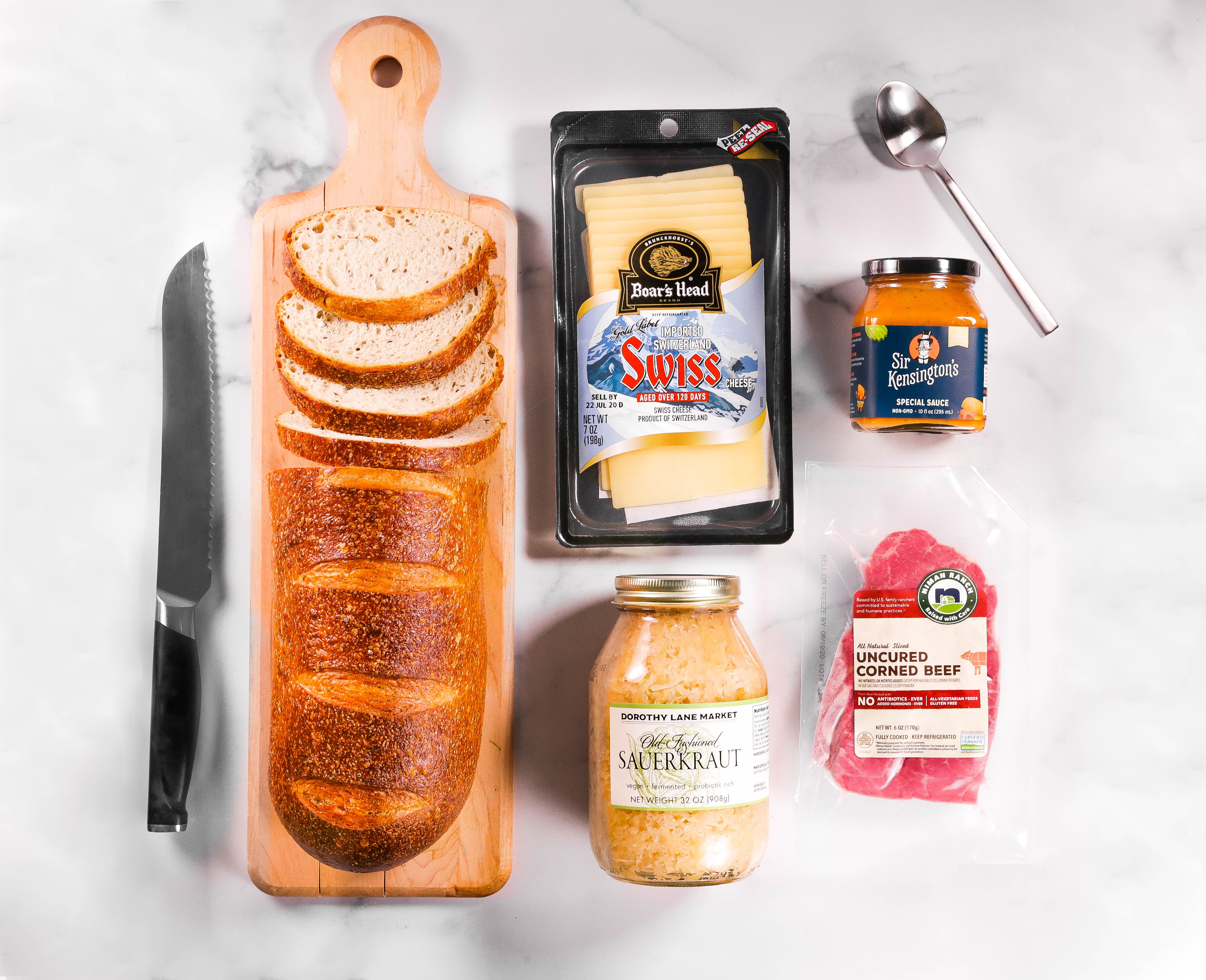 Dorothy Lane Market Assorted Products (www.Shop.DorothyLane.com)
This holiday season, Dorothy Lane Market has the hookup for your foodie gifting needs. The Reuben Sandwich Kit is one great giftable example. This sammy is a deli favorite and longtime staple that combines salty corned beef, tangy sauerkraut and special sauce along with pungent Swiss cheese enveloped by a soft, aromatic grilled rye bread. Dorothy Lane Market's Reuben Sandwich Kit is extra special because it includes their own DLM Sauerkraut and New York Rye Artisan Bread that is baked fresh in its own bake house. It also boasts two packages of Niman Ranch Corned Beef that is raised without antibiotics or hormones and has no nitrates or nitrites. Assembly is required, but that's the fun of it! In the same vein, the company separately configured their favorite meat and cheese selections for you to create an amazing Charcuterie and Cheese Board from the comfort of your home. It includes Les Trois Petits Cochons (The 3 Little Pigs) Jambon Sec, Saucisson Sec and Mousse Truffée, along with six-month aged Manchego, Montchevre Goat Cheese and Saint Rocco Brie pair perfectly with the Firehook Crackers, cornichons and Edmond Fallot grainy mustard. To brighten up the flavors, they also include Le Bon Magot Lemon-Sultana Marmalata. This is a well-balanced selection that will rival any charcuterie board in your favorite restaurant. As for gadgetry, I particularly enjoy the company's Aerolatte Frother, which allows you to enjoy coffeehouse quality drinks at home without the use of steam. The specially designed whisk head works in pre-heated milk to create rich, thick foam for cappuccinos, lattes or flat whites. It comes with two AA batteries and will keep frothing milk for ages. It also mixes divine hot chocolate and delicious milkshakes. So, unleash your inner barista with Dorothy Lane Market's Aerolatte Frother.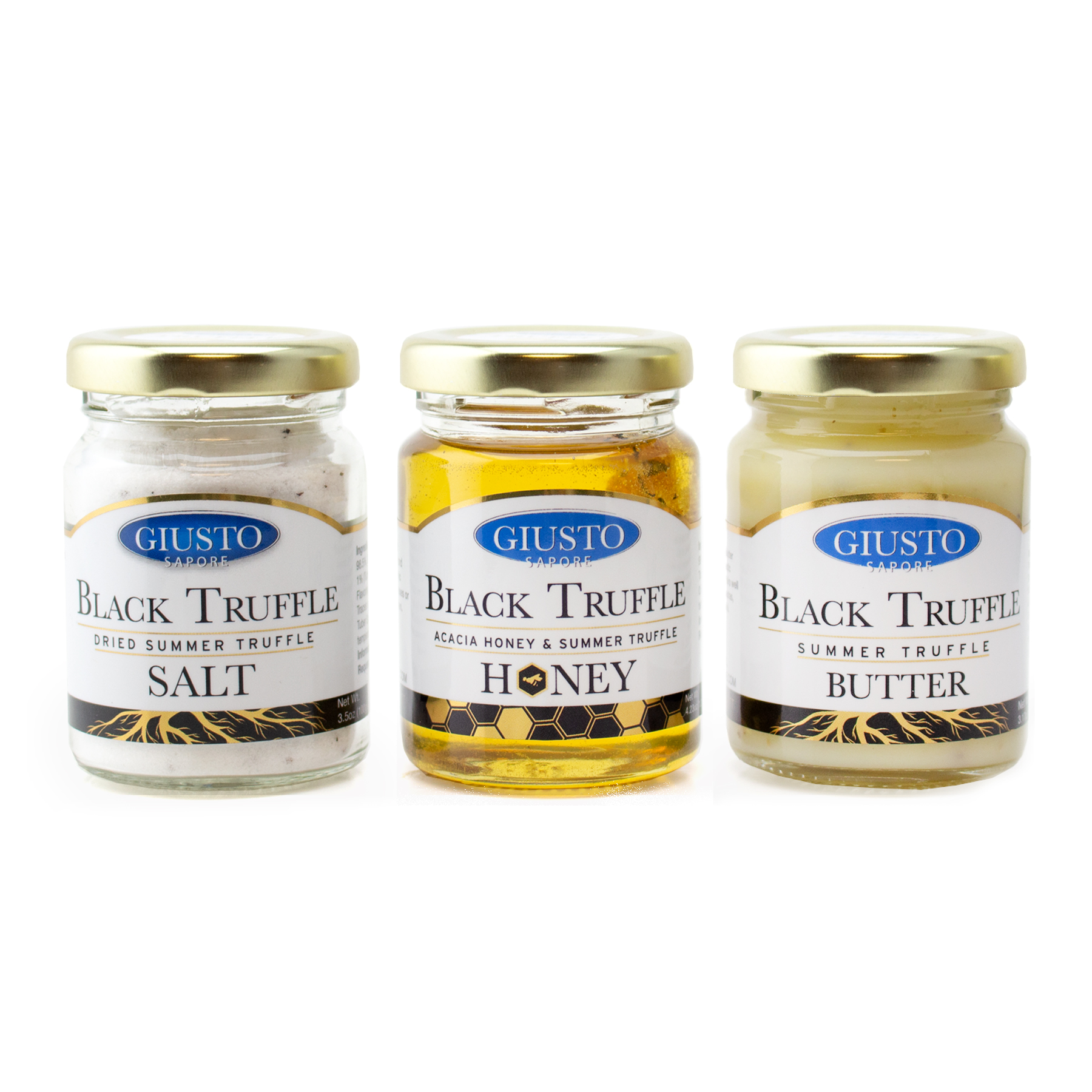 Giusto Sapore Gourmet Condiment & Olive Oil Gift Sets (www.Amazon.com)
Gourmet food-lovers will surely appreciate pretty much anything from Giusto Sapore's artisanal arsenal. This definitely includes the brand's Black Truffle Sweet and Savory Gourmet Condiments that make a terrific gift for your boss, an in-law, the hostess with the mostest, Secret Santa and more. Imported from Italy and delivered straight to your kitchen table, their gourmet truffle honey, butter and salt are culinary staples that every foodie or gourmand should have in their home. The premium, truffle honey, truffle butter and truffle salt hail from the Umbria region in central Italy, where family-owned and operated truffle farms produce these deliciously tasting products. The lush, black summer truffles are hunted, hand-selected, sliced fresh and added to their rich, creamy butter, sweet acacia honey and mineral-rich Italian sea salt. The enticing, oaky flavors of expertly sourced truffles infused with all-natural condiments provide an unmatched flavor in every bite, making this an affordable luxury you can indulge throughout the year. Add a dab or a pinch of Giusto Sapore's truffle honey, butter or salt to quickly and effortlessly turn any meal, appetizer, cheese board or snack from ordinary to extraordinary. Their gourmet, versatile collection of savory truffle condiments are perfect to sprinkle, drizzle or add to popcorn, sautéed vegetables, meats, pastas, breads and more!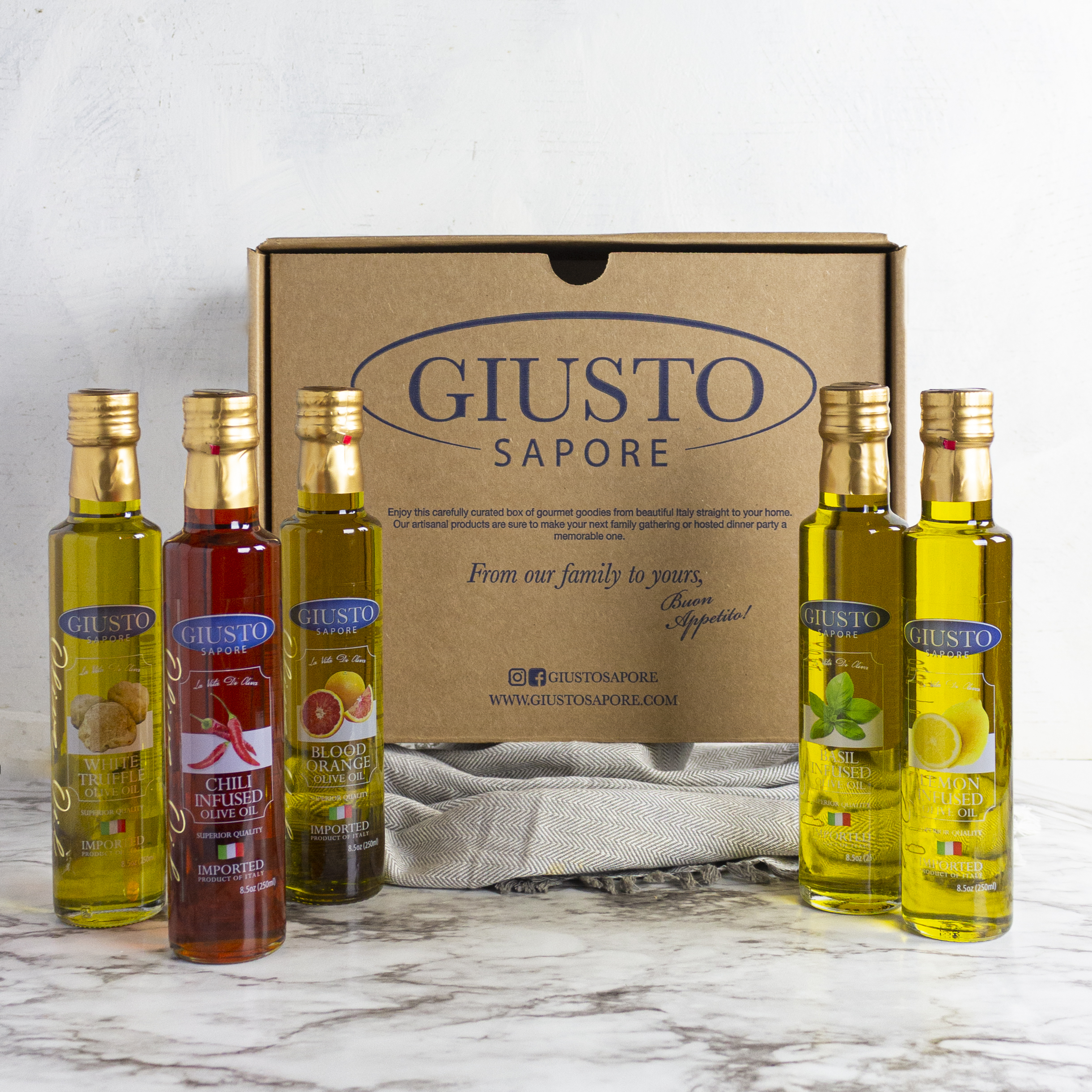 Meanwhile, Giusto Sapore's Infused Olive Oil Gift Set is a culinary staple that everyone would do well to have in their home. These premium, gourmet olive oils are flawlessly created by using only hand-picked olives from the Puglia region of Italy and infused with all-natural flavors. This carefully curated gift set includes best-selling infused olive oils that feature an ultimate blend of rich flavor, intense aroma and superior quality that every foodie will love! The Citrus Spice set features White Truffle, Chili, Basil, Lemon and Blood Orange infused olive oils. This versatile collection is perfect for cooking, marinades, dressings, bread and more. Giusto Sapore is a family-run business, passionate about delivering an authentic tasting experience, which is why every item is carefully sourced from the hands of local farmers, bakers and roasters in Italy and other regions in Europe that boast centuries-old, time-tested recipes.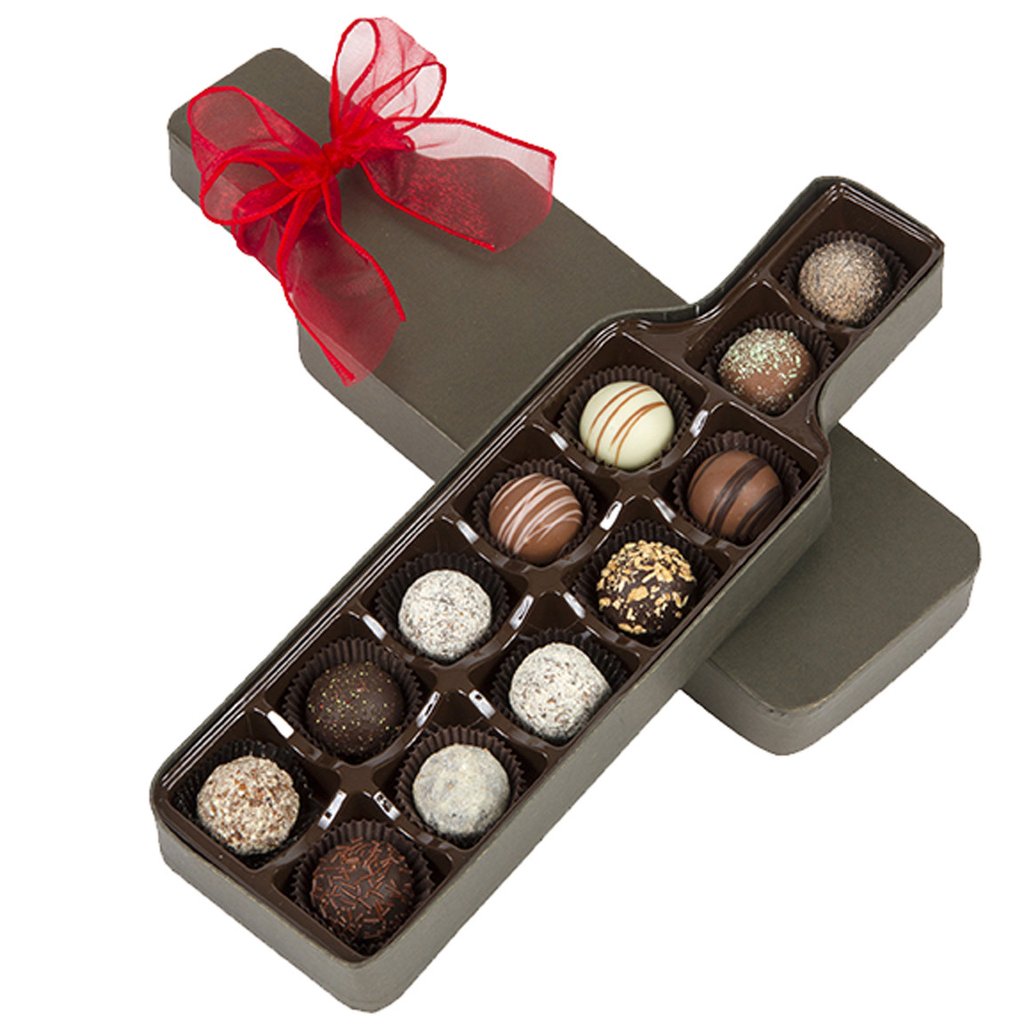 Sugar Plum Gourmet Gifts (www.Sugar-Plum.com)
For a gift that is as beautiful as it is tasty, look no further than Sugar Plum. Exquisite, decadent gourmet gift options range from to-die-for truffles in a wine shaped box, an epicurean nut collection featuring spices from around the world, mouthwatering chocolate covered cookies and much more. All of Sugar Plum's delicious gourmet treats are lovingly hand crafted and made from their bakery and kitchen in Kingston, Pennsylvania, by a mother and son team Fran and Neil Edley. As they say, food is the ingredient that binds people together. These succulent, divine confections are truly special gifts for anyone on your list from friends, neighbors, family and teachers, to colleagues, babysitters and more. The Wine Truffle Box Assortment features a 12-piece assortment of Sugar Plum's incredible handcrafted chocolate truffles all beautifully laid out in a wine bottle-shaped box that will set the mood for a fantastic day and night with your special someone. The Around The World Spicy Nut Sampler lets you do some culinary exploration of your own without even leaving your couch. You'll enjoy five globally-inspired peanuts with sweet and spicy flavors consisting of African Piri Piri, Caribbean Jerk, Coconut Curry Thai, Mexican Spiced Cocoa and Moroccan Harissa Lime. The Dark Chocolate Pomegranate Bark blends Sugar Plum's deeply rich 72 percent dark chocolate with luscious pomegranate to produce a boldly indulgent bark that wants to pop off the tongue with every bite. Try pairing this with a smooth Merlot or bright Sangiovese for an experience so good that you just might not want to share! Each box includes one full pound of chocolate bark, ready for your snacking pleasure. The Signature Chocolate-Covered Sandwich set includes nine total chocolate-covered sandwich cookies, including one each of the company's renowned milk, dark and white chocolate-covered varieties. The sampler also includes six additional cookies as well. Go ahead, give these gifts of indulgence and watch the elation ensue.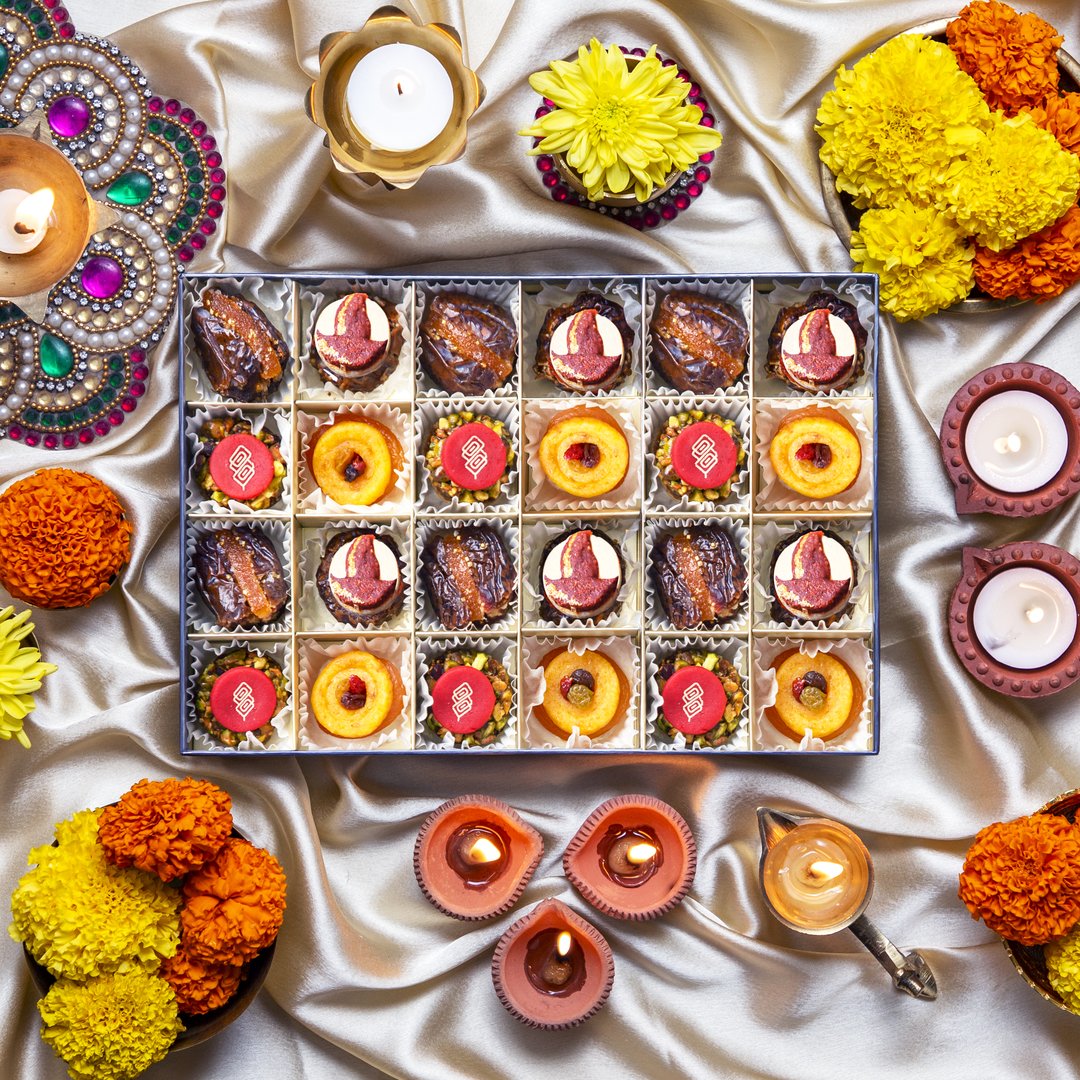 Le Cadeau Parfait & Diwali Collection (www.LaumiereGourmet.com)
Laumière Gourmet Fruits is an innovative luxury food brand that explores the connection between luxury and nature in its quest to combine gourmet excellence with a healthy lifestyle. The company curates premium and artisan dried fruit and nut based products—beautifully boxes for gifting—that are sumptuous and shareable. Building a meaningful relationship with food helps us to achieve physical, emotional and mental wellbeing. Good eating habits enrich our lifestyle. For this reason, this company balances nutrition and great taste, using premium standards and natural ingredients to create gorgeous-looking delicacies. They make every collection with all-natural ingredients, free from any preservatives, and safe for gluten-free, vegetarian and vegan diets. One stellar example is Le Cadeau Parfait—Laumière Gourmet Fruits' signature collection. High defining brilliance and craftsmanship, luxuriously themed with hues of burgundy, yellow, and brown, this delightful collection is bursting with elegance at every turn. Designed and customized for worldwide appeal, it is as versatile as it is captivating. It is completed by pairing of dates with cashew barfi and candied orange peel, figs with caramelized pistachio brisures and apricot medley. Another noteworthy option is the Diwali Collection—the company's limited-edition varietal—that reflects the beauty that is the Festival of Light in India. Whether you prop this assortment of dried fruits and nuts as a centerpiece this holiday season or simply use it as a present, this beautifully crafted gift box will be eye-catching. It contains the same assortment of treats as the Parfait collection.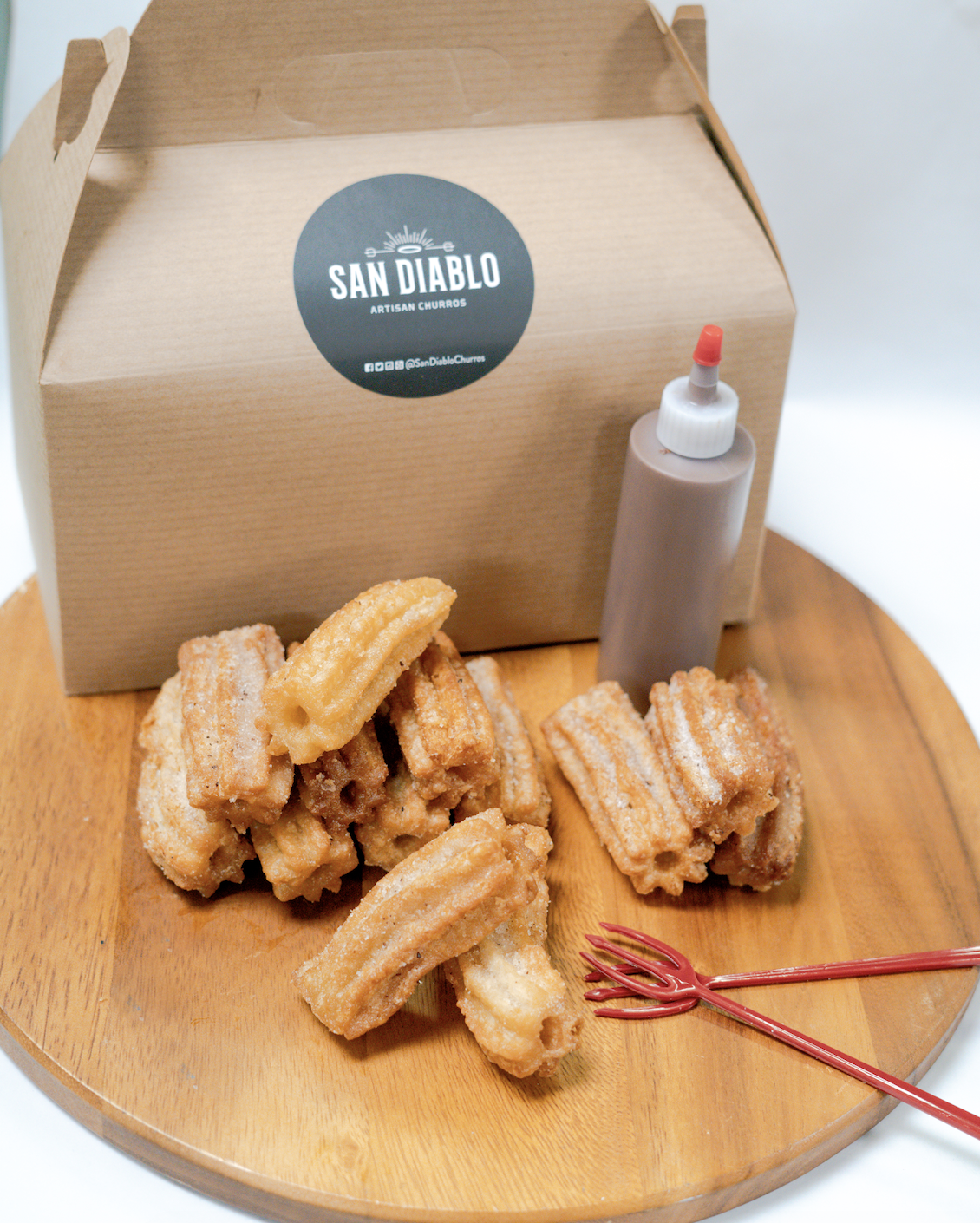 San Diablo Artisan Churros (www.SanDiabloChurros.com)
As the coronavirus forces people to eat out less and stay at home more, it's important to keep a steady flow of fun and exciting pandemic meal options in the fridge. This season, give the gift of fun and flavor with San Diablo Artisan Churros' Take & Bake Churro Kit. The company is the only nationwide purveyor of gourmet fresh filled churros that delivers deep-fried happiness on demand. The kit includes one devil's dozen (13) pre-made and chilled mini churros ready to reheat—in the oven or air fryer—fill and devour. The award-winning churro dough is made from scratch, fried to golden-perfection and coated with sugar and freshly-ground cinnamon. San Diablo's one-of-a-kind Take & Bake Kit gives churro connoisseurs flexibility to fill churros in their home kitchen with filling of their choice, including dulce de leche, Nutella, sweet cream, homemade lemon curd and raspberry. Whether celebrating a special occasion, holiday or indulging just because, San Diablo's quick and easy Take & Bake Churro Kit is the perfect way to create a lasting memory or sweet escape. Company founder Scott Porter developed the Take & Bake Churro Kit as a COVID-19 business pivot to bring the joy of "heaven sent, wicked good" gourmet filled churros safely into the home. What started as a way to satisfy the cravings of local churro fans, the overwhelming response prompted Porter to deliver churro happiness across the country. Just in time for a socially distanced holiday gift giving season, San Diablo Take & Bake Churros is the perfect choice for fun and exciting pandemic meals, a new tradition that families and friends will want to continue for special occasions and holidays, both during and beyond stay at home mandates.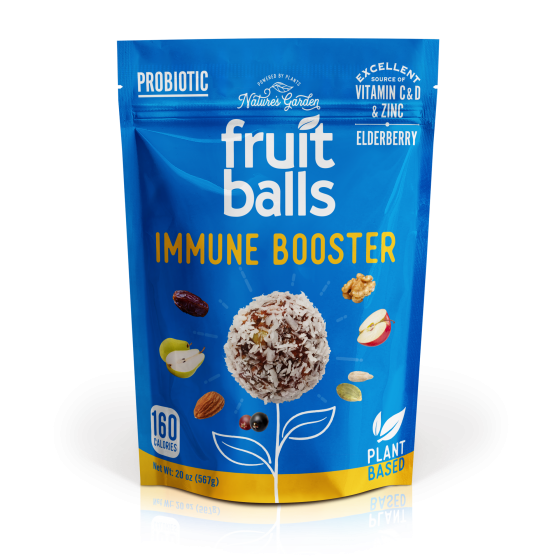 Nature's Garden Fruit Balls Immune Booster Snacks (www.NaturesGarden.net)
For the health-conscious on your list, there's Nature's Garden—a company proffering snacking with purpose. Nature's Garden Fruit Balls do more than just suppress that snack craving. They're created with a belief in plant-based immunity, and the knowledge that a true super-food will help you feel oh-so-fine and keep your immune system functioning at its best. They've taken a whole heap of Elderberry extract, apple juice, strawberry puree, pear puree and date paste, and added walnuts, almonds, pepitas, sunflower kernels, blueberries and flax seeds—rolling them all in a coconut jacket. The result is, well, yum! And, in addition to Elderberry extract, they've also added vitamin C and D, and Zinc, that have all been proven to benefit immune system health. Nature's Garden consistently seeks to be at the forefront of the smart-snacking movement with innovative snack-food products. As such, they've included its patented vegan probiotics in this Fruit Balls product. By introducing friendly bacteria into the gut, probiotics can contribute to a healthier immune system by supporting the continuation of a balanced microflora in the gut. In this way, they've created a "better for you" way of snacking, a textural triumph, a nutritional explosion and a taste sensation—all rolled into one. Let the fruity goodness of nature boost your immune system, support your digestive-wellness and put a flavor inspired smile on someone's face!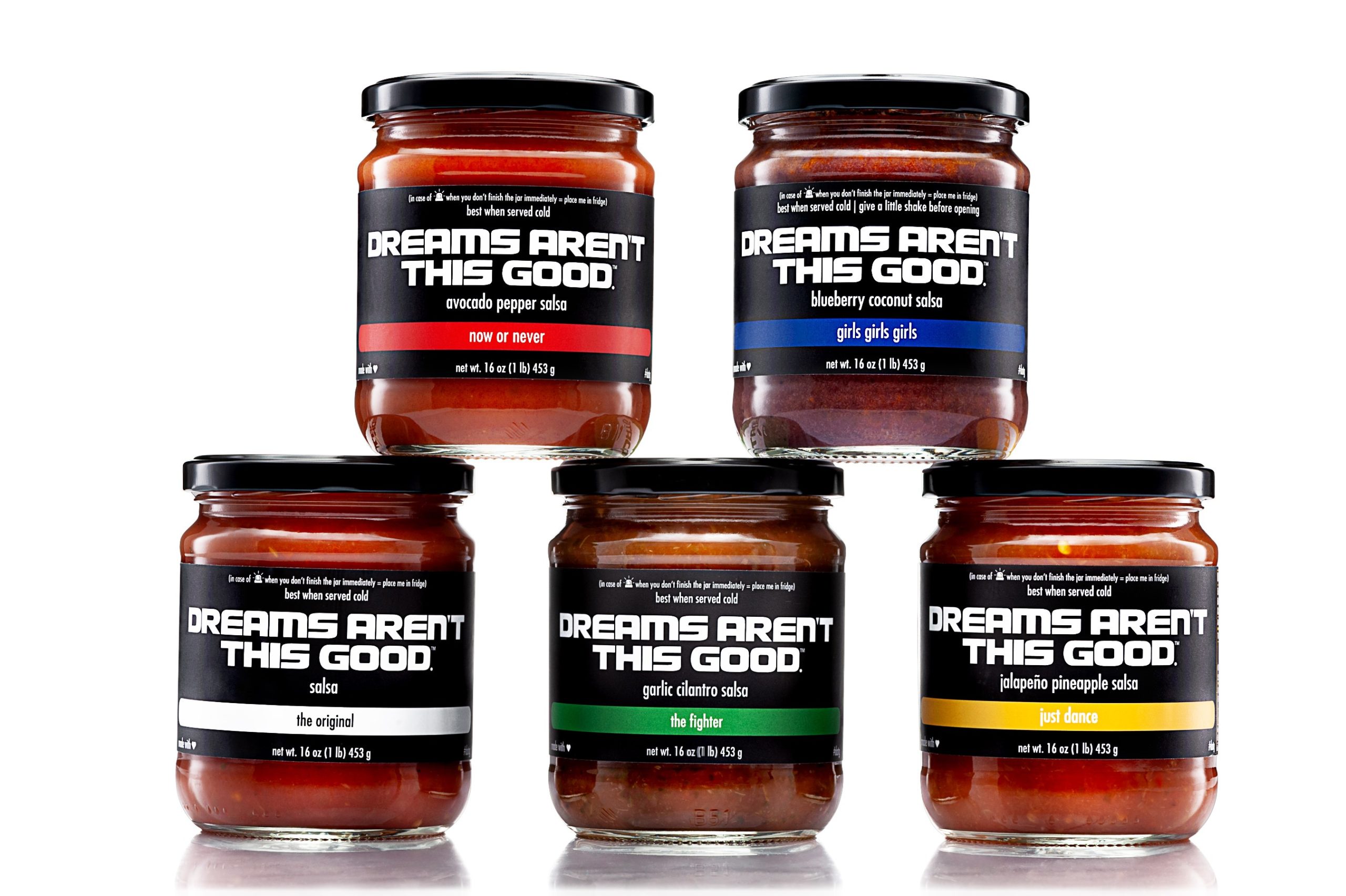 DREAMS AREN'T THIS GOOD Craft Salsa (DreamsArentThisGood.com)
After all of your shopping, it's time for a savory and satisfying snack. Enter DREAMS AREN'T THIS GOOD salsa and tortilla chips, which are now also available nationwide online at the company's website. Inspired by, and infused with, the sights and sounds of New York City, one-of-a-kind DREAMS AREN'T THIS GOOD salsa flavors include a tasty suite of four options: The Original, The Fighter (garlic cilantro), Just Dance (jalapeño pineapple), Now or Never (avocado pepper) and Girls Girls Girls (blueberry coconut). Focused on flavors, not heat levels, all of the company's salsa flavors and tortilla chips are gluten free, dairy free, nut free, vegan and contain no preservatives. Plus, for each jar or bag sold, the company says it will donate $.05 to partner philanthropies including Hunger Free America, MTV Staying Alive Foundation, The Center NYC, The Association of Community Employment Programs for the Homeless (ACE), Girl Up and LIFEbeat. Each flavor is sold by the pack, in sizes of three or six containers, or customers can mix and match whichever they prefer. The jars, themselves, hold a hefty 16 ounces. DREAMS AREN'T THIS GOOD also claims to be the freshest "clean-label" and "shelf-stable" salsa on the market. What I can personally attest to is that this tasty salsa and chip combo will likely keep you longing for more!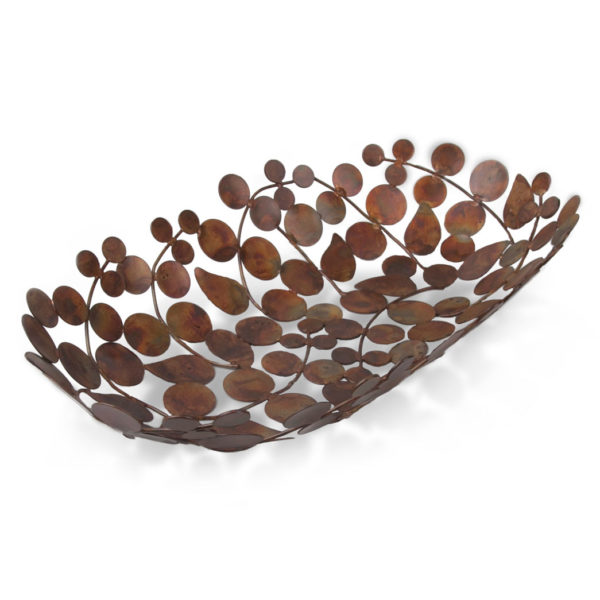 World Vision Handcrafted Housewares (www.Donate.WorldVision.org)
Also cause conscious is World Vision, which offers an array of stunning handcrafted houseware gifts that not only look great, but also do good in support of this humanitarian organization's cause to tackle poverty and injustice. And there are a litany of lovely items to choose from. This includes the Upcycled Artisanal Bowl crafted from reclaimed industrial waste such as wires and metal. Talented artisans in India have hand-bent and soldered each piece into inspirational shapes to create this artistic and elaborate bowl—great as a decorative piece or to hold special items. Each design is unique and colors and size may slightly vary with each piece. The bowl is from the 2020 gift catalog from World Vision, a global humanitarian organization that fights poverty, hunger and injustice both here in the United States and in countries across the world. The proceeds from the sale of the gifts support the World Vision Fund, which addresses specific, urgent needs that empower people out of poverty and helps them rebuild in the wake of natural disasters. Another of my pick's from this year's catalog are the Opportunity Collection Serving Spoons—an elegant kitchen serving piece sure to elevate the presentation of special meals this holiday season and beyond. Each is handmade by fair trade artisans in India, who receive a living wage, a safe place to work, business development training and opportunities to build long-term business relationships in their communities. The spoons are skillfully carved from acacia wood and accented with gold tones, with a length of approximately 11-inhces. Shop here and support do-good consumerism.
*** DRINK ***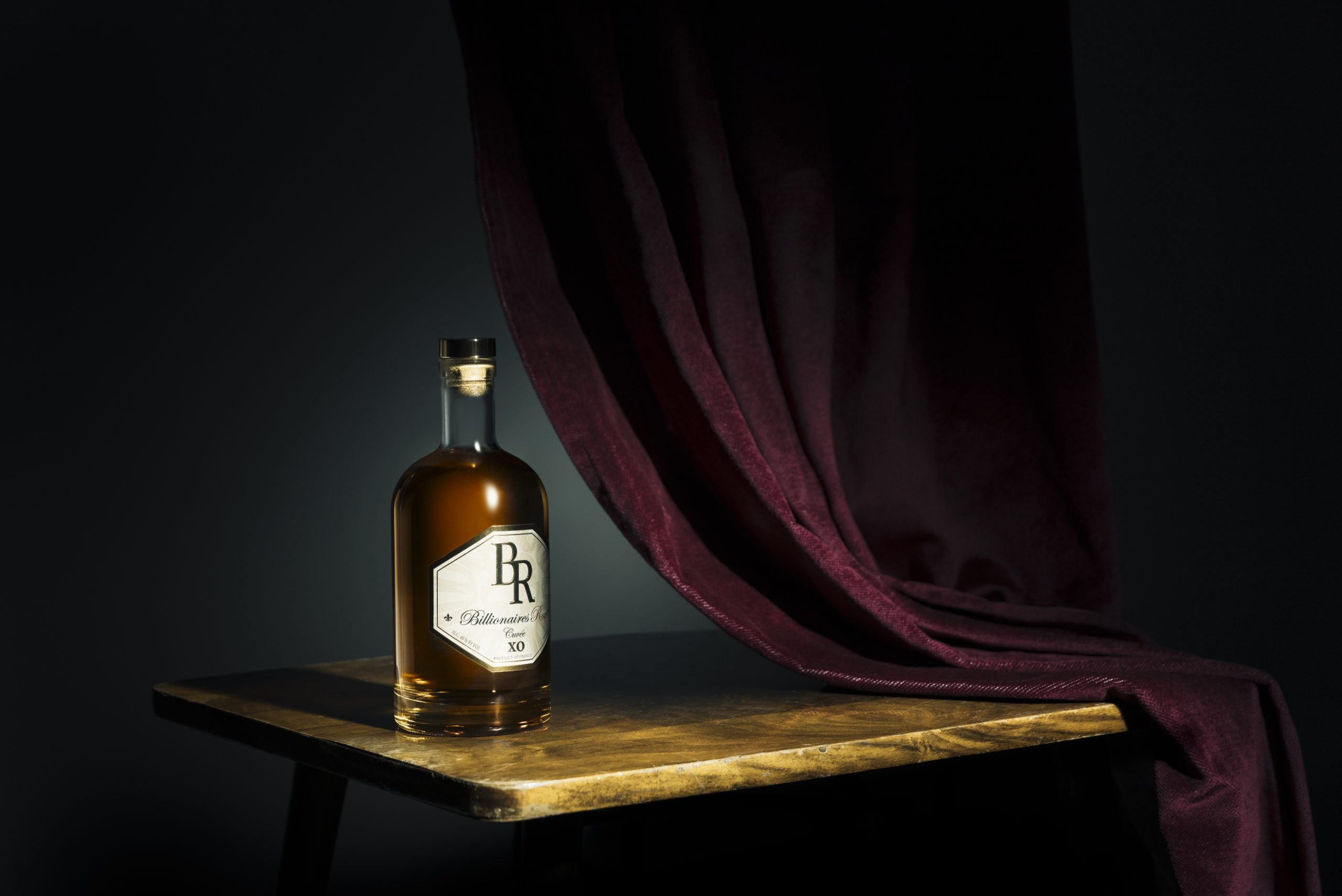 Billionaires Row BR Cuvée XO Cognac (www.BillionairesRow.com)
The essence of living the life of luxury has always strummed the hearts of many trying to make it big in this world. That is certainly so with William Benson, the creator and founder of Billionaires Row. The company exudes quality indulgence as it influences the global market, designing and developing luxury goods for the elite, making each product experience individualized and unique. Benson's ventures continue to roll forward as he launches a cognac that is only distilled and manufactured by the best. The newest in Benson's creations, The Billionaires Row Cuvée XO Cognac, is rife with flavor and complexity. Billionaires Row BR Brandy XO is the expression of the French savoir-faire, the art about blending and ageing. Its flavors are sweet and smooth, delicate and complex, and perfectly balanced with both fruit and spicy scents. Savor it before or after a decadent meal or for a moment of sharing, regardless of the occasion … whenever you want to create a magical moment. Billionaires Row BR Cuvée XO is elaborated in France with the best methods, incorporating oak barrel ageing to extract the best flavors, creating the most seductive and elegant finish and roundness. With an amber and brilliant color, it's scent and flavor profile includes yellow-fleshed fruits, orange peels, prunes, vanilla expression, caramel and a hint of slightly sweet smokiness. The taste is smooth and delicate. It is a remarkable beverage experience whether served "neat," "on the rocks" or mixed in cocktails to release the fullness of the aromas. In fact, here's a suitable "12th and Ocean" cocktail recipe for this killer cognac in combination with a blackberry base. Also festive, this fruit-like cocktail that has a pretty look to it. Ingredients: 2 ounces Billionaires Row. 1 ounce, simple syrup, 1 ounce fresh lemon juice, 3-4 fresh muddled blackberries–garnish with a lemon twist.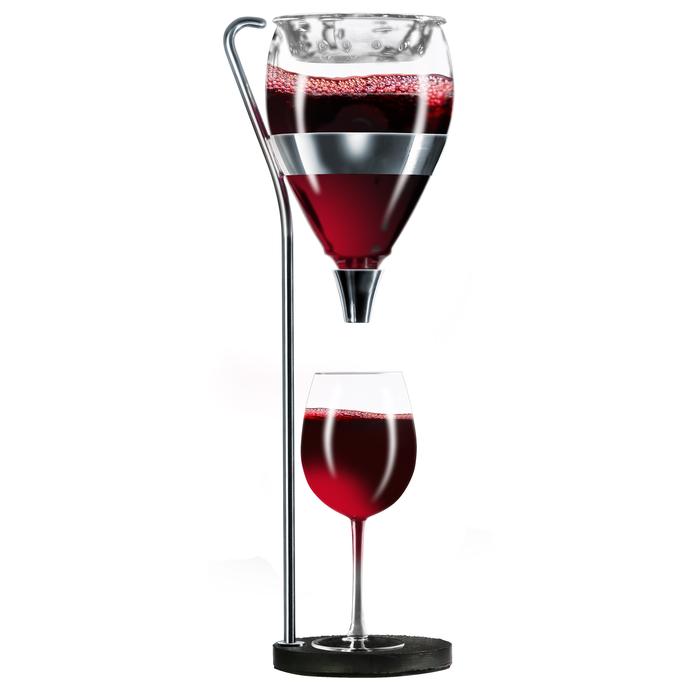 Vagnbys Wine Table Tower Aerator (www.EthanAshe.com)
Here's a gift with panache. A stellar piece to fully experience the intricate bouquet of red wines, the Vagnbys Wine Table Tower is an all-in-one accessory for aerating and serving wine beautifully. It's striking in stature with a tall glass decanter held aloft elegantly with a stainless-steel stand extending from a slip-proof, reinforced slate base. The rain filter function aerates and releases a wine's flavors and essences as it is poured into the vessel, readying them for the palate. Designed to protect wine from unwanted germs or insects, the Vagnbys Wine Table Tower allows liquid to breathe and properly decant with small holes situated around the rim. The easy-to-use spout enables guests to neatly and uniquely serve themselves. At the end of an evening, if the wine is not fully consumed, the lightweight glass vessel of the Vagnbys Wine Table Tower is easy to lift and pour back into the bottle for another day's enjoyment. It's a true showpiece for any table setting and a delight for entertainers and guests alike.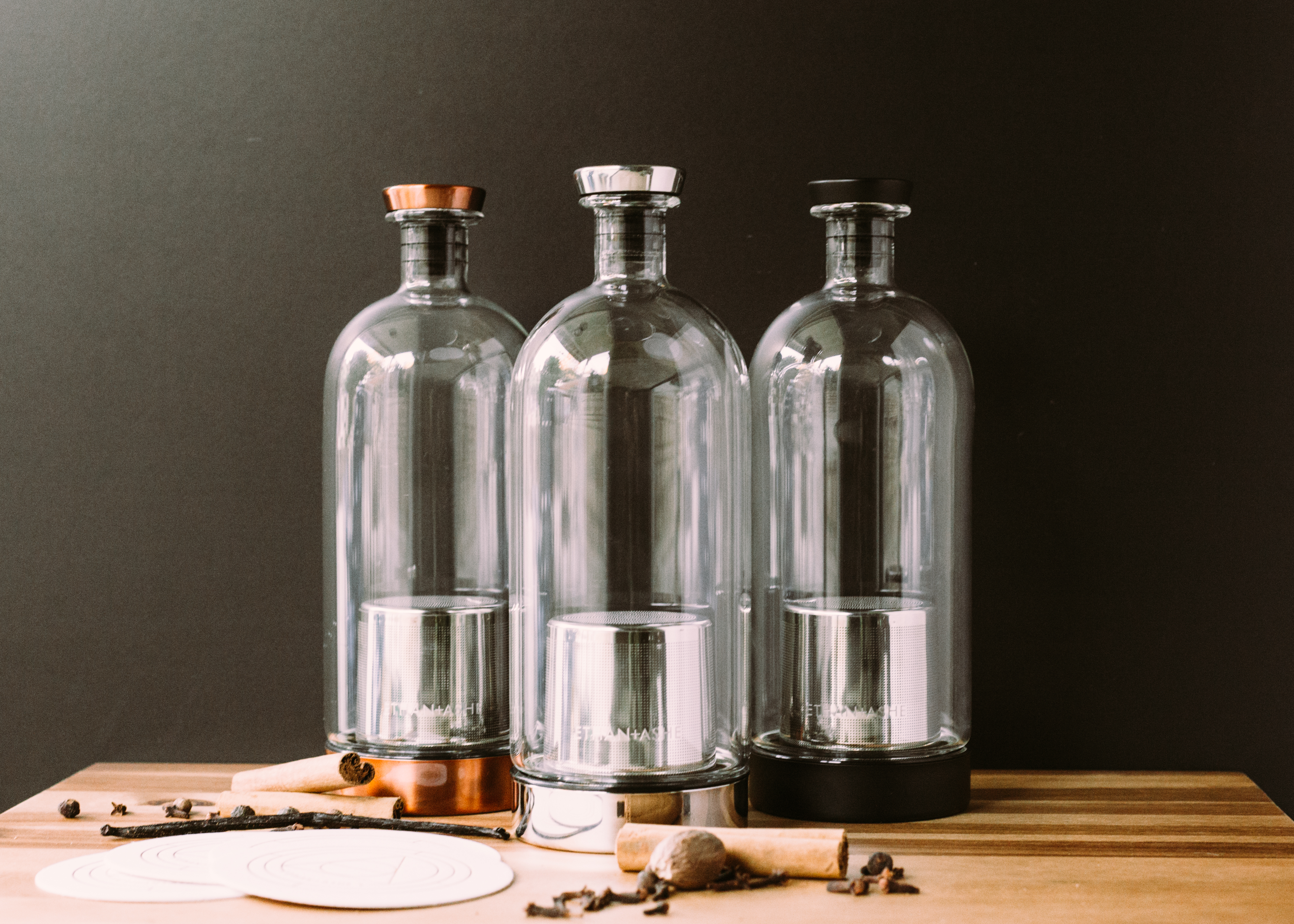 Alkemista All-in-One Infusion Vessel (www.EthanAshe.com)
Also for spirit-lovers is Alkemista. Ready to infuse, pour and store, this is an easy-to-use, all-in-one alcohol infusion vessel that enables anyone to create and serve fresh, custom-crafted spirits at home or in a bar. With fresh fruits, herbs, spices and a little creativity, Alkemista can transform ordinary alcohol into extraordinary spirits, cocktails and bitters. What began as a simple quest to make better cocktails at home resulted in an innovative product that uses fresh ingredients to create infusions with flavors unmatched by their chemically created counterparts. It is a bar tool created for the casual entertainer, the home mixologist, professional bartender and even includes a recipe booklet for suggestion and guidance. The all-in-one Alkemista combines the ultra-fine filtering technology of fine Japanese teapots with the timeless design of a high-quality glass liquor bottle. Users simply add their favorite fruits, spices, herbs or botanicals to the stainless-steel filter, then add a base alcohol to the leak-proof bottle. After, let the flavors and aromas mingle until the spirit reaches the desired level of taste. The removable filter keeps unwanted particles from entering the liquid and the modern aesthetic of the borosilicate glass bottle stores the spirit sleekly, whether sitting on a bar or while being served.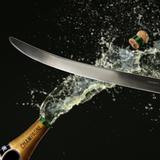 Vagnbys Champagne Sabre (www.EthanAshe.com)
For that someone who has it all is Vagnbys Champagne Sabre, with which they can mark any and every occasion. A statement of impeccable class and celebration harking back to 19th century French tradition, this modern Champagne Sabre merges blade, grip and guard into a sleek, seamless piece of stainless steel and instills fear into the neck of every bottle. A true showpiece of craftsmanship worthy of the finest bubbly, the molded handle and handsomely hearty blade offer a perfectly balanced swing for a dramatic, yet effortless—and safe—neck release with every opening. Weighing approximately 20 ounces, the Vagnbys Champagne Sabre is made purely of stainless steel.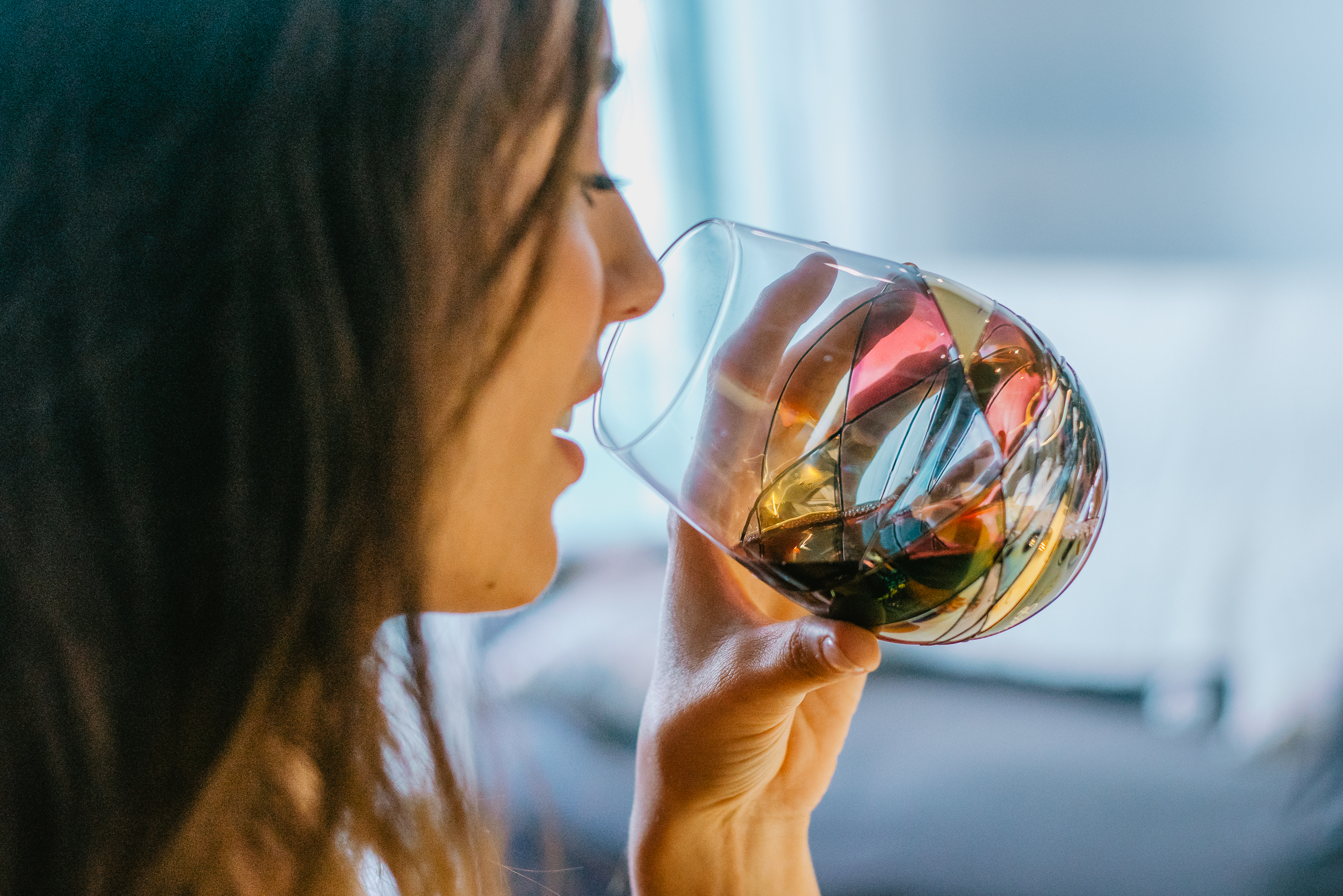 Sagrada Stemless Wine Glasses (www.CornetBarcelona.com)
Just wow. Focus this gift on those you want to mind-blowingly impress with an item that'll exceed expectations. They'll experience the divine beauty of a stunning architectural wonder with Cornet Barcelona's handcrafted, one-of-a-kind "Sagrada" Stemless Wine Glasses. Each piece is mouth-blown and masterfully shaped, before being hand-painted by seasoned artists of the craft using traditional methods. After being designed to the ideal shape, each luxury wine glass is painstakingly hand-painted with unparalleled attention to detail. The result is a one-of-a-kind piece of art with a mesmerizing kaleidoscope of rich color that adds "picture-perfect" sophistication and beauty to any conversation. Cornet Barcelona's unique collection of glassware draws inspiration from the timeless beauty of the stained-glass windows of the Sagrada Familia Basilica in Barcelona, Spain. The Sagrada line of wine glasses are handcrafted for beauty, durability and to enhance the flavor of your favorite red. Cornet Barcelona specifically crafts them with a wide bowl, encouraging more contact between the wine and the air, allowing the wine to breathe, relax and release its alluring, complex aroma. Each piece arrives in a silken-lined luxury gift box and they are also available in sets of two, four, six, 12 and 24 glasses.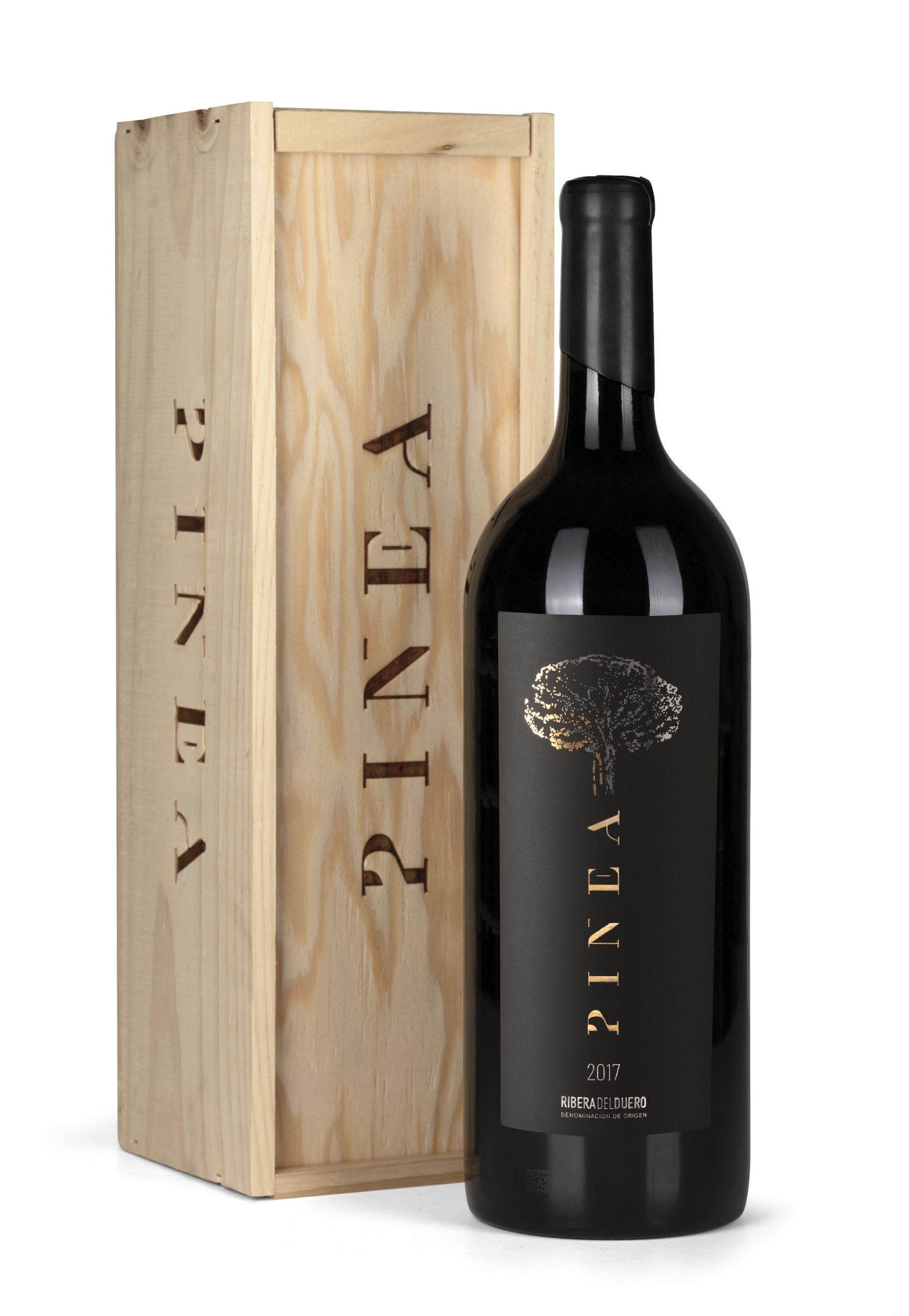 PINEA 2017 Vintage Wine (www.WineSmithCo.com)
Let's face it. Wine always makes a fine gift choice. After three years of anticipation following its initial U.S. debut, the 2017 PINEA is ready to pour. This vintage is made with 100 percent Tempranillo grapes from vines 40-100 years old at PINEA's 80-acre estate in Spain's famed Ribera del Duero winemaking region. PINEA's debut vintage 2014 made its U.S. market entry in the fall of 2017 and became an instant success due to its elegant flavor profile and lifted complex aromatics. The following year, PGA Tour pro Sergio Garcia served it during his 2018 Masters Champions dinner, which helped fuel demand from top restaurants throughout the world. Following PINEA's immediate success and international acclaim, the team—led by founders Hugo Del Pozzo and Vicente Pliego along with winemaker and master oenologist Isaac Fernandez—went back to work to produce its next great vintage. The 2017 PINEA is characterized by abundant floral and fruit aromatics, the result of daunting weather conditions during the 2017 season, during which the Ribera del Duero experienced its worst freeze in 25-plus years. Following meticulous grape selection, careful vinification and 20 months of aging in new French oak barrels, the 2017 vintage of PINEA shows an abundance of black fruits, blackberries, blueberries and cherries that integrate seamlessly with the smoky and spicy nuances of coffee, bitter cocoa, black pepper, clove and tobacco. It creates a sense of marked depth, complexity and elegant texture on the palate. And, its opulent and majestic base reveals soft tannins and boldness in fruit. This makes it remarkably generous for near-term drinking, while also rewarding patient cellaring. Its deep ruby red color suggests a round, complex and balanced wine that highlights the maximum potential of Tempranillo at its finest.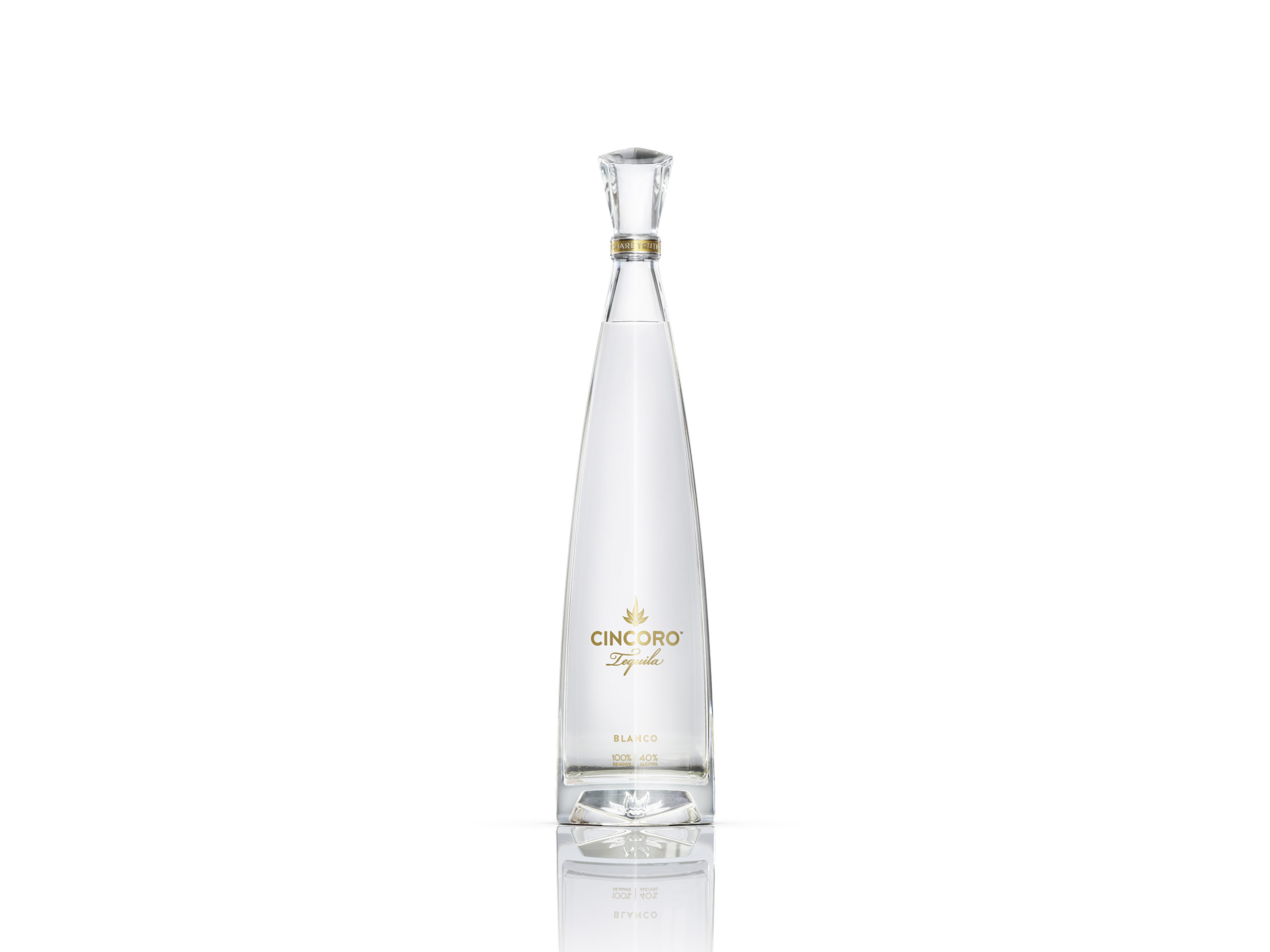 Cincoro Blanco Tequila (www.Shop.Cincoro.com)
Packaged in a dramatic 17-inch bottle that's a true stunner of a gift, Cincoro is creating the new gold standard with its four award-winning tequila expressions: Blanco, Reposado, Añejo and Extra Añejo. For its part, Cincoro Blanco (my personal favorite) has tasing notes of white and black pepper, fresh cooked agave, citrus lime, dried mango and light grapefruit—all making it notably smooth and delicious. Cincoro Blanco is great for everyday sipping, cocktails and certainly makes the perfect gift for margarita fans. Cincoro Blanco is crafted with the highest quality 100 percent Weber blue agave from Jalisco, Mexico and a 40 percent ABV. By combining both highland and lowland agave, the Cincoro Blanco Tequila is smooth on the palate with great flavor complexity and finish. Reflective of the terroir, fresh and cooked ingredients permeate the nose, followed by notes of citrus and light pepper on the palate. Recognized by the experts with 12 gold medals and counting, all Cincoro tequila options are perfectly balanced to sip neat or enjoy in your favorite fresh cocktail.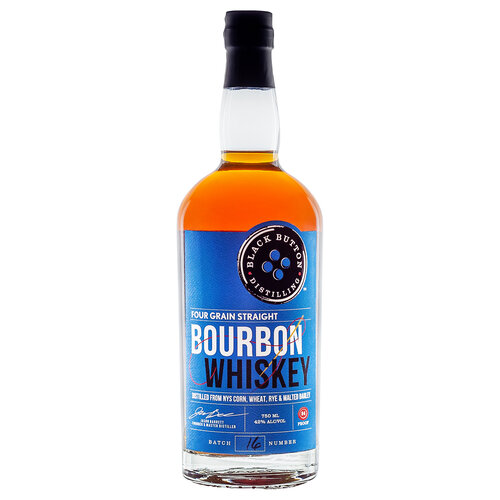 Four Grain Straight Bourbon Whiskey (www.Ship.BlackButtonDistilling.com)
For those who enjoy libations of the brown variety, Black Button Distilling's Four Grain Straight Bourbon Whiskey is a no-brainer. It offers a unique character that represents locally grown grains, while also being approachable enough for all bourbon lovers. As a New York State farm distiller, the company uses only the finest corn, wheat, rye and malted barley—each sourced just a short drive from their distillery. In 2018, Black Button purchased a farm, not only to start producing juniper and other botanicals for their gin, but to grow the oak to make their own barrels. To accomplish this, they use the beautiful white oaks already on the property, as well as planting new saplings rather than outsourcing. From wood, to grain, to your glass, the Four Grain Straight Bourbon is a true representation of Black Button. Their mash bill takes its time aging, waiting patiently for their distillers to taste the unique Black Button character in every sip. A quick pass of Four Grain to your nose brings aromas of fresh oak, toffee and leather. Take a sip and enjoy light caramel and vanilla flavors leading to a clean finish all the way to the bottom of your glass. The Black Button Team suggests enjoying it neat, adding a little New York State pride to your classic Old Fashioned. Four Grain Straight is 60 percent corn, 20 percent wheat, nine percent rye and 11 percent malted barley.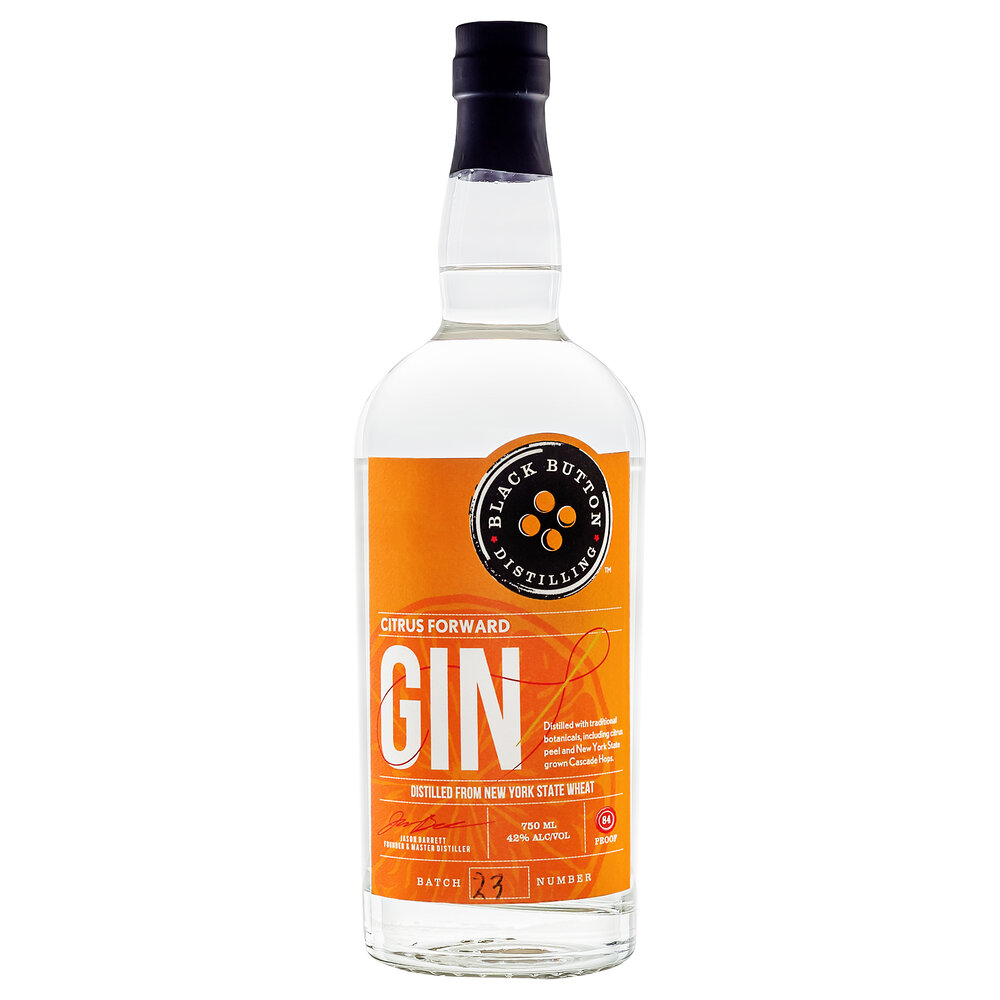 Citrus Forward Gin (www.Ship.BlackButtonDistilling.com)
Also flawless for spirits-lovers is Black Button Distilling's Citrus Forward Gin. Yes, bourbon may be the distillery's first love, but gin is a close second! So much is it the case that they have two of the five Gin Guild members outside of the United Kingdom right at their own distillery. Started in London in the 1600s, the Gin Guild promotes and encourages commitment to excellence in gin distillation. Starting with an ultra-refined, wheat-based spirit and infusing an alluring blend of botanicals, the resulting Citrus Forward Gin provides an exotic experience that will leave you longing for more. It can capture the hearts of the strongest gin critics, even those that are sure gin is just not their spirit. Named "The Official Gin of Summer" by Food and Beverage Magazine, the rich and juicy orange delivers a bold fruit taste and is a perfect match for the New York State Cascade hops and delicate notes of juniper. Citrus Forward will add a unique character to any cocktail. It will certainly put a tasty twist on a classic Gin and Tonic, but it is also refined and smooth enough to be used in a Dry Gin Martini. The Black Button Team also suggests using Citrus Forward in a classic Bee's Knees cocktail; just add lemon juice and honey syrup (1:1 honey to boiling water), shake with ice and pour—perfect for porch sipping on a hot summer day. Cheers!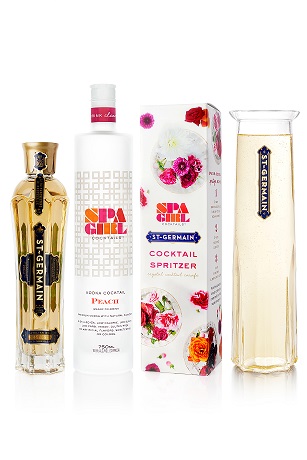 Spa Girl Spritzer Gift Set (www.DrinkSpaGirlCocktails.com)
Perfect for those holiday celebrations and gifting, alike, is Spa Girl Cocktails—the highest-proof, best-tasting, lowest-calorie, lowest-sugar, most award-winning vodka cocktail brand. They've launched a limited edition holiday Spa Girl Spritzer Gift Set through December! The set is perfect for holiday gifting to yourself, as hostess gifts or stay-at-home happy hours. With a limited run of 5,000 units, the kit features a crystal cocktail carafe. Simple to prepare, this insanely sippable cocktail contains just three ingredients: your Spa Girl Cocktails vodka flavor of choice; St-Germain Elderflower Liqueur; and Fever-Tree club soda. Thoughtfully crafted, St-Germain collaborated with Spa Girl Cocktails' mixologists to create this perfectly balanced cocktail to pair with the exquisitely designed crystal carafe. The Spa Girl Spritzer is light, clean and unbelievably refreshing—everything a spritzer should be. Cocktail lovers across the U.S. can easily create The Spa Girl Spritzer at home for the holiday. The three-piece kit also includes a 750ML bottle of Spa Girl Cocktails Vodka, 375ML bottle of St-Germain Elderflower Liqueur and a one-liter crystal cocktail carafe.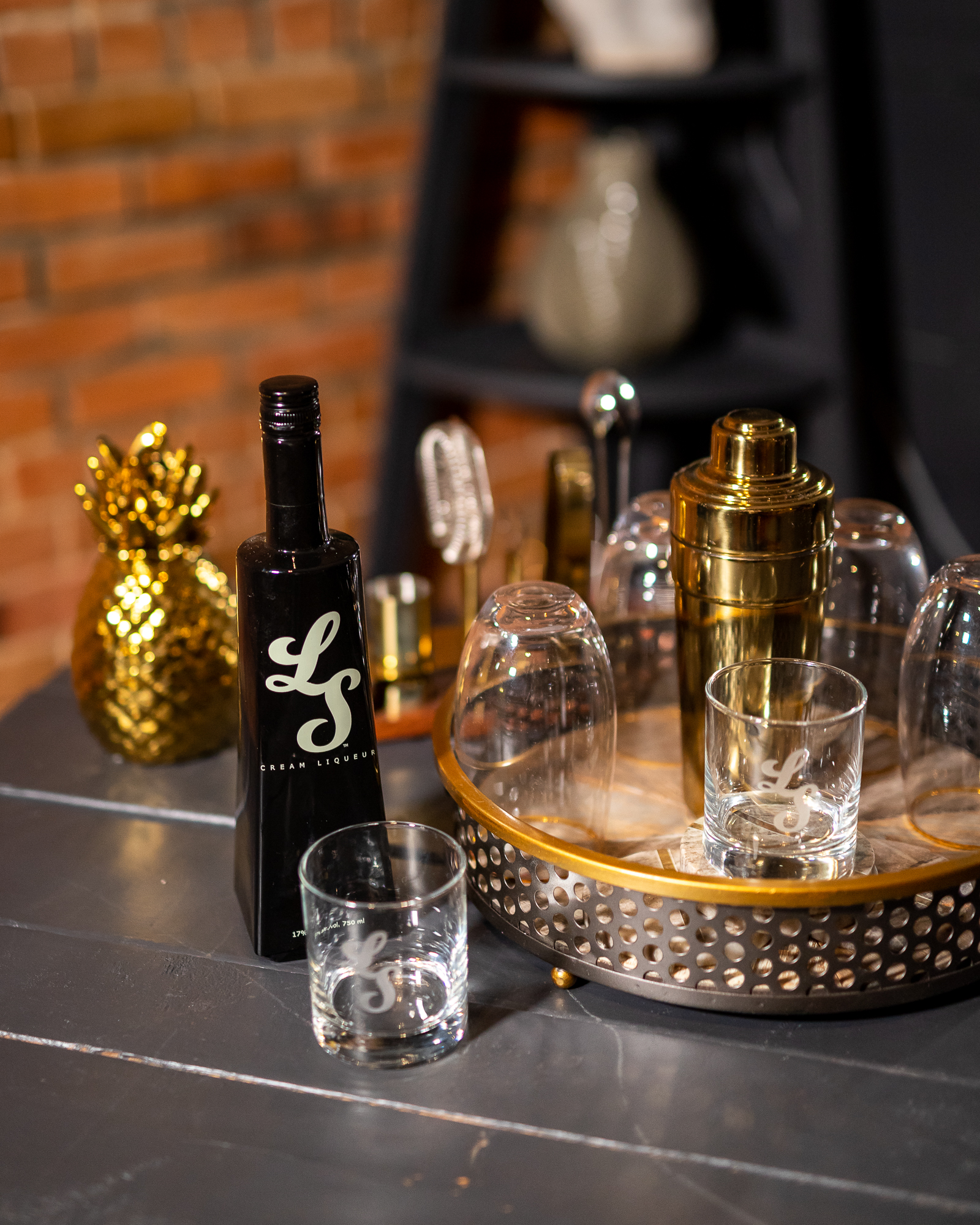 LS Cream Liqueur (www.CreamLS.com)
Here's a giftable libation of a more decadent sort. LS Cream Liqueur is inspired by one of the most iconic beverages from Haiti known as "cremas," which is heavily consumed amongst friends and family—particularly around the holiday season. While every group has a variation of their own model, LS Cream Liqueur takes inspiration from a founders' family recipe and makes it accessible to the public, packaged up in a sleek black bottle. The final product is a blend of rich cream and neutral grain spirits mixed with coconut, cinnamon, vanilla and nutmeg that exudes luxury while staying true to its Haitian heritage. LS is proudly Black-owned and run by Myriam Jean-Baptiste and Stevens Charles, both of Haitian descent who decided to launch their own cream liqueur when they couldn't find "cremas" in their local liquor stores. The result is a delicious spirit inspired by Charles' late grandmother's handwritten recipe, which she left behind in a Ziploc bag that the family cherished for decades. A versatile spirit, LS Cream Liqueur is delicious on its own chilled or over ice, mixed up in a cocktail or simply paired with another spirit.
~~~
Forbes Business Council Member Merilee Kern, MBA is an internationally-regarded brand analyst, strategist and futurist who reports on noteworthy industry change makers, movers, shakers and innovators across all categories, both B2C and B2B. This includes field experts and thought leaders, brands, products, services, destinations and events. Merilee is Founder, Executive Editor and Producer of "The Luxe List" as well as Host of the nationally-syndicated "Savvy Living" TV show. As a prolific consumer and business trends, lifestyle and leisure industry voice of authority and tastemaker, she keeps her finger on the pulse of the marketplace in search of new and innovative must-haves and exemplary experiences at all price points, from the affordable to the extreme. Her work reaches multi-millions worldwide via broadcast TV (her own shows and copious others on which she appears) as well as a myriad of print and online publications. Connect with her at www.TheLuxeList.com and www.SavvyLiving.tv / Instagram www.Instagram.com/LuxeListReports / Twitter www.Twitter.com/LuxeListReports/ Facebook www.Facebook.com/LuxeListReports / LinkedIN www.LinkedIn.com/in/MerileeKern.
***Some or all of the accommodations(s), experience(s), item(s) and/or service(s) detailed above may have been provided or arranged at no cost to accommodate if this is review editorial, but all opinions expressed are entirely those of Merilee Kern and have not been influenced in any way.***