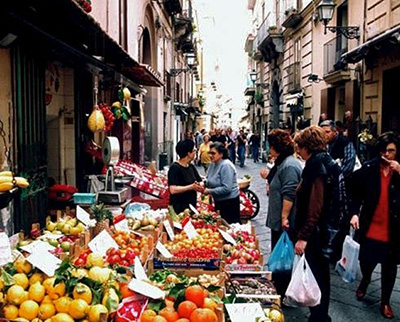 As tourists plan their Italian vacations, Sorrento Food Tours has launched its new season of walking tours featuring regional Campania food and drink specialties and cultural information about this historic seaside city in southern Italy.
"This is an adventurous and exciting way to begin your trip to Sorrento and appreciate the essence of the region while enjoying the day and creating memories," said Tamara Whiteside, owner of Sorrento Food Tours.
"This is the ultimate food tasting and cultural walking tour in Sorrento, Italy which provides an exceptional food trip experience and education at the same time. This 3-hour walking tour combines architecture, culture, history and thirteen drink and food tastings of regional and local foods," she said.
"The tour offers a fun culinary adventure as people experience life like a Sorrentine, sip local libations, and savor authentic dishes while visiting family-owned favorites and specialty food shops. There is no other food tour that offers a comparable experience and such delicious food," she said.
Tastings include real buffalo mozzarella, gnocchi, arancini, Sorrento's first microbrew and Neapolitan specialties as well as seeing how Limoncello lemon liqueur is produced.
"Sorrento Food Tours exposes guests to the old world charm through fun culinary adventures and experiences," she said.
Private tours are available for corporate events, girls' getaways, friend and family reunions, shore and cruise excursions, bachelor and bachelorette wedding parties and bridal parties, cooking and culinary groups and school and study abroad trips.
Sorrento Food Tours can create special travel experiences for passengers of cruise ships which dock in Sorrento including Seabourn Cruise Line's Seabourn Odyssey, Silversea Cruises, Regent Seven Seas Cruises, Oceania Cruises, Holland America Line, Windstar Cruises and Princess Cruises. Additionally, passengers of cruise ships that dock in Naples can take a scenic 40-minute ferry ride to Sorrento to join a public tour or schedule a private tour.
Sorrento Food Tours proudly and passionately share the most interesting sites and delicious food tastings while introducing Sorrento. The team members of this food tour company are dedicated and professionally trained.
"Sorrento Food Tours is on a quest to share unforgettable experiences. This is one of the greatest ways to explore the history of this city while learning about and tasting its local cuisine and supporting the family-owned businesses and unique community," she said.
Several tour dates are available in the next month with daily tours beginning April 18 through Oct. 30, 2014.
Tourists from the U.S. and Canada who posted reviews on social media sites agree:
"The Sorrento Food Tour absolutely made our honeymoon stay in Sorrento the best! It led us to many great people and experiences we will never forget," said Mike and Joanne Wilkinson of Illinois.
"The food samples were authentic and outstanding. When we returned to several of the establishments, the staff remembered us and gave us special attention," said David Campanile.
"Tamara took us through a wonderful tour of the area and it truly is more than just a nibble of food here and there. As the tour progressed, the food just got better and better. You don't just taste the food, you learn the history, how it's made, and tour the facility. We loved watching "behind the scenes" the making of our saltimbocca panini as well as visiting a local grocery for some lemon beer. And you will be stuffed by the end of the tour! You don't just taste the food, you truly enjoy a full sandwich, gelato and gnocchi lunch," said Michele Jenkins and Alex Alveario of Virginia.
"Tamara, the adorable foodie guide, was so sweet and seemed to know everyone in town! It definitely made us feel VIP and like we were getting to see things off the beaten path. Of all the things we did on our amazing trip to Italy, I must say this was our favorite," said Valeria Donovan of Memphis.
"Our cruise stopped in Naples. We took the ferry across the bay. We met our guide at the main square where we began to taste delicious foods from the area. The tour was about 1 1/2 miles but a good pace between tastings. We really enjoyed all the food facts and local history. Great way to spend the day," said Mel Buckner of Vancouver.
To make reservations or find out more information, visit www.sorrentofoodtours.com