PAWsome new character-laden line of low sugar, better-for-you kids' hydration drink mixes now exclusively available on shelves at Walmart stores nationwide and at Walmart.com; Hydration Awareness month initiative to educate and motivate around the abundant health benefits of proper hydration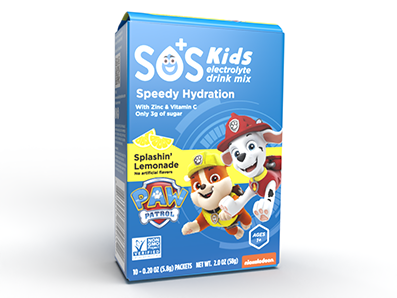 There is great news for health-minded families who want to ensure their children stay hydrated this scorching hot summer season and beyond. SOS Hydration, makers of science-based, research-proven and best-in-class family hydration drink products, announced its partnership with leading global entertainment company ViacomCBS to license character images from the hit animated preschool series, PAW Patrol®, produced by Spin Master Entertainment and airing on Nickelodeon, for labeling on its new SOS Kids line. Commencing September 2021, children across America can enjoy SOS Hydration's healthier and more effective alternative to the mass-market sugary drinks targeted to children. The company's new child–specific, low sugar electrolyte drink mix formula—SOS Kids, featuring PAW Patrol—is now available online at www.SOSKidsHydration.com, Walmart.com and, this September, will be exclusively available on shelves in every Walmart store throughout the United States. This coincides with SOS Hydration's first annual "National Family Hydration Awareness Month" initiative is set to kick off this September, during which the public is invited to learn about the physical, cognitive and emotional benefits of pre-hydrating to avoid becoming dehydrated.
"As a dad of two young girls I wanted a better-for-you lunch box alternative to the high sugar, unhealthy beverages marketed at children…plus I understand the power of PAW Patrol," said James Mayo, Co-Founder and CEO of SOS Hydration. "My girls love the pups and I love what they stand for. With our company having formulated the first kids-specific electrolyte, vitamin and mineral drink, my wife and I felt the PAW Patrol franchise was a perfect partner since their values mirror our own. The pups now grace the packaging of our SOS Kids line that not only tastes great, but also gives children that boost of hydration—all without the artificial 'nasties' and high sugar content of other so-called solutions on the market."
"The PAW Patrol pups serve as good role models for children, and this certainly includes making healthier drink choices" said Priya Mukhedkar, Senior Vice President, Packaged Goods, ViacomCBS Consumer Products. "We're proud to see the pups featured on SOS Kids hydration products, designed to help America's youth reap the benefits of a tasty drink they'll actually enjoy while providing critical hydration that'll help them stay focused, alert and energized to power through their day. SOS allows families to 'follow the science' when it comes to choosing a drink, be it for themselves or their children since families that hydrate together are sure to have more sustained fun for together."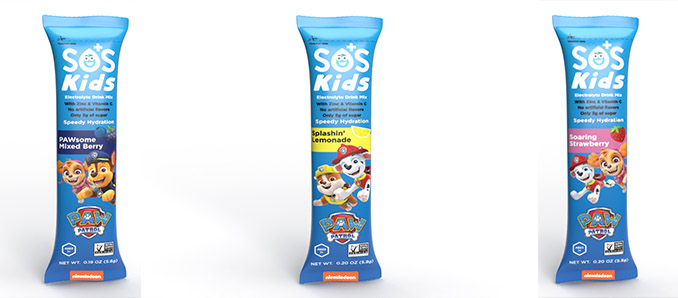 SOS Kids was specially-formulated for daily hydration by SOS Hydration Co-Founder and board certified Internal Medicine physician Dr. Blanca Lizaola-Mayo to help keep children optimally hydrated, and actually avoid becoming dehydrated in the first place—a condition that compromises the body and mind in a variety of ways. SOS Kids has only three grams of sugar; is boosted with Vitamins A and C, minerals Zinc and Magnesium; and contains no artificial additives—all designed to keep kids ahead of their hydration needs so they can perform better and get more from their days. "The first sign of thirst means you are dehydrated," notes Dr. Lizaola-Mayo. "SOS helps the body absorb water two to three times faster than drinking water alone and provides a better alternative for children over juices, powders and other sports drinks laden with unnecessary sugar, calories, carbohydrates and additives."
Mayo added, "SOS Kids is a valuable addition to our popular adult hydration line that is based off independent and 3rd party research for maximum advocacy," Mayo said. "We've also put our product formulas up for independent research so that we can base our claims on fact rather than self-promotional rhetoric. One need only review the 'How does SOS Compare' page of our web site to appreciate the comprehensive suite of reasons putting our formula in a scientific league of its own. We want consumers to fully vet us against our competitors as well as published scientific standards so they can truly understand appreciate what sets up apart and makes our product worthy of their hard-earned dollars."
From the company's web site at www.SOSKidsHydration.com, families can learn more about the science of hydration, and see the full line of SOS Hydration products for both adults and children—including SOS Kids featuring PAW Patrol. Sounds PAWsome to me!
~~~
Forbes Business Council Member Merilee Kern, MBA is an internationally-regarded brand analyst, strategist and futurist who reports on noteworthy industry change makers, movers, shakers and innovators across all B2B and B2C categories. This includes field experts and thought leaders, brands, products, services, destinations and events. Merilee is Founder, Executive Editor and Producer of "The Luxe List" as well as Host of both the "Savvy Living" lifestyle and travel and "Savvy Ventures" business TV shows. As a prolific business and consumer trends, lifestyle and leisure industry voice of authority and tastemaker, she keeps her finger on the pulse of the marketplace in search of new and innovative must-haves and exemplary experiences at all price points, from the affordable to the extreme—also delving into the minds behind the brands. Her work reaches multi-millions worldwide via broadcast TV (her own shows and copious others on which she appears) as well as a myriad of print and online publications. Connect with her at www.TheLuxeList.com and www.SavvyLiving.tv / Instagram www.Instagram.com/LuxeListReports / Twitter www.Twitter.com/LuxeListReports / Facebook www.Facebook.com/LuxeListReports / LinkedIN www.LinkedIn.com/in/MerileeKern.
***Some or all of the accommodations(s), experience(s), item(s) and/or service(s) detailed above may have been provided or arranged at no cost to accommodate if this is review editorial, but all opinions expressed are entirely those of Merilee Kern and have not been influenced in any way.***