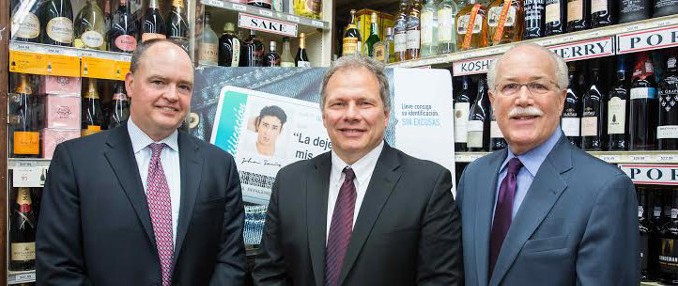 STATE LIQUOR AUTHORITY AND RESPONSIBILITY.ORG LAUNCH CAMPAIGN TO COMBAT UNDERAGE DRINKING

The New York State Liquor Authority and The Foundation for Advancing Alcohol Responsibility (Responsibility.org), a national non-for-profit funded by America's leading distillers, recently launched a "No Excuses" campaign aimed at curbing underage drinking in New York. The campaign includes 15,000 display materials, in Spanish and English, which are being distributed to liquor licensees. Pictured in the photo at the New York City launch event – held at Philippe Liquors in Manhattan — are, from left, Vincent Bradley, Chairman, NYSLA; Brian Chevlin, Senior Vice President and General Counsel, Pernod Ricard USA (a founding member of FAAR with headquarters in New York City), and Ralph Blackman, President and CEO, FAAR.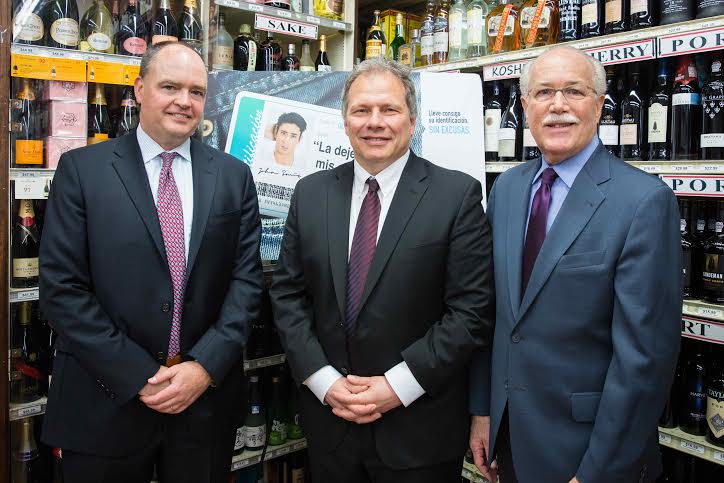 Members from all three tiers of the industry united for the "No Excuses" effort, which drew support from New York State Gov. Andrew Cuomo and featured other launch events in Albany, Buffalo and Rochester. Speaking at the launch event on behalf of FAAR member companies, Chevlin thanked all of the industry partners for their support. "We all share a common mission –ensuring that beverage alcohol is consumed responsibly, which means NOT to the underage." He added, "We will be watching the results of this program with great interest, as we believe it may be a best practice model that could be implemented in other states."
About Pernod Ricard USA®
Pernod Ricard USA is the premium spirits and wine company in the U.S., and the largest subsidiary of Paris, France-based Pernod Ricard SA, which employs a workforce of approximately 18,000 people worldwide and is listed on the NYSE Euronext exchange (Ticker: RI).
The company's leading spirits and wines include such prestigious brands as Absolut® Vodka, Tequila Avión®, Chivas Regal® Scotch Whisky, The Glenlivet® Single Malt Scotch Whisky, Jameson® Irish Whiskey, Malibu®, Kahlúa®, Aberlour Single Malt Scotch, Olmeca Altos™, Beefeater® Gin, Lot No. 40™ and Pike Creek®, Midleton®, Paddy®, Powers®, Redbreast®, Plymouth®, Seagram's® Extra Dry Gin®, Martell® Cognac, Lillet®, Hiram Walker®, Pernod®, Ricard®; and such superior wines as Kenwood Vineyards®, Brancott Estate®, Campo Viejo®, Graffigna® and Jacob's Creek®; and such exquisite champagnes and sparkling wines as Perrier-Jouët® Champagne, G.H. Mumm™ Champagne and Mumm Napa® sparkling wines.
Pernod Ricard USA is based in Purchase, New York, and has roughly 850 employees across the country. Pernod Ricard USA urges all adults to consume its products responsibly and in moderation. For more information, please visit: www.responsibility.org.