The Steamboat Wine Festival Announces Sponsorship with Sotheby's Wine, The Leading Wine Auctioneer and Retailer
Luxury Fine Wine Merchant and Auctioneer Will Educate and Dazzle Steamboat Wine Festival Attendees with New Seminars and Exclusive Tastings

The Steamboat Wine Festival is pleased to announce Sotheby's Wine as an Official Sponsor of the 2016 event taking place August 10 -14, 2016. Sotheby's Wine, the world's leading wine auctioneer and retailer, will take a leading role in the five-day celebration of wine, beer spirits, award-winning chefs, and local cuisine in the resort town of Steamboat Springs, Colorado.
The Steamboat Wine Festival will showcase Sotheby's reputation for hand-selecting exquisite wines from across the world that offer great value. As an Official Festival Sponsor, Sotheby's will host three new onsite seminars, led by Sotheby's Wine experts, Mike Hoagland and Eli Rodriguez, known for their unsurpassed level of knowledge and expertise in the wine industry. Sotheby's will pour some of the finest wines from its impeccable collection only for seminar attendees.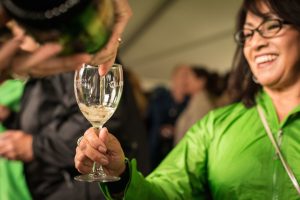 "We are thrilled that Sotheby's Wine has chosen to endorse our festival and showcase their deep ties to the wine community," said Dhruv Prasad of Townsquare Media, the producers of the festival. "Sotheby's Wine is a perfect fit for our guests and the oenophiles who flock to Steamboat Springs from all over the country."
"Sotheby's Wine is proud to be an Official Sponsor for the 2016 Steamboat Wine Festival," said Jamie Ritchie, Worldwide Head of Sotheby's Wine. "This is a great opportunity to celebrate the best culinary talents, enjoy the mountain scenery and for our experts to showcase our excellent wines, as well as share their knowledge and extoll advice to wine lovers and collectors alike."
Sotheby's Wine will host three world-class seminars during the festival:
Buying Wine for Investing or Drinking
Friday, August 12, 11am | $75
All wines are for drinking, but which wines are worthy of investment? Join Sotheby's Wine specialists Eli Rodriguez and Mike Hoagland in the beautiful outdoor tent at the base of the mountain for a discussion about the major winegrowing regions and grape varieties of the world. This will be coupled with a special tasting of six wines from blue-chip growing regions in France, Italy and the U.S. You'll also learn about starting a cellar for drinking, for investment, or both, the ins-and-outs of the global wine market, the ups-and downs of acquiring wines both at auction and retail, and cellar management.
How to Collect Wine
Saturday, August 13, 11am | $75
Not all wines are created equal. Led by Sotheby's Wine specialists Eli Rodriguez and Mike Hoagland, this unique tasting will feature six wines across price points, grape varieties and regions that have the right stuff to begin a collection, or add to your expanding cellar. There will be a bit of wine science and what makes a wine tick, along with the elements that affect why wines age at all. In addition, a discussion of grapes varieties, wine storage and serving mature wines will also be explored throughout the tasting.
Why Bordeaux? Why Burgundy?
Saturday, August 13, 12:30pm | $99
Join wine specialist Eli Rodriguez for a comprehensive look at the two preeminent wine producing regions in France: Bordeaux and Burgundy. As the cornerstones of the collectible fine wine market, these two regions are what Sotheby's Wine knows best – from both our retail and auction businesses. We will discuss the major winemaking traditions of these two fabled regions and what makes their versions of Cabernet Sauvignon, Merlot and Pinot Noir so special. With a terrific lunch prepared especially for this seminar, you will taste four different red wines that highlight the distinct characteristics of Bordeaux and Burgundy, proving why these are benchmark wines.
A limited amount of tickets are exclusively available online at www.steamboatwinefestival.com.
About Mike Hoagland
Mike Hoagland joined Sotheby's in 2016 as Assistant Vice President, Senior Specialist, responsible for the Sotheby's Wine business in the Western United States. He's been living in Los Angeles since 2007. Prior to joining Sotheby's, Hoagland was Champagne Specialist for Dom Pérignon, Krug, Ruinart, Veuve Clicquot, and Moët & Chandon, acting as an ambassador and educator for these historic maisons. He also served as Director of Operations and Wine Director for the Josef Centeno Group of award-winning restaurants as well as a wine educator, sommelier, and cellar management consultant to private collectors in Southern California. A native of La Jolla, California, Hoagland speaks French and holds a degree in English & American Literature and Language from Harvard University.
About Eli Rodriguez
Eli Rodriguez is the Assistant Vice President and Retail Sales Director of Sotheby's Wine. Rodriguez is originally from Long Island and became interested in wine while studying at Cornell University. He learned the wine business at Best Cellars, then as a captain and sommelier at Restaurant Daniel, working for Daniel Boulud, before joining Sotheby's as a wine auction specialist in 2006. Rodriguez is also a licensed auctioneer conducting Sotheby's Wine and art auctions, and donates his services to benefit auctions and tastings. He has recently celebrated his 9th anniversary with Sotheby's.
About the Steamboat Wine Festival
The Steamboat Wine Festival is the premier destination event for master winemakers, culinary greats, and connoisseurs, offering all the opportunity to wine and dine in beautiful Steamboat Springs, Colorado from August 10-14, 2016. More than 500 food artisans, wineries, breweries, distilleries, epicurean purveyors and locally made products take part in the festival. Activities include food and wine tastings, seminars and cooking demonstrations. To learn more or to buy tickets, visit www.steamboatwinefestival.com.