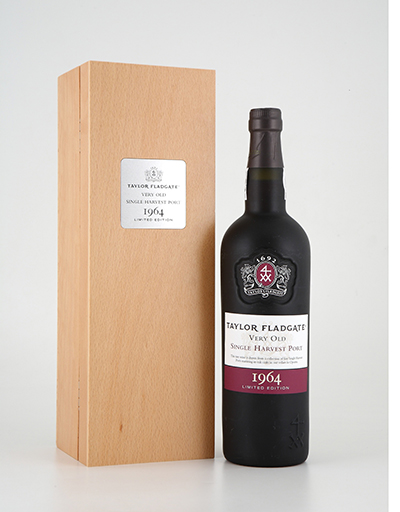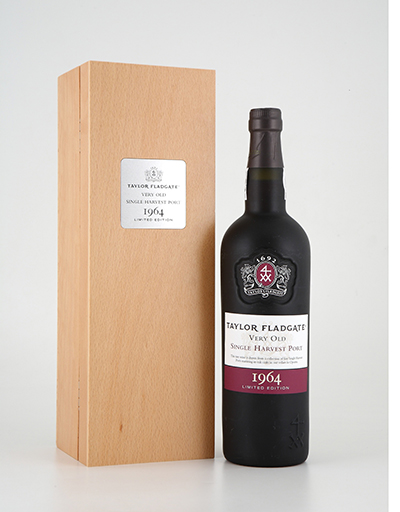 The preeminent Port house Taylor Fladgate, which holds one of the most extensive reserves of very old cask-aged Ports of any producer, has introduced an extremely limited 1964 Single Harvest Tawny. The highly collectible and "gift-able" Port is the first in an annual series of 50 year old wines set to roll out in the next few years. This 1964 vintage-dated Port was aged to full maturity in oak casks and displays the year of harvest on the label.
CEO Adrian Bridge notes: "Most Ports – both ruby and tawny – are blended; it is very rare to find a cask, from a single year, that has created a beautiful wine all by itself. It is even more rare to find a 50-year old one that has done this, but we have such extensive stocks that if we look hard enough, we can usually find them."
Aged Tawnies are the fastest growing Port category in the U.S., and Taylor Fladgate maintains 59% of the market for 40 Year Old Tawnies; 29% for 30 Year Old Tawnies; and 37% for 20 Year Old Tawnies.
The beautifully balanced 1964 Tawny is a pale mahogany color with olive-amber highlights. The nose has fine oaky aromas and complex spicy, nutty, cigar box notes against a warm mellow background of butterscotch and molasses. The smooth, velvety palate is lifted by a crisp acidity, and the long finish is characterized by lingering rich, spicy, black pepper flavors. While traditional food pairings such as figs, almonds or Pecorino will complement this beauty, other recommendations include Cornish game hens or pecan pie.
The Taylor Fladgate 1964 Single Harvest Tawny is attractively packaged in a wooden gift box, and the suggested retail price is $300.00; imported by Kobrand Corporation, Purchase, NY.
For more information on the Ports of Taylor Fladgate, please visit Taylor Fladgate and find them on Facebook and Twitter.
About Kobrand Corporation:
Kobrand Corporation was founded in 1944 and to this day remains one of the few family-owned wine and spirits companies. Kobrand's portfolio of wine and spirits was meticulously selected according to a single, unerring principle: quality. This continued focus has made the Kobrand name synonymous with wines and spirits of the highest caliber for 70 years. Kobrand is the exclusive agent for an outstanding selection of fine wines and spirits including Maison Louis Jadot Burgundies, Champagne Taittinger, Domaine Zind-Humbrecht, Cakebread Cellars, Sequoia Grove, St. Francis, Benziger Family Winery, Sassicaia, Caposaldo, Taylor Fladgate, Fonseca and Croft Ports, Alizé Passion Liqueurs and Alizé Coco, Vikingfjord Vodka and Delamain Grande Champagne Cognacs, among other fine wines and spirits.