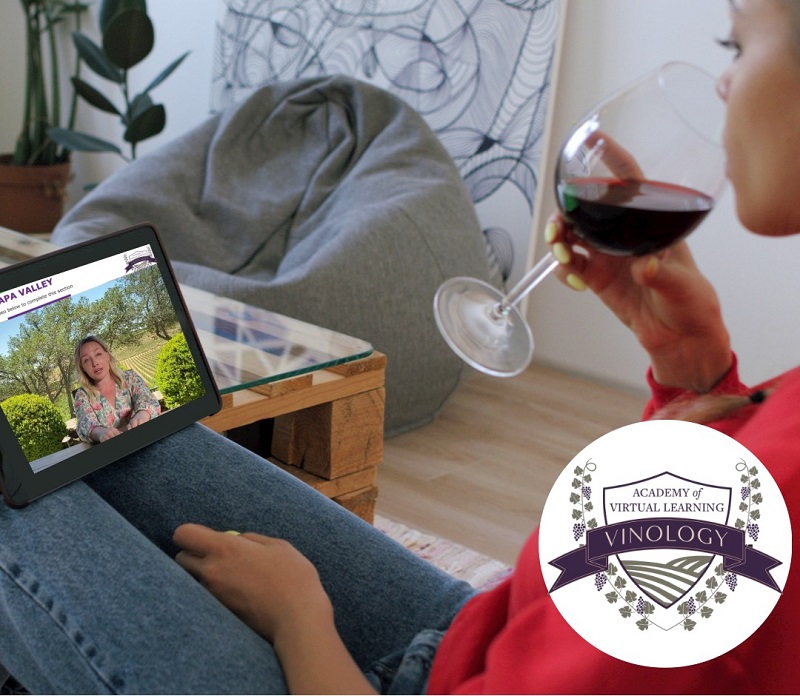 The Academy of Virtual Learning presents its first ever digital wine course, Vinology. The idea of Vinology began fermenting in May of 2020, as the Academy of Virtual Learning saw a need for a fundamental change in how wine education is delivered. The team at Academy of Virtual Learning believes wine education should be easily absorbed in the way one learns, as well as easily approachable and accessible to all – whether industry professionals or the wine enthusiast. The Academy of Virtual Learning did this by creating an online wine course with a focus on videos taught by leading industry experts from all over the world, wine and food pairing games, map exercises, as well as informational slides. Instructors include wine industry professionals like Kevin Zraly, wine writer and educator, Jack Mason, Master Sommelier, Robin Kelley O'Connor, Certified Sommelier and wine educator, Amanda McCrossin, Certified Sommelier and wine personality, and many more.
When students purchase the Vinology course, they receive all 13 modules including the mobile version. The Vinology team continually updates the course with the most current industry information, and students will always have access to the course with a one-time purchase of $350. Modules may be purchased individually, or as a bundle as well.
Vinology was created by professionals with diverse backgrounds from industry professionals to world-renowned wine experts to educators to experts in online learning platforms. The course includes slides of information pertinent to each winegrowing region of the world, food and wine pairing games, map and wine label exercises, and quizzes at the end of each module. Vinology consists of 13 modules:
France | Italy | California | Pacific Northwest | Spain | Australia & New Zealand
South America | Germany & Austria | South Africa | Portugal | Greece
Champagne & Sparkling Wine | Wine 101, Winemaking & Viticulture
Vinology is a virtual learning wine course where students can learn at their own pace, and always have access to the material. The Academy of Virtual Learning has a simple, but powerful core focus to provide concise, fundamental and affordable wine education. To learn more, visit the website vinology.academy.