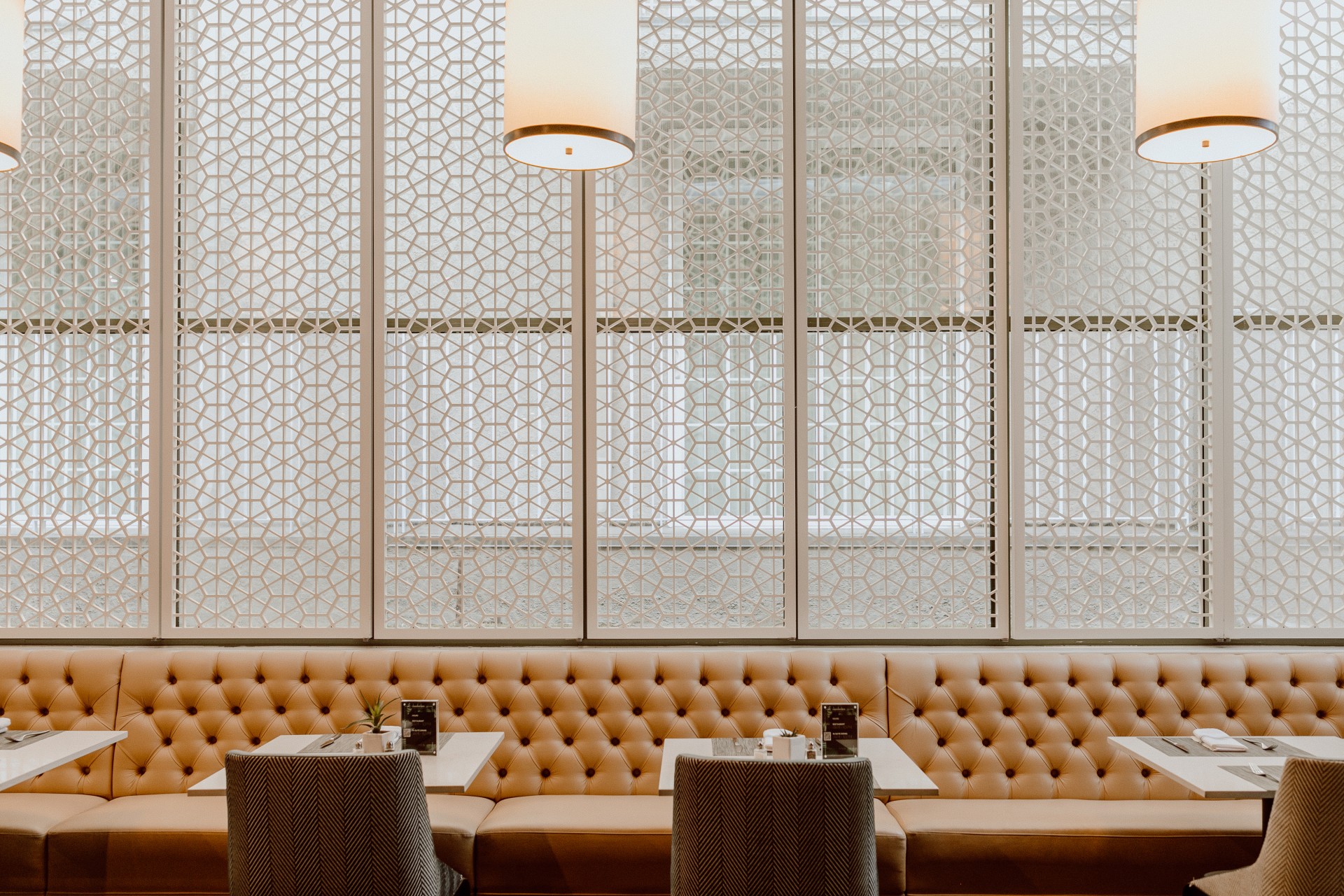 Elevated style meets old Los Angeles charm at this glamorous hideaway in West Hollywood. Centrally located between the Sunset Strip and Santa Monica Boulevard, The Chamberlain West Hollywood offers a discreet urban oasis blending sensibility and sophistication. Known for hosting a fashion crowd and its suite style rooms, their main level restaurant which features an outdoor patio, has renamed itself as The Fitting Room, clearly fitting as a fashion community favorite, with entry through a red velvet curtain.
Discover a stylish and eclectic all-suite hotel that combines flawless service with chic comfort. The Chamberlain West Hollywood is a fashionable and eclectic boutique retreat featuring 115 spacious suites tucked away from the bustling movement of L.A. The hotel is located on a peaceful, tree-lined residential street in West Hollywood and includes a range of refined amenities for guests to enjoy. Take in stunning city views and sun rays from the hotel's rooftop pool and terrace, break a sweat at the state-of-the-art fitness center, grab dinner at the luxe on-site restaurant, and raise a glass to daily wine hour in the lobby.
Dining:
Sit down to a meal of upscale plates and hand-crafted cocktails at The Fitting Room, the hotel's on-site restaurant, featuring all white vibes accented with fashion-inspired murals. This gourmet dining destination for hotel guests and non-hotel guests, offers a full bar alongside indoor and outdoor seating. Breakfast, lunch or dinner, plus all day cocktails at their inviting bar, is the perfect spot for casual dining, business meetings or friend gatherings. The outdoor patio feels like a haven from LA, an absolutely adorable patio setting.
Menu highlights include:
Breakfast Favorites::Weho Avocado Toast, (grilled country bread, roasted fennel, garlic chips, radish, soft boiled egg, sprouts, toasted pepita seeds), Egg Sandwich (soft scrambled eggs mixed with caramelized onions, sautéed spinach & sharp cheddar cheese on a brioche bun with bacon & harissa aioli and a side salad)
Lunch and Dinner Favorites: Pan Roasted Salmon & Warm Brussel Sprout Salad ,caramelized cipollini onions, toasted hazelnuts, bacon, hazelnut vinaigrette), Pasta Aglio y Olio ( bucatini, gulf coast wild prawns, parmesan & lemon), Steak Frites ( 10 ounce center cut steak, french fries, pea shoot salad, chimichurri)
Reservation link: https://www.opentable.com/r/the-fitting-room-west-hollywood
Website: www.chamberlainwesthollywood.com
Instagram: https://www.instagram.com/chamberlainweho/
Address: 1000 Westmount Dr, West Hollywood, CA 90069, USA
About Springboard Hospitality, Operator of Chamberlain West Hollywood.
For more than 30 years, Springboard Hospitality, previously known as OLS Hotels & Resorts, has transformed people, properties, and communities as a leader in the hospitality industry managing and developing innovative boutique and branded properties throughout the U.S. With dual offices in Honolulu and Los Angeles, Springboard operates more than 38 properties across 10 states. Led by technology entrepreneur Ben Rafter, Springboard specializes in using analytics and technology with its Hospitality Intelligence (H.I.) to ensure properties are optimizing return on investment. The company offers a full spectrum of hotel services with expertise in creative management, marketing, sales, revenue management, food and beverage and more. The Springboard Hospitality team is committed to going above and beyond with high-touch, personalized service in every aspect of its operations, from its interactions with guests to its relationships with owners. For more information, visit www.springboardhospitality.com.