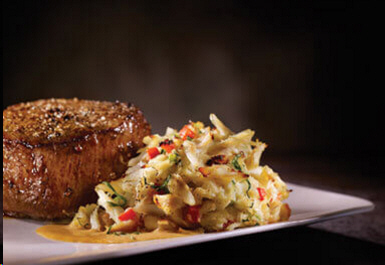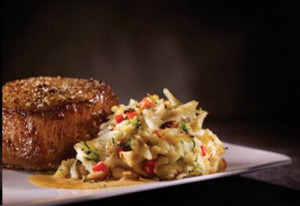 If you've dined at any of the Del Frisco's Double Eagle Steak Houses throughout the U.S., you've certainly reveled in the sophisticated chophouse chain's take on prime steak and seafood. While there are expected synergies among all of the locations, Del Frisco's Double Eagle Steak House Las Vegas breaks the "if you've seen one, you've seen them all" brand mold. The ambiance and design of this particular location is completely unique from the other restaurants in the Del Frisco's collection. Though Sin City diners can expect the same high-touch service, genuine hospitality and quality fare, the look and feel of Del Frisco's Las Vegas cannot be experienced elsewhere.
It was with high hopes and expectations that I visited the Las Vegas location for dinner. In a town replete with world-class eateries, the bar is set extraordinarily high for any restaurant here, particularly a chain, to distinguish themselves. But, upon entering the lively dining room it was clear I was in a space that had a character all its own. The fare that followed suit—a parade of one impeccably prepared dish after the other—was equally impressive. So impressed was I by the experience, I endeavored to connect with Torryn Orriss, General Manager of Del Frisco's Double Eagle Steak House Las Vegas, for an exclusive interview about what makes the Las Vegas location a standout among the surplus of fine dining establishments. Here's what he had to say.
MK: How would you sum up this restaurant's approach to traditional American Steak House cuisine?
TO: At Del Frisco's our approach is to let food speak for itself. For example, all steaks are seasoned simply with salt and pepper to truly let the flavor of the meat take center stage. That being said, we also like to keep diners guessing and challenge their palates by offering unexpected items such as Thick Cut Bacon Au Poivre with Bourbon Molasses Glaze—a meat-driven dish with more personality than a traditional steak. We use fresh, local ingredients whenever possible and make every effort to customize dishes based on guest preferences.
MK: The restaurant boasts "chef-driven cuisine" and "unparalleled hospitality"—please describe what patrons can expect in direct relation.
TO: At Del Frisco's Steak House we ensure regular guests and first time diners are treated like close friends. All staff, from hosts to sommeliers, work together to create a completely personalized experience. The team utilizes a guest service notes system to thoroughly track and act upon all guest feedback. If a guest comments to a server they only drink dirty martinis, the team will know to have a dirty martini waiting the next time he or she arrives.
Though Del Frisco's is a brand, Chef Fernando has creative freedom in the kitchen to implement daily specials showcasing fresh, local ingredients and non-traditional preparation techniques. He also works extremely closely with Del Frisco's Corporate Chef, Thomas Dritsas, to determine how brand-wide items can be customized to appeal to Las Vegas diners.
MK: Tell me about the chef's background—what are some career highlights?
TO: Executive Chef Fernando Guerrero has more than 20 years' experience in the restaurant industry and has been part of the Del Frisco's Double Eagle Steak House Las Vegas team for almost a decade. As Del Frisco's Restaurant Group grows, Chef Fernando is often tapped to lead restaurant openings and train culinary teams for new Del Frisco's locations. Chef Fernando's favorite creations include inventive sauces, toppings and specialty butters, many of which are available at Del Frisco's Double Eagle Steak House locations across the country.
MK: I understand you offer patrons a "James Bond Table" option. What exactly is this?
TO: The James Bond Table is a wine table and Bond gadget all in one. At the push of a button, an unassuming circular table blossoms open to reveal lights and 18 custom wine bottles, each etched by hand to represent one of the James Bond films, from Dr. No, through Tomorrow Never Dies. The table is one of a kind. It was purchased at the Napa Valley Wine Auction in 1997 for $364,000—and is now valued over $1,000,000.
MK: What other qualities set this restaurant apart from other area restaurants?
TO: The atmosphere has an "old-school" Vegas feel with dark mahogany wood and dim lighting. We feature live piano music in our bar daily—something we find guests really enjoy.
MK: Does Del Frisco's Double Eagle Steak House Las Vegas have a "signature dish"?
TO: The Crab Cake, made with jumbo lump crab meat is baked as opposed to fried and served over a Cajun lobster sauce. It's all meat, no filler with just the right touch of spice in the sauce and represents Del Frisco's commitment to using fresh, high-quality ingredients.
MK: What is your personal favorite item on the menu?
TO: The Bone-In Filet Mignon. All steaks served at Del Frisco's are phenomenal (we source from Stock Yards in Chicago) and I love how the Bone-In Filet provides all the tenderness of a filet with added flavor from the bone.
MK: Menu aside, what is your personal favorite aspect of the eatery?
TO: I truly love the atmosphere. The space we have allows guests looking for a lively dining experience to enjoy the energy of the main dining room with the bar and piano music, while those who prefer a quiet side room can be accommodated as well.
MK: Any little known factoids about the restaurant?
TO: We have a secret menu item: Three Pepper Salsa. About eight years ago one of our VIP guests came in with a salsa he made and Chef Fernando mimicked it. From then on every time he comes in he must have it. Chef showed everyone in the kitchen how to make it, and other guests who know about it can order the salsa as well.
My own experience at the Las Vegas location upheld the standards the Del Frisco's brand has worked so hard to maintain. From fresh starters like a savory Tuna Tartare and the Shellfish Plateau platter (for two or four) with chilled Alaskan King crab legs, iced jumbo shrimp and chilled stone crab claws; to an impossibly tender petite Filet Mignon Trio served three ways (Oscar among them); to an enormous à la carte Broiled Lobster Tail carved tableside; to the richest and most decadent Lobster Macaroni & Cheese I've ever had, Del Frisco's demonstrated its prowess as a fine dining restaurant that readily pulls patrons to its off-strip locale.
Indeed, given the eatery's 20-plus year history and the extent to which it strives to exceed modern marketplace expectations, I've no doubt Del Frisco's Double Eagle Steak House Las Vegas will remain a staple to the local community for special occasion dinners and an in-demand destination restaurant for discerning business travelers and vacationers, alike.
~~~
"The Luxe List" Executive Editor Merilee Kern scours the luxury marketplace for exemplary travel experiences, extraordinary events, and notable products and services. Submissions are accepted at www.TheLuxeList.com. Follow her on Twitter here: www.Twitter.com/LuxeListEditor and Facebook here: www.Facebook.com/TheLuxeList.
Some or all of the accommodations(s), experience(s), item(s) and/or service(s) detailed above were provided at no cost to accommodate this review, but all opinions expressed are entirely those of Merilee Kern and have not been influenced in any way.