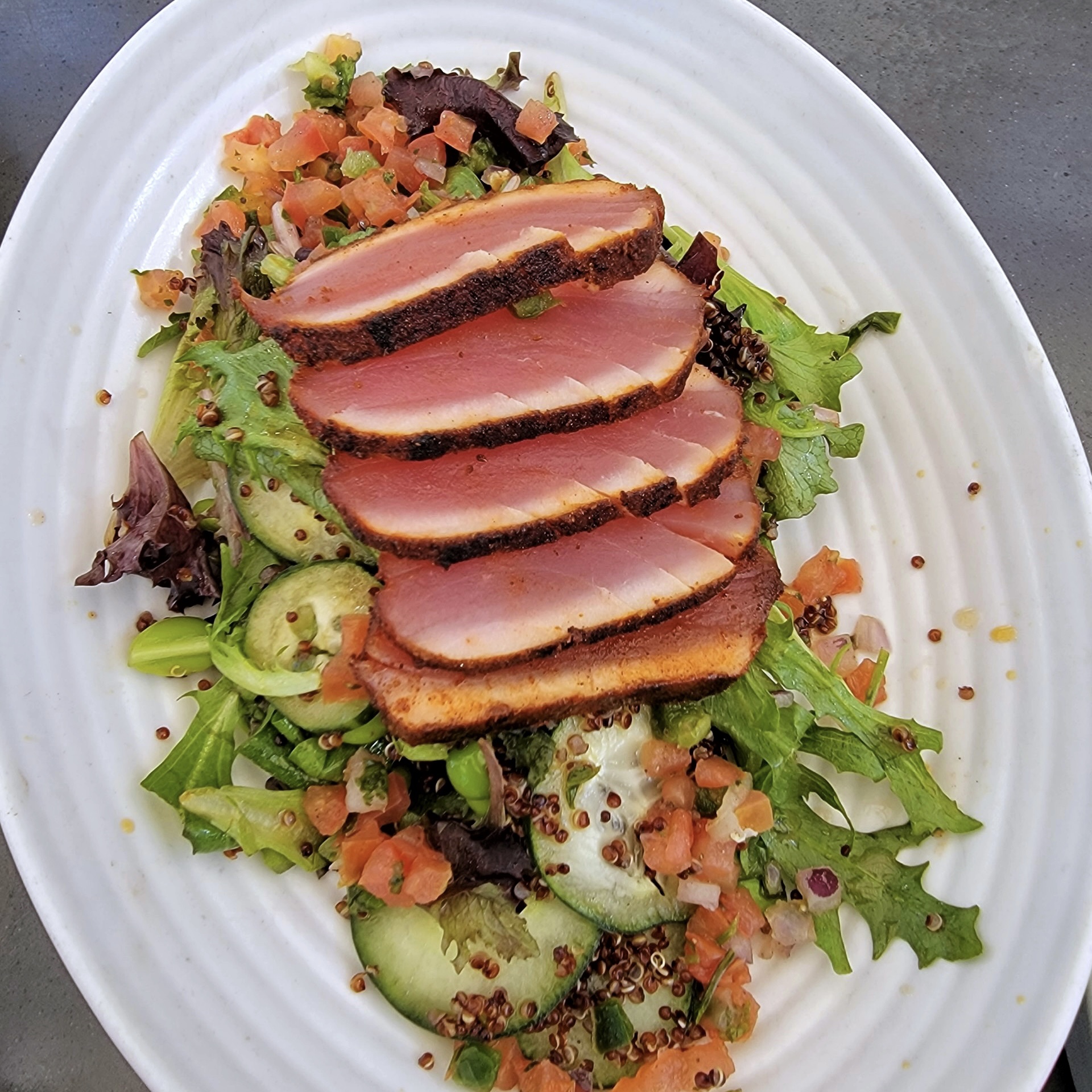 By Debbie Hall
The Front Yard is a two-story indoor/outdoor venue featuring an 18-foot big screen TV and a second-floor atrium with views of the Las Vegas Strip, perfect for breezy garden dining or game-day tailgating. Part of the iconic Ellis Island Hotel, Casino & Brewery, offering food, drink, and entertainment for over 50 years, combines the openness of the outdoors with climate control comfort.
The dynamic menu is full of the Ellis family's favorite recipes. Share Sin City Scoops made with fried potato scoops and topped with cheddar beer sauce, sour cream, olives, jalapenos, black beans, and pico de gallo. CBR Flatbread is topped with a citrus garlic sauce, bacon, shredded chicken, pico de gallo, and jalapeno cream.
Heartier appetites will savor house-cured bacon and brisket along with big plates including Steak Frites, a 12-ounce New York steak, and parmesan fries with steakhouse compound butter on the side. There is the Impossible Burger, an 8-ounce plant-based patty with ketchup, mustard, lettuce, and tomato for healthier options. The Ahi Bowl combines seared Ahi tuna, mixed greens, soybeans, cucumber, Pico de gallo, red quinoa, and ginger soy dressing. Along with lunch and dinner, The Front Yard. Brunch on Saturday to Monday is offered with a DJ on stage during brunch with menu items such as Fruity Pebbles French Toast, eggs benedict, and wings.
The menu was created to complement the fun dining atmosphere, socializing, watching a game, or enjoying a live performance. Most dishes are made from scratch, including dressings, sauces, house-cured bacon, pastrami, and other items.
"We wanted to incorporate dishes that our guests would want to eat and share in an outdoor venue with great beer," says Christina Ellis, general manager.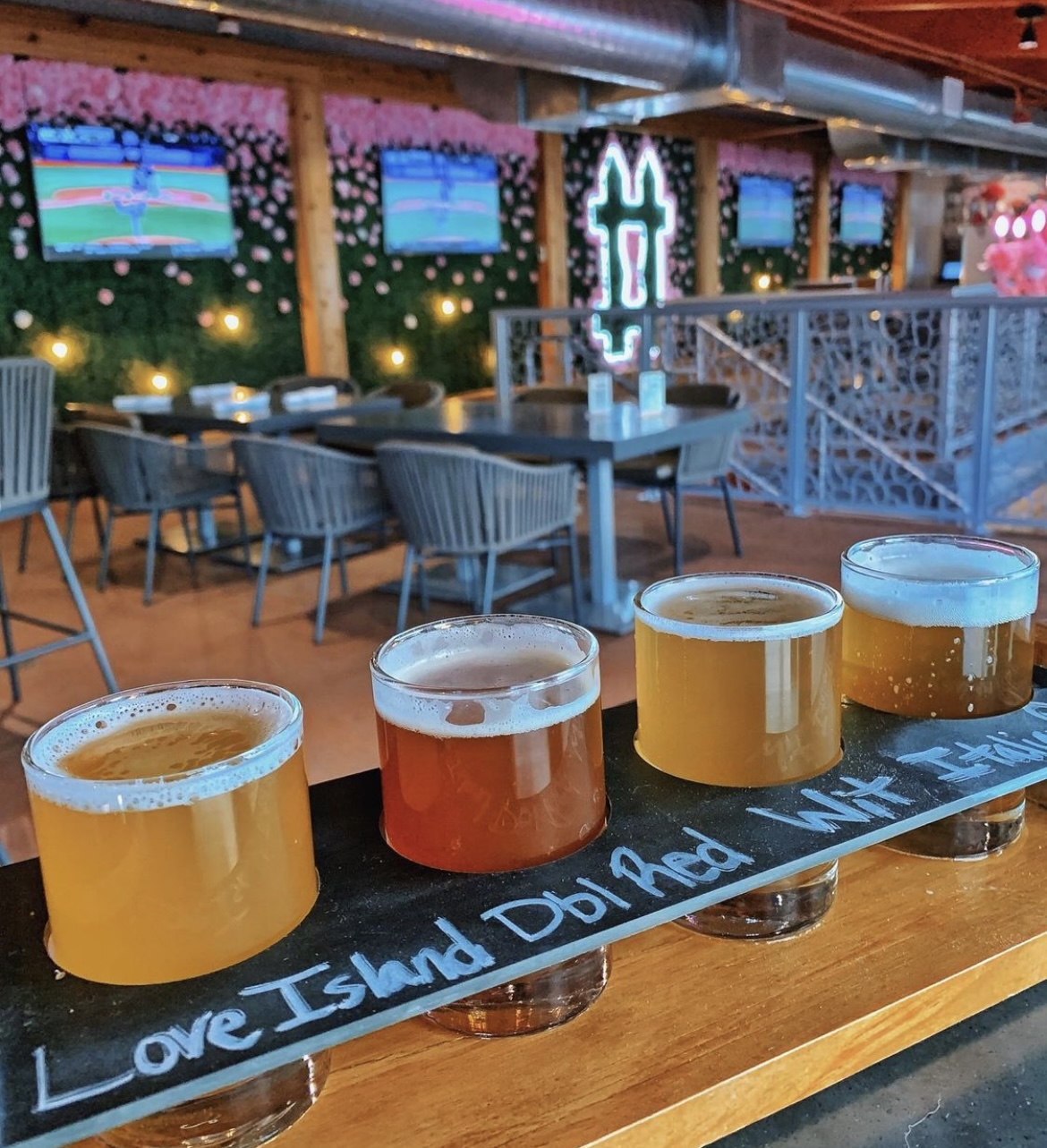 The Front Yard offers Craft beers from its own Ellis Island Brewery as a great way to sample rotating brews fresh from the tap. The beer garden features a second-floor atrium with unobstructed views of the Las Vegas Strip. Retractable ceiling shades, expansive windows, rich wood fixtures, exposed steel, low lighting, and Instagram-worthy garden walls present a lush outdoor atmosphere. Plants and greenery add to the appeal.
During the triple-digit temperatures of Las Vegas, it is still comfortable to relax in the front yard with outdoor views sitting in comfort.
"We wanted to create a space that combined both indoors and outdoors. When the weather is beautiful, our guests can really enjoy it. When it is hot during the summer, there is still an outdoor feel, but we have canopies and climate control," explains Ellis. "It is all about atmosphere, light, and embracing our environment while not being exposed to the elements."
The original venue was transformed into Ellis Island Hotel, Casino & Brewery in the late 1990s. The Front Yard is its first venue featuring six brews onsite, including light, amber, ale, a seasonal stout, IPA, root beer, and a seasonal special. The Front Yard also features an additional 12 beers that are available only there. Some specialties include a Belgium Triple, seasonable rotating stout, and IPA on draft. This is an outlet where beer lovers can get classic beer and craft beer.
The Front Yard was developed as a destination for guests to watch sports, grab a beer after work, hang out with friends, and have a place to enjoy great food and beer. The hotel and brewery at Ellis Island feature amenities, including a 24-hour restaurant with a famed steak special, microbrewery, barbecue restaurant, karaoke lounge, and Metro Pizza.
Conveniently located one block east of the Las Vegas Strip on Koval Lane behind Bally's, Ellis Island is located at 4178 Koval Lane. For more information, visit www.ellisislandcasino.com. Follow Ellis Island on Instagram at @elliscasinolv and on Facebook at @EllisIslandLV.