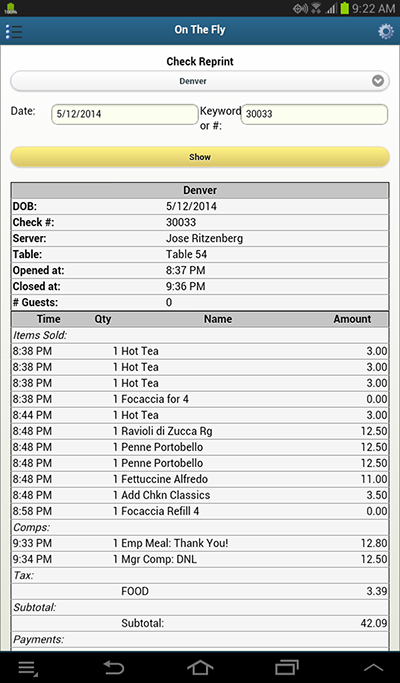 You may think that the one time you don't have to monitor tables is when they're empty. Once the tables are turned – that time period between one group leaving and the next sitting down – a new check is opened and a new experience can begin. But if you don't encourage managers to monitor table turning, your restaurant could be facing reduced productivity and even some petty fraud.
In a perfect world, a check would be opened when a party sits down and closed out once they leave, and their erstwhile table would, for the moment, be completely open and empty. A common practice is to leave the check open until the next group occupies the table, closing the first check at the same time that the second check opens.
On slow nights, there may be an empty table in between turns. On busy nights, servers have to close tables promptly because the next table is sat immediately. Servers may not want to take the extra few minutes to close the check out when their tables are cleared. Why is it important that they do?
Monitor Table Turns and Get the Whole Story
A major reason this is so important is accuracy. If a table is shown as being full when it is empty, it can throw off your reservation system, leading to an inaccurate estimate of the average time your guests are seated. This can be the difference between booking an extra turn on a slow night.
Another opportunity for inaccuracy arises when checks are mixed up. If a table is not closed out promptly, items can be inadvertently wrung on the wrong table. This is inefficient for the waitstaff, disruptive to the managers who have to undo the mistakes, and annoying to your customers.
And then there's the problem of small-scale fraud: freebies and comped items could be transferred from the current bill to the one that was supposed to be closed. Not only does this complicate things for the managers, who need to check out the comped items, it adds up quickly and costs the restaurant money.
A Simple and Quick Way to Monitor Table Turning
Managers should monitor table turning procedure and encourage the prompt closing of completed checks. This doesn't have to be a huge expenditure of labor; a few minutes per shift can suffice to get waitstaff in the routine of closing out finished checks when the parties leave. Once this becomes a habit, managers can perform spot checks to be sure that tables are being turned efficiently.
Technology can come to a manager's aid here as well. During shifts, they can use the restaurant's POS system to double-check order activity. And Ctuit Software's RADAR system contains reporting apps that can be used to monitor daily events, including comped checks.
'An ounce of prevention is worth a pound of cure'. This old truism may not apply to everything in the restaurant business, but it does apply to table turning management. Get your team in a good routine, and you'll have an accurate record of the day's sales and turnover rates.
About Ctuit Software
Ctuit Software Inc. was founded in San Rafael, California, in 2000 with a mission to develop and deliver Business Intelligence and Decision Support Infrastructure to the restaurant industry. Ctuit's RADAR – extracts the critical data from sales, labor, and accounting that yields key intelligence upon which profitable business decisions are made. In addition, operational, financial and exception based reporting is available company-wide with the adoption of optional modules like GL Sales (financial reporting) Accounts Payable, Inventory, Recipe Management, Labor Scheduling and Event Management. With Ctuit RADAR – accounting, finance, marketing and operations departments can make changes to improve customer satisfaction, sales and margins. Ctuit Software is a private, employee owned company with its corporate office based in Novato, California. For more information, visit http://www.ctuit.com.