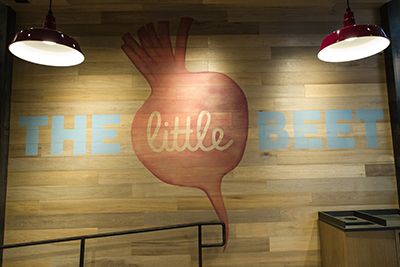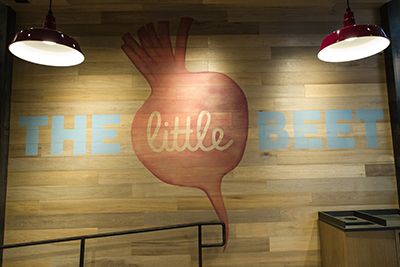 Midtown Manhattan has a new fast casual lunch spot open on 50th Street, The Little Beet. Designed by ICRAVE, a New York-based experiential design and branding firm, The Little Beet offers wholesome, seasonal ingredient-driven dishes under the helm of former EMM Group chef and Top Chef Masters star Franklin Becker and owners of Five Guys and Melt Shop.
ICRAVE's design concept emphasizes The Little Beet's commitment to simple, fresh ingredients by infusing the space with natural elements and a mostly neutral color scheme to showcase the food, the menu and The Little Beet's signature beet colored logo. Polished concrete and wood reminiscent of a garden path bring clean, subtle textures into the space. In addition to the use of warm grays and natural materials, ICRAVE selected pieces that avoid a manufactured or stale environment.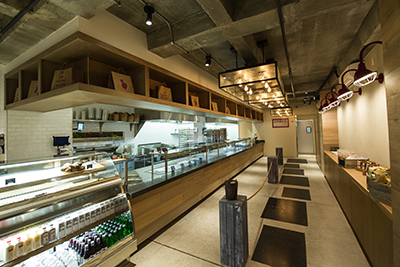 "The interior certainly takes a position as a personality-driven concept. The character of design has its own attitude toward localism, with less of a systematic approach typically seen in most quickserve models," said Jesse MacDougall, senior project manager at ICRAVE.
Upon walking into the restaurant, customers will see a wall made of hand painted wood, chalkboard, and butcher paper panels, which highlight the seasonal, rotating menu items that can be ordered at the open-style kitchen. Guests on the move will also be able to choose from a selection of freshly made grab-and-go items at the front of the restaurant. Playing off it's namesake, "beet" is the accent color repeated throughout the space, adding visual interest to chairs, pendant lights, tables, frames and more. A handmade grid system suspends lush plants and herbs along the walls and on the ceiling, highlighting the authenticity of the menu and ingredients. The wall itself has galvanized steel basins filled with plants that hang on rebar at various heights, providing an industrial touch.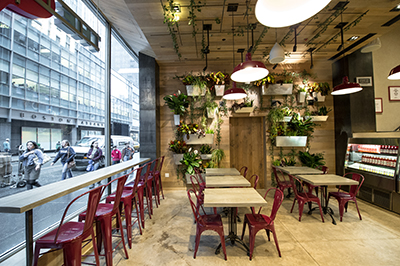 At breakfast, highlights include a Quinoa "Oatmeal" with various toppings including Brown Butter with Bananas and Almonds; as well as several egg sandwiches including Egg Whites and Roasted Peppers with caramelized onions and feta cheese in a brown rice wrap; Bacon or Ham, Egg, and Cheese on a whole grain English Muffin; and an Open Face Egg Salad with avocado and tomato on whole grain bread.
Lunch offerings will vary daily. Sandwich options may include a Grilled Portobello sandwich with avocado, tomato and romaine; a B.L.A.T. with bacon, pickled leeks, avocado and tomato; and a Prosciutto and Smoked Chicken sandwich with mozzarella, arugula, pesto and tomato jam. Salads in rotation will include a Kale Salad with pumpkin seeds, currants, pecorino cheese and lemon vinaigrette; a "Sushi" Salad with brown rice, radish, cucumber, toasted seaweed, avocado and ginger-miso dressing; and Becker's signature Little Beet Salad, a blend of cooked and shaved raw beets with arugula and goat cheese in a sherry-shallot vinaigrette.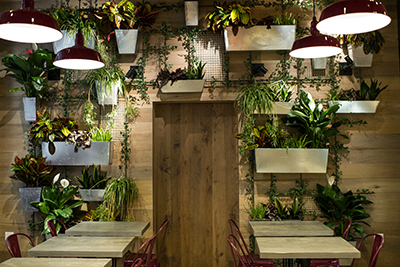 The menu offers numerous gluten-free options as well, including gluten-free breads. Grilled skirt steak, chicken breast, salmon or tofu may be added to any salad, with seasonal sides that can be combined with proteins to make a meal. Sides include Toasted Buckwheat with mushrooms and green onion in a hazelnut vinaigrette; lentils with avocado, oranges, pecans and kale in a ginger dressing; and charred broccoli with garlic, chili pepper and lemon olive oil.
The Little Beet also offers an extensive cold-pressed juice program. Juice blends will include the Little Beet, made with red beets, lemon, ginger, cucumber, and green apple; the Wake Up Call made with spinach, pineapple, mango, and avocado; and the Feelin' Green made with kale, spinach, celery, green apple, parsley, mint and agave.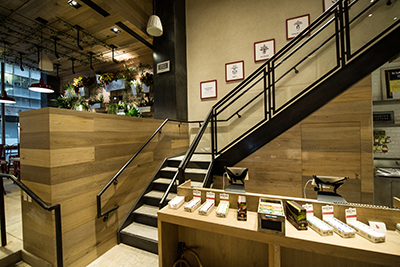 "Our mission at The Little Beet is to make whole foods accessible to everyone," says Chef Becker, who only uses cage free eggs, free-roaming chicken and, non-gmo, unprocessed ingredients. "Too often diners with little time must choose takeout or fast-food options, often made with processed ingredients. We aim to make healthful eating a staple of daily life."
The Little Beet is open seven days a week serving breakfast, lunch, and dinner from 7am-9pm Monday through Friday, and 8am – 8pm on Saturdays and Sundays. For more information please visit www.thelittlebeet.com or find them on Facebook, Pinterest, and Twitter.
** All photos credited to Daniel Kreiger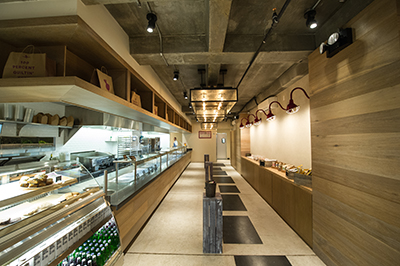 About ICRAVE:
ICRAVE is a creative and fearless experiential design and branding studio fueled by innovation and interaction. Over the last ten years, founder Lionel Ohayon has grown ICRAVE from a two-person operation into a 40+ person, international award winning studio. ICRAVE's work has been fueled by a quest for reinvention. In that stream the studio has been noted with the revival of the Meatpacking District, reinventing the airport experience in T5 for Jet Blue and the redevelopment of airports for Delta introducing the iPad programs across many airports across the continent. Domestically, ICRAVE is responsible for some of the most iconic nightlife venues of the last decade and a roster of many of the country's most celebrated restaurants and hotels. ICRAVE's clients include Starwood, The W Hotel, MGM, Disney, Hilton, the One Group, EMM, OTG, Delta China Grill Management. Recent projects include LAVO Restaurant and Nightclub in Midtown Manhattan, the STK Restaurant brand in New York, Las Vegas, Miami and LA and Catch in New York's Meatpacking District. Recently, ICRAVE has pioneered the transformation of airport terminal design. Working closely with OTG Management, the firm has delivered groundbreaking designs at LGA Terminals C and D, MSP Concourse G, Toronto Pearson International Terminals 1 and 3, as well as JetBlue's Terminal Five (JFK). ICRAVE's current project roster includes a new hotel in Amsterdam, the BMB: a hotel and event center in New York City and MADE Market, a new prototype food & beverage concept for DoubleTree Hotels.