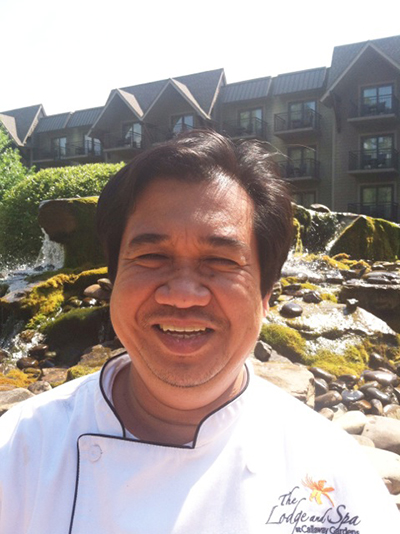 The Lodge and Spa at Callaway Gardens, an elegant interpretation of a traditional mountain lodge in the heart of Middle Georgia, is proud to welcome Henry Hamor as the new executive chef. With more than 20 years of epicurean expertise, Hamor brings creative passion and inspiring culinary skills to The Lodge and Spa at Callaway Gardens. Hamor will oversee all culinary operations, including banquets and events, managing kitchen staff, meal preparation and menu planning and operation.
Pursuing his passion for food has allowed Hamor the opportunity to work in a variety of notable hotels and restaurants around the world such as the Pearl South Padre Hotel in South Padre Island, TX and Houston, TX's exclusive urban resort, The Houstonian Hotel Club & Spa. Prior to those positions, he perfected his skills in culinary creativity at the Pecan Grove Plantation Country Club in Richmond, TX and Café Chino, a Hunan and Pan Asian restaurant in Houston, TX. Most recently, he served as the executive chef at Rice University in Houston, TX where he was responsible for the university housing and dining, serving 1700 students daily. Additionally, he oversaw the externship program, associate training and menu development for the college. Hamor's taste for both travel and adventure led him to further develop his knowledge of the hospitality industry and hands-on approach in the kitchen.
"We are delighted to have such a talented chef lead our team to culinary excellence, " said The Lodge and Spa General Manager, Randy McMichael. "We are excited for the incredible influence he will bring and are ecstatic that he is a part of our Lodge and Spa."
Piedmont Grille and Ironwood Lounge present Southern classics, yet eclectic fare featuring locally-sourced, organic ingredients when possible. Providing fresh dishes, The Lodge and Spa at Callaway Gardens delivers a new taste of the South with a seasonally-changing menu. Adorned with rustic décor, exposed timber beams, floor-to-ceiling windows and glass doors, guests of Piedmont Grille enjoy breakfast, lunch and dinner and Friday evenings, from 5-9 p.m., a fresh seafood buffet.
Nested along 6,000 acres of inspiring gardens and preserved forest land, The Lodge and Spa at Callaway Gardens is the new standard of luxury and service delivered with amenities and attention to detail as one of Georgia's finest destination resorts. Located inside Callaway Gardens, The Lodge and Spa at Callaway Gardens is a member of the Autograph Collection – a distinct group of unique properties carefully selected to represent an upscale line of prestigious hotels. The 150-room hotel is home to extensive meeting spaces, an award-winning spa, delicious southern-style fare at Piedmont Grille and Ironwood Lounge as well as activities and attractions fit for meetings and families. The hotel is located in the Appalachian foothills just 80 miles southwest of Atlanta.
The Lodge and Spa at Callaway Gardens is operated by Interstate Hotels & Resorts (www.interstatehotels.com), the leading U.S.-based global hotel management company. For more details, visit www.AutographCollectionHotels.com or visit www.callawaylodgeandspa.com.
About Autograph Collection
The Autograph Collection is an evolving ensemble of strikingly independent hotels. Exactly like nothing else, each destination has been selected for its quality, bold originality, rich character and uncommon details. From near to far, iconic to historic, the result is an array of properties that is nothing less than unique, nothing short of collectively exceptional. For more information please visit www.autographhotels.com and find them on Facebook, Tumblr, and Twitter.
About Marriott International
Visit Marriott International, Inc. (NYSE: MAR) for company information. For more information or reservations, please visit our web site at www.marriott.com, and for the latest company news, visit www.marriottnewscenter.com.