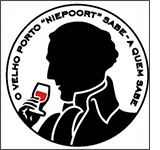 The Niepoort in Lalique 1863 decanter achieves a GUINNESS WORLD RECORDS™ title for the Most expensive Port wine sold at auction at Acker Merrall & Condit Hong Kong at HK$ 992,000 (approx. US$ 127,000) Saturday 3rd November, Hong Kong: A GUINNESS WORLD RECORDS™ title for the Most expensive Port wine sold at auction was set today with the sale of the first Niepoort in Lalique 1863 decanter. Filled with the exceptionally rare 155-year-old vintage Port created in 1863 by the first Niepoort generation, Franciscus Marius van der Niepoort and contained within a meticulously crafted Lalique crystal demijohn decanter, it sold for HK$ 992,000 (approx. US$127,000) at Acker Merrall & Condit, Hong Kong. 2 The collaboration between Lalique and Niepoort was announced earlier this year and has resulted in five demijohn decanters, each one engraved with a name from one of the five van der Niepoort generations.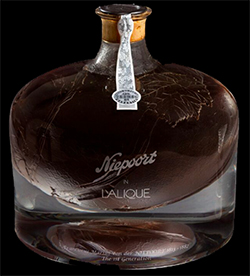 Each decanter is signed Lalique, numbered and filled with the exceptionally rare 155-year-old vintage port, from an original Niepoort demijohn decanter in the Niepoort cellar in Porto, Portugal. Each of the five decanters represents a generation of the Port wine dynasty from its foundation in 1842 by Franciscus Marius van der Niepoort, up to Dirk van der Niepoort, the fifth generation, who runs the company today. The design is based on the original 11-litre demijohn from 1905 created using one of the oldest glass production methods – a nod to the heritage of both Lalique and Niepoort – cire perdue or 'lost wax', a technique learned and passed down through the generations of skilled craftsmen and still used today at the Lalique factory in Alsace. The Niepoort in Lalique 1863 decanter is packaged in a cabinet that comes as a gift to the bidder. Dirk van der Niepoort: 'We are absolutely delighted to achieve a landmark price for the oldest Port we have ever bottled, commemorating our remarkable journey over five generations. We only have one demijohn from 1905, which contains one of our first wines, 1863. It is an incredibly rare Port, the result of years of dedication and craftsmanship.
A big wine, but very refined, not too sweet but highly concentrated'. Silvio Denz, Chairman and CEO of Lalique: 'This GUINNESS WORLD RECORDS™ achievement at HK$ 992,000 (approx. US$ 127,000) highlights the exceptional nature of the decanter and the remarkable quality of the Niepoort 1863. The figure achieved underscores the interest and value of such extraordinary decanters. This record pays tribute to the craftsmanship and excellence of Lalique and Niepoort, masters in their respective fields that go beyond the ordinary'. Andrew Bigbee, CEO of Acker Merrall & Condit (Asia) Limited, 'The Niepoort in Lalique 1863 decanter brought global interest from bidders who were attracted by the combination of the unique opportunity and exceptional quality, bringing a GUINNESS WORLD RECORDS™ achievement for Port wine'. Lalique has a history of collaborating with the world's most sought-after and collectable wine and spirits houses. Since 1925, it has produced exceptional decanters for, amongst others, wineries such as Clos Saint Odile or Schlumberger, Distilleries such as Cognac Hardy, Grand Marnier Beluga Vodka, Patrón Tequila, its collaboration with The Macallan continued for more than a decade and resulted in three GUINNESS WORLD RECORDS™ titles including the Most expensive whisky ever sold at auction: The Macallan 'M' Imperial in a Lalique six-litre decanter sold for US$628,000 at Sotheby's in Hong Kong in January 2014. The 1863 was given perfect scores of 100/100 by James Suckling (jamessuckling.com), the international wine critic and 20/20 by Jancis Robinson (jancisrobinson.com), the British wine critic who writes for the Financial Times and advises on the wine cellar of Queen Elizabeth II. The 1863 is an integral part of Niepoort's rarefied tawny blend known as 'VV'. 3 Images and videos available via the following link: Niepoort in Lalique decanter For more information please contact: Acker Merrall & Condit (Asia) Limited Vian Tam – Director of Client Services Vian@Ackerasia.com Tel: +852-2525-0538 Lalique Sarah Gargano – Sarah Gargano Communications sarah@sarahgargano.com Tel: 305-484-6643 Niepoort Dirk van der Niepoort dirk@niepoort.pt About Niepoort In an industry dominated by large companies, the Port house of Niepoort is a specialist of high-quality fortified wines from its vineyards as well as surrounding areas.
It built its name on fine-aged Port in very limited quantities, whether great vintage Ports or rare dated tawnies and other specialties. It also is considered one of the very best table wine producers in Portugal. The firm was founded in 1842, and it has remained ever since in the hands of the Van der Niepoort family, who originate from Holland. Dirk van der Niepoort is the current owner and head of the company. He is known as one of the most dynamic and unique individuals in the Portuguese wine business as well as the wine world at large. About Lalique Founded in 1888, Lalique is one of the crown jewels of France's crystal glass manufacturers. René Lalique, renowned as the inventor of modern jewellery and pioneer of the international perfume industry went on to become a master in the art of glassmaking. Over time, his name has become the powerful symbol of a unique expertise, a synonym for luxury, excellence, creativity and for a widely celebrated artistic style. Through its contemporary work in six areas, Lalique revives and pursues the creative, eclectic work of its founder: jewellery, decorative items, interior design, fragrances, art and hospitality. Lalique enters into exclusive collaborations with luxury brands, artists and designers to create stunning objects and exclusive collections based on both partners' know-how and expertise. All crystal items are handcrafted in the company's sole manufacturing site, which has been located in the Alsace region in France since 1921.
Lalique continues to thrive as a truly timeless lifestyle brand. For more information please visit www.lalique.com. About Acker Merrall & Condit 4 What started as a package store in 1820 has today become the oldest and most respected wine shop in America. Acker Merrall & Condit, located on the beautiful and historic Upper West Side of Manhattan, has provided expert wine services for nearly two centuries. In addition to an incredible selection of the newest releases and most desirable wines in the everyday market, Acker Merrall offers a deep inventory of fine and rare wines for immediate sale; most of which can only be found at rare wine auctions.
With affiliated companies in Hong Kong, New York City and Tokyo, Acker Merrall hosts auctions every month, both live and on the internet. Drawing upon our deep network of relationships among private collectors and inside the wine industry, Acker Merrall offers the widest selection of the rarest and most highly sought-after wine to enthusiasts, collectors and burgeoning wine lovers worldwide. Today, Acker Merrall & Condit is the world's largest wine auction house. It is the premier destination for personalized, polished and expert services in all areas of wine.