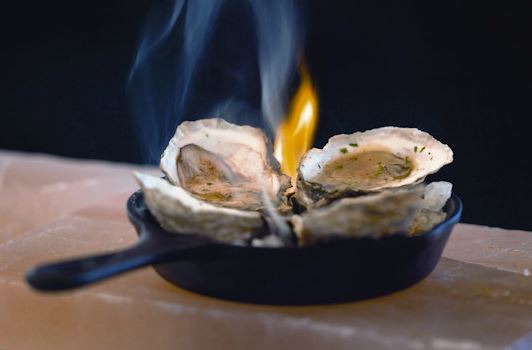 The Ritz-Carlton, Amelia Island Adds New Restaurant
Seafood Lovers Celebrate New Coast Restaurant at The Ritz-Carlton, Amelia Island
There is a new destination for seafood lovers in Northeast Florida who crave variety, healthy options and fresh taste sensations. The Ritz-Carlton, Amelia Island unveiled Coast restaurant describing it as Modern American and Heartfully Crafted. The restaurant offers a color palette of coastal blues and sandy neutrals with splashes of water prints and driftwood accents to bring the coastal feeling inside.
"Coast is a restaurant for the community and was designed with contributions by local artists and craftsman, capturing the spirit and beauty of our dune-lined island," says James E. McManemon, general manager of The Ritz-Carlton, Amelia Island.
The environment is perfect backdrop for a menu that celebrates seafood inspired by its barrier island location, including a signature Low Country Boil served in a net-lined cast iron pot with a bounty of clams, shrimp, local fish, corn and chorizo. This tasty presentation is served in its own broth with grilled garlic baguettes perfect for dipping. Lobster is a standout on the Seafood Platter teeming with lobster salad and claw-filled lobster meat accompanied by shrimp, salmon tartar and oysters in an ice-filled clay platter designed by local artist who crafted bowls, platters and butter dishes. The tribute to seafood continues with grilled oysters, seared scallops, cherry plank salmon, a lobster salad stuffed into traditional, toasted center-cut roll. The daily fresh Catch of the Day is cooked to personal perfection, grilled, pan fried, sautéed or blackened. The dinner menu includes tempting small plate portions to share as an appetizer or a light meal. Featured items include shrimp fritters, charred octopus salad, pork belly and deviled eggs with Blue crab.
Steak connoisseurs will savor an aged Ribeye from Cox Family Farms, an extraordinarily tender and flavorful cut, served with a butternut squash gratin. Rounding out the menu is a classic chicken and waffle prepared with a house-made fresh waffle and topped with a fried chicken recipe with a green tomato jam, heat cheese and rosemary-bourbon glaze and honey butter.
The hotel's award winning Pastry Department has created new breads, pastries, rolls and donut holes with three dipping sauces. Dinner ends on a sweet note with an array of plated desserts including a signature sundae with scoops of chocolate, caramel and coffee house-made gelato with caramel popcorn, candied peanuts and fudge sauce.
The Ritz-Carlton, Amelia Island appointed Niko Anagautou, Chef d' Cuisine, Coast. Niko previously was at The Grill at The Ritz-Carlton, Naples. For Niko, heading the Coast kitchen is a homecoming as he previously worked as the Sous Chef in the hotel's AAA Five Diamond Restaurant Salt.
Coast is located inside of The Ritz-Carlton, Amelia Island at 4750 Amelia Parkway, Amelia Island. Breakfast, lunch and dinner will be served daily. Telephone: (904) 277-1100; www.ritzcarlton.com/ameliaisland.
About The Ritz-Carlton, Amelia Island:
The Ritz-Carlton, Amelia Island is Northeast Florida's premier oceanfront resort. Known for its unique natural beauty and warm Southern charm, this luxury resort is home to the award-winning restaurant, Salt, and The Ritz-Carlton Spa, Amelia Island, named one of the top spas in the world by the readers of Condé Nast Traveler. Featured amenities include three pools, on-site golf, fitness center, tennis, children's recreation programs, and 446 guest rooms with private balcony and a view of the Atlantic coastline. For reservations, please call The Ritz-Carlton toll-free at (800) 241-3333 or visit www.ritzcarlton.com/ameliaisland. For information on The Ritz-Carlton Company visit www.ritzcarlton.com.
The Ritz-Carlton Hotel Company, L.L.C. of Chevy Chase, MD, currently operates 91 hotels in the Americas, Europe, Asia, Middle East, Africa, and the Caribbean. More than 30 hotel and residential projects are under development around the globe. For more information or reservations, contact a travel professional, call toll free in the U.S. (800) 241-3333, or visit the company website at www.ritzcarlton.com. The Ritz-Carlton Hotel Company, L.L.C. is a wholly-owned subsidiary of Marriott International, Inc. (NYSE:MAR).