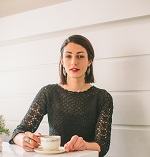 The Whitney Hotel will soon be home to Peregrine, a new coastal Mediterranean-style restaurant, and second concept from Joshua Lewin and Katrina Jazayeri, the duo behind award-winning Juliet. Situated in a prime location along Beacon Hill's famed Charles Street, Peregrine, will offer locally-sourced cuisine influenced by the Italian islands of Sardinia and Sicily as well as the neighboring influences of Corsica and Catalonia.
The intimate venue is designed to cater to guests looking for an upscale dining experience or a comfy lounge setting with light bites and unique wines. Peregrine's talented and approachable service team will greet guests and locals from morning through the evening, serving handmade, seasonal and from scratch dishes that range from snacks to soups, antipasti to sandwiches, alongside more filling fare including savory dishes and handmade pastas. Menu highlights include Sardinian-style seafood paella, with Catalan influence that trades rice with pasta and pays homage to Boston by using New England lobster, along with pasta dishes such as black pepper and truffle tagliatelle alla vongole, and lighter options like herb and garlic baked oysters and liver mousse. The beverage program will focus on smaller production wine, often from natural, organic, or biodynamic producers and classic, craft cocktails, thoughtfully curated to pair perfectly with each meal.
"Boston is our home and we have been searching for the right neighborhood and project to expand our brand in this wonderful city," said Josh Lewin and Katrina Jazayeri, chef and co-founders of Juliet and Bread & Salt Hospitality. "We are looking forward to bringing our creativity, dining concepts and unique cuisine inspired by our world travels throughout Europe to The Whitney."
The design of the restaurant is modern yet seamlessly melds with the historic Boston neighborhood. Guests enter a warm and welcoming space with European flair featuring a luxurious fireplace, high ceilings, reclaimed French oak wood floors, modern light fixtures, and chic seating in a palette of navy, gray and black. Diners can choose from a large range of seating that holds up to 80 guests, including a full wrap-around bar located in the center of the venue, luxe lounge chairs and couches, a variety of table arrangements and additional seating options dispersed among the lobby.
"We believe both Peregrine and The Whitney will complement each other perfectly and deliver great
experiences to local guests and diners alike," said Marina Aslanidou general manager of The Whitney Hotel.
The name Peregrine tells a story of its own, as its roots trace back to mean "traveler," or those who are readily welcomed to discover the warm hospitality of Peregrine at The Whitney Hotel. Furthermore, the name also pays homage to the Peregrine falcon which can be spotted both in Massachusetts as well as along the coast of the Mediterranean. Peregrine will be a gratuity free environment, where staff earn living wages and access to career mentorship and ongoing opportunity is prized.
The Whitney Hotel, a new 65-room luxury boutique property slated to open spring of this year, is revitalizing and expanding an existing hotel to create a new landmark at the corner of Charles and Cambridge Street. Named for Henry Melville Whitney, a prominent Boston industrialist and one-time owner of the site, The Whitney will offer guests generous hospitality through sophisticated simplicity and cultured comforts.