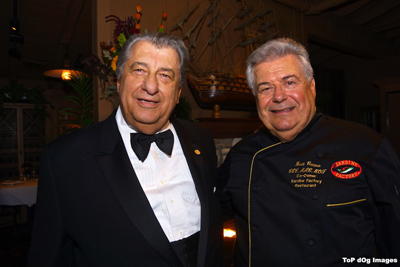 The award-winning Sardine Factory restaurant on historic Cannery Row celebrated its 45th Anniversary last night with a spectacular celebration shared with community leaders, restaurant enthusiasts, family and friends from throughout the Monterey Peninsula. The event marked a milestone for a restaurant that is known around the world.
Owners Ted Balestreri and Bert Cutino stepped right back into the roles they held in 1968– masterfully manning the podium and roaming the dining room greeting each and every guest, sharing stories and reliving history. The Conservancy and Captain's Room were full and filled with lively conversation and laughter while the lounge was packed and gregarious, with a stellar pianist and a colorful vibe.
"The room was full of energy and excitement! It was wonderful to see so many people come to share this special night with us. The celebration was a night to remember," said Ted Balestreri.
Hundreds of guests came to enjoy a great dinner, complimentary wine and cake in celebration of the 45th anniversary. In addition to the regular menu the Sardine Factory took a step back in time and served a special "1968" three-course dinner menu. The menu will continue to be served through the end of the year.
The Sardine Factory, once an old sardine cannery worker cafeteria, began with only 72 seats and has since grown to a seating capacity of 250. The restaurant has always been known for featuring superior service, outstanding food and one of the premiere wine programs in the nation–known for its embrace of California wines long before it was popular. The renowned Wine Cellar, one of the restaurant's private dining rooms, boasts a 25-foot long banquet table, 16th-century antiques, and a collection of almost 40,000 bottles of wine. A restaurant that has grown from humble beginnings is today is one of the most successful widely recognized establishments in the country. The Sardine Factory also signaled the beginning of Cannery Row's rebirth with Balestreri, Cutino and their partners as driving forces behind the revitalization of Cannery Row.
The Sardine Factory has received virtually every award possible in the industry, including the "Distinguished Restaurants of North America (DiRoNA) Award", the Wine Spectator's "Grand Award" and Restaurant Hospitality's "Best Wine List in America". The restaurant was also named the "Best Restaurant in Monterey County Over Ten Years Old" by Monterey County Weekly readers, voted the "Top Ten Most Romantic Restaurants on the Central Coast" by Open Table and listed as one of the "Top Ten Seafood Restaurants in Carmel/Monterey" by Gayot.com, in addition to many other honors.
The Sardine Factory is located at 701 Wave Street in Monterey, California. For more information visit www.sardinefactory.com or call (831) 373-3775.