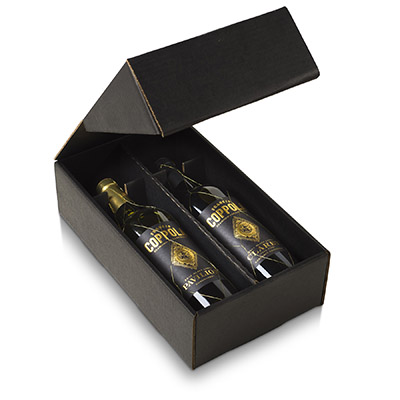 Commemorate the holidays with three elegant yet affordable wine gift boxes from Francis Ford Coppola Winery
Select two wine pairings from the beloved Diamond Collection with the classic Diamond Collection Gift Box. Presented in a beautiful pine box, be remembered for this unique natural gift-wrapping. Choose from one of the following Diamond Collection pairings:
Cabernet Sauvignon & Red Blend
Merlot & Pinot Noir
Sauvignon Blanc & Petite Sirah
Cabernet Sauvignon & Zinfandel
Director's Cut Sauvignon Blanc Gift Box
The Director's Cut Sauvignon Blanc Gift Box features two bottles of one of the winery's newest wines. Have a friend who loves a crisp white wine? This is the gift to buy.
Director's Cut Alexander Valley Sauvignon Blanc– (1 bottle) Our 2012 Director's Cut Sauvignon Blanc from Alexander Valley has a concentrated citrus spice character, which we called pink grapefruit in tasting. Other aromatics and flavors include fresh pineapple and lemon highlighted by a touch of fig, clove, and minerals.
Director's Cut Sonoma Valley Sauvignon Blanc– (1 bottle) Our 2012 Director's Cut Sauvignon Blanc from Sonoma Valley is treated with minimal skin contact and fermented in tank. The lees are stirred during fermentation in order to give the wine a silkier texture. This wine does not undergo malolactic fermentation—it's all about the fruit and floral notes, particularly the tropical fruits and white flower scent.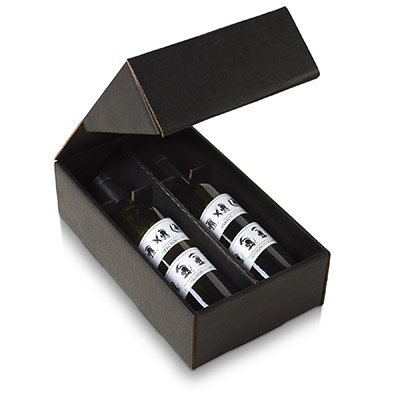 Diamond Claret and Pavilion Gift Box
For the truly discerning wine lover, choose the Diamond Claret and Pavilion Gift Box, which features the collection's flagship red and white blends. The Claret's signature European-style gold netting signifies the outstanding quality of this classic Bordeaux style blend with beautifully rich, concentrated flavors. The Pavilion is a Chardonnay-based white wine with excellent body and aromatic fruit flavors.
Diamond Collection Claret. (1 bottle) Beautifully concentrated flavors and a very layered, textural wine with dark, rich fruit impressions, supple tannins, and distinct spice. Dark garnet in color, this customer favorite features flavors of cherries, cassis, and vanilla.
Diamond Collection Pavilion Chardonnay. (1 bottle) Excellent body and beautifully aromatic fruit flavors that ideally pairs with lobster Newburg, Pad Thai, or pork roast with apples.
These limited edition gift sets and more are available at the winery's online store.
About Francis Ford Coppola Winery
Francis puts it best, saying the winery is "a wine wonderland, a park of pleasure where people of all ages can enjoy all the best things in life – food, wine, music, dancing, games, swimming and performances of all types. "A place to celebrate the love of life." Francis Ford Coppola Winery is located at 300 Via Archimedes in Geyserville, California, accessed from US HWY 101 and the INDEPENDENCE LANE exit. Among the many unique attractions at the property, Francis Ford Coppola Winery features wine tasting, two restaurants, a swimming pool, a movie gallery, a performing arts Pavilion and a park area with game tables and bocce courts. Francis Ford Coppola Winery opens at 11 a.m. daily. For more information visit www.FrancisCoppolaWinery.com and find them on Facebook and Twitter.