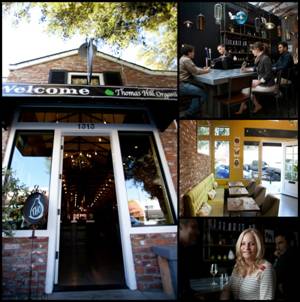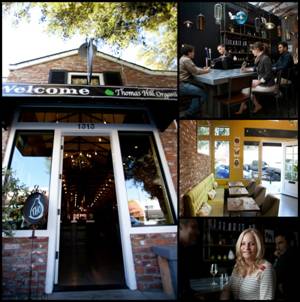 The much-loved Thomas Hill Organics Bistro recently expanded into an adjacent space which is now the Thomas Hill Organics Wine Lounge. The acquisition also redirected the location of the popular restaurant's entrance, which is now directly on Park Street in downtown Paso Robles.
Featuring a comprehensive and creative wine and beer list, the new THO Wine Lounge now offers table service overseen by Wine and Service Director, Serena Harkey. Regular specials and wine by the 1-oz. taste or by the glass allow diners to explore the full array of Harkey's wine list in the same rustic-chic ambiance as the original Thomas Hill Organics Bistro.
While THO's layout and scope of service may have changed, Chef Julie Simon's menu remains as original and distinctive as ever. Eclectic dishes like Pan-Roasted Alaskan Halibut with Arugula and Carrots Salad, Cara Cara Oranges, Roasted Kumquats, Kumquat Olive Oil, Spicy Harissa, Coriander Crème Fraiche, and Cumin-Spiced Almonds continue to provide the heart of the THO experience.
"Expanding into the wine lounge space is a response to the popularity of what we've done over the years, the freshness of the ingredients and the creativity of Julie's menu," said proprietor, Debbie Thomas, who opened Thomas Hill Organics in 2009 as a delicious way to show off locally-grown organic produce, grains, and proteins.
Thomas Hill Organics also continues to cater for a wide array of functions including birthday celebrations, wine events, weddings and holiday parties. Chef Julie and her team work with clients to design seasonally-inspired menus that create a one-of-a-kind experience, whether on the THO fully-covered outdoor patio, in a private home, or among the vines at one of the Central Coast's beautiful wineries.
ABOUT THOMAS HILL ORGANICS BISTRO & WINE LOUNGE
With a dynamic menu reflecting local abundance, Thomas Hill Organics Bistro & Wine Lounge sources a vivid array of fresh ingredients to concoct bold, imaginative dishes. What began as a humble organic CSA showcasing the Central Coast's bounty quickly evolved into a popular destination for honest food, creatively prepared by French-born Chef Julie Simon. We believe in the significance of organic, regionally-produced food, working with local purveyors for our poultry, fish and grass-fed beef, lamb and exotic meats. Nearby farmers provide all fruits and vegetables, which are always straight-from-the-earth fresh, and our breads are crafted by local bakers who are celebrated artisans of their trade. Located at 1313 Park St., Paso Robles, CA 93446. For more information about Thomas Hill Organics Bistro & Wine Lounge or to make a reservation, please visit www.ThomasHillOrganics.com.