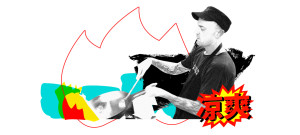 — Asian-inspired fast causal concept announces annual holiday drunken promotion —
The holiday season is synonymous with friends and family feasting together and Tin Drum Asiacafé is once again making mouths water with the launch of its Drunken Love promotion. Available today through January 31, 2016, the fast casual concept focused on fresh, affordable, authentic Asian street food is bringing back a guest favorite and pairing it with two new decadent dishes packed with a variety of flavors and unique ingredients.
Tin Drum fans asked, and they will receive; the Drunken Noodle Bowl is making its comeback to provide some early holiday cheer. Made with lemongrass chicken, rice noodles, broccoli, baby corn, red peppers, basil and scallions, the Drunken Noodles are stir fried in drunken sauce and finished with a fiery jalapeno drizzle. Guests will feel drunk on life, and flavor overload, after chowing down on this popular limited-time menu item. In addition, for the first time, Tin Drum enthusiasts will be introduced to two new flavor-boasting dishes:
Drunken Club Roti – An Asian roti with candied Korean bacon and lemongrass chicken simmered in drunken sauce and dressed with zucchini and red chard with a fiery jalapeno drizzle.
Daikon Bacon Fries – Spicy fried daikon, candied Korean bacon and scallions drizzled with a fiery jalapeno sauce.
"It's been a great year for innovation at Tin Drum, and we're excited to end 2015 by bringing back a fan favorite and introducing our guests to two new menu items," said Kirk Biondi, Tin Drum corporate chef. "The holidays are a time to share with friends and family, and we made it a point to create an inviting atmosphere where our guests can do just that while treating themselves to foods and flavors they may not have tried before."
To spice up the offerings even more, Tin Drum is giving away free entrée cards for every $25 in gift certificates purchased. Additionally, to help ease holiday spending, Tin Drum is offering a variety of promotional discounts and meal deals, including Fortune Fridays where customers can get a Drunken Noodle Bowl and a fountain drink for seven dollars, and Monday text message offers that will be sent to text club members every week at 10 a.m.
For those looking to score some last minute bonus points with their boss, Tin Drum is also launching a social media contest where one lucky winner will receive a free catered holiday party for their entire office. With entries open today through December 11, the Show Us How You Noodle contest poses the question; do you slice, swirl or slurp? Fans are encouraged post photos to Facebook, Twitter and/or Instagram showing how they eat their noodles, using the hashtag #DrunkenNoodle. A winner will be announced on December 11 and can arrange their catering for anytime during the week of December 14.
Tin Drum Asiacafé provides the same fast service and convenience typical of Asian street-side cafés, and cooks each dish to order, prepares meals using fresh, simple ingredients and serves guests in a stylishly designed, contemporary setting. The menu is a dynamic and varied mix of traditional Asian fare with bold favors and features cuisine inspired by the cultures of China, India, Japan, Korea, Thailand and Vietnam.
For more information, visit www.tindrumcafe.com and follow Tin Drum Asiacafé on Facebook, Twitter and Instagram.