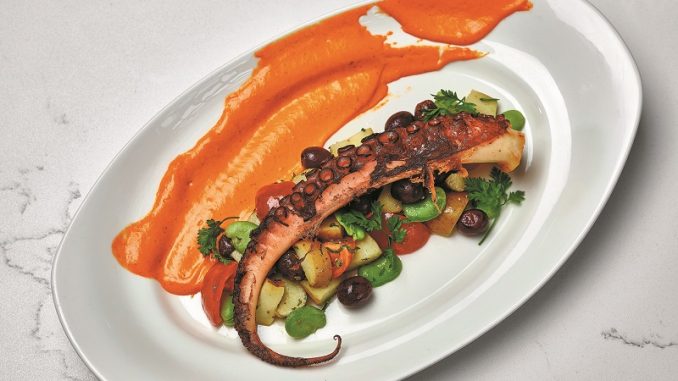 Tequesta has a new culinary hot spot on its map – the stunningly designed Joscō Garden. In the space that was previously operated as Joscō Bar & Oven, local restaurateur, friend of Food & Beverage Magazine and Top Chef All-Star Stephen Asprinio has created another dining destination on the Palm Beach County restaurant scene.
Offering a chef-driven experience with a focus on contemporary, continental cuisine, Joscō Garden debuts as the quintessential American neighborhood restaurant in Tequesta. From the dazzling backdrop of lush greenery and pop art décor to the open exhibition kitchen and showpiece wood-burning oven, Asprinio's vision for Joscō Garden was to bring the community something extraordinary yet still approachable with a cool, lively vibe.
"When the idea for Joscō Garden initially arose, I was excited about the opportunity to expand our efforts in the local hospitality market to the north," said Stephen Asprinio. "I wanted to open a very special restaurant with a chic, urban feel for the residents of Tequesta and Jupiter Island."
Asprinio tapped Aaron Black as the executive chef and partner for the new concept. On the menu, savor dishes from both the land and sea with various small plates, a raw bar, seafood towers, salads, housemade pastas, and steaks, along with a selection of other entrées. Items include Hamachi Carpaccio Aguachile, Hand-Cut Steak 'Chartare,' Key West Pink Shrimp Cavatelli, Filet Mignon 'Oscar' Surf & Turf, Golden Cauliflower 'Chop,' and the Local Fresh Catch that is served with cotija polenta and Sauce Américaine. Joscō Garden also pays homage to the restaurant's signature, wood-fired oven with dishes such as a Seasonal Flatbread, Wild Mushroom Tartine, Roasted Oysters with Ajika Butter, and Octopus Niçoise. Aside from elevated American fare, guests can sip on whimsical handcrafted cocktails and a curated list of international wines.
Come check out the latest hidden gem to drop into Palm Beach County's dining scene! For more information, call 561-972-7337 or visit joscogarden.com. Reservations are encouraged.