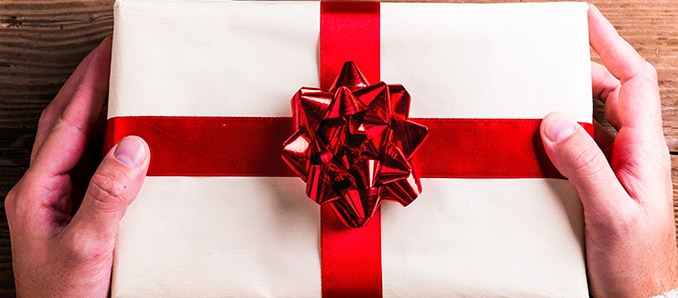 Finally, after what has seemed like an unending upheaval of all that is familiar, the end of 2021 marks the hopeful beginning of a return to normalcy. Kids are back to school, folks are getting back to the office, travel is on the uptick and everyone has a new respect for disinfecting, well, everything. Amid a year unlike any other, this holiday season is sure to be one to remember. So, why not mark the occasion with an equally memorable gift that'll endear and delight the food and beverage lovers in your life? Here are a few savvy ideas to get you started.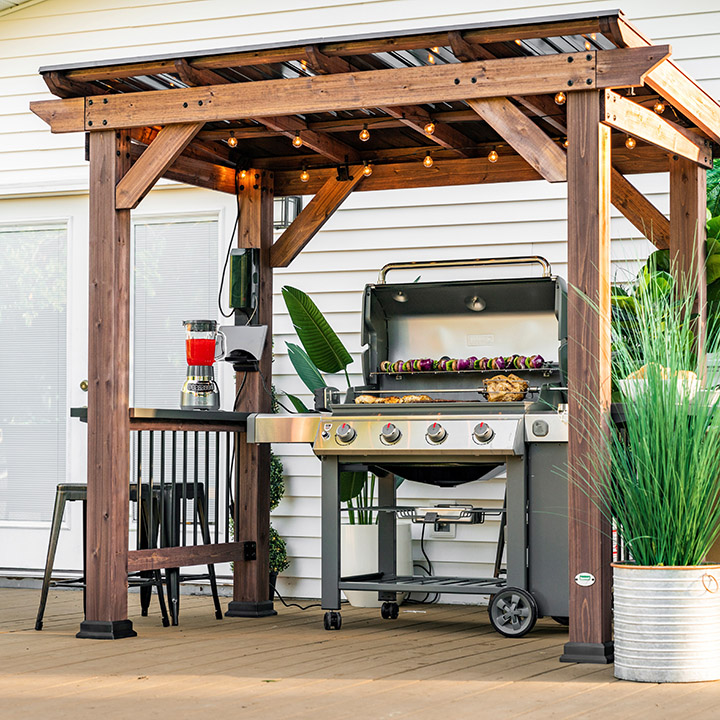 Saxony Grill Gazebo by Backyard Discovery (https://www.backyarddiscovery.com)
There's nothing like enjoying an evening on the patio or having friends and family over for a cookout. The Saxony Grill Gazebo from Backyard Discovery is an attractive and functional addition to your deck that'll bring your backyard barbeques and other gatherings to a whole new level. If your outdoor life centers on the meals and memories made around the grill, this handsome addition that will transform your patio or deck into a fully functional cooking station. Made with attractive and naturally durable cedar wood, its dark stain and corrosion resistant steel roof are the perfect home for almost any grill up to 70-inches wide. And, its two built-in, powder-coated steel countertops provide ideal surfaces for serving or prepping food. Plus, with the exclusive PowerPort, you have three USB ports and three electrical outlets to use for blenders, tools, speakers, lights, or anything else you might want to power up when cooking and eating outside. Its corrosion resistant steel roof provides weather protection for all-season grilling and a thermal barrier in the 29-gauge steel roof reduces heat transfer by up to 20 degrees, ensuring a comfortable experience any time of year. Plus, it's made with classic cedar wood that's naturally resistant to bugs and decay. Assembly is made easy with support by the step-by-step interactive BILT app, so you can enjoy your patio upgrade immediately and begin making new, exciting memories all year long.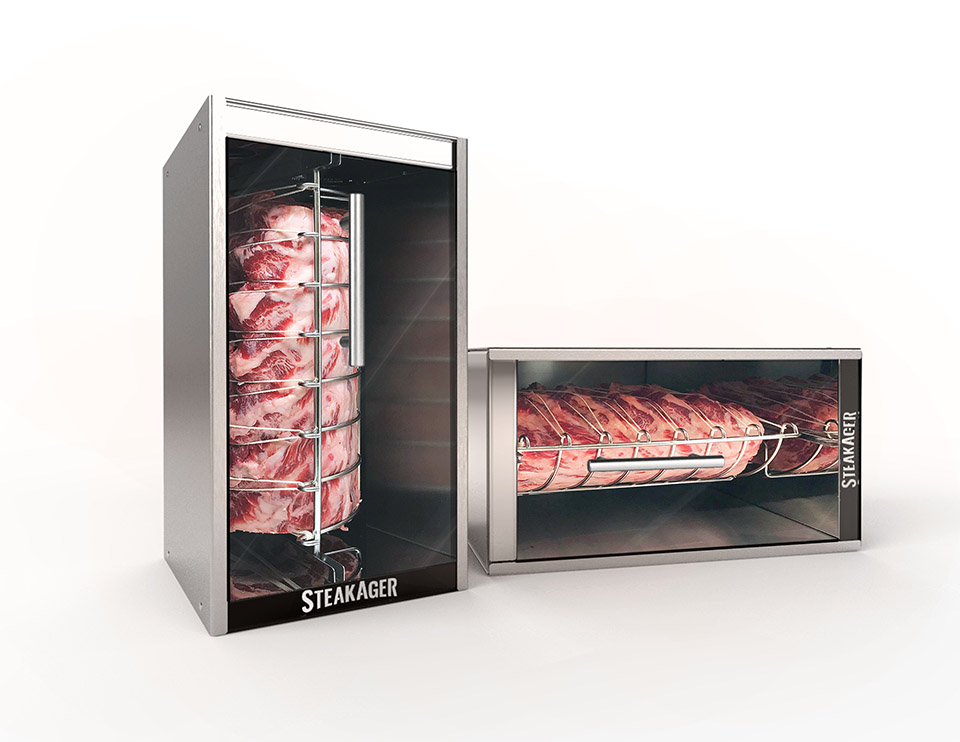 PRO 15 SteakAger Appliance (https://www.steakager.com)
With holidays harkening the gathering around tables and noshing on fine food, this is a truly a tantalizing gift option for your favorite foodies. Coming in with high marks is the reinvented PRO 15 SteakAger, which promises to turn any home chef into a culinary master. This revamped version of the original SteakAger boasts patented technology that turns a refrigerator into a culinary-grade dry-ager. USA-made in Boone, North Carolina, this sleek, stainless steel-designed appliance is at home whether resting vertically or horizontally, and a simple 12-volt DC cord is the only item needed for power. Now, anyone with a primary or garage fridge can use the PRO 15 SteakAger to dry-age up to 15 pounds of beef right at home so they can enjoy "ah-mazing" steaks anytime. The company's patented technology creates a micro-climate with your refrigerator that manages humidity to create the perfect dry-aging environment. Making easy work of trussing, the unit's Truss Shelf was designed to maximize load and allow you to easily truss the cut of beef. The PRO 15 SteakAger is one in a line of many SteakAgers, with each backed by quality and craftsmanship that has made them a well-respected name in grilling technology. This year, give your most discerning grill master a gift that helps them take the ordinary and turn it into the extraordinary for years to come.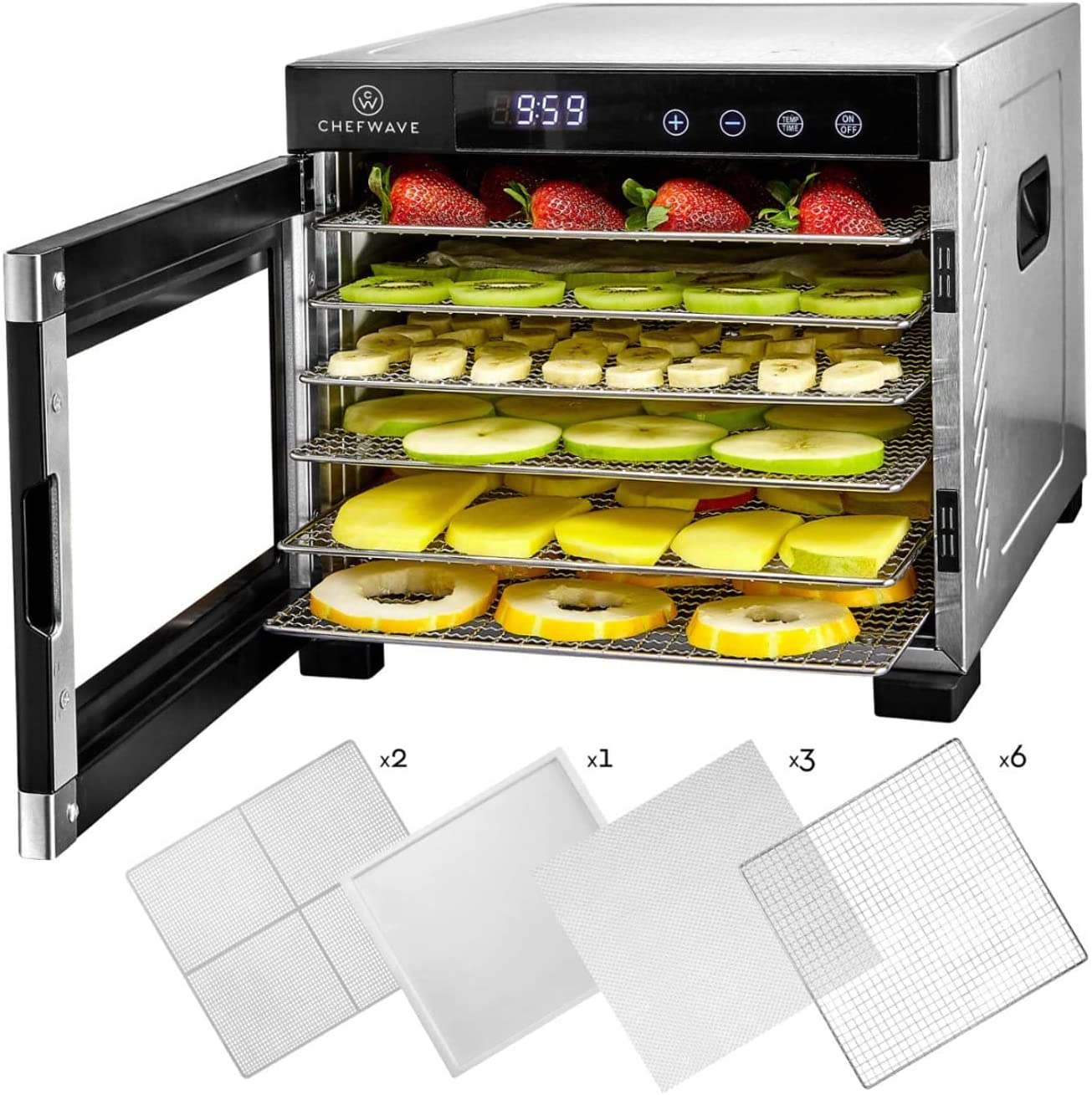 ChefWave 6-Tray Food Dehydrator (www.amazon.com) – 20% off with Code: CW20FOOD
For the health-centric person in your life, preparing tasty and nutritious foods just got easier. The ChefWave Electric Professional Food Dehydrator circulates warm air with 360-degree airflow to perfectly dry food. Now you can make the healthiest and tastiest dried snacks like fruit leather or jerky with ease. Are you tired of throwing out produce that's already gone bad? This air dehydrator is a sustainable solution alleviating that issue. Dehydrated foods last longer and don't need to be refrigerated. Plus, dried foods hold nearly all of their nutritional value and flavor. This large, stainless steel countertop kitchen appliance features six drying racks to accommodate a wide variety of fruits, herbs, vegetables and meats. It flaunts a modern design with a transparent door that makes it easy to monitor trays. Easily control this kitchen appliance with the digital screen. Simply set the temperature and time and adjust as needed. It features temperature controls between 95 and 167 degrees Fahrenheit. The included timer can be set between 30 minutes and 24 hours. This food dehydrator includes everything you need with six large, stainless steel drying racks, an easy to clean drip tray, two mesh sheets, and three Teflon sheets. With it you can make fruit leathers, baked goods, beef jerky, fruit roll ups, trail mix and so much more. Oh, and it also includes a recipe book to take your food dehydration to a whole new level.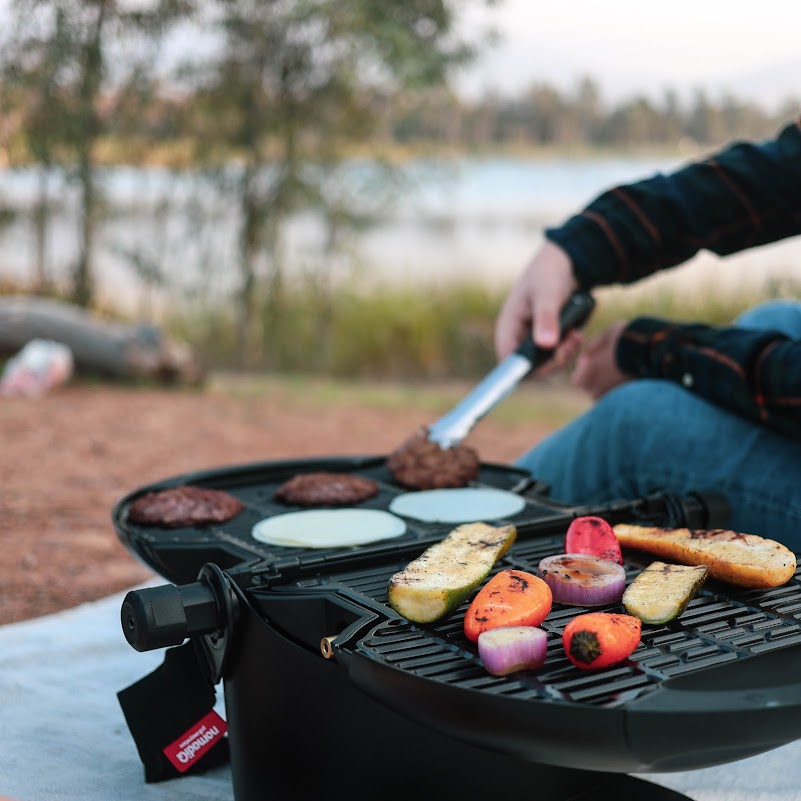 NomadIQ Portable Grill from NomadIQ (https://nomadiqgrills.com)
For the guy who's always on the road, on a boat, at a tailgate or foraging a new campsite or hiking trail, grilling on-the-go has never been easier than with NomadIQ. Weighing in at an impressively feather light weight of just 12 pounds, NomadiQ may be small, but it sure is mighty. Transport and grill it up anywhere you please; campsites, RVing, boating, parks, decks and patios, apartments and tiny homes, the beach, road trips and more. Unlike most portable grills, the NomadiQ is unique with its two independent grilling surfaces, each delivering almost 5,000 BTUs. Plus, each grilling side can be controlled individually by the knobs positioned on the side. This feature is ideal for foods that require different cooking temperatures, or for simply keeping food warm. Additionally, switching one side off is always an option for smaller, quicker meals. This portable grill is nice option to have if you're running low on fuel or only cooking a simple meal for one. Optimizing the ease of portability is key. The folded size is only 16 inches wide, 14 inches high and 6 inches thick for easy storage and quick access on-the-go. Each of the two NomadiQ grilling surfaces provides approximately 110 square inches of surface area for a grand total of 226 inches to cook all your favorite meals. The device can be connected to a standard portable gas tank, such as a common Coleman's 16-ounce propane fuel tank, which will give approximately three hours of life to this lean, mean grilling machine. With the use of an adapter, the NomadiQ grill can also be connected to a larger 20-pound tank or directly to a RV for extra hours of entertaining, grilling and fun.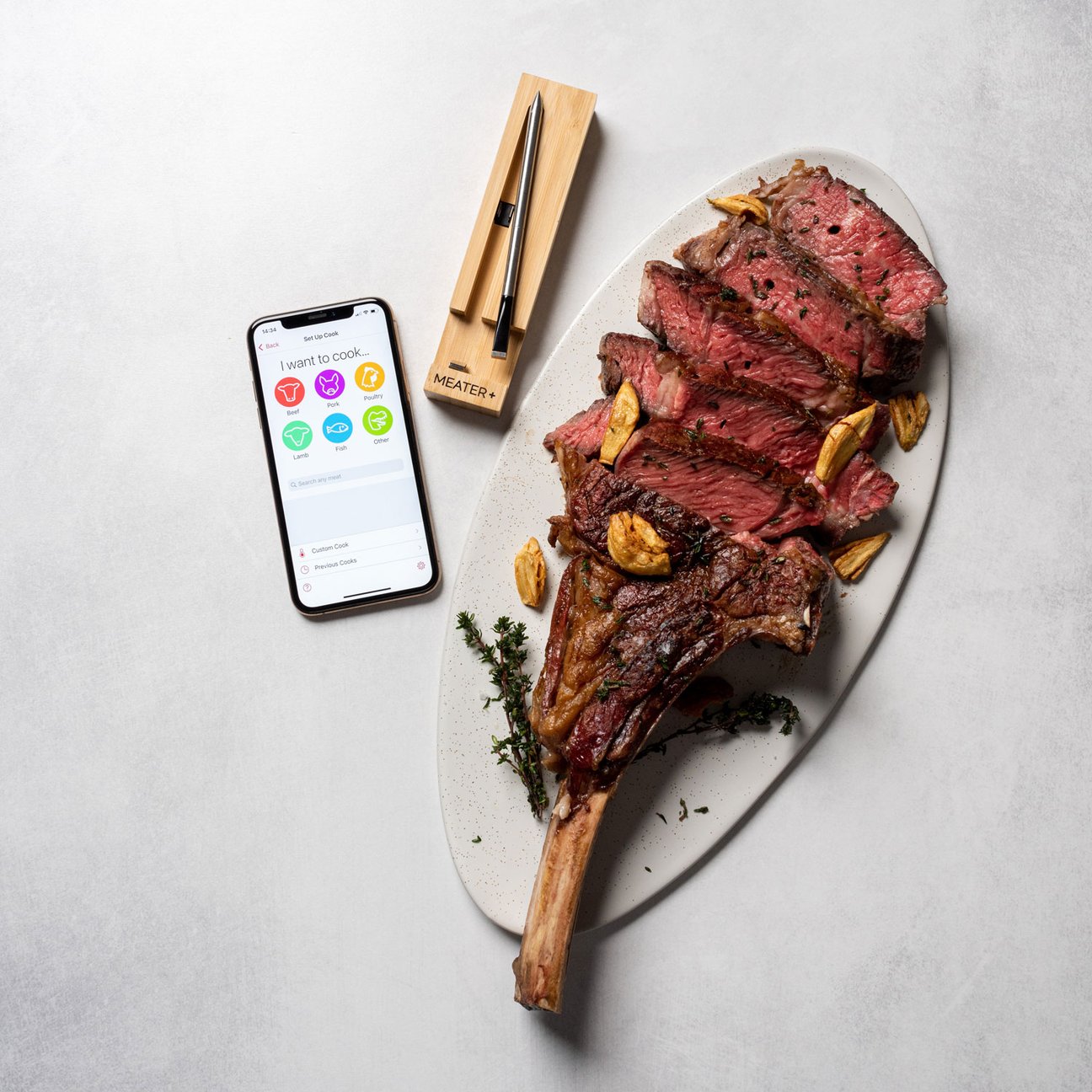 MEATER Plus Meat Thermometer (https://www.Store-US.Meater.com)
Here's a helpful gift for the aspirational chef in your life: the MEATER Plus Smart Meat Thermometer. With a wireless connectivity range of up to 165 feet thanks to a built-in Bluetooth repeater in the charger, alongside a guided cooking app, the MEATER Plus is sleek, easy-to-use and compact—a useful accessory to complete any grilling line-up. And, with patented technology that measures the internal meat temperature as well as the ambient cooker temperature, the MEATER Plus does the work for you, so you can move freely around the kitchen and mingle with guests. Plus, there's no wires and no fuss, making it the first truly wireless smart meat thermometer. Dual temperature sensors can monitor internal meat temperature and ambient and the guided cook system walks you through every step of the cooking process to guarantee perfect and consistent results. An Advanced Estimator Algorithm estimates how long to cook and rest your food to help plan your meal and manage your time and the Connectivity Suite monitors your cook from a phone or tablet over Bluetooth. The MEATER Plus wireless grilling thermometer is a great gift for those seasoned cooks and for those who are just starting out in the kitchen.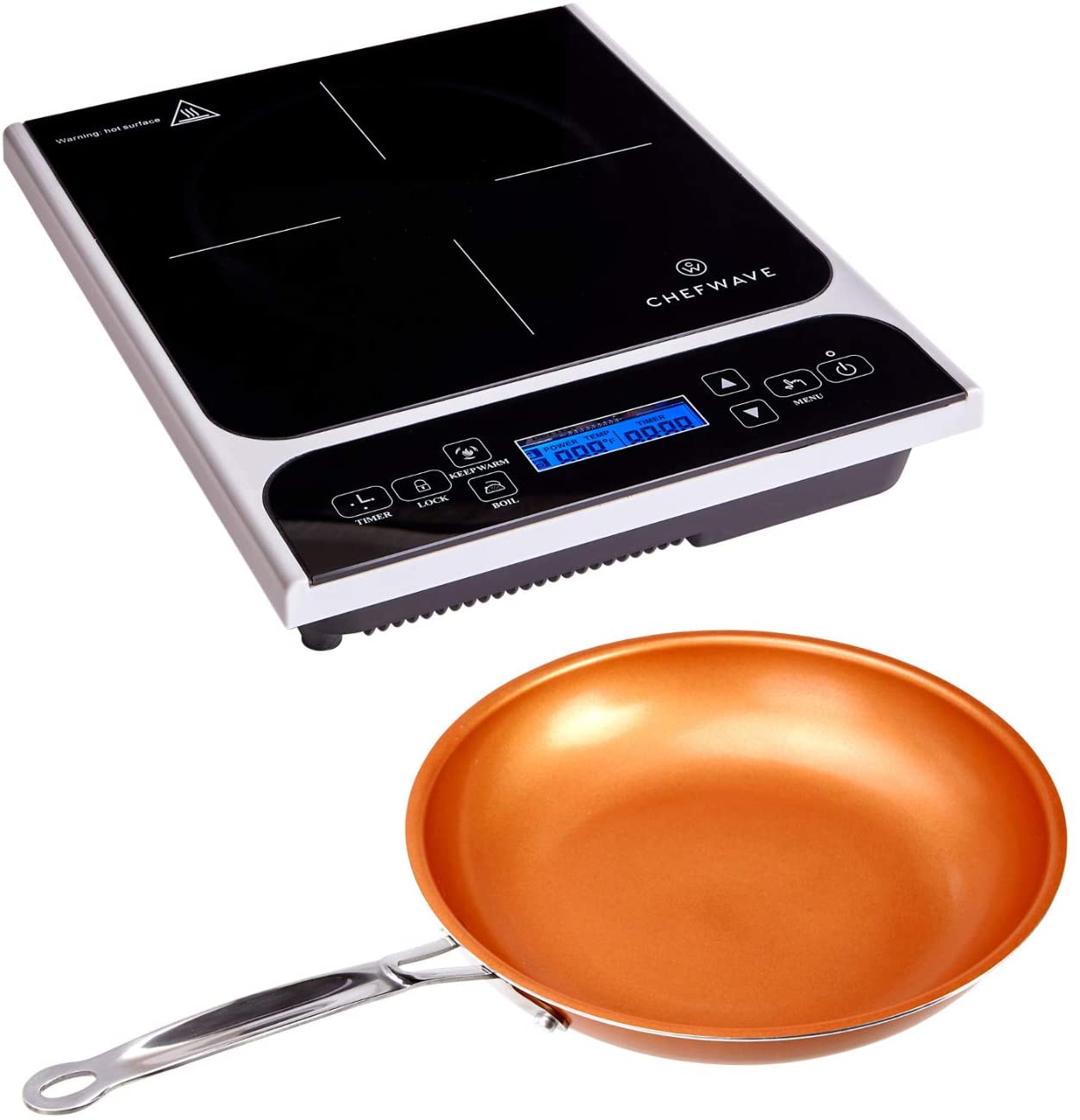 ChefWave LCD Portable Induction Countertop Burner and Frying Pan (www.amazon.com) – 20% off with Code: COOKTOP20
For those adventurous spirits who love hikes, camping, RV trips, boat outings and tailgating, you can now give them a home cooked meal on-the-go. The ChefWave CW-IC01 Portable Induction Cooktop is your own personal cooking station that doesn't require large equipment or needless waste of gas and electricity. With it, you're fully prepared to create dishes you love anywhere you want by just using the right amount of power. This convenient kitchen appliance measures 14"x11.5"x1" and is easy to use on boats, RVs, campsites or at home. Put your electric cooktop on just the right setting easily using the convenient touch panel. It features a built-in 10-hour timer and 20 power settings from 100 watts to 1800 watts or 20 temperature levels from 140 degrees to 460 degrees Fahrenheit. This convenient cooker is compatible with your induction-ready magnetic cookware such as cast aluminum enameled iron/steel, stainless steel with a magnetic bottom or cast iron. It comes with a 10-inch copper frying pan that's ready to whip out delicious dishes in a flash. Induction burning is a lot more efficient than traditional gas or electric stoves, saving you a big chunk on your next gas or electric bill. It uses 15 amps of electricity, which is standard in any home, so you can just plug in and cook whatever you like. The ChefWave induction cooktop is built to North American standards to comply with all safety requirements. Child safety lock system keeps you and your family safe in case of any accidents and high quality materials ensure top notch durability.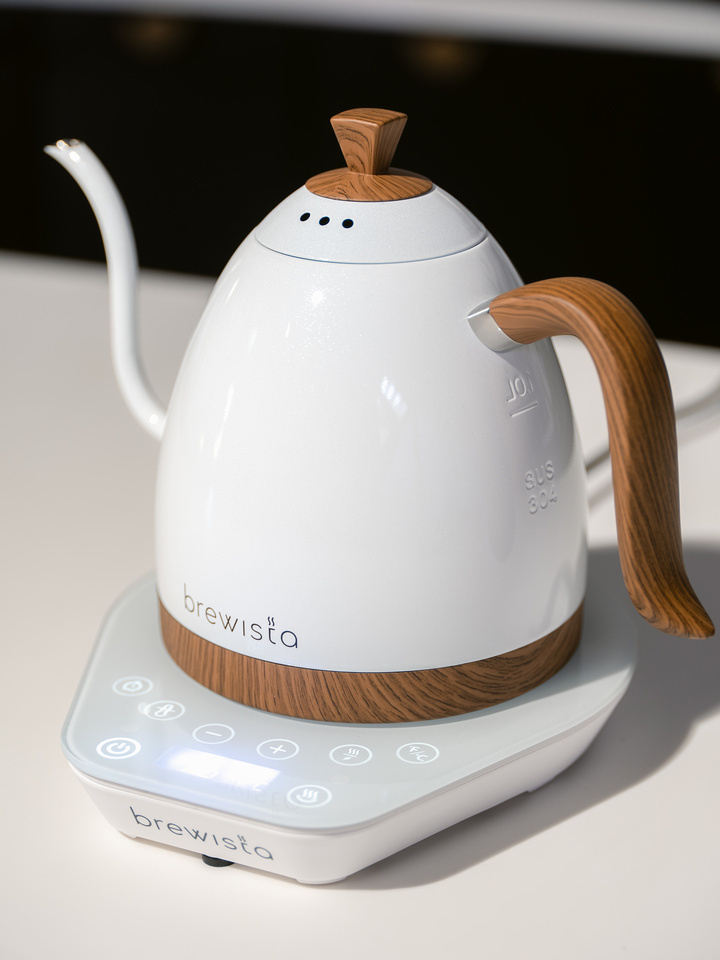 The Artisan Electric Gooseneck Kettle by Brewista (https://brewista.co)
Stellar for those on your list with the most discriminating taste is The Artisan Electric Gooseneck Kettle from Brewista, which elevates each coffee, tea or matcha-making experience. Since 2014, Brewista has come to truly embody products that empower passionate coffee lovers, tea sommeliers and professional baristas, alike. Crafted with quality and precision, Brewista's Artisan Electric Gooseneck Kettle lets you master your morning coffee ritual. Its intelligent, in-house design allows for to-the-degree temperature control for that perfectly-brewed bean. And, with its beautiful arched Gooseneck Spout, this distinctively-designed kettle produces a perfect, spill-free water flow control. Wholly unlock the flavor of your beans or tea leaves with a slower or faster pour. This superior kitchen tool is designed by coffee professionals, trusted by world-class baristas and made to fit elegantly within the home. From designs like this that put serious thought into the science of brewing, to the elegant finishes that customers are excited to use at home, Brewista products create satisfying experiences. This stylish and easy to control Artisan Kettle is sure to be the perfect addition to anyone's kitchen this holiday season.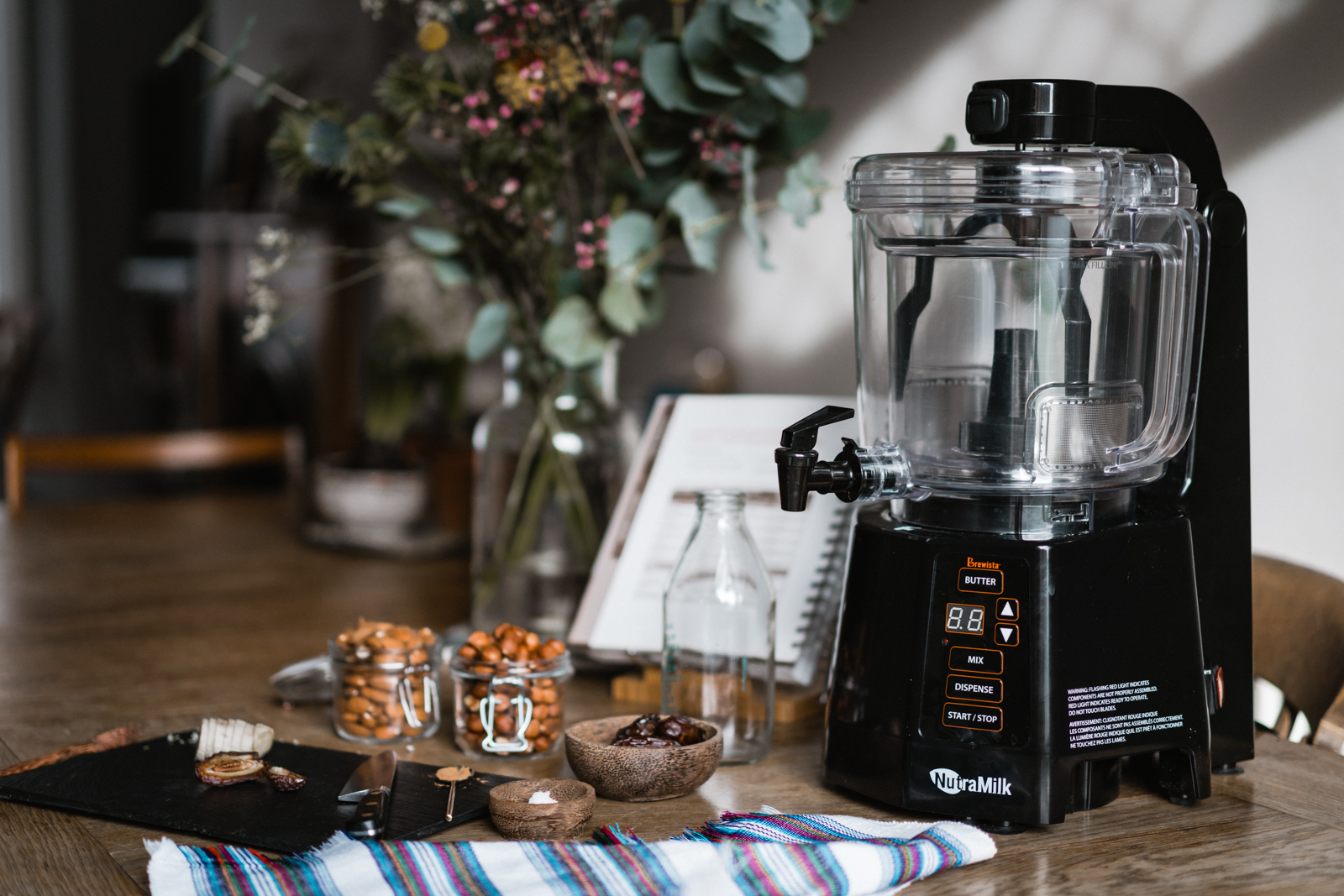 NutraMilk Processor and Blender from NutraMilk (https://thenutramilk.com)
Do you love fresh nut milk, but you don't love the tedious process of making it at home? Or, perhaps you haven't tried? Would you—or your gift recipient—prefer nut milk that has no additives or emulsifiers? Making your own fresh nut milk just got easier with the NutraMilk Nut Processor and Blender. This device is the only patented processor/blender appliance that can produce fresh, ready-to-drink alternative milks, butters, dips, spreads, smoothies and other delicious treats in minutes from virtually any nut, seed, grain, legume and more. NutraMilk's revolutionary method of making delicious, healthy nut milk from virtually any type of nut makes the once tedious process simple and fast. Traditional methods of making nut milk at home require at least three pieces of equipment and plenty of time for ingredients to be soaked overnight, but with the NutraMilk it's quick and easy. There's no overnight soaking, heat, straining, rinsing or mess involved. With NutraMilk, you can make up to two-liters of your favorite nut milk in less than 12 minutes, compared to the hours or days it takes using other methods—all at half the cost. Making favorites such as oat milk and peanut butter at home not only saves money and cuts out unwanted additives, but it also produces virtually zero waste. Unlike any other nut processor, its revolutionary design is patented, BPA free and CETL certified, so you know it's safe to use right away. The NutraMilk is also primarily made of top-rack dishwasher safe parts, so clean up is a snap! It's a great kitchen appliance for cooks and chefs andhealth and fitness-conscious consumers.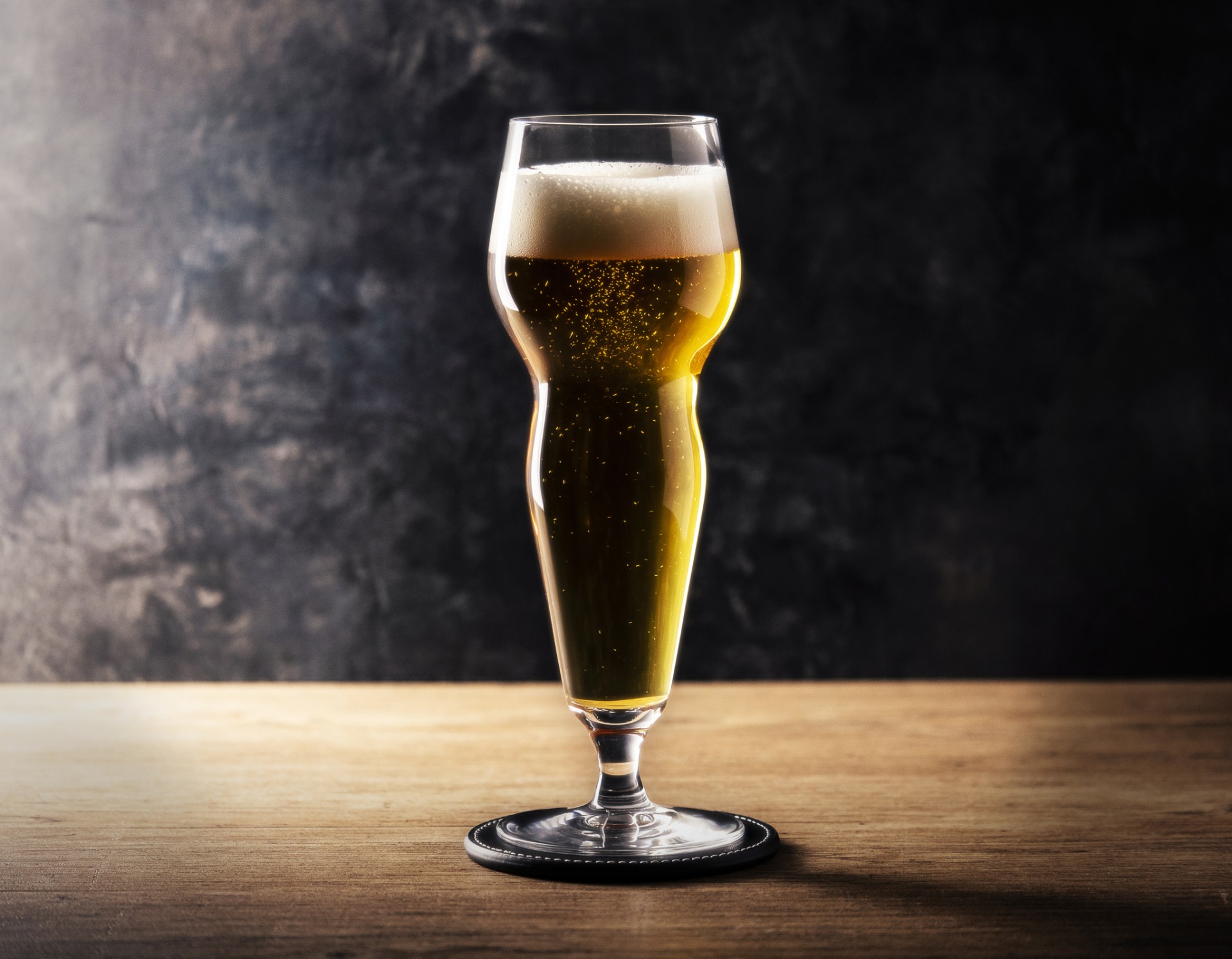 Bierissime Freshness & Effervescence Beer Glasses from Peugeot Saveurs (https://us.peugeot-saveurs.com)
Here's an amazing gift that'll delight lovers of light, refreshing beers. The Freshness & Effervescence beer glasses from Peugeot Saveurs have been specifically-designed to elevate the taste of smooth, fruity beers with slight citrus notes, such as wheat beers and pilsners. The specially-designed shape takes full advantage of the flavors and aromas of low-alcohol and fine beers with a balanced taste of hops and malt, also including lagers. The wide mouth emphasizes the head, the long sleek profile improves the flow of bubbles, and the stem ensures an easy grip while maintaining the beer's fresh taste. Each glass is made in Europe and features stem to avoid warming the beer so you can prolong its enjoyment. Peugeot has worked alongside Elisabeth Pierre, a professional beer taster, to develop the Bierissime collection. It comprises three beer tasting glasses that have been crafted to showcase the specific aromas and organoleptic qualities of each main style of beer that the craft beer drinker in your life will go genuinely appreciate. This gift set includes two beer tasting glasses and two coasters as well as a guide with Elisabeth Pierre's tips for tasting, serving and storing beers.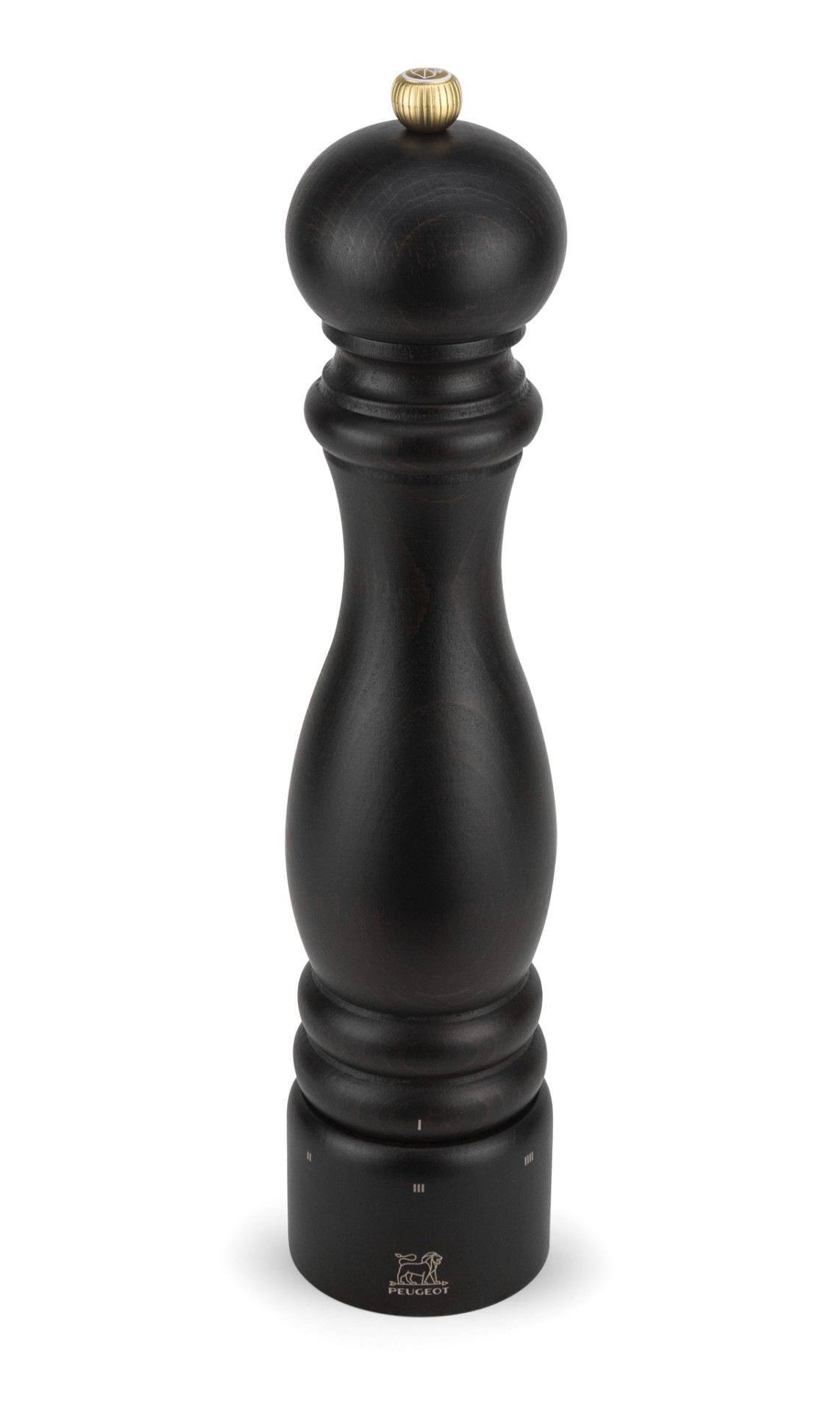 u'Select Manual Salt and Pepper Mill from Peugeot Saveurs (https://us.peugeot-saveurs.com)
This holiday season, upgrade the style of your seasoning with these elegant Salt and Pepper Mills from Peugeot Saveurs. If Peugeot is known in the world of the culinary arts, it is first and foremost due to its emblematic Paris pepper mill. Its Paris u'Select Manual Pepper Mill is certainly alluring with its warm color and comfortable silhouette. With its classic shape and ingenious function, this mill is a natural accompaniment when you are seasoning your meals. Equipped with the u'Select grinding adjustment, patented by Peugeot, it will help you to easily choose the pepper coarseness that best suits the meals that you have planned. Very fine grind will bring out the spice of the pepper, whereas coarser grinding will highlight its aromas. Available in many sizes and colors, it is appealing with its slender curved shape and ergonomics. Easy to use, this chocolate-finished, manual pepper mill is a practical and functional seasoning instrument. To complement the Pepper Mill, the Peugeot Paris u'Select 40 cm salt mill is also highly impressive in terms of its size and the curves of its lines. Made entirely of wood, its large-capacity reservoir holds dry salt crystals that will be ground at the last moment in the efficient Peugeot mechanism, which comes with a lifetime guarantee. At the top of this mill, a golden knob, engraved with the lion's head emblem of the Peugeot brand, gives it that extra touch of elegance. The chocolate-finished Paris u'Select manual salt mill is equipped with a patented grinding adjustment system. At the table or in the kitchen, these Paris mills add elegance to any meal.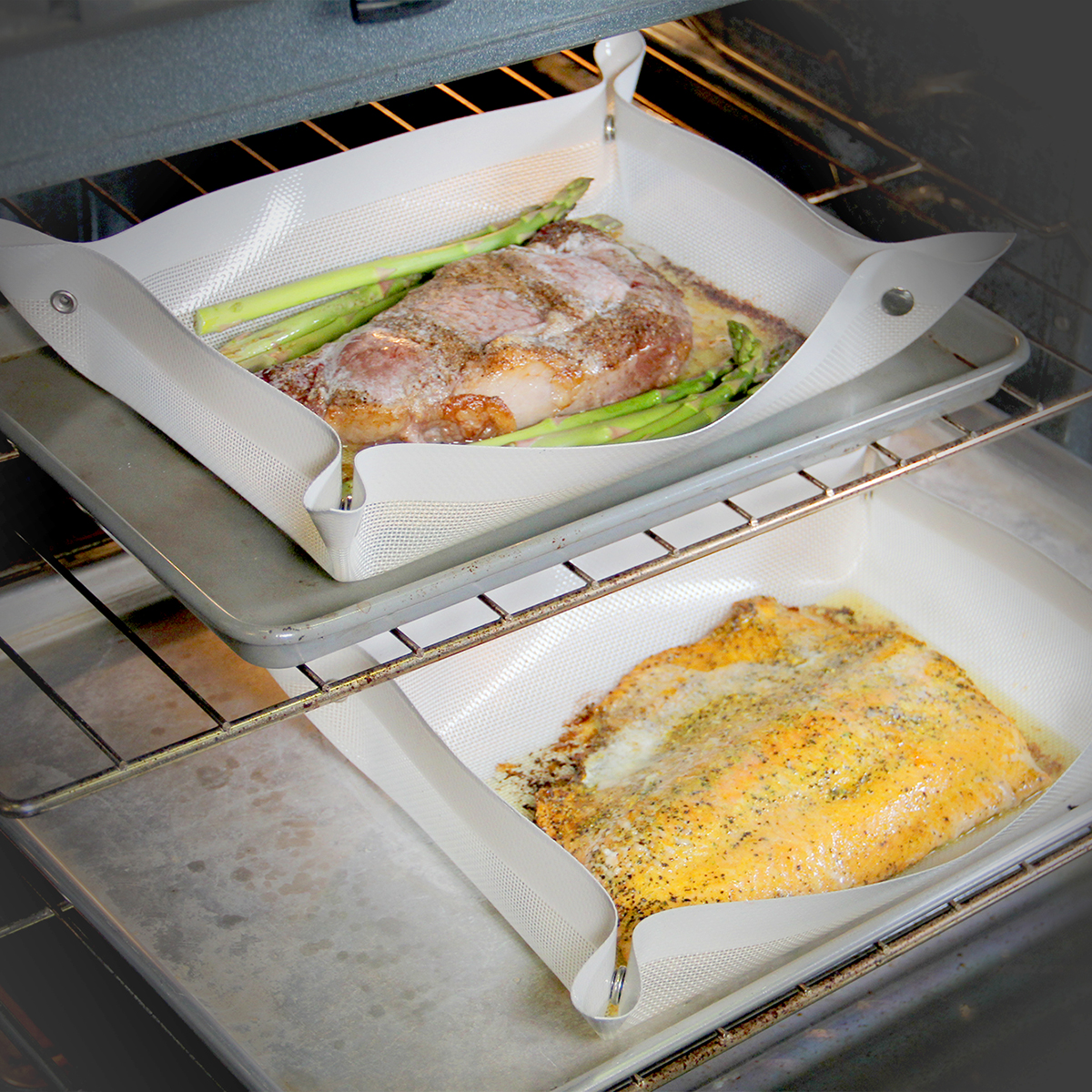 Baking and Cooking Mat from Grand Fusion Housewares (https://www.grandfusionhousewares.com)
Every chef will tell you that a good chef is only as good as his or her tools. Help that special cook in your life be that much better, cooking with much more ease, courtesy of t he Baking and Cooking Mat from Grand Fusion Housewares. This silicone liner features snaps in the corners to let you instantly turn it from a non-stick baking sheet perfect for cookies and more into a leak-proof, high-rimmed tray that's great for fish, chicken or meat, alike. Just snap the corners together to create a leak- and spill-proof lip that will catch oil and other liquids, keeping your oven clean and mess-free. Built with endurance in mind, the liner is BPA-free and oven-safe up to 450 degrees Fahrenheit. It measures 16 inches by 12 inches when flat and 11.5 inches by 7 inches when folded. Either shape provides even heat distribution so it's great for home-made bread, pizza, chicken wings and anything else you or the chef in your life love to cook or bake at home. This sheet can be used on its own or as a liner—either way, cleaning up is a breeze. Say goodbye to oily pans and touch scrubbing, as the buttoned-up mat lets you easily drain grease away. Its transparent design also allows you to use stencils to pipe or trace any design. Let your star baker shine through and get creative with your dessert baking creations to impress your guests with unique designs and presentations.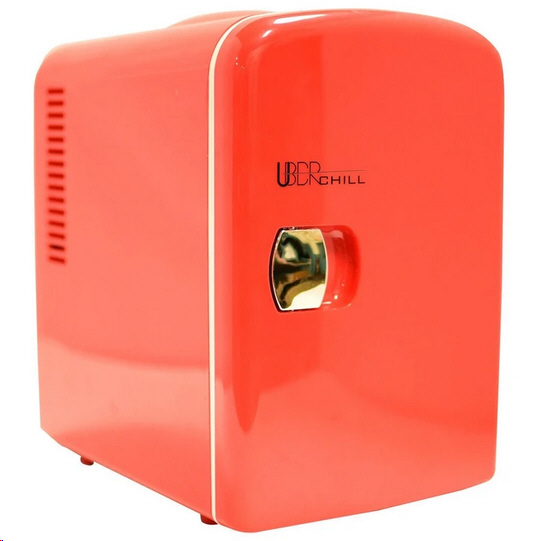 Uber Chill Mini Fridge from Uber Appliance (https://www.uberappliance.com)
Uber Appliance has you covered on a wide variety of your cooking needs. Their products range from top-of-the-line air fryers and mini-fridges in three different sizes to sorbet and ice cream makers and tea kettles! This company aim to bring fun and functional, yet retro sleek kitchen appliances to the modern home. Relative to the mini-fridges that caught my attention, the Uber Chill Six Can Mini Fridge is a great gift or get. The sleek device is capable of housing up to six 12 ounce cans or four 16.9 ounce bottles of your favorite beverage. Also makeup and medications that require—or would benefit from—staying cool. Utilizing state of the art and environmentally friendly thermo-electric Peltier technology, this mini fridge is capable of cooling or even warming the contents within a reasonable amount of time, making it convenient in almost any occasion. In addition to this, the portable unit comes with both standard home and car power cables for ultimate portability. This is a great mini fridge for the bedroom, the dorm, the office cubicle, the car and more.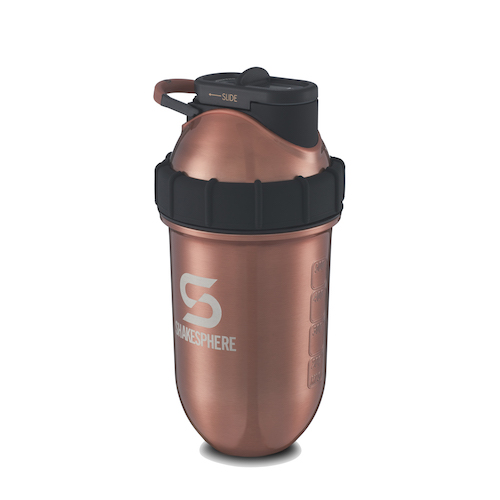 Double Wall Stainless Steel Shaker from ShakeSphere (https://shakesphere.com)
Have someone in your life who likes to eat and drink while on-the-go? You can make his road warrior life easier—and cleaner—when you upgrade their tumbler game. One great option is the Double Wall Steel Shaker I found from ShakeSphere. This award-winning shaker bottle company is founded by elite track and field athlete Rick Beardsell, to reportedly solve the problems he faced with other tumblers. Instead of using messy mixing accessories like a ball, blade or mesh grid that often leaves protein stuck in the corner, ShakeSphere's patented capsule design creates a centrifugal force that can break down powders and puree soft fruits with just a few seconds of shaking. Many typical shaker bottles have corners whereby supplements can gather during the mixing process. This outdated design wastes money and time and also makes cleaning an arduous task. The unique shape of the ShakeSphere tumbler, which does not have any corners, also reduces the incidence of bacteria buildup by making it easier to clean … which also prevents unseemly smells. The tumbler also comes with a completely leak-proof lid and slide cap so he won't spill on his shirt or poke his eye while enjoying a shake or smoothie. Plus, the premium double wall stainless steel version keeps drinks hot for up to eight hours or cold for up to 12 hours.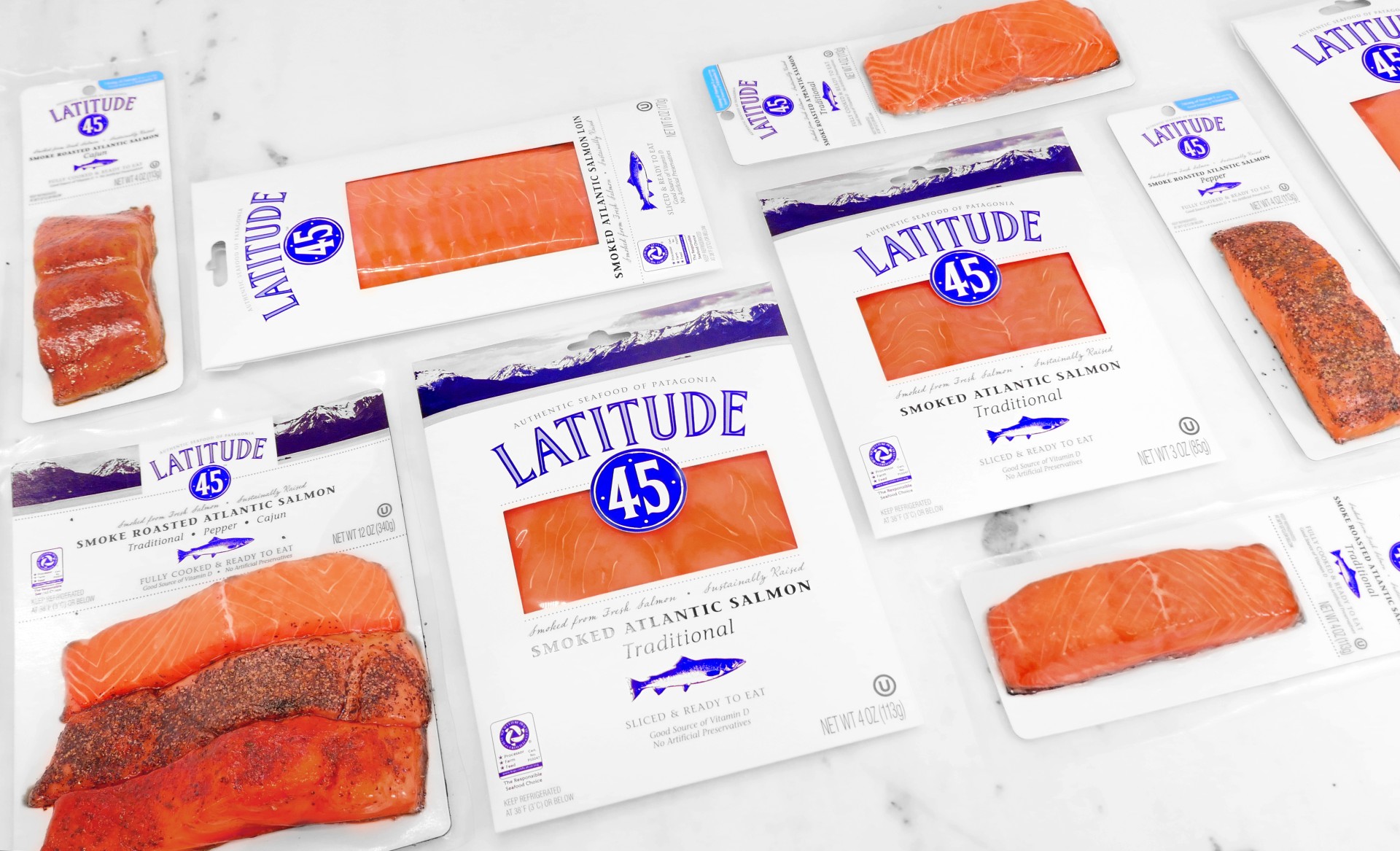 Latitude 45 Smoked Salmon (https://Latitude45Salmon.com)
One of my favorites for holiday entertaining, hostess gifting and healthy seasonal snacking is Latitude 45 Smoked Salmon from the pristine glacial-fed fjords of Patagonia. It's the only smoked salmon on the market that's smoked within 24 hours of leaving the water. It's decidedly mild-tasting on the palate, which makes it an easy crowd pleaser—even for those who may not prefer fish and seafood. In fact, it's so delicate and mild in taste that it pairs with just about everything. The brand has pre-sliced, ready-made smoked salmon loin that is ready to serve right out of the package, which you can quickly pair with crackers, bagels or your favorite holiday spread. Try making a champagne cream cheese spread with crackers for an elevated occasion in just five minutes! Latitude 45 Salmon isn't just a quick and easy pick for holiday entertaining and brunches, but also a healthy choice for light, protein-packed snacks that will help keep your energy up throughout the holiday season. Latitude 45 is Best Aquaculture Practices (BAP) 4-star certified and OU Kosher. Packed with goodness, their salmon is a nutritious source of Omega 3s, Vitamins A – B12 – D – E, Selenium and Iodine. The company strives to pay homage to Patagonia's rich culinary tradition and naturally-inspired ingredients in everything they do—from raising salmon with nurturing care to implementing world-class, sustainable practices that support the environment. For one, they've created a smoking process based on the meticulous craft of sourcing naturally-balanced, locally-grown woods to smoke their salmon. Use their online store locator to find a retailer near you.


Ultimate Reuben Sandwich Kit from Zingerman's (https://www.zingermans.com)
Sandwich fans and corned beef connoisseurs, alike, are known to line up for Zingerman's famous Reuben, and now you can gift all the essentials of this savory sandwich to make your very own at home exactly the way the professionals do! This Zingerman's Corned Beef Reuben Sandwich kit is the ultimate gift for the sandwich fan in your life. This kit comes with all the meat, cheese, bread and fixings you'll need. Each sandwich kit serves 3 to 4 folks and includes their famous Jewish Rye, sliced Corned Beef, sliced Emmentaler Swiss cheese, Zingerman's potato chips, Coleslaw, Sauerkraut, Russian dressing and garlicky pickles. But, to make the holiday extra special, Zingerman's is also including some of their favorite seasonal sweets like their Magic Brownie Bites, Pfeffernüsse Spice Cookies and Peppermint Bark. The kit includes professional-grade instructions so your sandwiches will be built to perfection and teeming with flavor each and every time. The gift is the perfect lunch—by mail. If you know someone who is a deli fare aficionado, this is a great gift to bring deli deliciousness home right to them. Some assembly is required, but that's more than half the fun!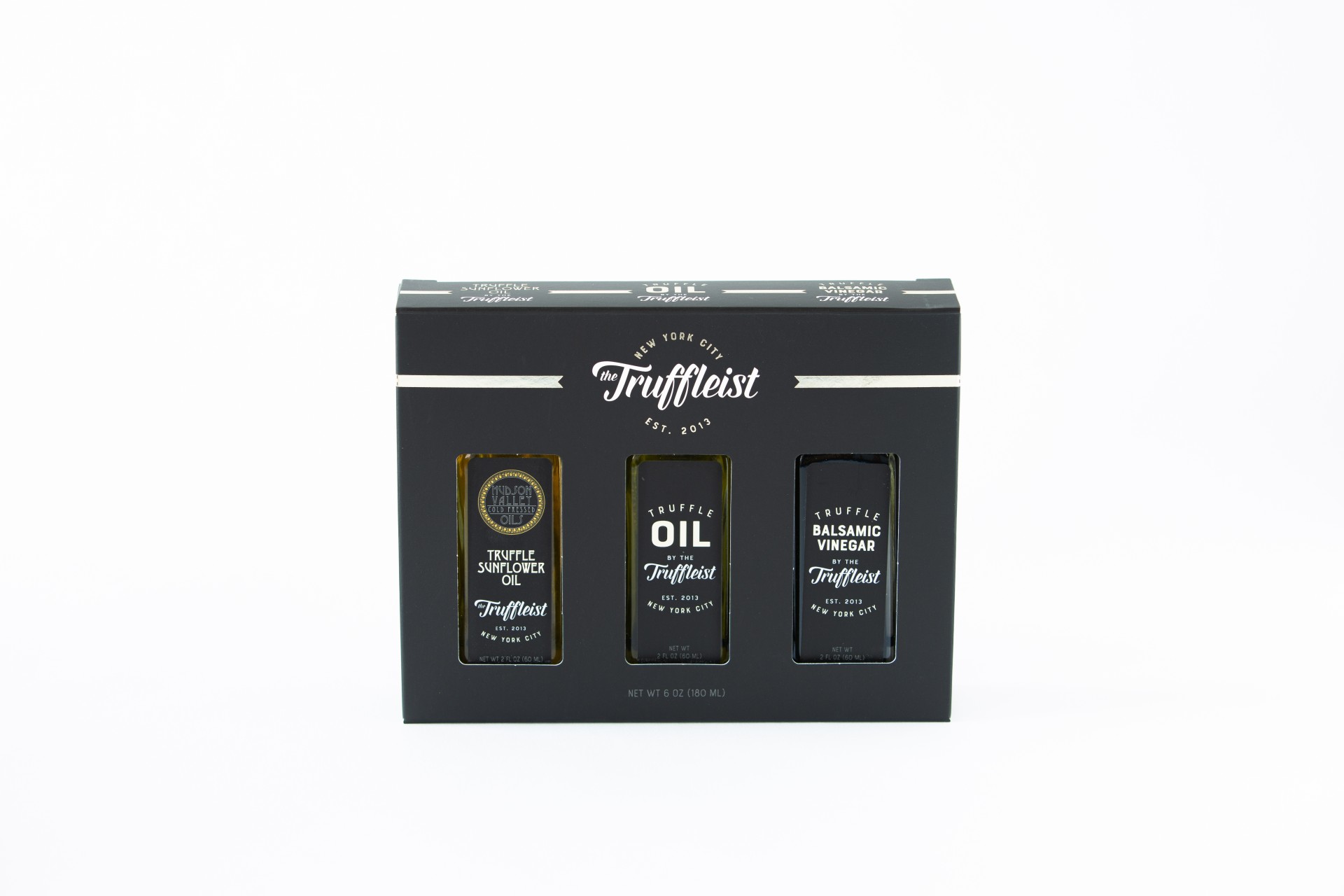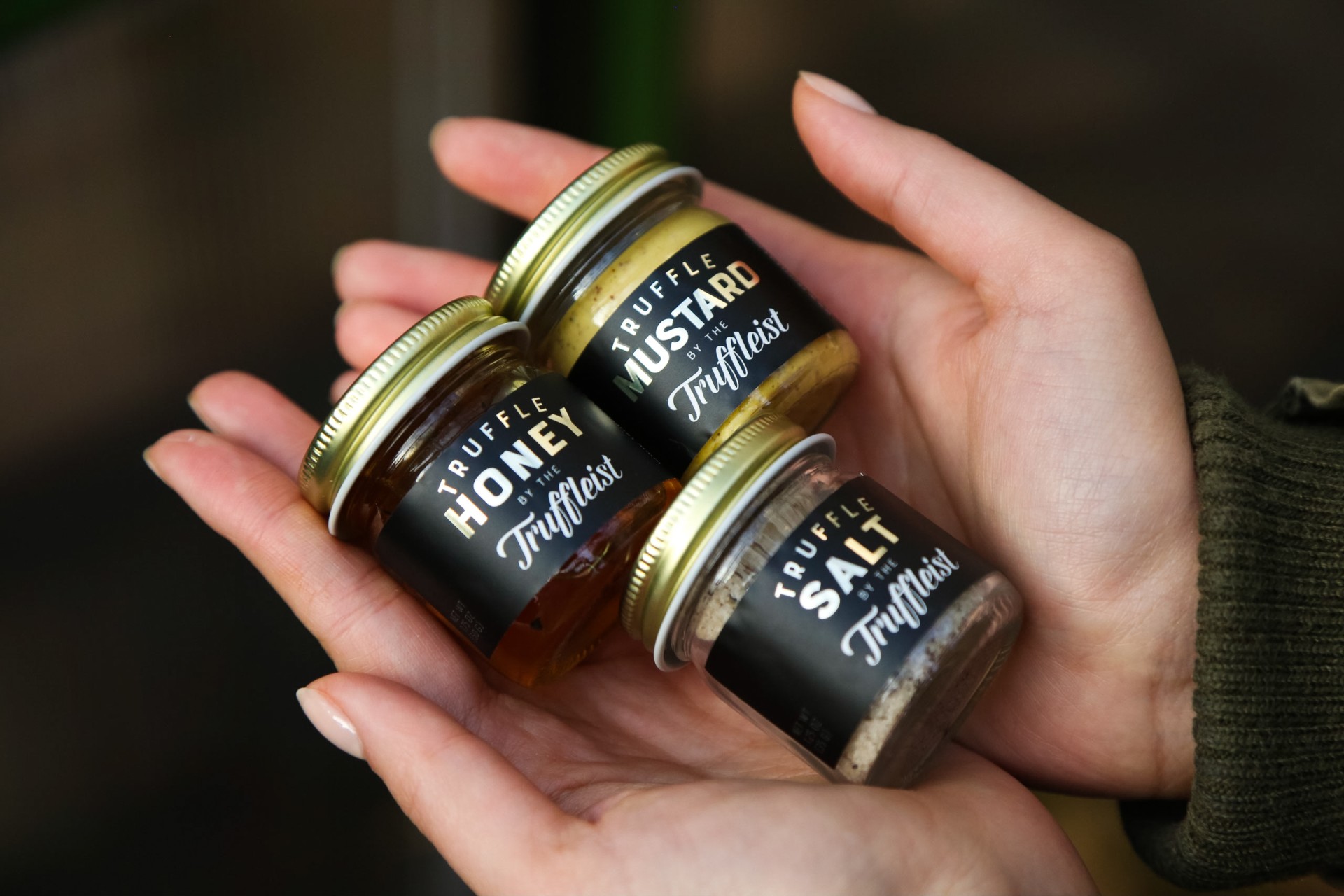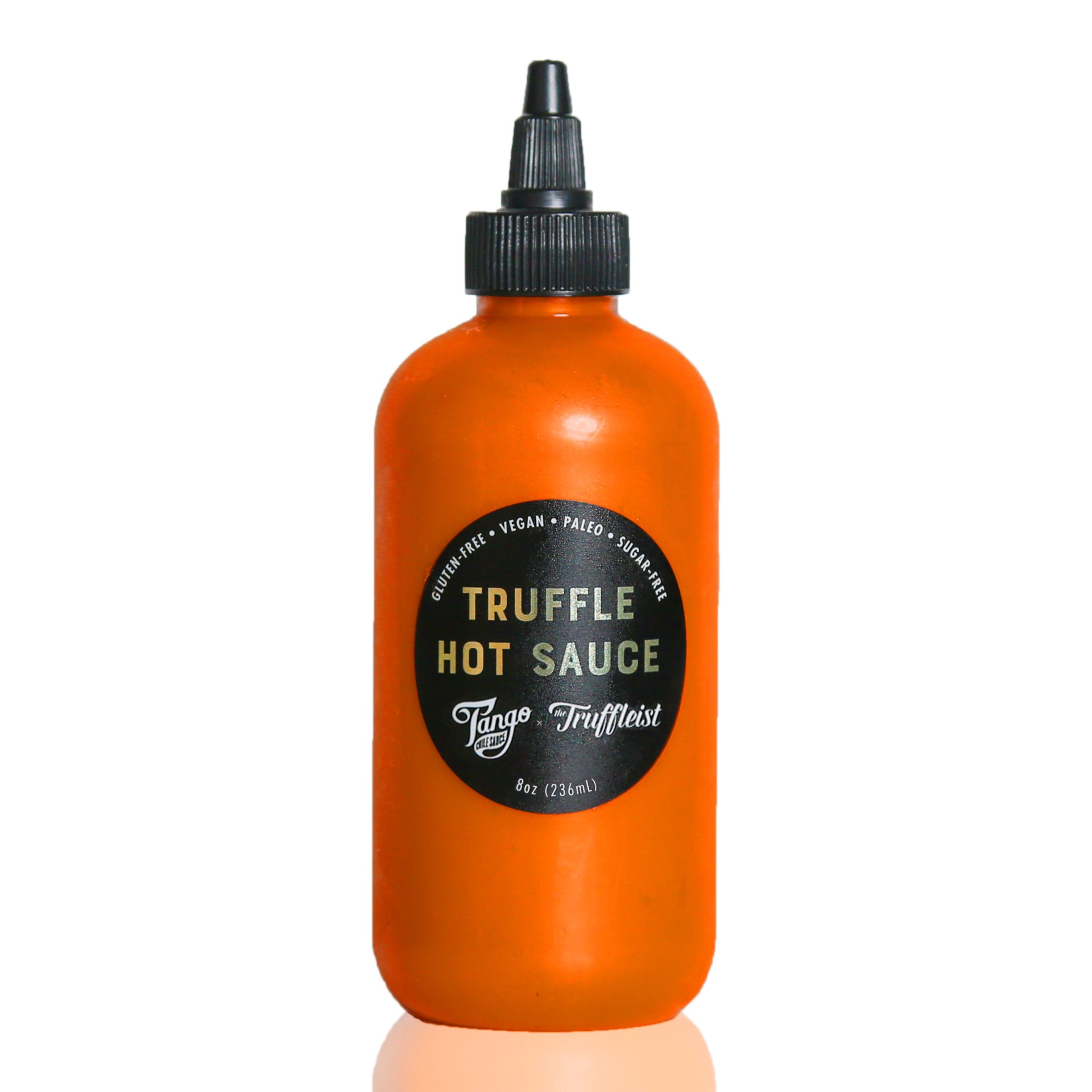 The Truffleist Truffle Oil and Balsalmic Trio from The Truffleist (https://www.truffleist.com)
For the occasional home cook or the serious-minded gourmand, there's nothing better than a little truffle for them to infuse their dishes with. The Truffle oil and Balsalmic Trio mini gift set from the Truffleist will pack a punch and bring extra flavor for those home-cooked creations. This trio includes Truffle Sunflower Oil, Truffle Oil and Truffle Balsamic Vinegar all in convenient two-ounce bottles. This product can travel well and makes a great carry on since its travel size approved, so you can bring decadent truffle wherever you go. This Italian olive oil, infused with Black Summer truffles from Northern Italy, is a versatile product. It is great tossed with popcorn or fries; drizzled over mac and cheese or risotto; to elevate a vinaigrette; or to finish off cooked veggies. There are so many options for these oils that the chef in your life will surely savor. The Truffleist also offers a sampler Trio Mini Gift set with Truffle Salt, Truffle Mustard and Truffle Honey. These one-ounce bottles are convenient for travell, making it easy to bring European truffles and ingredients from the Northeast wherever you go. For those who like heat, The Truffleist offers a Truffle Hot Sauce that was created in partnership with Tango Chile Sauce. This truffle hot sauce can be used as a dipping sauce for fries and chicken wings, drizzled on your favorite foods like avocado toast and nachos, or to top off a Bloody Mary.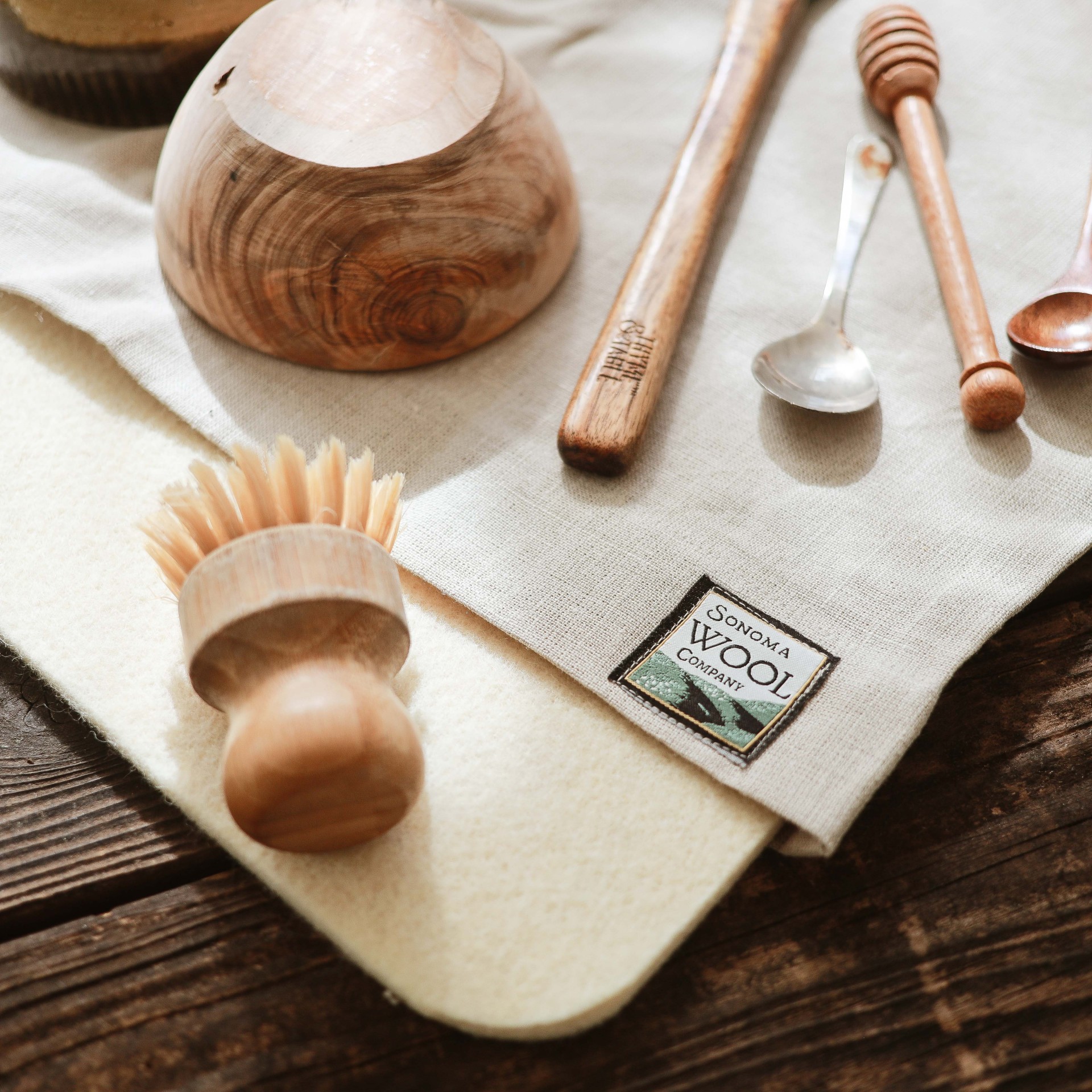 Dish Drying Mat from Sonoma Wool Company (https://sonomawoolcompany.com)
Sonoma Wool Company is an eco-friendly brand that designs dish drying mats and other home essentials. This Wool Dish Drying Mat brings the simplicity of nature's beauty into your home with the world's most ancient fibers: wool and linen. This mat is eco-friendly mat, durable enough to withstand years of use. Sonoma Wool's heirloom-quality products are 100% sustainable on U.S. soil, keeping the land thriving. They are a family-owned business that supports family ranches in the U.S. to produce and sell 100% wool products that are high quality and without chemicals or synthetics. Wool is versatile, resistant to dirt and dust, and its antimicrobial factors make it easy to take care of and remain clean. Used for thousands of years, these "super" fibers naturally resist mold and mildew, are highly absorbent, and eliminate the need for using synthetics and plastics around your sink area. The Dish Drying Mat is designed to sit on your counter and needs to fully dry between uses, which will naturally occur when kept there.
***FOR THE SPIRITED***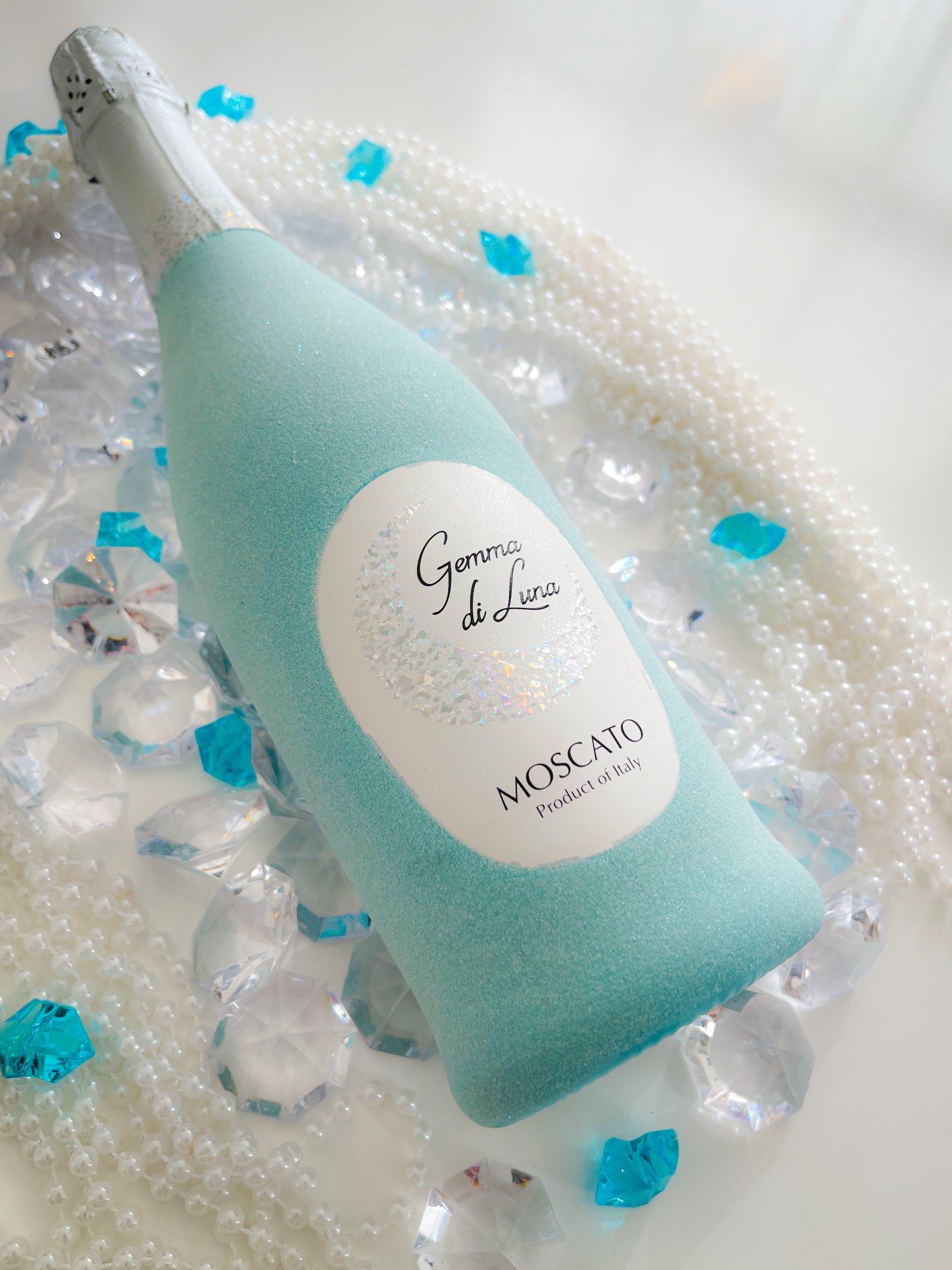 Gemma di Luna Italian Luxury White Wine Collection (https://shop.gemmadiluna.com)
Pour some Italian Luxury into your holidays with Gemma di Luna white wines. This Italian Luxury Collection is a selection of wines meticulously crafted to elevate Italy's most loved varieties from the ordinary to the extraordinary to turn everyday experiences into moments of luxury. Gemma di Luna Prosecco, Sparkling Moscato and Pinot Grigio elegantly express the most loved Italian sparkling and white wines, with bottles as lovely as the wines they hold. The Sparkling Moscato, which also comes in "baby-sized bottles," is from the Piedmont region of Italy and is fully sparkling, or "spumante." Aromas of rose and peach give way to a fresh Moscato character balanced by crisp acidity. It is delicious as an aperitif, or all the way through the meal to dessert. The company's Prosecco is DOC, meaning it is made of premium grapes grown in Italy's famed Prosecco DOC region. This refreshing, flavorful sparkler starts with a floral bouquet, which leads to a full palate with tingly acidity. A subtle sweetness is supported by savory notes, and the complex palate has a mineral finish. This year for the first time, the Prosecco will also be available in "baby sized" bottles in addition to the elegant full-sized bottles. Crafted in the Extra Dry style this is a rich, full Prosecco that is equally delicious as an aperitif or paired with a wide variety of foods. Gemma di Luna's Pinot Grigio DOC Delle Venzie is meticulously crafted with grapes from Italy's Delle Venezie DOC. This juicy, smooth, non-oaky Pinot Grigio is the perfect white for weeknight pairings or for a night in with the girls.


Red and White Wines from the Gary Farrell Vineyards & Winery (https://www.garyfarrellwinery.com)
Whether bringing a bottle with you to a holiday dinner, or wrapping one up for the wine connoisseur on your gift list, you would do well to make the wines of Gary Farrell Vineyards a prominent figure in this year's holiday celebrations. A varietal of note is their 2017 Hallberg Vineyard Pinot Noir, which earned an impressive 95 points from Wine Spectator magazine. This single-vineyard Gary Farrell wine hails from the Hallberg Vineyard—a renowned vineyard that is dry-farmed and yields wines with deep color, beautiful structure and silky tannins. The 2017 Hallberg Vineyard Pinot Noir opens with lush aromas of dark cherries, summer strawberries and blackberry jam. Generous layers of black tea, freshly foraged mushrooms, dried tobacco and black olive provide balance to the decadent fruit profile. Intensely concentrated fruit works in seamless harmony with the savory secondary flavors, while finely tuned oak tannins provide texture and exceptional length. Another selection from this noteworthy wine-maker is the 2018 Olivet Lane Vineyard Chardonnay, which itself earned 92 points from Wine Spectator. A classic Russian River Chardonnay, this Gary Farrell white wine comes from the Olivet Lane Vineyard. Planted in 1975, this vineyard sits on 65 acres of sloping benchland in the Santa Rosa Plain. The combination of low temperatures, regular fog intrusion and well-drained loam, clay soils are hallmarks producing its revered grapes. This 2018 Chardonnay is marked by juicy aromas of honeysuckle and citrus and a rich, creamy texture with balanced acidity. Choose one or both of these distinctive wines to help usher in this year's holiday celebrations.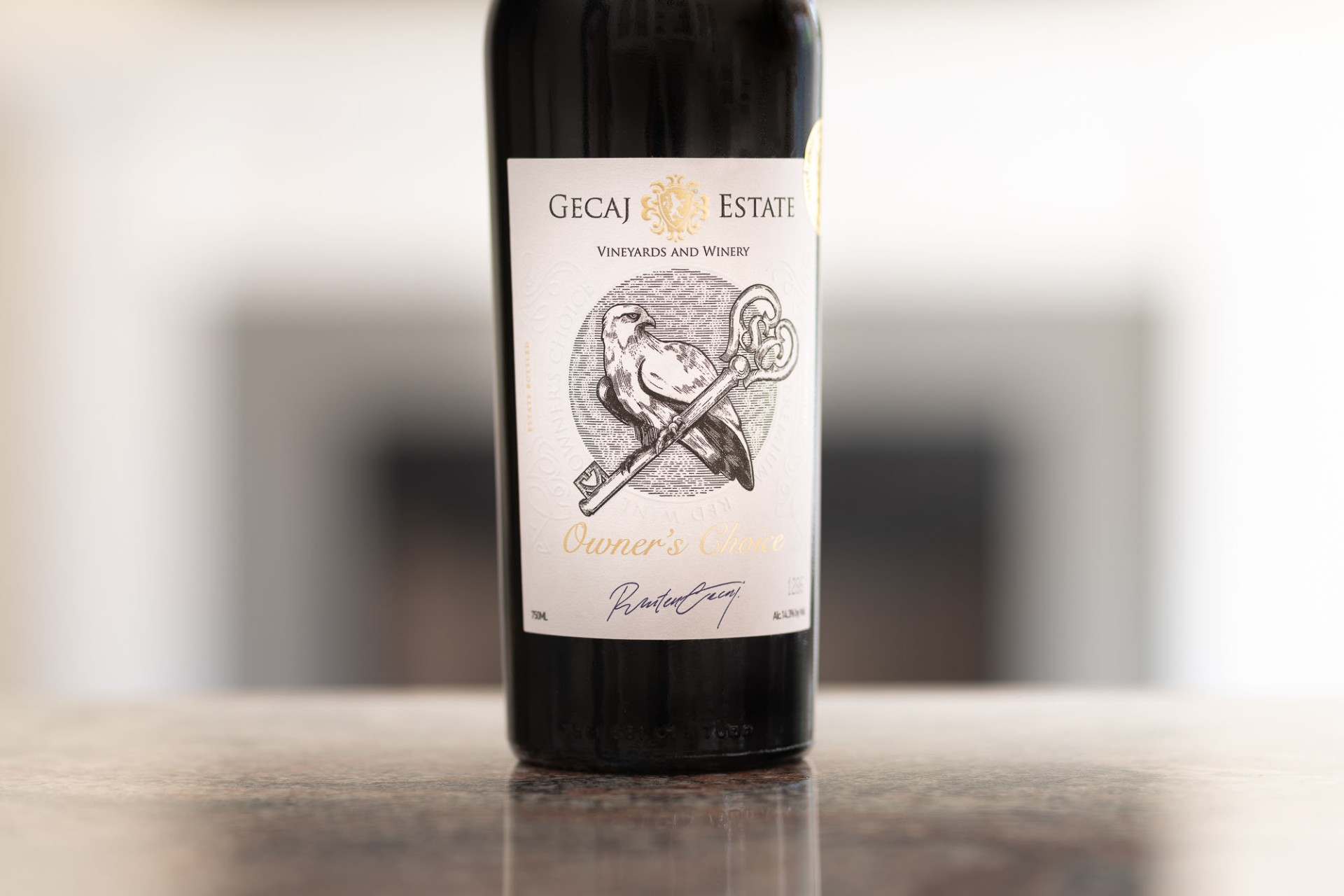 2017 Gecaj Estate Wine from Stone Castle Vineyards (https://stonecastlewine.com)
A good bottle of wine is always appreciated, but buying a bottle that will impress the connoisseur in your life can be intimidating with so many varietals and vineyards to choose from. Luckily, The Gecaj Estate red blend from Stone Castle Vineyard makes a great gift to impress even the most experienced of palates. Stone Castle is the leading winery in Kosovo—a relatively new country with a 2,000-year winemaking history. Gecaj Estate Vineyards and Winery is located in the part of the old Dardania where the sun shines for 270 days a year, giving the Rahovec region the epithet Paradise of Grapes. Owned by the Gecaj family, this enthralling wine is made of delicately-maintained Cabernet Sauvignon and Merlot grapes growing on the soft hilltops at 500 meters above sea level. These grapes are all carefully selected and handpicked before being aged for 24 months in American Hungarian oak barrels stored inside their oldest cellar. This wine offers flavorful aromas of exotic forest berries, a unique mix of flavors from plum and apricot juice to blueberry jam give way to layers of complexity and depth to the wine, delivering a lingering finish. Aromas of currant, berry and spice are followed by a palate with notably smooth tannins.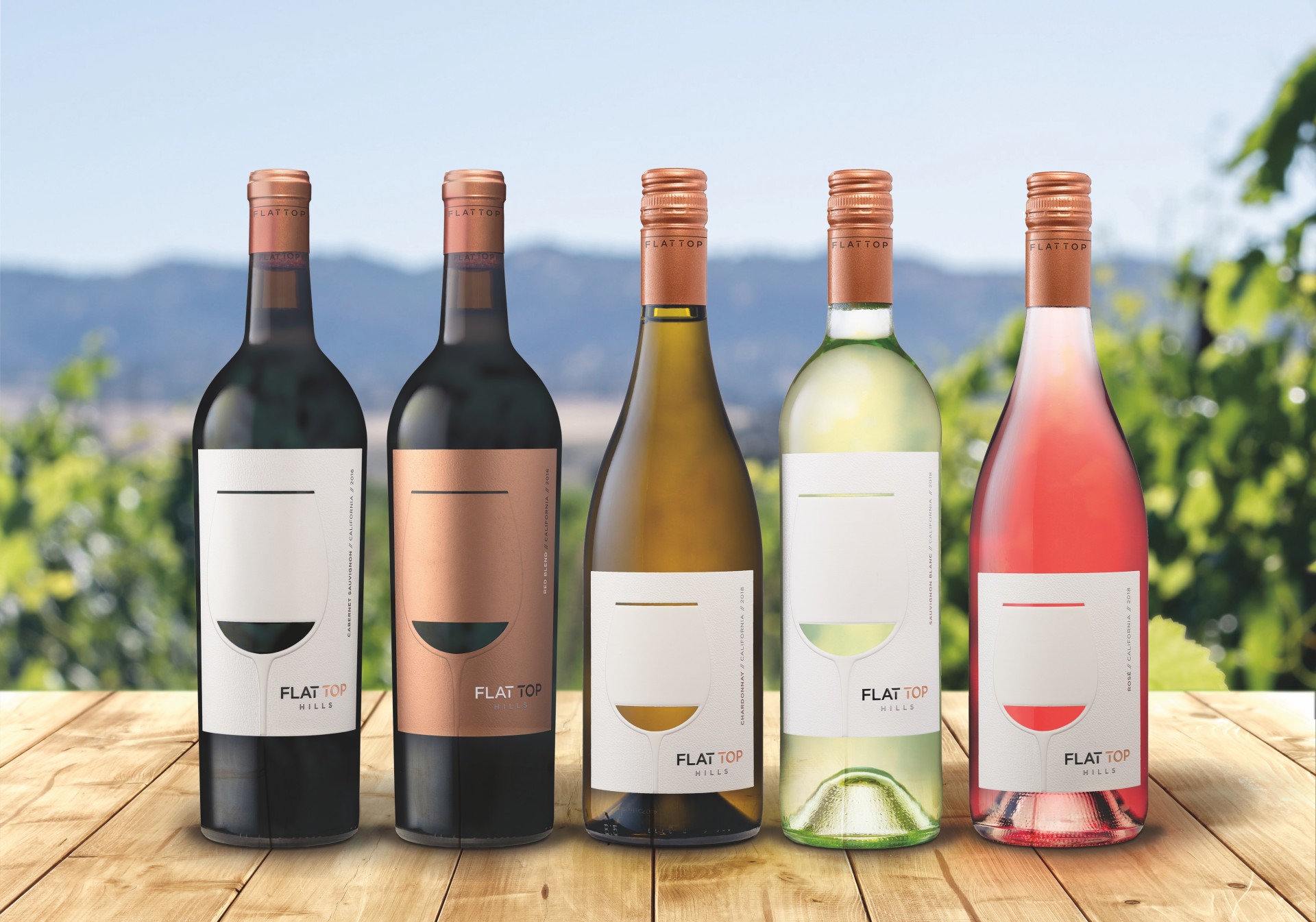 Flat Top Hills Wines (https://www.FlatTopWines.com)
If you're looking for a portfolio of affordable wines well-suited for pairing with holiday meals or for gifting, consider the varietals from Flat Top Hills wines. Together, head winemaker Randy Herron and consulting winemaker Angelina Mondavi–who is part of the fourth generation of the winemaking family–meticulously crafted their Rosé, Sauvignon Blanc, Chardonnay, Cabernet Sauvignon and Red Blend. Don't let the price tag fool you. These highest-quality wines are delicious and food-friendly, and they look beautiful too. Made with meticulous care and attention to detail, Flat Top Hills wines highlight the best characters of the vineyards and the grape varietals. Gentle handling and natural winemaking allow the quality of the vineyards to shine, showcasing the essence of the fruit and true varietal expression. Flat Top Hills offers a modern and innovative approach to its wines, which showcase a fruit-forward style with full body and soft structure. One of the founding names in American wine, the iconic C. Mondavi & Family history dates back four generations. Building on a legacy that includes some of the most storied wines and regions of California wine, Flat Top Hills is family-owned and draws from family-farmed vineyards in the Dunnigan Hills of California. Flat Top Hills is available nationwide wherever fine wines are sold.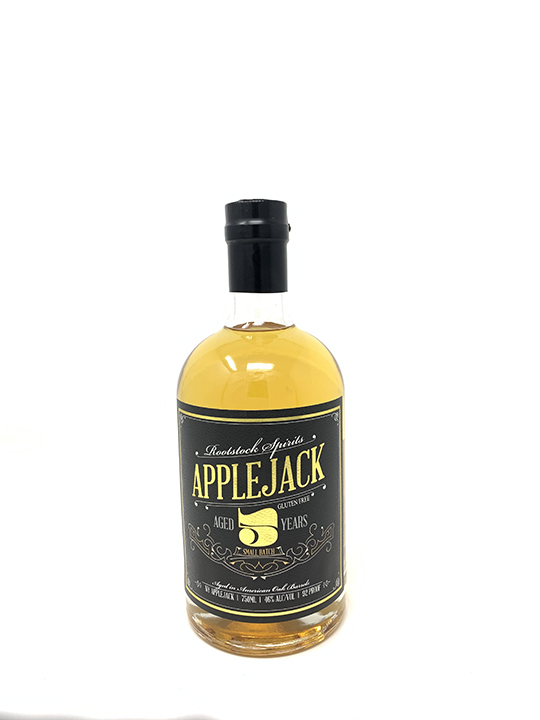 Rootstock Spirits Applejack Brandy from Rootstock Spirits (https://www.rootstockciderworks.com)
Going into the holidays, brandy is a great sip to have on hand or to gift that guy in your life that loves entertaining. This five-year, bourbon-barrel aged Applejack from Rootstock Spirits is a unique and flavorful choice sure to impress the craft-drinker. AppleJack is a classic American spirit that has been around since alcohol was being made in the colonial era and, while it may not have always been called AppleJack, its spirit is as old as the colonies. Rootstock Spirits is a craft distillery in western New York that has carried this classic drink into the 21st century. Rootstock makes a number of different spirits from the DeFisher family's orchards near the shores of Lake Ontario, a premier apple region. They are fifth-generation farmers who grow two dozen different apple varieties, tart and sweet cherries, pears, plums and peaches used to make small-batch craft spirits. One of their specialties is Applejack—a classic brandy made from cider that is aged five years in bourbon barrels, giving it mellow flavors of toffee, caramel and vanilla and a long, warm aftertaste. It greets the nose with an aroma of nutmeg and butterscotch that changes as it sits in the glass to more of a molasses note. Sold over proof as to not dilute the intensity of the spirit as it is in its rawest form means that it mixes well in cocktails, punches and home infusions.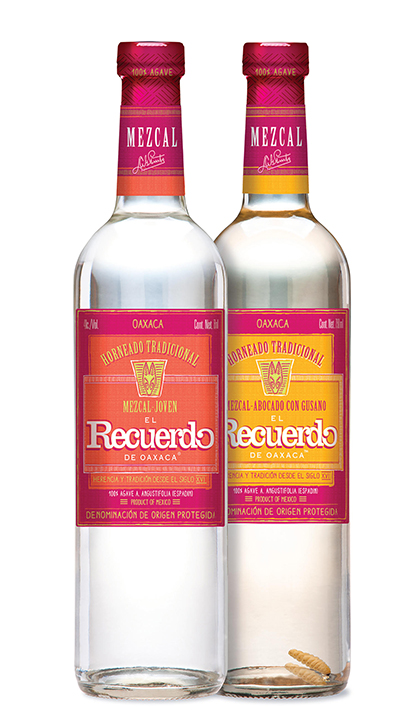 Recuerdo Mezcal Tequila (https://www.recuerdomezcal.com)
Looking for a unique and smoky spirit the adventurous man in your life will love? Recuerdo Mezcal is one to impress. Whether sipped and savored, blended into cocktails, or served alongside a crisp, cool beer, this drink adds a spice to any occasion. Recuerdo Mezcal is cooked with partner and UFC "BMF" Titleholder Jorge Masvidal with certified wood over river rocks and distilled with traditional Mezcal production techniques that are honored and proven to produce a fine spirit. The agave is sustainably harvested in Oaxaca, in a manner that ensures the preservation of the agave plant and the environment. And, let's not forget about the elephant in the room—or should I say the agave worm in the bottle. Yes, you can swallow it! And, yes, it is somewhat of an exotic delicacy, but does add a silky texture and flavor complexity that is quite appealing for those who seek smoky notes with less complexity. With a bright, straw yellow color with gold sparkles, the Mezcal hits the nose with the scents of cooked agave with smooth herbal notes and lingers on the tongue characteristics of cooked agave with sweet and bitter notes, and delicate smoke sparkles of great presence.
~~~

Forbes Business Council Member Merilee Kern, MBA is an internationally-regarded brand analyst, strategist and futurist who reports on cultural shifts and trends as well as noteworthy industry change makers, movers, shakers and innovators across all categories, both B2C and B2B. This includes field experts and thought leaders, brands, products, services, destinations and events. Merilee is Founder, Executive Editor and Producer of "The Luxe List" as well as Host of the "Savvy Living" lifestyle TV show that airs in New York, Los Angeles, San Francisco, Miami, Atlanta and other major markets on CBS, FOX and other top networks; as well as the "Savvy Ventures" business TV show that airs nationally on FOX Business TV and Bloomberg TV. As a prolific lifestyle, travel, dining and leisure industry voice of authority and tastemaker, Merilee keeps her finger on the pulse of the marketplace in search of new and innovative must-haves and exemplary experiences at all price points, from the affordable to the extreme. Her work reaches multi-millions worldwide via broadcast TV (her own shows and copious others on which she appears) as well as a myriad of print and online publications. Connect with her at www.TheLuxeList.com and www.SavvyLiving.tv / Instagram www.Instagram.com/LuxeListReports / Twitter www.Twitter.com/LuxeListReports / Facebook www.Facebook.com/LuxeListReports / LinkedIN www.LinkedIn.com/in/MerileeKern.
***Some or all of the accommodations(s), experience(s), item(s) and/or service(s) detailed above may have been provided or arranged at no cost to accommodate if this is review editorial, but all opinions expressed are entirely those of Merilee Kern and have not been influenced in any way.***