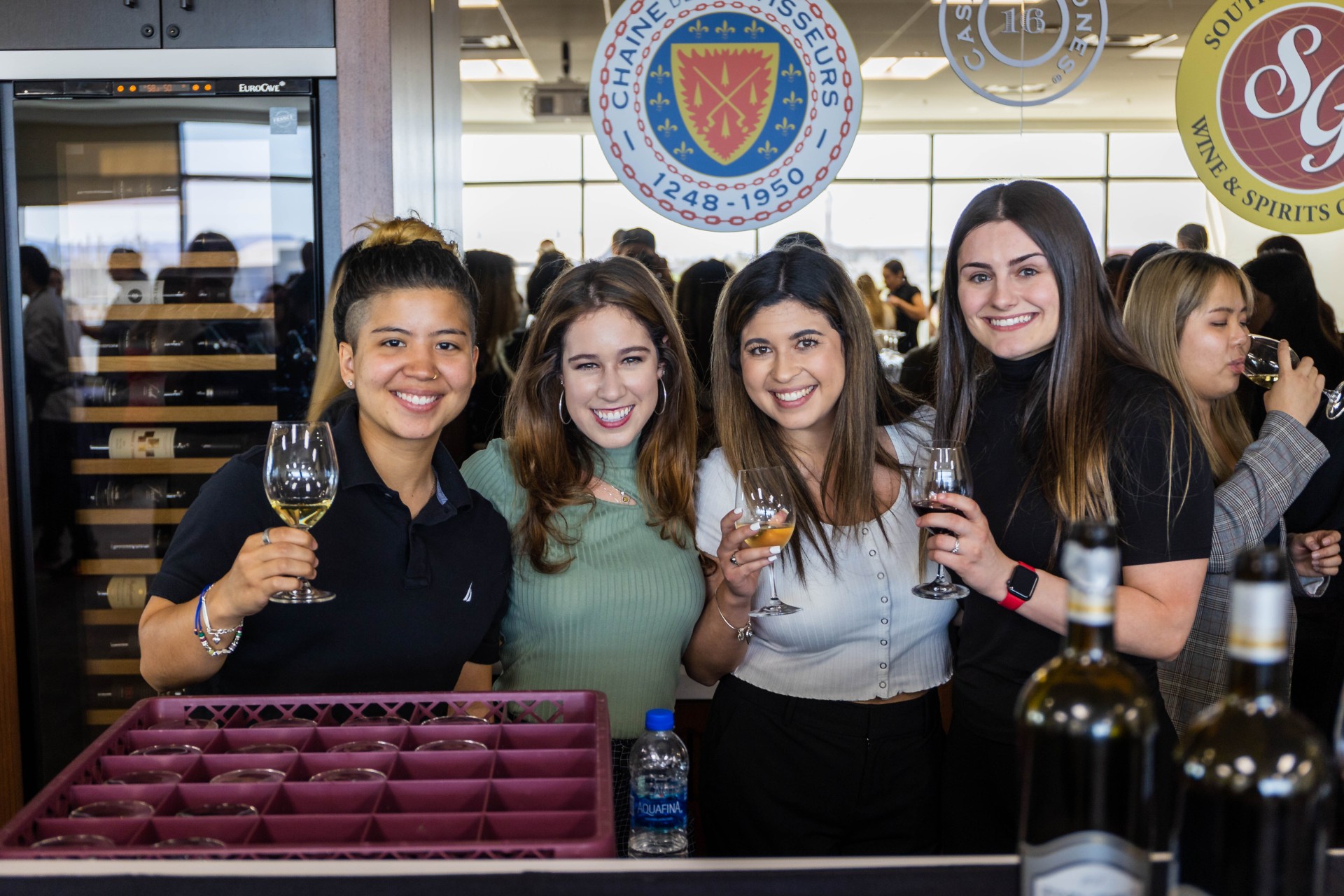 By Debbie Hall
Photo courtesy of the William F. Harrah College of Hospitality
UNLVino returns, bringing together the best chefs, winemakers, brewmasters, and distillers for the Grand Tasting event. The third and final event will offer high-end wines and exquisite food with assistance from students from William F. Harrah College of Hospitality. The tasting will be held at the UNLV Hospitality Hall, College of Hospitality Management, on the 4th Floor on May 7.
The University of Nevada, Las Vegas, offers one of the most prestigious hospitality colleges, The UNLV William F. Harrah College of Hospitality. UNLVino has been the inspiration of university alumni since 1974 to fund scholarships for those with a desire and talent but not the means to attend the college. As a result, millions of dollars have been raised to fund scholarships for the William F. Harrah College of Hospitality students.
One participant is UNLVino scholarship recipient Lauren Mausbach, graduating in May with a Bachelor of Science in Hospitality Management with a concentration in meetings and events. She moved from out-of-state to attend UNLV for its education to pursue event planning.
"I really love the process of special events, and my dream is to become a wedding planner," she says.
This is the first time Mausbach has participated in UNLVino, and she is excited that the experience will be held on campus this year. "This will be a more intimate environment, and we plan to use all three levels of the building and create a great event. The experience itself has been enjoyable. It is very hands-on, and I had to interview to be considered. It was great to learn more about the event from this perspective."
UNLV William F. Harrah College of Hospitality students and premier local restaurants will present a specially curated menu accompanying a wide range of high-end wine collections that will be on display with sommeliers and student hosts for guests to savor.
The student menu features carefully crafted foods, including chermoula chicken skewers from Africa, beef bulgogi from Asia, cucumber bites with crab from Europe, and luscious lobster mac and cheese with truffle from America that will pair with high-end fine wines. The exclusive wine list spans West Coast to East Coast, including Rodney Strong Vineyards, Trefethen Family Vineyards, Daou Vineyards, and Winery, Dusted Valley Vintners, Grgich Hills Estate, Gerard Bertrand, Moet Hennessy, and Wagner Family.
Featured Fine Wines:

Demeine Estates
DAOU Family Estates
Dreyfus Ashby & Company
Rodney Strong Vineyards
Justin Wine
Trinchero Family Estates
Copper Cane Wines & Provisions
Caymus Vineyards
Taub Family Sections
Boisset Collection
Grgich Hills Estate
Gonzales Byass U.S.A
Constellation Brands
Foley Family Wines
Aperol
Gloria Ferrer
Huneeus
Featured Restaurants:
Anima
Chinglish
Todd English (The English Hospitality Group)
GYU
Featured Culinary Menus by UNLV Students:
Africa Station
Europe Station
Asia Station
America Station
Dessert Station
Accompanying the Grand Tasting will be a live and silent auction hosted by Jeff Civillico, with over 80 items to bid on; benefits from the auction will go to UNLV students to raise money for scholarships for opportunities for future hospitality leaders in Southern Nevada.
The hospitality industry has faced many challenges, and coupled with the challenges of remote learning; hospitality education has also been affected. Add in the cost of tuition, and it's been difficult for students to commit to (or continue) their education. Scholarships funded through events like UNLVino help make that commitment easier for students by alleviating some of their financial burdens. In many cases, scholarship support can mean the difference between going to college and not going.
To purchase tickets or for more info, visit unlvino.com.