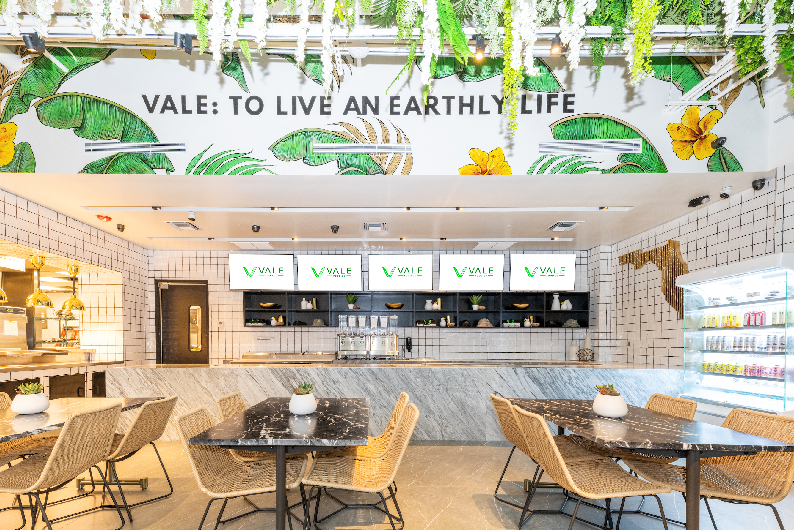 After five years looking for a home in Miami and by popular demand, Vale Food Co is set to debut the seventh location of its Florida-grown restaurant brand in Miami's financial district, Brickell. Helmed by CEO and Founder Sunny Ilyas, Vale Food Co attracts locals and visitors alike with its vast array of healthy and high-quality protein, açai and poke bowls accompanied by a full beverage and bakery selection.
Vale, an old English word that means "to live an earthly life", is committed to the values of health, quality food, sustainability and community. At the 3,000-square-foot Brickell restaurant, guests are greeted with a new experiential design and evolution of Vale with earth tones and modern elements throughout the space. The 23-seat dining room features gold, black, green and tropical accents including gold-finished palm tree light fixtures, white and gray marble countertops offset with dark black wood dining tables. Inside, guests can find plants draped throughout the ceiling, lush greenery and fruit-centric photo opportunities that define Vale's mission to go green and eat green. A colorful hand-painted Vale mural and rotating Miami-inspired artworks are displayed throughout the space. Located outside is the restaurant's 35-seat patio. The area offers additional relaxed alfresco seating with patio couches beneath white shade umbrellas, coffee tables lining the exterior surrounded by greenery and stringed lights for an elevated dining experience. The Brickell location shares the same design backbone as all other Vale locations but offers a unique Miami flair.
Ilyas launched Vale in 2014 as a meal delivery service and quickly pivoted the brand into a fast-casual restaurant when he opened the first location in Tallahassee in 2016. In 2017, Vale Gainesville and Tampa opened their doors to the public. The following year, he opened a fourth restaurant in Jacksonville and in 2019, he opened Fort Lauderdale and a second location in Tallahassee. Today, Ilyas manages the brand, recipe development and catering services for all locations.
"I'm thrilled to finally introduce Vale Food Co to Miami and offer an all-day restaurant where visitors can enjoy high-quality, healthy food with quick service in one spot," said Sunny Ilyas, CEO and Founder of Vale Food Co. "I'm confident that our food offerings will be a new elevated option to meet the needs of the fast-paced Brickell market and the lifestyle of our guests who are on-the-go, working or into wellness."
Vale Food Co's menu is divided into a cold "superfood" station and a hot food station along with a selection of grab-and-go snacks and bakery items, popular freshly baked whole grain chocolate chip cookies and a full beverage program including matcha, smoothies and coffee. Superfood menu highlights include: Smashed Avocado Toast; Chia Pudding; Spicy Tuna Poke Bowl; Açai Smoothie and the Dragonfruit Lemonade. New to the menu is the matcha line with KombuMatcha; Vale Matcha Blast; Vale Matcha Latte and Dirty Matcha Latte. The fresh and healthy-forward menu offers a variety of items perfect for year-round weather in Florida.
The hot food station consists of build-your-own protein bowls where guests can customize the bases and add on veggies, proteins, boosts and sauces. Classic and fan-favorite proteins include Vale's signature turkey spinach feta meatballs, southwest braised beef, ancho pulled chicken among others. Signature hot bowls include the Sweet Earth Bowl made with sweet potato noodles, roasted broccoli, teriyaki chicken and curry honey mustard; Out of This World Bowl with cilantro lime brown rice, roasted broccoli, ancho pulled chicken topped with chipotle ranch; and the Great South Bowl with chipotle mac and cheese, roasted broccoli and braised beef. All ingredients are sourced from local farms and menu items rotate seasonally with a selection of vegan and gluten-free options.
Vale Food Co is located at 900 S Miami Avenue #125 Miami, FL 33130. Vale Food Co Brickell is open for breakfast, lunch and dinner daily from 9AM-11PM. It is available for delivery on third party platforms via UberEats, DoorDash, GrubHub and Postmates along with catering online. For more information, please visit www.ValeFoodCo.com or call 305-946-1421.
Vale Food Co currently has seven locations in Florida including two in Tallahassee, Gainesville, Jacksonville, Tampa, Fort Lauderdale and Brickell with plans to expand throughout South Florida and into different markets. Vale Food Co offers catering services for large groups and private events.