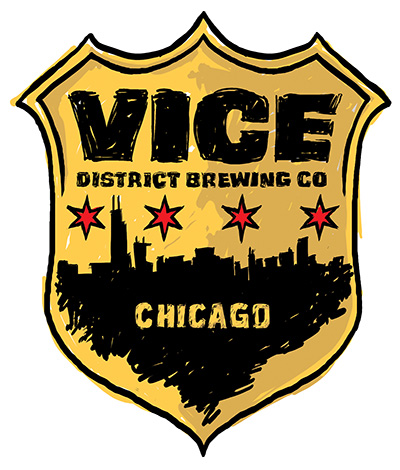 Situated in a landmark-status building at 1454 S. Michigan Ave., Vice District Brewing Co. sits squarely in the center of Chicago's South Loop. While the name Vice District is a nod to the area's past, owners Curtis Tarver II and Quintin Cole are completely focused on helping build a stronger sense of community in the future. Tarver II and Cole plan to bring in communal seating that encourages conversation and utilize the space to help with community events.
"We want Vice District to help bring back the energy that the South Loop once had. We plan on being very involved with other businesses and non-profits in the area," says Cole. "We want to encourage 'positive-vices' like volunteerism in the community."
Longtime home brewers, Tarver II and Cole, secured their South Loop space late last year and plan to open the taproom to the public this July. The location's 2,200 square-feet boasts 14 foot ceilings and ample room for their custom-built 7-barrel brew system. Eight functional serving tanks will be featured and visible in the space to make patrons feel like they're a part of the brewing process. Once installed, the setup will feed 10 tap lines that will be responsible for quenching the thirst of up to 115 guests at a time.
Though no food will be offered on-site, Tarver II and Cole plan to encourage guests to bring in their own, utilize the food trucks that will be parked outside, or get something delivered from any of the 5 dozen+ restaurants in the area. "We're all about supporting other local businesses and we feel like giving people the option to bring their own food in while enjoying our beers allows us to do that," says Tarver II.
However, Tarver II and Cole aren't ready to give up all of their secrets just yet. They're keeping the identity of their brewmaster a secret for the time being as well as the names of the beers they plan on serving when the doors open in July.
About Vice District
Vice District Tap Room will be a neighborhood craft beer destination in Chicago's South Loop. Beer is an ongoing conversation and we aim to encourage the free flow of communication. Our communal environment is specifically designed to encourage dialogue among our guests that will allow perfect strangers to interact freely. For more information please visit www.ViceDistrictBrewing.com and find them on Facebook and Twitter.
About Janice McCafferty PR
Janice McCafferty Public Relations Firm is a full service PR firm for beauty, food, restaurant & spirits, fashion, celebrity, health and entertainment clients. From launching worldwide publicity campaigns to creating the logistics and creative design for viral marketing efforts, Janice McCafferty PR services all of your branding needs. We offer a new approach to agency life as a boutique firm providing all of the required elements of building a company under one roof. This results driven service list, including publicizing new products for new and existing companies, allows us to give each client a well-rounded experience enhanced with expert opinions and unsurpassed attention to detail. For more information please visit www.janicemccaffertypr.com