Vollrath Introduces New Deli-Style Slicer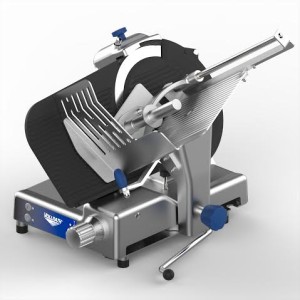 SHEBOYGAN, WI – October 9, 2015 – The Vollrath Company, LLC, today announced the launch of its new deli-style slicer. The Deluxe Deli-Style Slicer with a 13" blade is ideal for continuously slicing meats and cheeses in high-volume operations such as large restaurants, delis or supermarkets.
Powered by a high torque 1/2 Peak HP heavy-duty motor, the slicer is tough enough for continuous use including foods that are known to create more drag like cheese. The proprietary non-stick coating also reduces drag and makes clean-up easier. The extra-long slide rod and large receiving tray are designed to accommodate large loaves of meats and cheeses with precise and consistent slice thickness of up to one inch. In addition, the 35-degree gravity feed feature maximizes productivity by reducing operator fatigue and discomfort that can be a factor in high volume operations.
The slicer is designed with a myriad of safety features including a permanent blade rim guard and safe blade removal system. The carriage tilts open with zero blade exposure for safe and easy cleaning and a kickstand adds stability for cleaning under the slicer.
The new deli slicer joins a family of new slicers launched by Vollrath earlier this month. The high-quality slicers are all belt-driven with built-in sharpeners and are designed and manufactured to NSF/ANSI 8 standards. For more detail on Vollrath slicers, including an informational video by Vollrath's Chef Rich, visit www.vollrath.com.
About the Vollrath Company
The Vollrath Company, based in Sheboygan, Wis., has a reputation for the design, development and manufacture of the foodservice industry's finest smallwares and equipment. With a collection of exceptional people, industry leading products, and helpful consultative services, Vollrath is assembled for one purpose – to advance the art of hospitality. For more information about The Vollrath Company, its products, facilities in the US, Europe, Mexico and China, and the 19 foodservice industries it serves, visit www.vollrath.com or search "Vollrath" to find us on Facebook or Twitter. For media inquiries, contact Linda Diedrich at 920-459-5204 or via e-mail atldiedrich@vollrathco.com.