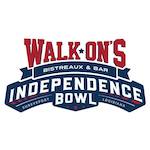 As part of the upcoming Walk-On's Independence Bowl on Dec. 27, the leading full-service family sports bar that provides gourmet takes on game day favorites will be celebrating the game in a big way at all of its locations nationwide.
As viewing parties take place at its 24+ locations across the country, the brand will be donating $1 for each gumbo cups and bowls purchased to benefit the Fisher House Foundation, a non-profit organization providing "a home away from home" for families of patients receiving medical care at major military and VA medical centers. The homes provide temporary free lodging so families can be close to their loved ones during a medical crisis.
The system-wide donation is inspired by the partnership between Walk-On's and world-renowned Louisiana chef John Folse, who will be cooking up what is soon to be the GUINNESS World Record-breaking pot of gumbo at the Independence Bowl on Dec. 27. Folse will be using a custom-made pot to whip up 6,500 pounds of gumbo. After the gumbo has been certified as the world's largest, game-day goers can purchase bowls for $5 each. All proceeds will also benefit the Fisher House Foundation.
Overall Fisher House Foundation donations are projected to exceed $50,000.
Donations can be made at https://engage.fisherhouse.org.