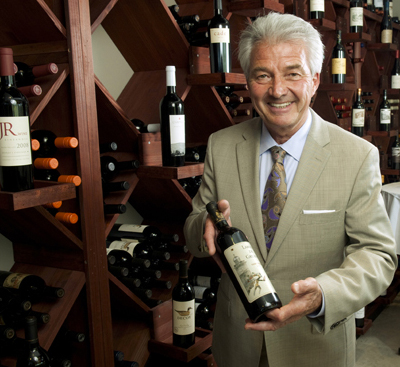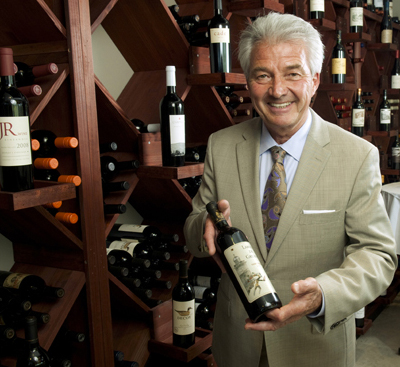 Celebrating its second anniversary, Waterleaf restaurant, is a dream come to fruition for College of DuPage. "What we've been able to do, in two short years, is to establish Waterleaf as a stellar example of modern fine dining," says Jean-Pierre Leroux, general manager. "It is truly a wonderful restaurant. I am proud it has become not only a favored dining spot for food lovers in our area, but also an example of how excellent a restaurant can be when given proper attention and a focus on detail throughout."
Waterleaf is the brainchild of COD President Dr. Robert L. Breuder and Leroux, the longtime owner-operator of the celebrated Barrington Country Bistro in Barrington, Ill. While some may question why a community college would build such a modern restaurant, the answer is apparent for those who know Dr. Breuder and College of DuPage. "We wanted to set the stage for our students, their parents, guests and the community," Dr. Breuder said. "Having a professionally run, modern restaurant on campus is a bold statement. We want Waterleaf to reflect today's fine dining style, which is more casual and relaxed in tone, but still high in quality. We are serious about our academic programs and strive to convey that in every aspect of our campus life."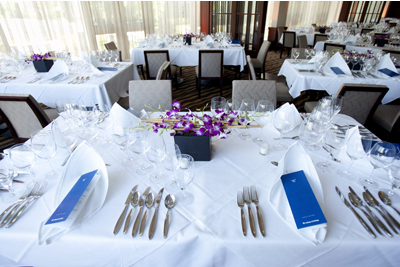 Waterleaf's mission is to be an inspiration to the culinary students in the College's growing Culinary and Hospitality Management program. Unlike other culinary schools, however, Waterleaf is run by professional chefs with opportunities for student engagement. The Waterleaf team includes Executive Chef Nadia Tilkian, whose professional experience includes stints at Barrington Country Bistro and the highly regarded Maijean, which she owned in Clarendon Hills. Leroux's résumé includes a stellar career in some of the finest restaurants and hotels in Europe and the United States.
"We are committed to offering our guests the most hospitable and delicious dining adventure possible," Leroux emphasizes. "Waterleaf continues to evolve. Not willing to rest on our laurels, we are mindful of the need to set even higher standards while remaining in step with the desires of our guests." Since its opening in 2011, Waterleaf has received a three-star review by Crain's Chicago Business and a Readers' Choice Award for Best Restaurant for Dinner from Glancer Magazine. Waterleaf also is recognized for its stellar wine list, receiving Wine Spectator's coveted Award of Excellence for 2012 and 2013. This award, given annually to restaurants in the United States and 65 countries worldwide, acknowledges that Waterleaf's wine program is consistent with its dining concept, style and price point. Waterleaf is also a recipient of the Diner's Choice Awards for Best Ambience, Best Overall, Best Service, Fit for Foodies and Special Occasion on OpenTable.com, where it maintains a 4.8/5.0 rating.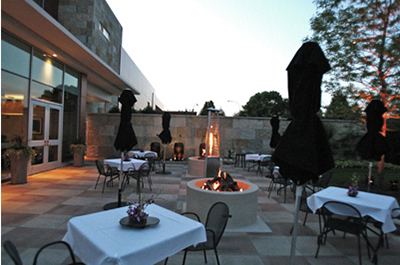 Contemporary, relaxed décor:
Waterleaf outdoor seating overlooking a scenic lake, the restaurant's floor-to-ceiling windows and outdoor seating area provide a naturally beautiful ambiance. "We've been blessed with a wonderful location and a mission to be one of the Chicago area's best contemporary restaurants," said Leroux. "Waterleaf strives to be sophisticated yet relaxed. We think of it as modern fine dining, where the focus is on great food and service offered with a down-to-earth, informal vibe – the way people like to eat today."
With comfortable seating and a natural color scheme, this "hidden gem's" warm atmosphere lends itself to dinnertime respites, business lunches and everything in between. Waterleaf's semi-private room is perfect for social occasions or business events. Outside the main dining room, the patio features outdoor seating and propane heaters to keep guests warm and comfortable in the autumn and early spring.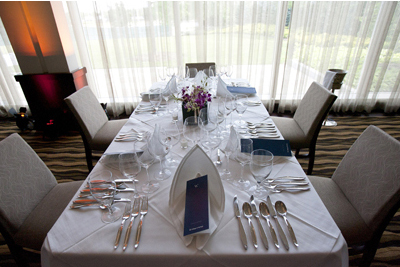 Seasonal Contemporary American Cuisine with international influences
Executive Chef Nadia Tilkian, who joined the staff in February, has recently introduced new menus for this fall, keeping with the more casual dining mood of today's guests. These offerings embody modern contemporary American cuisine at its finest.
Tilkian astutely combines her beloved French technique with modern American food sensibility, offering guests rich flavors and textures from around the globe. She is passionate about using top quality, locally sourced ingredients. "Those familiar with my cooking style understand my love of country French cuisine. While I do incorporate those ideas into the Waterleaf menu, here I am focused more on American cuisine and the many ways American chefs are bringing great ideas from many food cultures into their dishes," Tilkian said. "As a role model for culinary students, Waterleaf has a responsibility to showcase culinary ideas that expand students' creativity while giving them an appreciation for great technique."
Waterleaf-Crab Ragout. Selections from the current fall dinner menu (the menu will change throughout the season) include appetizers such as Tempura Shrimp with coconut rice spring roll and spiced butternut squash broth ($12); Sweetbreads with persimmon-Meyer lemon chutney and petit herb salad ($14); and Crab Ragout with Alaskan king crab, leeks, radish and mirin broth ($15). Signature soups and salads on the dinner menu include Chef Tilkian's French Onion Soup with garlic crouton and Gruyère cheese ($8), Waterleaf-Lyonnaise and a delicious Lyonnaise Salad with baby frisée, potatoes, poached egg, crouton, bacon and sherry vinaigrette ($9).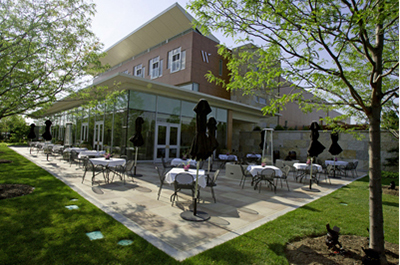 Fall entrées include Bass with frog leg-white bean fricassee and kale ($28); Filet with purple fingerlings, bone marrow and mustard sauce ($36); Porchetta with Brussels sprouts leaves, preserved apples and pork glace (photo below right; $26); and Duck Leg Confit with kumquat tart and cocoa nib reduction ($28).
Desserts for fall include the luscious Pumpkin-Caramel Mousse Cake with ginger snaps ($9); Opera Cake with espresso buttercream and white pepper ice cream ($9); and Coffee Panna Cotta with chocolate gelée, malted crunch and cocoa nib tuile ($8). Waterleaf-Opera Cake.
"We're not trying to be kitschy or avant garde about our menu," Tilkian said. "We're simply offering guests the opportunity to enjoy well prepared and handsomely presented dishes in an accessible, relaxed manner. We think we've succeeded in making it easy to have a very comfortable experience at Waterleaf. We try to be surprising in an understated way by offering guests a high level of culinary creativity accompanied with excellent service. We give our guests very pleasant, eye opening experiences that keep them coming back."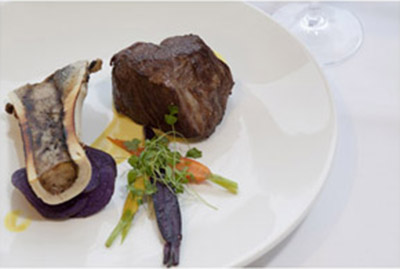 Waterleaf is becoming a favorite spot for lunch
Area business people often seek out a quieter and more refined restaurant at lunch time for discussing business matters or holding celebrations. Waterleaf, with its lake view, does a splendid job of filling this niche. Lunchtime menu items offer elegantly prepared dishes starting with appetizers, soups and salads and continue with sandwiches, entrees, vegetarian options and desserts. Lunch is served Wednesday through Friday from 11:30 a.m. to 2 p.m. and Saturday from 11:30 a.m. to 2:30 p.m.
Weekend brunch service offers a tranquil, comforting break and Waterleaf's many fans realize brunch is a perfect way to unwind while savoring excellently prepared food and the gorgeous view. With a full a la carte brunch menu, guests can select from traditional breakfast favorites or lunch inspired entrées. Brunch is served Sundays from 11 a.m. to 2:30 p.m.
Nadia Tilkian – Executive Chef
Executive Chef Nadia Tilkian is thrilled to head the fully-professional culinary staff at Waterleaf. Not only is she reunited with General Manager Jean-Pierre Leroux, with whom she worked at the famed Barrington Country Bistro, but she also relishes the opportunity to showcase the work of her kitchen team to the students of the College of DuPage culinary program.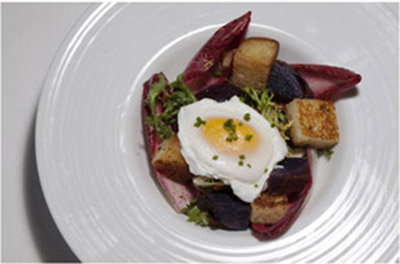 Prior to Waterleaf, Tilkian built a strong, enthusiastic following at her restaurant Maijean in Clarendon Hills, Illinois. This warm and comfortable bistro served upscale, comforting food that was grounded in country French cuisine but enhanced with a wide variety of global influences.
Tilkian credits her mother and grandmother for her inspiration to be a chef. "My mother was a great cook and I got my culinary inspiration from her, and it was my grandmother who inspired me to take my passion, cooking, and turn it into a career," says Tilkian. "My grandmother taught me that one of life's greatest gifts is to wake up every morning and be able to do what I love to do." But for Tilkian, cooking wonderful food is just the means, not the ends. "What I really strive to do is provide a place where everyone can be relaxed and comfortable, and enjoy good conversation while deriving pleasure from the freshness and quality of my food."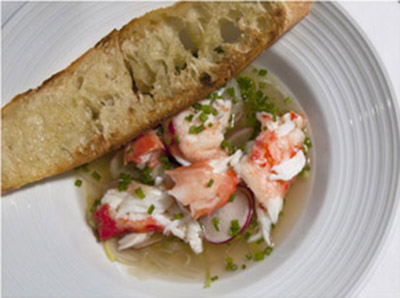 At an early age, Tilkian knew she wanted to be a lifelong cook and so when the time came, she entered culinary school at Kendall College in Evanston, Illinois. "It was fun," she says. "It's easy when you love what you're doing. I wanted to learn everything I could so I was open to everything the chefs taught me." She was so talented that when she graduated Kendall in 1991 she was recommended by an instructor to serve on the Swiss Culinary Team in the NRA's International Food Competition where the Team won gold medals for both the hot and cold food competitions.
Tilkian highly recommends the competitive experience. "Competition brings out true creativity and respect for ingredients and flavors. I had the opportunity, at a young age, to work with some of the finest chefs, to watch and learn.""Competitive cooking is a different genre from day-to-day restaurant cooking," she notes. "When you're cooking for competition, you have a long time to create a dish, refine it, perfect it and then impeccably present it. You only cook the dish once and you get to use the most expensive ingredients and equipment available. In a restaurant you must prepare the same dish numerous times and therefore you must learn consistency. You also have to find ingredients and equipment that get the job done correctly but not necessarily expensively. Consistency and quality is the rule of thumb in a restaurant kitchen."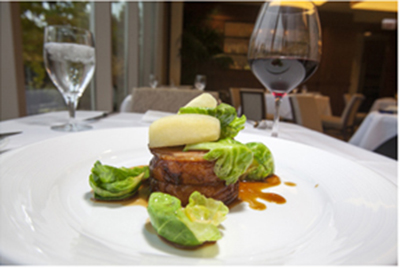 For her first restaurant job she became a prep cook and then a line cook at Bistro 110, a respected French bistro in Chicago where she had the good fortune to work with Chef Glenn Wielo. "Glenn was a talented chef who loved to teach, so he exposed me to everything in the kitchen, including desserts," says Tilkian. She started out in the prep kitchen and eventually worked every food station. She honed her culinary skills in classic French cuisine and gained valuable insight and experience in all operational aspects of working in and running a gourmet kitchen.
In 1994 Tilkian moved to Zinfandel in Chicago. Working under chef Susan Goss, she immersed herself in regional American cuisine. "Susan is a chef who spends a lot of time sourcing ingredients," says Tilkian. "She showed me the importance of research as a professional tool. You need to really know about ingredients-what they are and how to use them-so that you can prepare the freshest, most interesting and best quality dishes." Ingredients continue to be the key building blocks of Tilkian's food and she works hard to find excellent farmers and purveyors and build good relationships with them.
Tilkian's big break came in 1995 when she was offered a position as sous chef at the Zagat-rated Barrington Country Bistro in Barrington, Illinois. "My first love is French food, and I jumped at the chance to move up the ladder at a restaurant that was being innovative yet unpretentious about French cuisine," she explains. When the head chef took a new job, Tilkian was promoted to chef de cuisine and was given the opportunity to head the kitchen and build a new culinary team.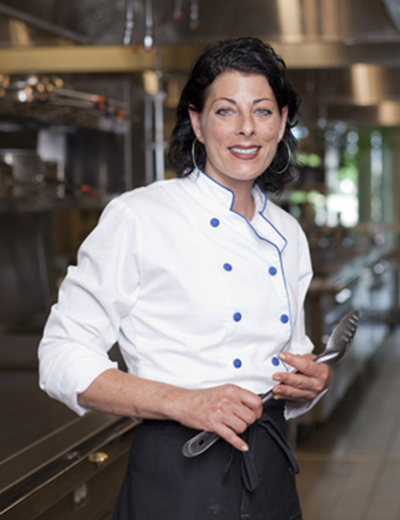 Her reputation as an outstanding chef solidified during this period. She has been written about and featured in a variety of publications including The Chicago Tribune, North Shore Magazine, Nation's Restaurant News, and The Daily Herald.
Tilkian speaks very fondly about her experience at Barrington Country Bistro. "I loved working there," she says. "Becoming chef de cuisine forced me to raise the bar-to dig inside myself and do what had to be done, no matter what. After a lot of hard work I reached a point where I knew the kitchen was a success. I built a menu and a team I was proud of. The team is still there and I talk with them often."
She took one very important culinary piece of wisdom from the Barrington Country Bistro. "I learned the importance of focusing the food menu. I don't believe in 'eclectic' menus. It's too easy to create a dining experience that tries to please everyone and winds up pleasing no one."
In 2004, with a strong desire to create a unique, personal dining destination, Tilkian left the Barrington Country Bistro to concentrate on opening her own restaurant, Maijean, in Clarendon HIlls and establish a specialty catering business. The restaurant built a loyal, enthusiastic following among food lovers in the area.
In 2011 Tilkian closed Maijean and became a consulting chef for a variety of restaurants, focusing her skills on developing and refining menus and operations. She also became sous chef with Kie Uchikawa (formally of Le Français) at L'Anne Restaurant in Wheaton, Ill. to create their unique French/Vietnamese cuisine.
Tilkian enjoys talking with her guests. "It's a privilege. Today's diners are so knowledgeable about food and are willing to try new things. If we do our job well at Waterleaf, we will present food that is familiar with just a welcome touch of the unusual."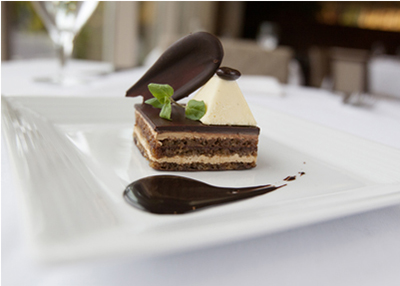 About Waterleaf
Waterleaf restaurant is located at 425 Fawell Boulevard in Glen Ellyn, Ill. The 120-seat restaurant, led by General Manager Jean-Pierre Leroux and Executive Chef Nadia Tilkian, is a hidden gem, nestled on the campus of College of DuPage.
Featuring moderately priced brunch, lunch and dinner options, the menu includes locally sourced ingredients and approachable selections. In addition to a seasonal a la carte menu, Waterleaf features specials events like wine dinners, a prix-fixe 3-course dinner, cooking classes and an annual food & wine festival every fall.
The contemporary light-filled dining room is the understated counterpart to exciting eclectic cuisine. The main dining room has a modern decor and dramatic floor-to-ceiling windows. Its walls display a collection of black-and-white lithographs by renowned American artist Richard Serra. There's a cozy bar area to enjoy libations and light snacks.
Waterleaf Restaurant has earned Diner's Choice Awards for Best Ambience, Best Overall, Best Service, Fit for Foodies and Special Occasion on OpenTable.com, where it maintains a 4.8/5.0 rating. Most recently, Waterleaf received its second consecutive 2013 Wine Spectator Award of Excellence. This award, given annually to restaurants in the U.S. and 65 countries worldwide, acknowledges that Waterleaf's wine program is consistent with its dining concept, style and price point. The restaurant is widely recognized as the dining destination of choice for food aficionados living and visiting Chicago's western suburbs.
Waterleaf serves lunch and dinner Wednesday through Sunday. It is closed on Monday and Tuesday. Lunch hours are 11:30 a.m. to 2 p.m. Wednesday through Friday and 11:30 a.m. to 2:30 p.m. Saturday; dinner hours are 5 p.m. to 8:30 p.m. Wednesday through Friday; 5 p.m. to 9 p.m. Saturday, and 4:30 p.m. to 8:30 p.m. Sunday. Brunch is served on Sunday from 11 a.m. to 2:30 p.m. Call 630-942-6881 for information and reservations or visit: www.waterleafrestaurant.com.