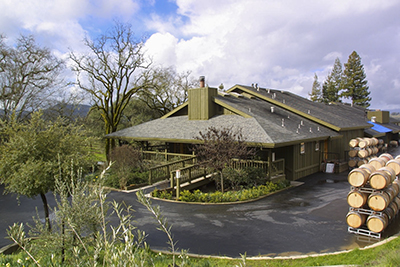 Waterleaf restaurant, located at 425 Fawell Boulevard in Glen Ellyn, Illinois, overlooking the scenic lake on the campus of College of DuPage, will host a special 4-course wine dinner with wine pairings on Thursday, February 6, featuring the wines of the Alexander Valley Vineyards in northern Sonoma County. The price of the dinner is $65 per person, plus tax and gratuity.
Alexander Valley Vineyards has earned numerous awards, with recognition given to many of their varietals, including their Cyrus, Estate Cabernet Sauvignon, Zinfandels, Chardonnay, Estate Syrah, Estate Pinot Noir, Estate Cabernet Franc and Rosé of Sangiovese.
Waterleaf's special wine dinner begins with a Champagne reception and Amuse Bouche at 6:30 p.m., followed by a special four-course menu, prepared by Executive Chef Nadia Tilkian, at 7 p.m. The first course features Seared Foie Gras with Kumquat Compote, Toasted Brioche, paired with 2012 Alexander Valley Vineyards Gewurztraminer. The second course presents Duck Consommé, Baby Leeks, Carrot, Duck, paired with 2012 Alexander Valley Vineyards Pinot Noir 4. For the third course, guests will enjoy Osso Bucco, Mirepoix of Vegetables, Persillade and Veal Reduction, accompanied by 2011 Alexander Valley vineyards Redemption Zinfandel and 2009 Alexander Valley Vineyards Cyrus Cabernet. The fourth course is a dessert finale featuring Trifle, Vanilla Cake, Vanilla Cream and Pear Jam.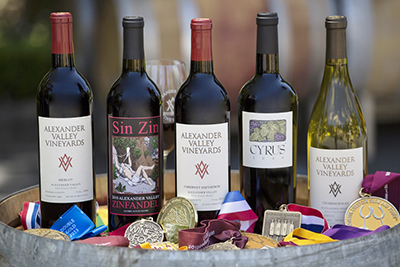 About Alexander Valley Vineyards
Alexander Valley Vineyards were founded by Maggie and Harry Wetzel in 1962 when they purchased a large portion of a homestead built by Cyrus Alexander, the valley's nineteenth century namesake, in northern Sonoma County. In 1963 the Wetzels began planting premium grape varieties, among the first in the area. They sold the grapes for a number of years to other wineries and often produced a little homemade wine as a family project.
In 1975 the family built a small winery and Hank Wetzel, oldest son of Maggie and Harry, produced Alexander Valley Vineyard's first wine in 1975. AVV quickly established a reputation for estate grown wines with distinctive varietal character. Acclaimed for crisp Chardonnay and luscious Cabernet Sauvignon, Alexander Valley Vineyards brought recognition to the appellation and became a leading winery in Sonoma County.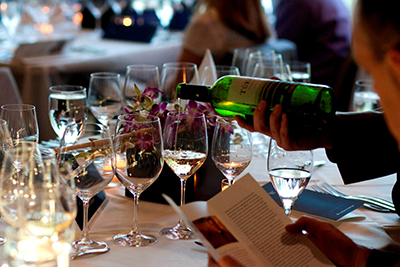 Cabernet Sauvignon, Chardonnay, and Merlot constitute over one-half of total production. Other varietals include Zinfandel, Pinot Noir, Sangiovese, Cabernet Franc and Syrah. Proprietary wines include CYRUS, a limited production Bordeaux style blend, Gewurz, and a trio of Zins: Temptation Zinfandel, Redemption Zinfandel and Sin Zin, a voluptuous Alexander Valley Zinfandel.
Today the Alexander Valley is a prominent appellation known worldwide as the source of elegant, age worthy wines. The Wetzel Family Estate grows fourteen grape varieties, on diverse sites stretching from the banks of the Russian River up onto the hillsides. Each grape variety is matched to a specific soil type and exposure. Barrel fermentation and aging take place in the cave, where the cool, constant temperature and high humidity are ideal for aging wine.
About Waterleaf
Waterleaf restaurant is located at 425 Fawell Boulevard in Glen Ellyn, IL. The 150-seat restaurant led by General Manager Jean-Pierre Leroux and Executive Chef Nadia Tilkian is a hidden gem, nestled on the campus of the College of DuPage.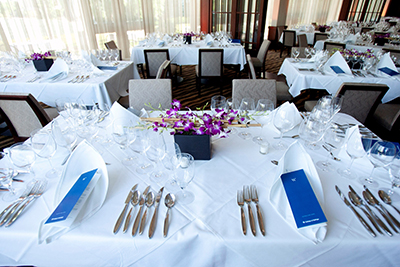 Featuring moderately priced brunch, lunch and dinner options, expect to find locally-sourced ingredients on its approachable menu. In addition to a seasonal a la carte menu, Waterleaf features specials events like wine dinners, a prix-fixe 3-course dinner for $35 and an annual food & wine festival every fall.
The contemporary light filled dining room is the understated counterpart to exciting eclectic cuisine. The main dining room has a modern decor and dramatic floor-to-ceiling windows. Its walls display a collection of black-and-white lithographs by renowned American artist Richard Serra. There's a cozy bar area to enjoy libations and light snacks.
Waterleaf restaurant has earned Diner's Choice Awards for Best Ambience, Best Overall, Best Service, Fit for Foodies and Special Occasion on OpenTable.com, where it maintains a 4.8/5.0 rating. Most recently, Waterleaf received its second consecutive 2013 Wine Spectator Award of Excellence. This award, given annually to restaurants in the U.S. and 65 countries worldwide, acknowledges that Waterleaf's beverage program is consistent with its dining concept, style and price point. The restaurant is widely recognized as the dining destination of choice for foodies living and visiting Chicago's western suburbs.
Waterleaf serves lunch and dinner Wednesday through Sunday. It is closed on Monday and Tuesday. Lunch hours are 11:30 a.m. to 2 p.m. Wednesday through Friday and 11:30 a.m. to 2:30 p.m. Saturday; dinner hours are 5 p.m. to 8:30 p.m. Wednesday through Friday; 5 p.m. to 9 p.m. Saturday, and 4:30 p.m. to 8:30 p.m. Sunday. Brunch is served 11 a.m. to 2:30 p.m. Call 630-942-6881 for information or reservations or visit www.waterleafrestaurant.com.