Calypso Soft Drinks is launching a "Help Change the World" campaign in schools as it gears up for Fairtrade Fortnight 2014.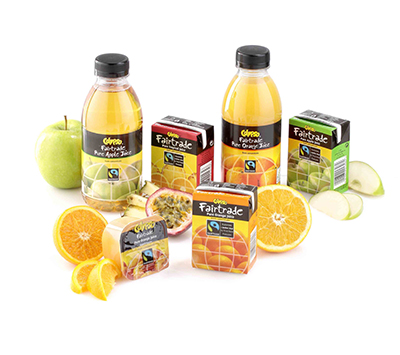 This year for Fairtrade Fortnight (24 Feb- 9 March) the Calypso range of Fairtrade pure fruit juices is supporting 'empowerment', to support the Fairtrade Foundation's 'The Power of You' motto. Everyone has the power to make a difference, to do something positive, no matter how small, and one simple easy step is to buy Fairtrade products.
As one of the first juice brands to achieve the Fairtrade mark, Calypso has always been committed to the principals of Fairtrade. Sales of Fairtrade products across the UK have increased by 18% in the last twelve months and now total over £1.5billion.
To mark Fairtrade Fortnight, Calypso conducted a survey amongst 1000 teenagers (aged 11yrs-16yrs) to find out about the issues that really matter to them, and who they felt had the most power to change things for the better.
The Teenage Survey Highlights
They told us about the big global issues which matter most to them and that if they had the power they'd like to change. The top three were:
World poverty and hunger
Wars and terrorism
The extinction of endangered animals
The top three domestic issues which mattered most and teenagers would like to have the power to change were:
Teen bullying and cyber bullying
Youth crime, stealing and knife/gang crime
To improve their school education
Calypso asked teenagers who the most inspiring person was who had successfully used their power to change the world for the better. Their top votes went to:
Nelson Mandela
Martin Luther King
Tim Berners-Lee
Mother Teresa
The Dalai Lama
Calypso is planning a series of promotions and support in schools to raise awareness of Fairtrade, including posters and promotional materials to remind students that they are empowered and can do something positive during this years Fairtrade Fortnight. "We believe it's important that young people feel inspired and empowered to make a difference to the world in which they live. Looking out for the Fairtrade mark when choosing a drink is one way to start, and Fairtrade Fortnight is a great reminder that we can make a difference," commented Michele Davies, head of marketing at Calypso.
Calypso is still one of only a handful of UK juice manufacturers who offer an extensive Fairtrade Pure Fruit Juices range which include:
Fairtrade Pure Orange Juice and Fairtrade Pure Apple Juice in a larger format 500ml bottle;
Fairtrade 200ml Cartons of Pure Orange and Pure Apple Juice
Fairtrade 85ml Pure Orange Juice Cuplets
Calypso Soft Drinks Ltd is one of the UK's leading manufacturers of healthy and refreshing soft drinks. The company has continued to thrive in a highly competitive market sector with its relentless commitment to innovation and new product development. Calypso is owned by Cott Beverages, which operate soft drink, juice, water and other beverage bottling facilities in the UK, the United States, Canada and Mexico. Calypso's manufacturing plant is situated in Wrexham, North Wales. Visit the website to see the full results of Calypso's Teenage 'Help Change the World' survey and download the Fairtrade Fortnight posters for schools. www.calypso.co.uk